It's been a while since I published a Day in the Life post. I thought it would be fun to share some of the fun I've been having with the prAna fall fashion line and show you how it carries me through my whole day. Come along with me and experience a recent Saturday!
This post is sponsored by prAna. All opinions are my own.
A Day in the Life with prAna Fall Fashion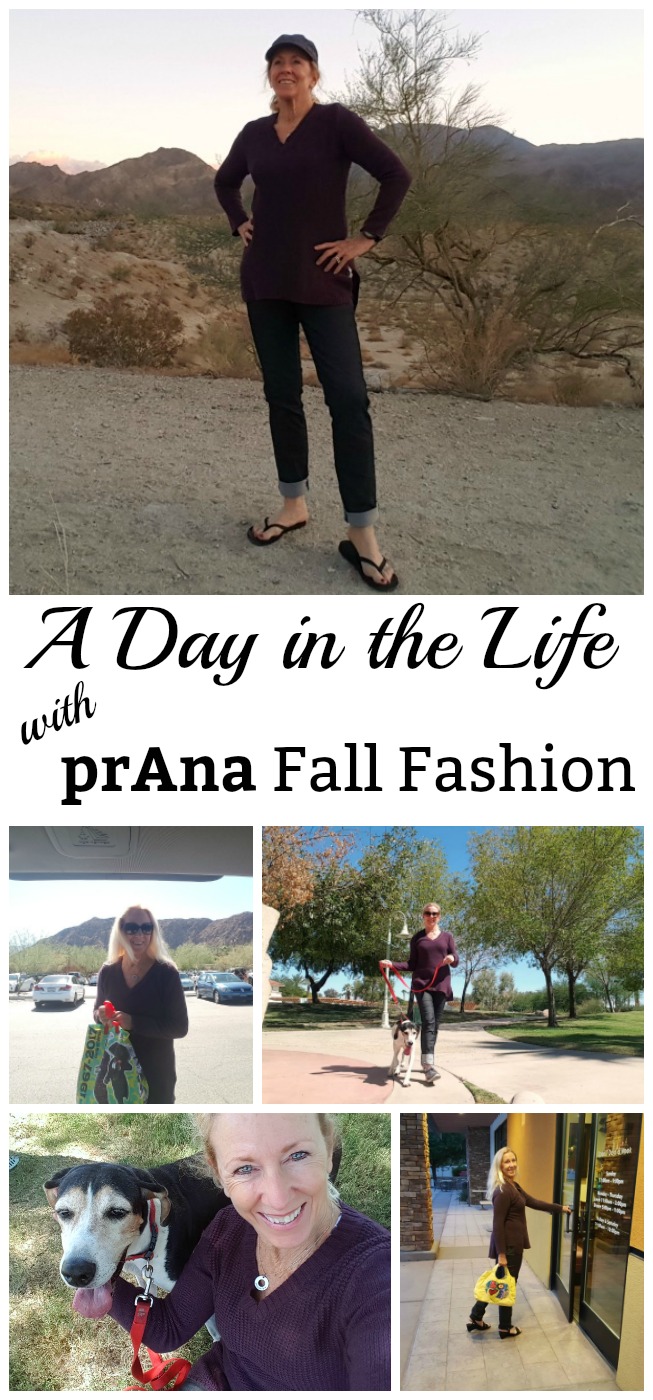 I have felt inspired to run and be outdoors lately because the weather is finally cooling down! Fall is here, people, even in the California desert. While it is by no means cold, the mornings have been beautiful and a little chilly, just the perfect thing for getting outside.
6:00 am: With such a lovely day, how should one start it up? Well, after feeding the dogs and feral cats. With a run, of course! A short recovery run after yesterday's eight miler, so I also threw in a few sun salutations along the way.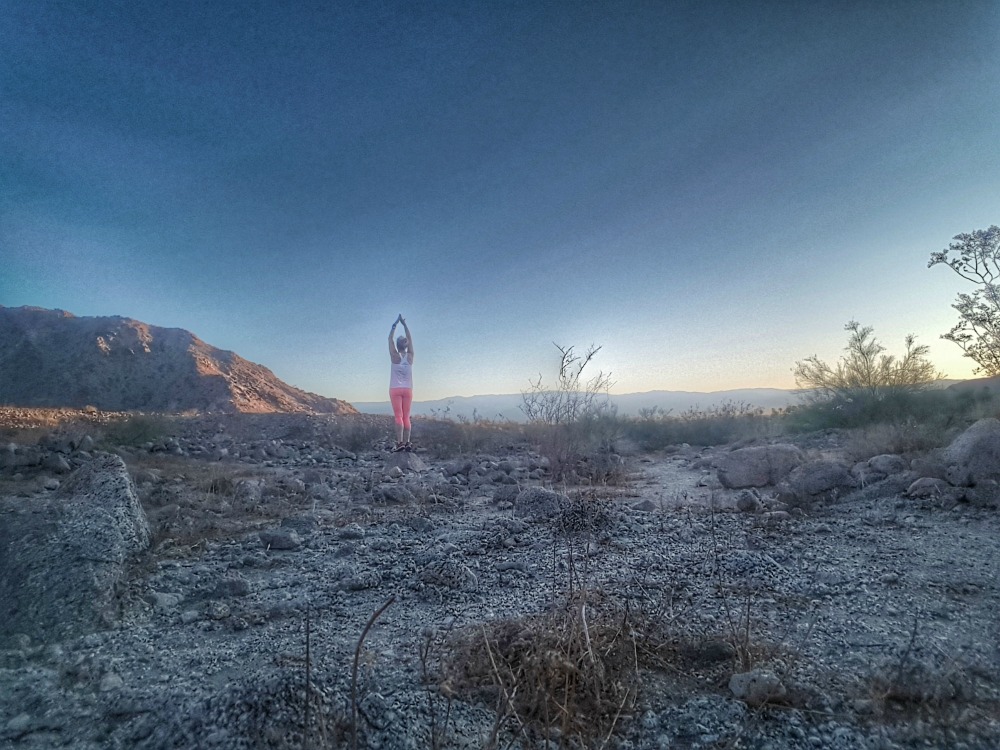 8:00 am: After my run, I changed both the bed sheets and my clothes, and went outside again to film a Body First video (you can look for it in Wednesday's post).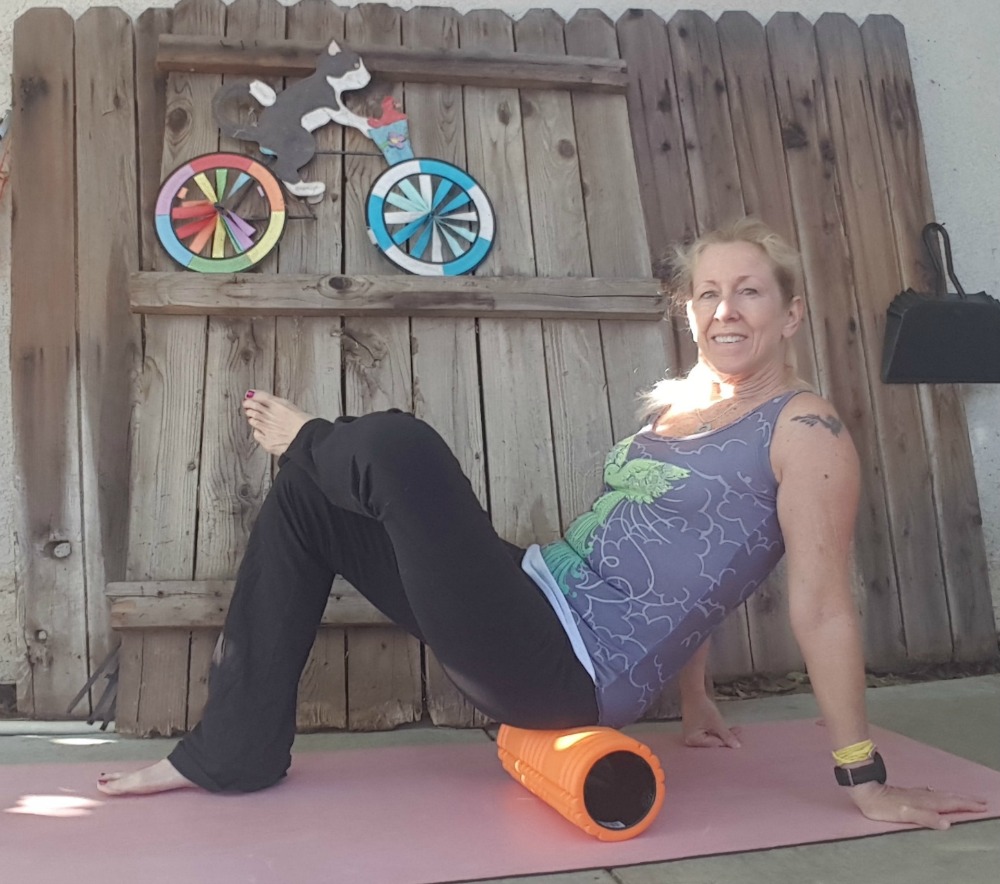 10:00 am: Food, shower, and a little social media (not necessarily in that order), and I dressed in my new prAna fall fashion outfit to get some real business done with the day. First stop: Taking Molly, the coonhound we rescued a couple days ago to the vet to see if she is chipped.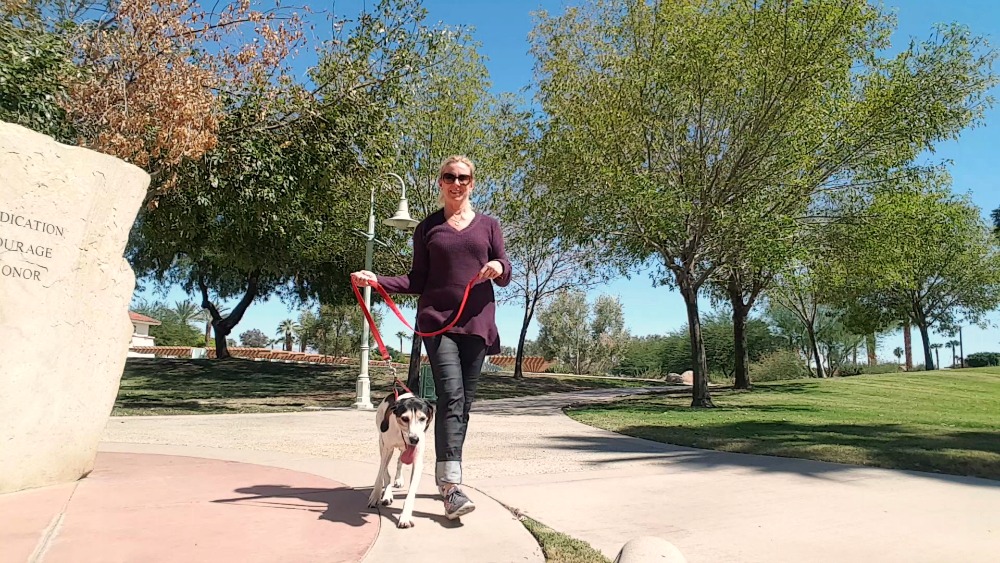 You may have seen Molly in my Instagram post. We actually rescued her when we were out searching for another dog that Alan had spotted while he was riding his bike. We didn't find the first, but all of a sudden, another dog came out of the bushes and strode right up to the car. It was like she was saying, "let me in!"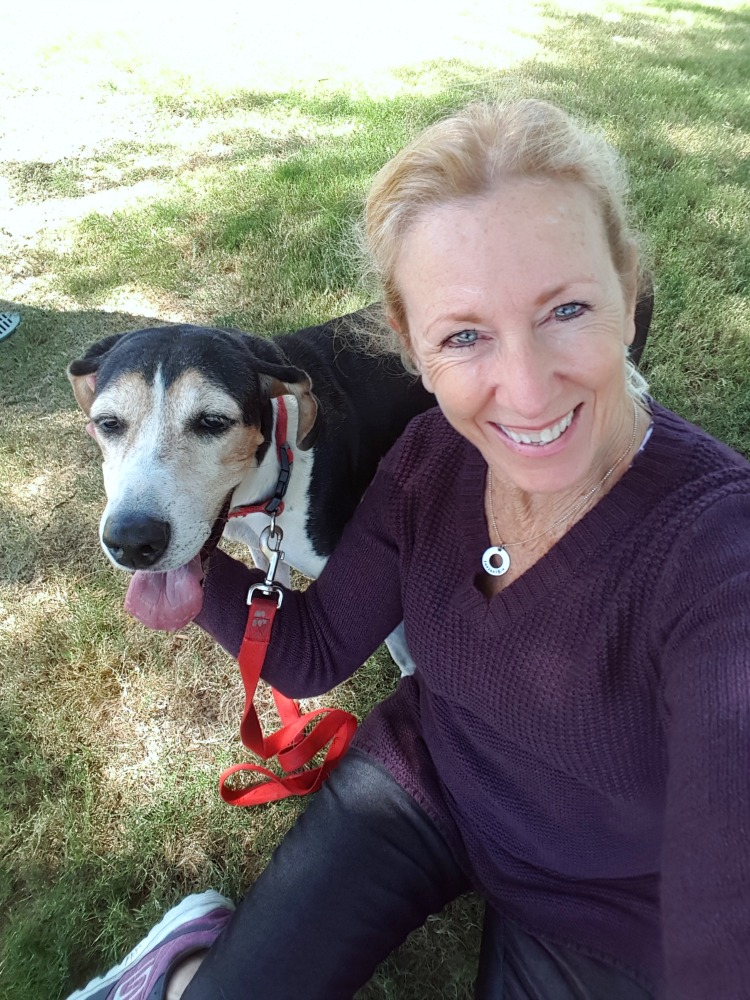 She was so exhausted for the first two days that today was the first time I felt comfortable taking her out. As expected, she didn't have a chip. Anyone interested in adopting a beautiful, sweet, Treeing Walker Coonhound?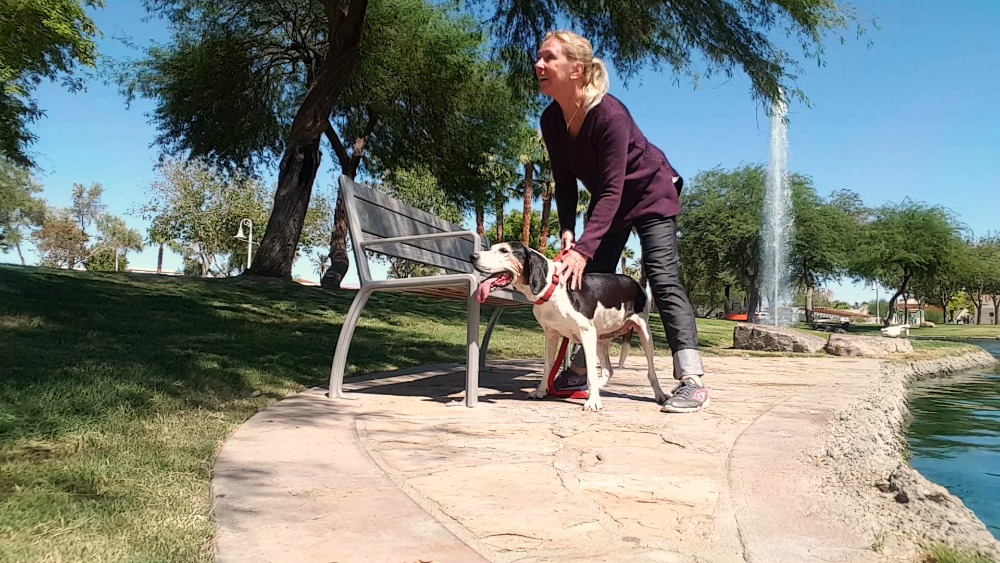 After our visit to the vet, Molly and I headed to the park to enjoy the beautiful weather. After a couple laps, we went home, where she was so pooped she immediately went back to sleep.
11:00-1:00 pm: I spend a couple hours working on blog and social media stuff.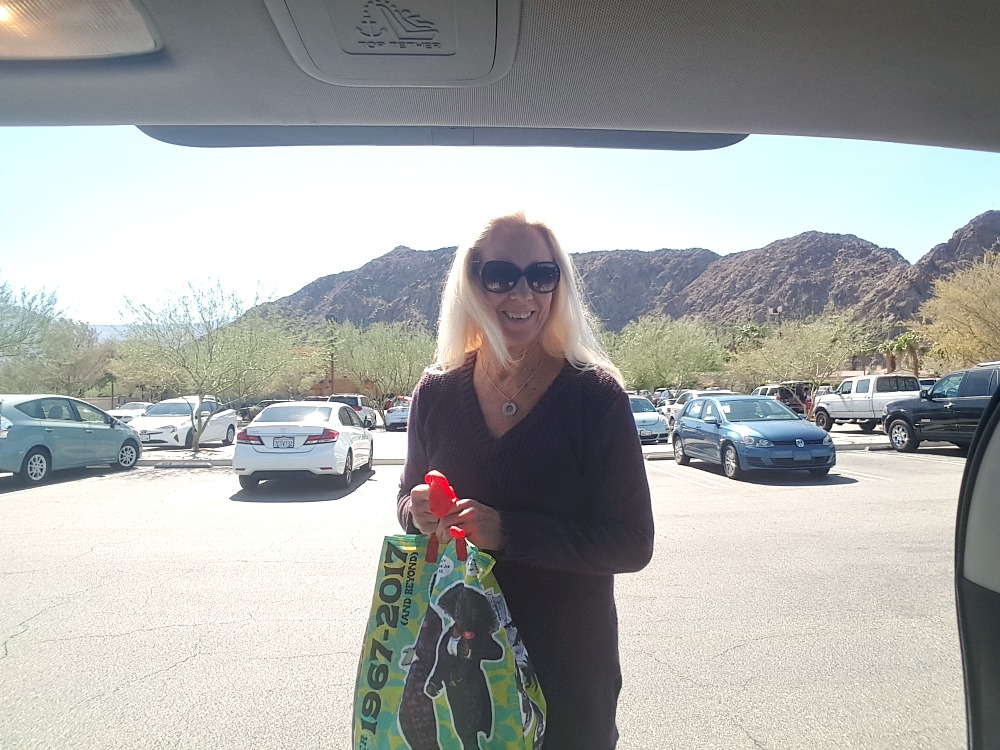 1:00 pm I had some errands, so I headed out to the grocery store (or actually stores, plural. Does anybody else find they need to visit at least two or three markets to get what they need (and want)?).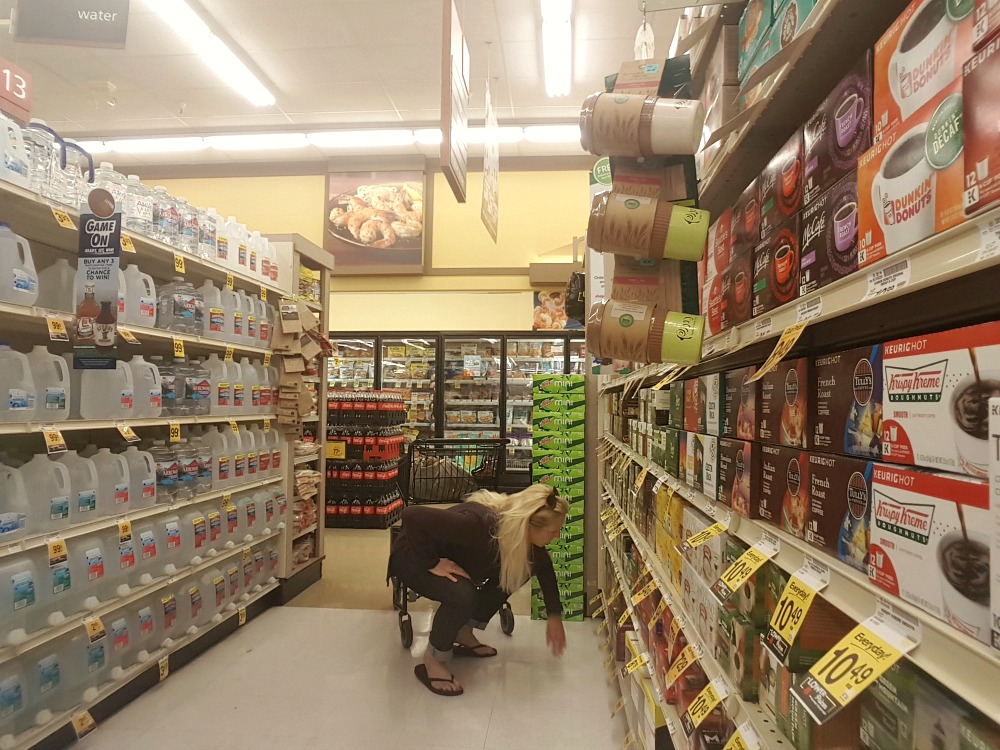 After getting home from my errands, I spent some family time with my husband and dogs, some of whom are a teeny bit jealous because of our coonhound guest.
6:00 pm The weather cooled off a little from the heat of the day, so I thought it sounded like a good idea to "head to the hills" to watch the sunset. It was rather unspectacular, but it's always so pretty on the trails just a mile from my home that it was worth it.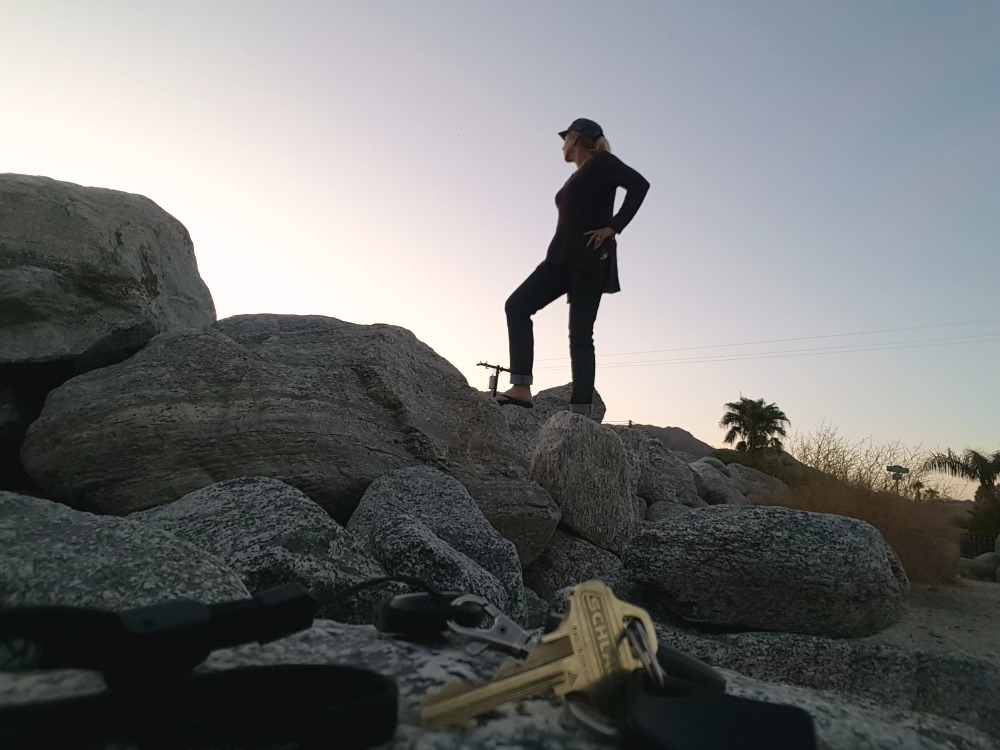 7:00 pm Alan and I decided at the spur of the moment to head to our favorite Thai restaurant for dinner. After a quick look in the mirror, I brushed my hair, changed my shoes, and figured I looked just right for a casual night out.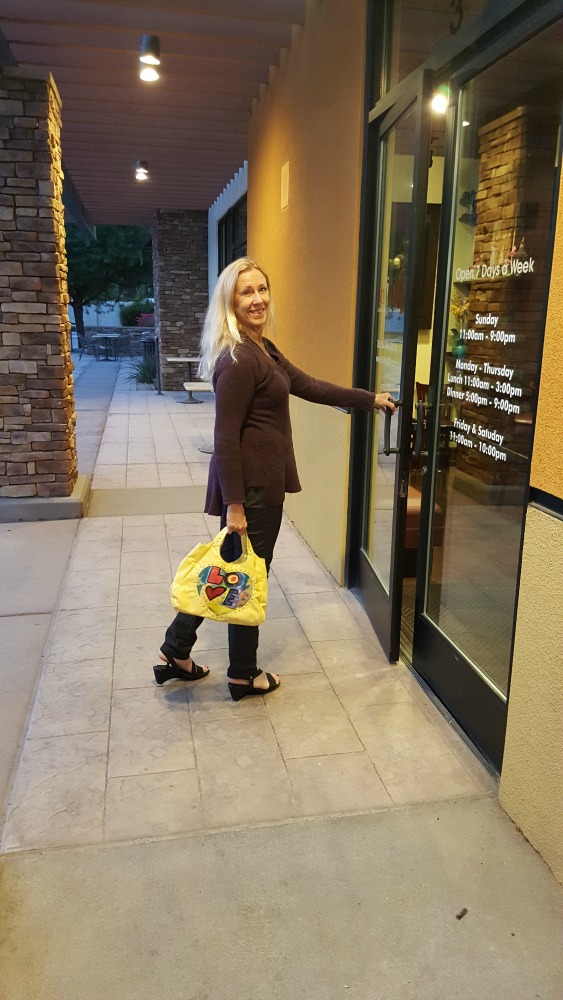 I have to admit that it's still a little warm in the desert to be hanging around too long in a sweater, but I love this prAna Deedra Tunic. It's made from organic cotton in beautiful dark plum, and I am so pleased with the length. It doesn't creep up to reveal things I'd prefer not to and has a flattering cut, so I know that I can be both comfortable and fashionable.
I am wearing the Kara Jean, which is also made from organic cotton with a little polyester and spandex thrown in for comfort, and while it has a slim fit, it has enough stretch to make it comfortable enough to wear all day (and to do a few grocery store squats while you're at it!). It has a low-rise with the traditional five pockets.
prAna = Sustainability
While I love prAna fall style for the beautiful and comfortable clothing, one of the things that keeps me coming back to this company is their ethics, which are three-pronged. They seek out materials that are organic, recycled, and repurposed; they ensure that their people are treated fairly; and the processes that they use, including Bluesign, Fair Trade, the Responsible Forest Initiative, Fair Labor Association, and Poly Bag Reduction adhere to strict guidelines for sustainability, safety, and efficacy.
As a prAna fan for many years, I have always been so happy with their dedication to sustainability, fair trade, and use of recycled, organic, and hemp items. I love that prAna has one core belief; to give back more than we take from the world.
Want to know why organic cotton is so important? Check out this video!
I love prAna because they reflect my environmental and community concerns and are taking steps to change the way business is done.
Save on prAna Fall Style!
Here is your opportunity to stock up on prAna Fall Style! Save 15% on your prAna.com purchase through October 26 November 22 (<–discount code extended!) with the code MSF17DW!
Tell me something fun from your Day in the Life!
---
Weekly Linkups
My weekly linkups! Please stop by and check out all of the great recipes, workouts, and information that all these awesome bloggers share every week!
Meatless Monday with Sarah and Deborah
Meatless Monday with Annmarie  and Dixya
Tuesdays on the Run with Marcia, Erika, and Patty
Inspire Me Monday with Janice
Wild Workout Wednesday with Annmarie, Jen, and Nicole
The Plant-Based Potluck Party with Deborah
The Running Coaches' Corner with Rachel, Suz, Lora Marie, and Me!
Friday 5 2.0 with Rachel and Lacey and Meranda