I Hate Love My Speed Workout!
Going to the track and running a speed workout is one of the things that defines us as runners.  Next to distance runs, track intervals are probably one of the most popular workouts that a runner takes part in. After all, once we pass the beginner phase of running, most of us want to "get faster." And of course, it works. Running 400-800 meter intervals improves your race times, especially at the 5k and 10k distance.
There are some drawbacks to track intervals, though.
Intervals can get boring. Going around and around in circles is certainly not the most interesting workout in the world. Even if you're traveling really fast.
Unless you're a track athlete, your race will be on the road (or trails). It is called specificity. If you are going to race on a road or on trails, taking your speed work off the track is more specific to your goals.
Running in circles is hard on your body. Running around in circles is basically like running with one leg shorter than the other, and that can increase the risk of injury. Even if you turn around halfway through your workout, you're not really balancing out, you're exposing your other leg to the same risk.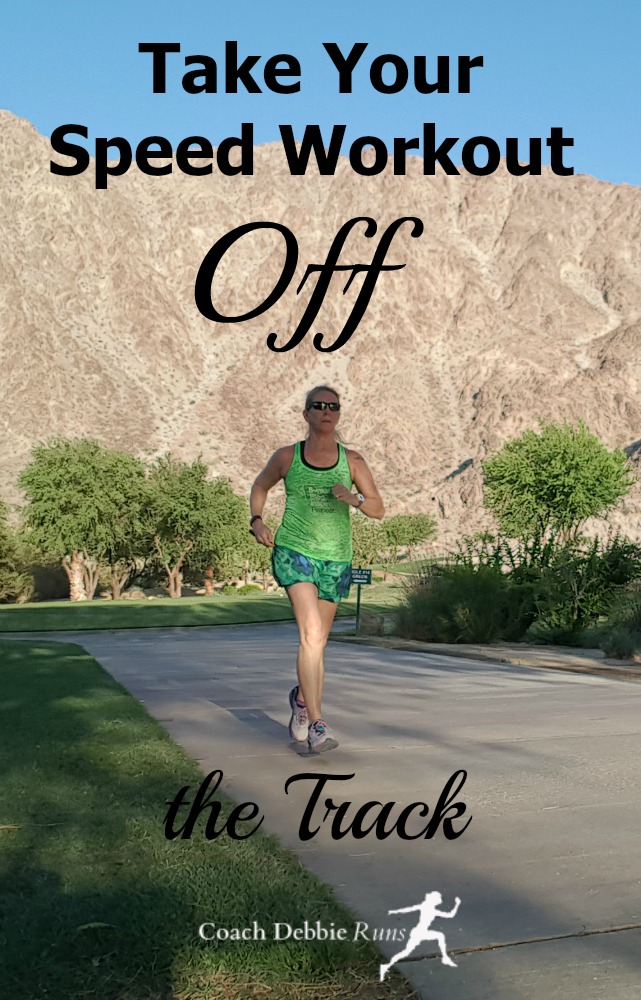 Most of us, unless we are absolute beginners to speed work, or at an elite level of talent, will be better served to take our speed work off the track and onto the road, trails, or hills. Speed work on the road is more adaptable to racing on the road, where you have random turns, inclines, and surfaces.
If you're training for a trail race, not only do you need to practice running fast on your goal surface, you need to strengthen the many muscles in your legs, feet, and core that will help you stay balanced and uninjured in your event. And whatever type of race you are training for, hill running provides a challenging and effective workout.
 An Off the Track Speed Workout: Pyramid Fartlek Intervals
Fartlek, which means speed play in Swedish, is generally an unstructured, fun speed workout. Some examples of Fartlek workouts include running between telephone poles, alternating between hard and easy, running fast for the duration of a song you're listening to, then slower for the next song, or "surging" for a minute every five or six minutes during a base run.
This workout has a little more structure, but it is still done with the spirit of fun.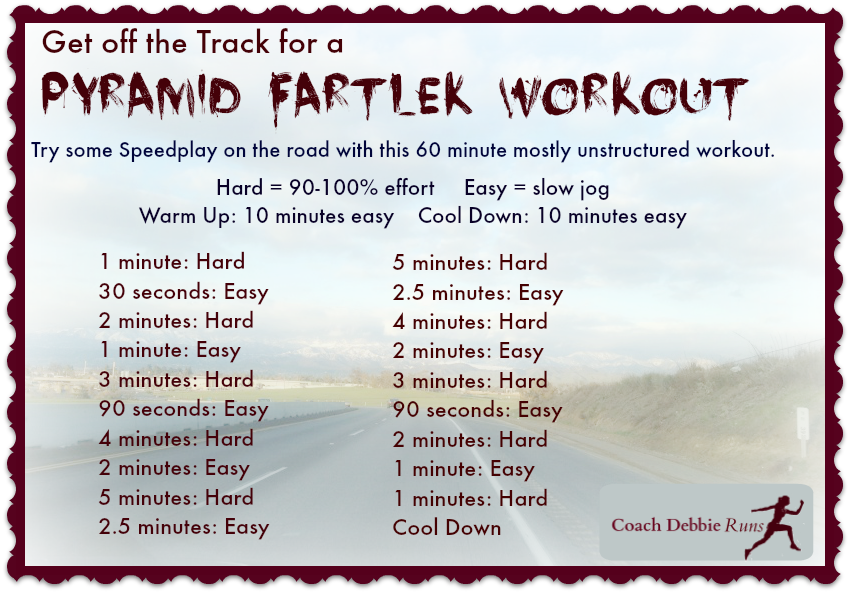 While the flat, cushioned, well-marked surface of a track is safe, that can work to your disadvantage because real life racing (for most of us) isn't done on flat, cushioned surfaces. Transferring your workout to the road is more functional, but it too can have risks. Be aware of potential hazards such as potholes or rocks in the road, and also be cautious of street traffic, especially if you need to cross an intersection during an interval.
Do you do speed work as part of your training? Have you tried it on the road? Do you have a favorite workout?
Now it's time for the Running Coaches' Corner!
Loading InLinkz ...
Disclaimer: Although I am a certified Coach and Personal Trainer, I am not YOUR Coach or Personal Trainer. Always adapt workouts to suit your body and fitness level. Always consult your doctor before beginning a new exercise program.
---
My weekly linkups! Please stop by and check out all of the great recipes, workouts, and information that all these awesome bloggers share every week!
Sunday Blog Hop with Jenn
Meatless Monday with Sarah and Deborah
Meatless Monday with Annmarie 
Inspire Me Monday with Janice
Weekend Snapshots with Erin
Anything Goes with Marilyn
Wild Workout Wednesday with Annmarie, Michelle, Sarah, and Angelena Marie
The Running Coaches' Corner with Rachel, Suz, Lora Marie, and Me!
Giveaway Roundup and Try Out Thursdays with Smitha
The Blogger's Pit Stop with Kathleen
Friday Fitness with Jill