If you remember a few weeks back, after I finished the Tram Road Challenge, I mentioned bringing a Race Recovery Pack with me to the event.  It was so convenient to have the tools and fuel that I needed right with me post-race that I thought I'd share a few ideas on how you can build your own Race Recovery Pack. This post contains affiliate links.
Building Your Race Recovery Pack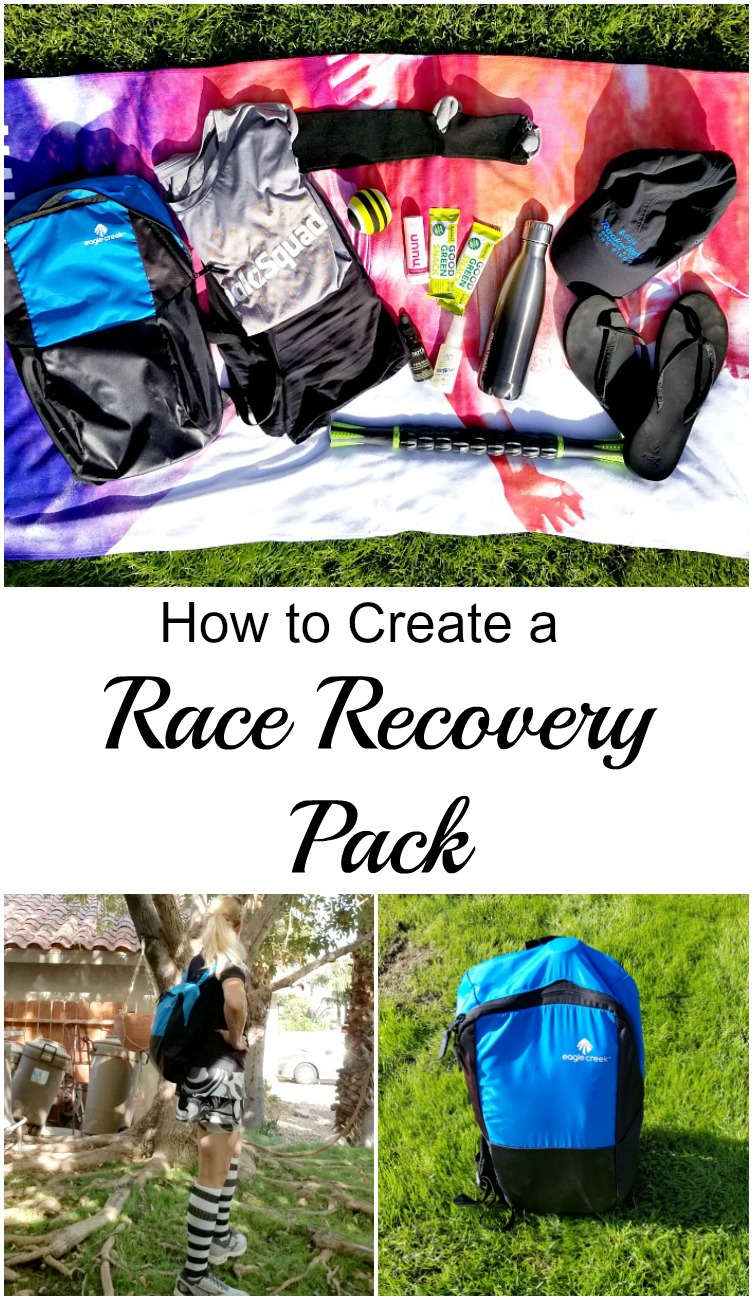 Assess Your Needs
Before you even start to build your race recovery pack, assess some of your needs based on the race distance that you will be running. The longer the race, the more you will need to bring with you. Also, some races have more refueling options available than others. Find out this information before you start.
Weather conditions will also come into play when building your race recovery pack. If the weather is cold, you will want to make sure to have warm, dry clothes following your race. Frequently your warmups can be used for this purpose so that you don't have to double up with clothing.
Also, consider whether you will have easy access to your race recovery pack when you cross the finish line. Can you stow it in your car, or will you need to pick it up at gear check? This will also help determine the size of the bag you use.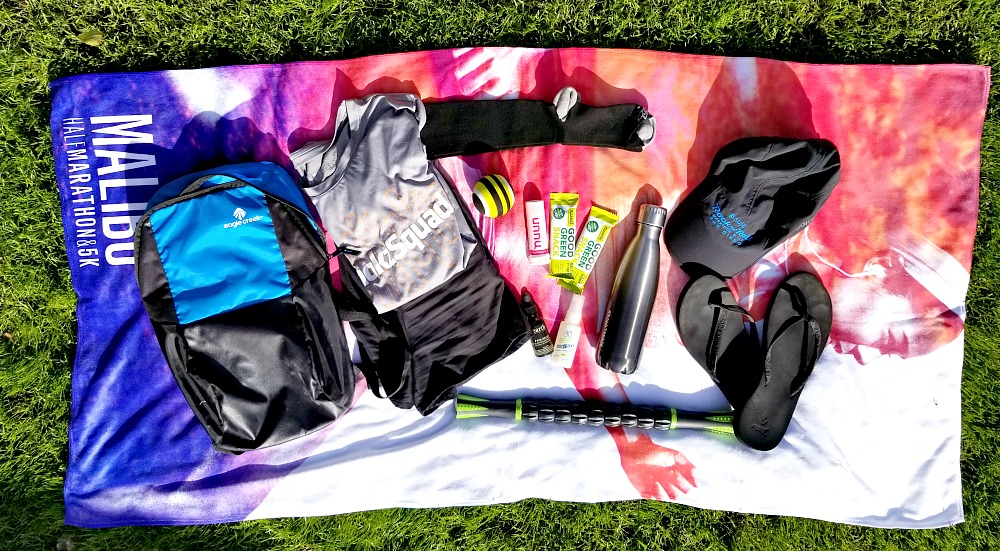 Components of Your Race Recovery Pack
As you start to build your race recovery pack, assess your post-race needs. No matter the race distance, recovery begins the moment you cross the finish line, so this will help you come prepared. Here is a sample list.
Fuel: Bars, fruit, pretzels are all great ideas for fueling after a race.
Hydration: Almost all races have water available after the race, but be extra sure by packing a bottle of water, plus an electrolyte drink. I toss a tube of Nuun in my bag so I'm prepared. A recovery drink like Vega Recovery Accelerator can take care of hydration and fueling needs immediately after a race.
Towel: Perfect for drying off the sweat and to use for post-race stretching (or simply sitting). A microfiber style towel is perfect because it can be rolled into a very small bundle.
Clothing: Be prepared for weather or for just getting out of your wet clothing by bringing a change of clothes.
Sunscreen: Time spent post-races moves quickly, so if you're going to be out in the sun make sure to bring some sunscreen to protect your skin. I bring my Kinesys Spray-On Sunscreen everywhere!
Recovery gear: I'm pretty bad about stretching after a race, but if I throw a massage or lacrosse ball and my Muscle Roller Stick into my Rack Recovery Pack I will use it. I also include an extra pair of compression socks just in case.
Flipflops: Or other lightweight, comfortable footwear. I don't know about you, but I love kicking off those damp running shoes and slipping into something dry and comfortable.
Miscellaneous: Anything that you think will help your recovery. I usually bring some Tylenol because I'm prone to post-race headaches. You might want something to soothe chafing if that is something that plagues you.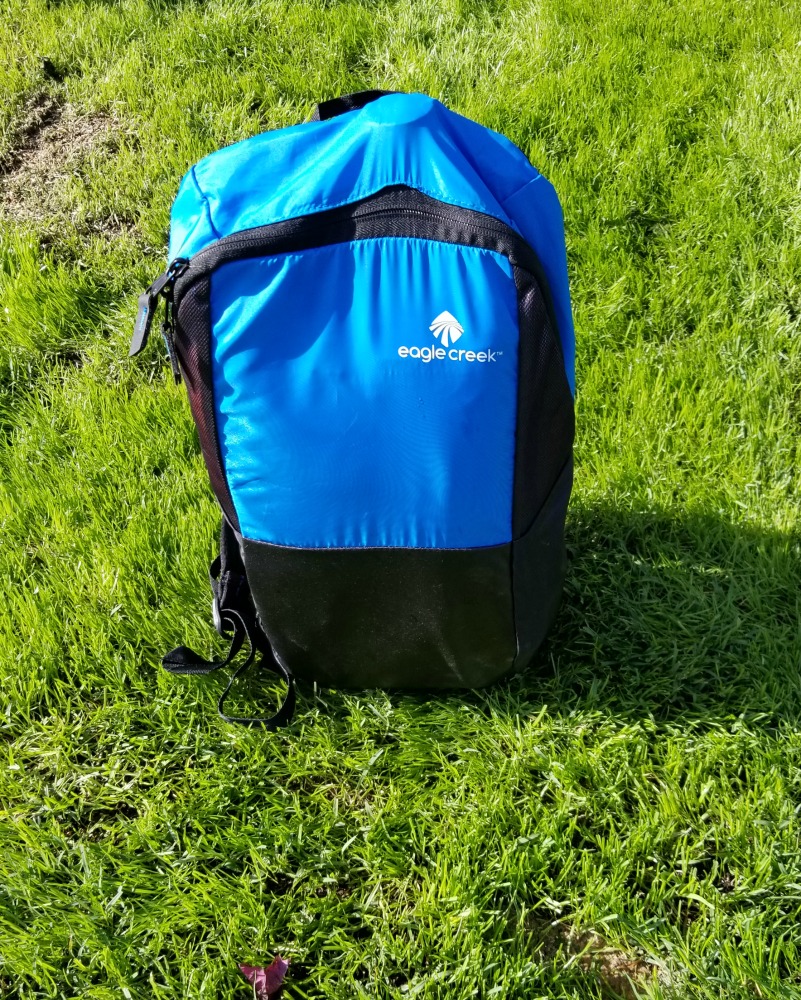 Where to Stow Your Race Recovery Pack
The type of bag that you use for your race recovery pack will depend on the quantity of gear that you're bringing. The list above looks long, but most items are small and won't take up a lot of room. If warm clothes will be necessary, you will probably need a larger bag.
I love my Eagle Creek Sport Daypack. It's lightweight, but big enough t stow my post-race needs. A slightly larger gym bag type pack will work too, but if you have to check it make sure about any restrictions your race might have. All-in-all, the smaller the better, both for checking purposes and because you will have to carry it around after the race.
There is always the option of leaving your race recovery pack in the car, carrying just a few necessary items that you can use until you can get back to it. If your car is near the finish line, this will be easy and you won't have to worry about checking your bag or carrying it around before the race.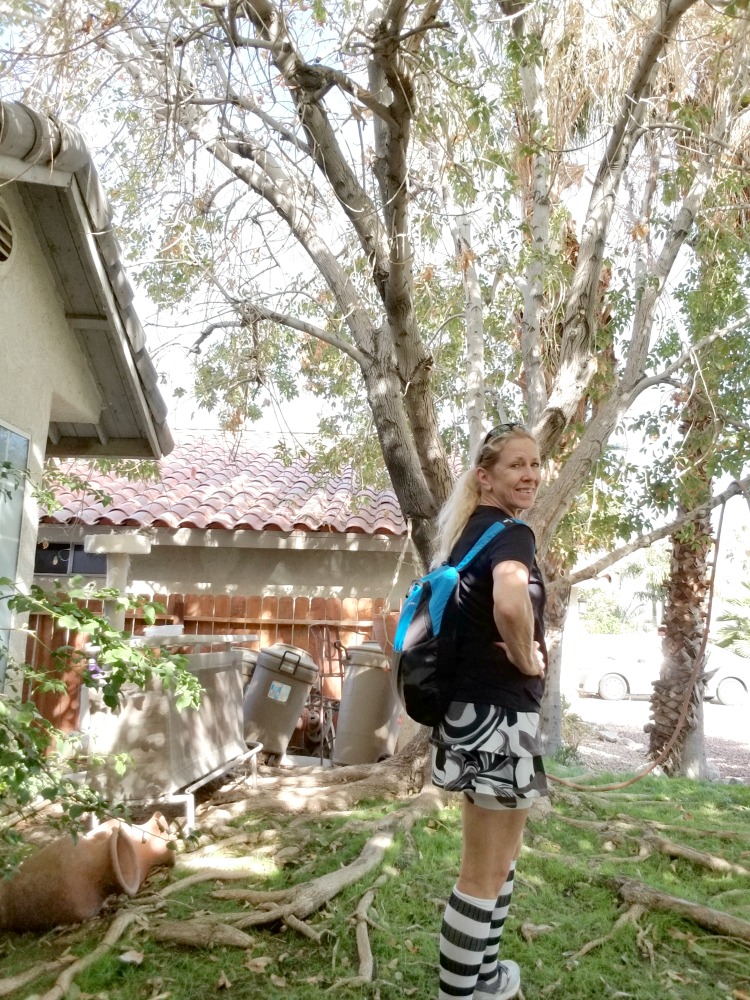 Bringing your Race Recovery Pack to your next race will help your recovery by giving you easy access to fuel, hydration, and body care tools immediately after your finish.
What would you pack in your Race Recovery Pack?
And Now It's Time for the Running Coaches' Corner!
Loading InLinkz ...
---
Weekly Linkups
My weekly linkups! Please stop by and check out all of the great recipes, workouts, and information that all these awesome bloggers share every week!
Meatless Monday with Sarah and Deborah
Meatless Monday with Annmarie  and Dixya
Tuesdays on the Run with Marcia, Erika, and Patty
Inspire Me Monday with Janice
Wild Workout Wednesday with Annmarie, Jen, and Nicole
The Plant-Based Potluck Party with Deborah
The Running Coaches' Corner with Rachel, Suz, Lora Marie, and Me!
Friday 5 2.0 with Rachel and Lacey and Meranda