You've done the training (see Marathon Training Part 1), you've tapered properly, you've cleaned up your nutrition habits and now you are toeing the line in your new running outfit and shoes ready to set a new PR or qualify for the Boston Marathon.  Before you get there, though, it might be a good idea to take a moment to read these race day rules.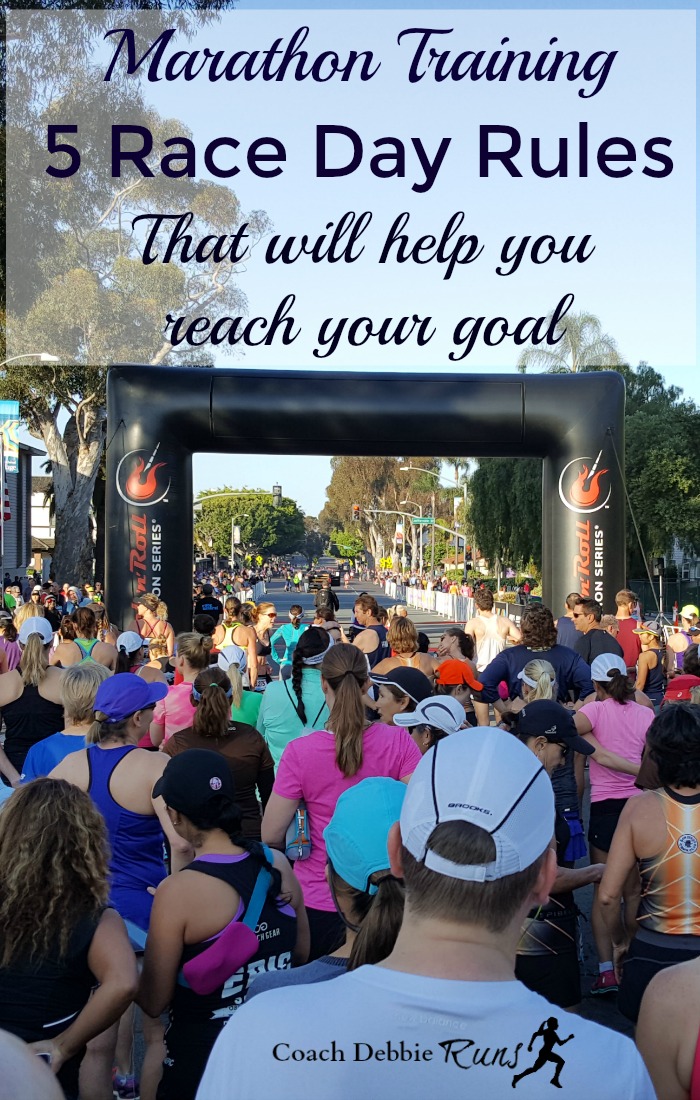 5 Race Day Rules to Help You Achieve Your Marathon Goal
Race Day Rules: Number One
Stop! Go back to the first paragraph, reread, and remember Rule Number One of race day: Never, and I mean never, do anything new on race day. That means don't use a gel that you haven't trained with, don't use the carb drink they are supplying unless you researched and used it during your training.
Don't try something new for breakfast, and DON'T wear a pretty new outfit and new shoes. Can you say chafing, blisters, or just plain old discomfort for 26.2 miles? Even if your shoes are a new version of an old pair, wear them on a few short runs before the big day. Same goes for shorts, tops, bras, and socks.
Race Day Rules: Number Two
Hopefully, over the course of your long runs, you have learned what to eat, what your stomach can handle, how to manage fluids, all of which gives you a plan for race day. Rule Number Two: Stick with what works. Eat your gels, drink your fluids just like you planned. Learn from my mistake: When I ran the St. George Marathon, I was feeling so good for the first 15 miles that I was afraid to upset the applecart (I tend to have nausea problems).
I didn't take any gels, although I did drink fluids (I carried my own Cytomax). Yes, I felt great until I hit mile 20 when I started to feel weak and depleted, and could barely keep up an 8-minute mile (the first 20 I was averaging 7:15 per mile). It took all I had to finish that last mile. If I had fueled properly and maintained my pace, I had the chance to take another four minutes off my time.
Race Day Rules: Number Three
Retake on the race start: you've fueled up for the race with a light breakfast that you know will work because you've eaten it before your long runs. You are wearing an almost new, but still very cute, racing outfit and your lightly used shoes are still bright and shiny clean. Your pack or pockets are bulging with the racing fuel of your choice, and you've either tried out the race brand of carb/electrolyte replacement or are carrying your own.
The gun goes off and you start racing. Rule Number Three: Slow Down! The urge to start off too fast is almost irresistible. I know, I've been there, done that. Remember to run what you trained for. If your goal time is 3:30, about an eight-minute mile, don't start off running a seven-minute mile! It is not "money in the bank," you are not suddenly going to develop into a mystical being who will run a 3:03 marathon (yes, that is what a seven-minute pace would equal).
My husband loves to tell the story of the first time he ran Boston. Because he was very fast, his qualifying time put him up near the front with the likes of master marathoners Frank Shorter and Bill Rogers. When the race started, he started running with these champions. When he found himself at mile 10 in an hour, he knew he was cooked. That's on pace for a 2:37 marathon, much faster than the 2:59 time he qualified with. (When he had to finally slow down at mile 10, he managed to pull himself together and still run 2:58. That's mental toughness and determination.)
Race Day Rules: Number Four
Unless you're doing a Galloway Walk/Run plan, Rule Number Four is Don't Walk (too much). The problem with walking is that by mile 20, it just feels too damn good. The more you walk, the harder it is to get started running again. Plan ahead for your walking strategy. I used to plan to walk through the water stations (when I set my PR, though, I didn't walk at all). Unless you're injured, make yourself start running again as soon as you can, even if it is really hard to do so. You will feel better once you get rolling again.
Race Day Rules: Number Five
This final rule covers a lot of things, Rule Number Five: Shit happens. While not a real rule, per se, mentally planning for it will help you run a successful marathon. Over the course of 26.2 miles, there will probably be times where you won't feel good, you might start to develop a blister, your playlist will go whacky and you're forced to listen to the sound of your own breathing.
So many things can happen that might derail your race. It will be up to you, your mental toughness that you have been developing over the last 4-6 months, that will keep you going, make you keep pushing, help you carry on. I can't make you do it. Only you can. Like I said in last week's post. It will be hard. It will hurt. But, if you've followed the training and gotten this far, you can do it.
Note: there may be circumstances, like an injury or other health problem, that you really should quit. I myself have dropped out twice for health reasons, both times my exercise-induced asthma left me unable to breathe-all the fortitude in the world can't make up for that. Be smart, make the right decision, and live to race again.
Those are my race day tips for running a successful marathon. I know it's not a complete list, because in the interest of brevity I skipped some basics like hydrate, wear your number on the front, wear sunscreen, etc., that apply to every level of marathon running.
Did I miss something important? What tips would you add to the list?
And Now It's Time for the Running Coaches' Corner!
Loading InLinkz ...
---
My weekly linkups! Please stop by and check out all of the great recipes, workouts, and information that all these awesome bloggers share every week!
Meatless Monday with Sarah and Deborah
Meatless Monday with Annmarie  and Rachel
Inspire Me Monday with Janice
Anything Goes with Marilyn
Wild Workout Wednesday with Annmarie, Michelle, Jen, and Nicole
The Plant Based Potluck Party with Deborah
The Running Coaches' Corner with Rachel, Suz, Lora Marie, and Me!
Giveaway Roundup and Try Out Thursdays with Smitha
The Blogger's Pit Stop with Kathleen, Janice, Julie and Me!
Living a Life of Fitness, Health and Happiness with Jill