The very first time I tasted an
Outshine Pineapple fruit bar
, I knew that I was meant to create a tropical Pina Colada Chia Pudding. Seriously, it was just meant to be.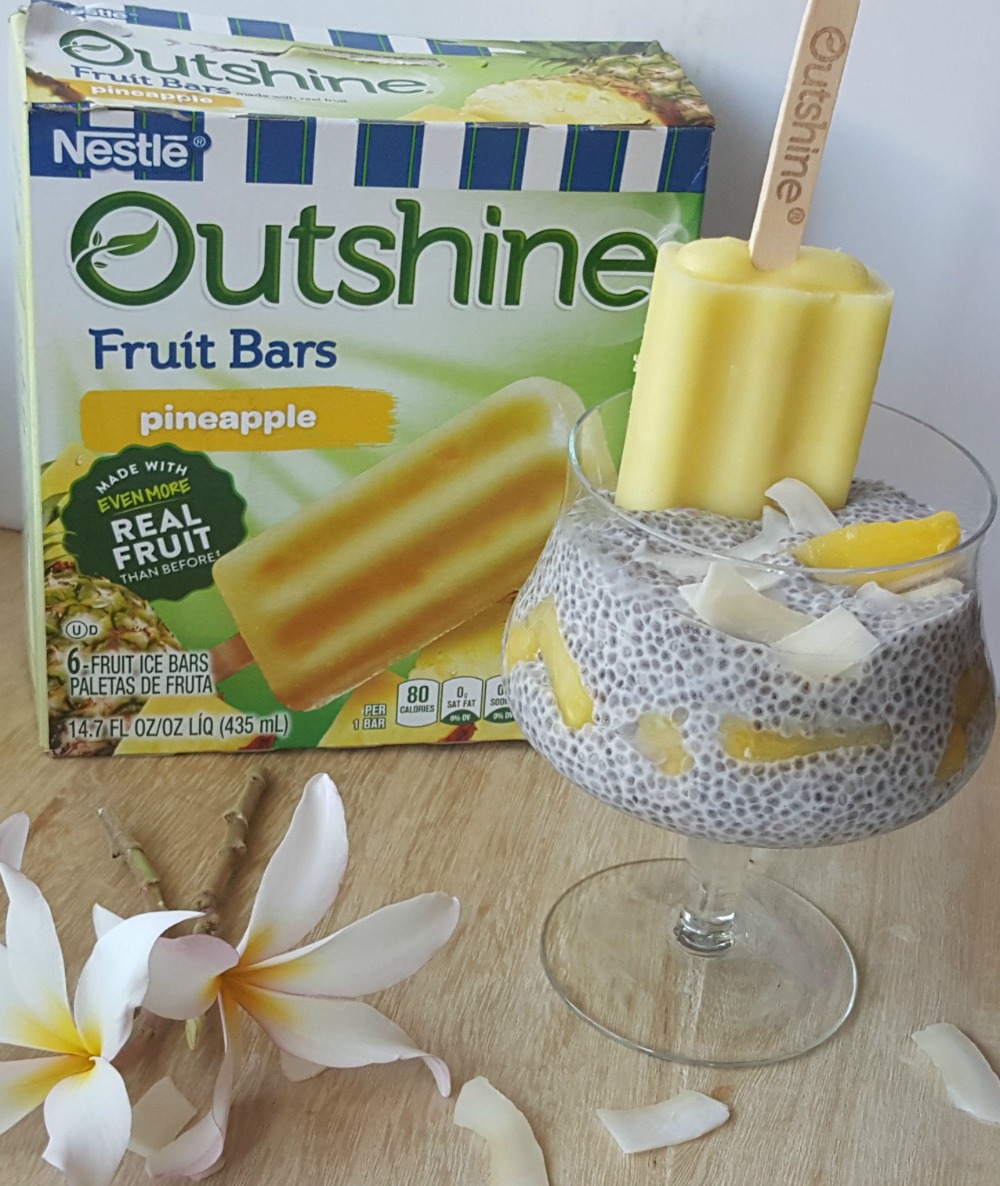 Outshine Fruit Bars
Of course, Outshine fruit snacks are pretty delicious all on their own. And, most important, Outshine fruit bars are made with simple ingredients, real fruit and real fruit juice, and use no GMO ingredients.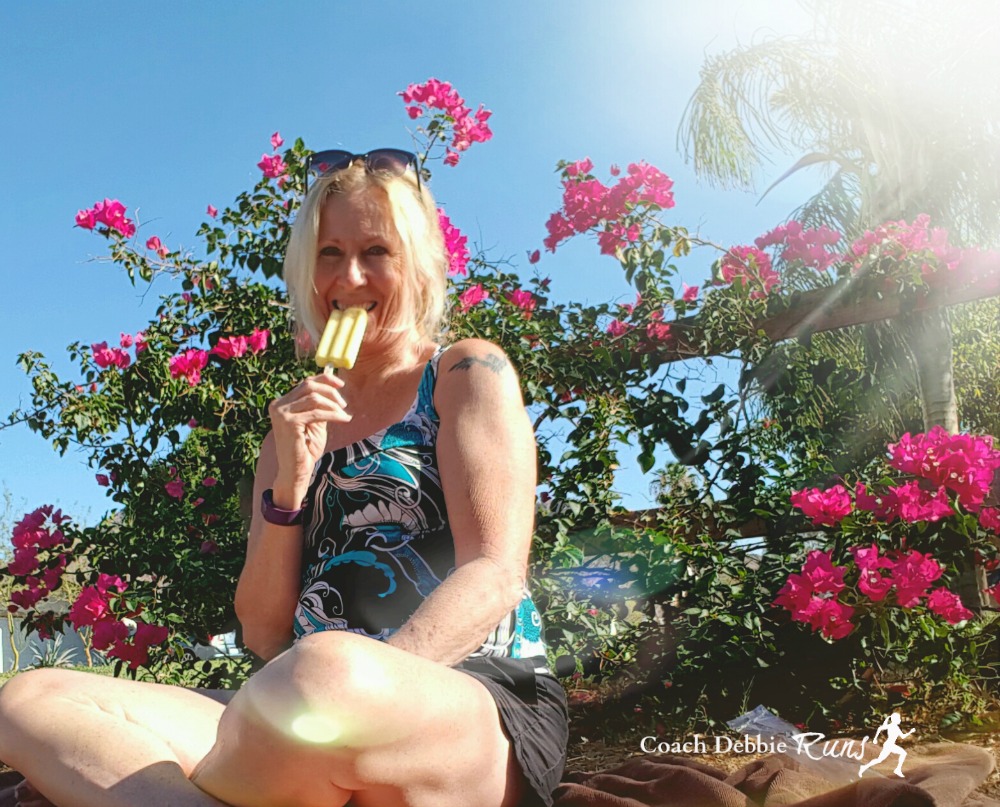 As we near the end of summer (it was over 100 today in the desert), it is refreshing to have a healthy and refreshing snack alternative. They are great after a workout, as a simple dessert, or anytime I need to cool off and revive.
While I don't have children at home, I know my grandchildren will enjoy the Outshine fruit bars, and their parents will be happy for the healthy option. Just knowing that real fruit is the number one ingredient makes me happy too.
Pina Colada Chia Pudding
Let's get back to that Pina Colada Chia Pudding, shall we? After I tasted my pineapple Outshine fruit bar I was struck by how fresh and fruity it tasted. I love to get a little creative in the kitchen, so deciding to make a Pina Colada Chia Pudding was almost a no-brainer.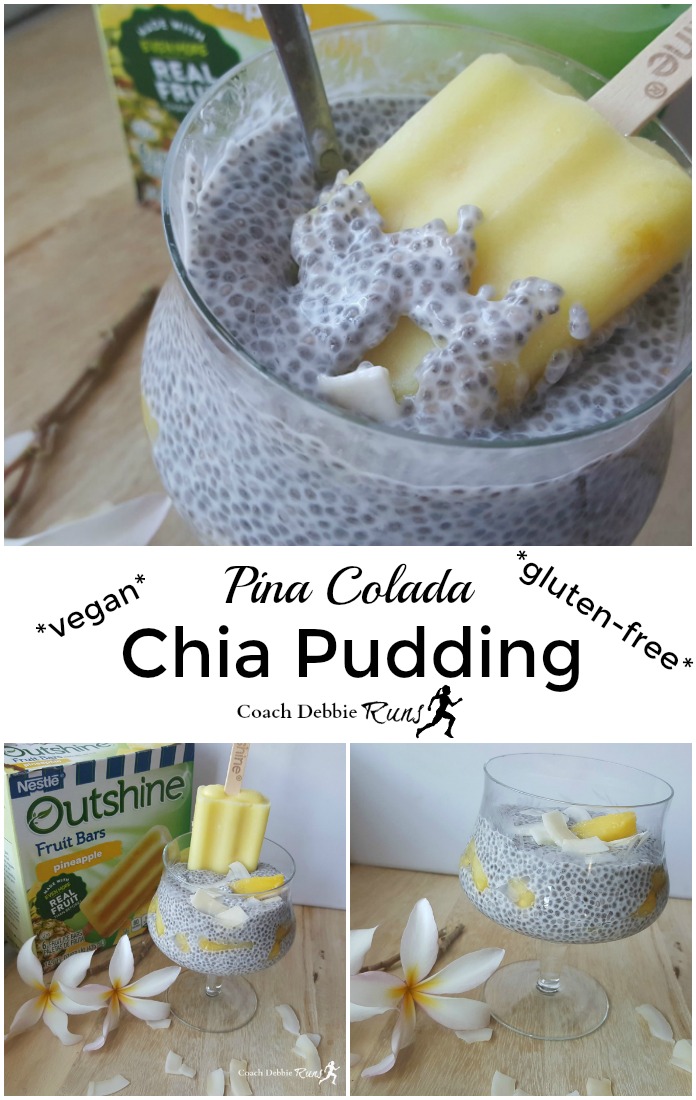 Chia seeds are an amazing plant-based superfood. They provide protein, fiber, calcium, manganese, magnesium, and five grams of Omega 3 fatty acids per one ounce serving. Chia seeds are loaded with antioxidents too. Plus, when moistened, like they are in this recipe, they absorb the liquid and become gel-like, and so are perfect as a thickener for pudding or sauces, and even as an egg substitute in baked goods.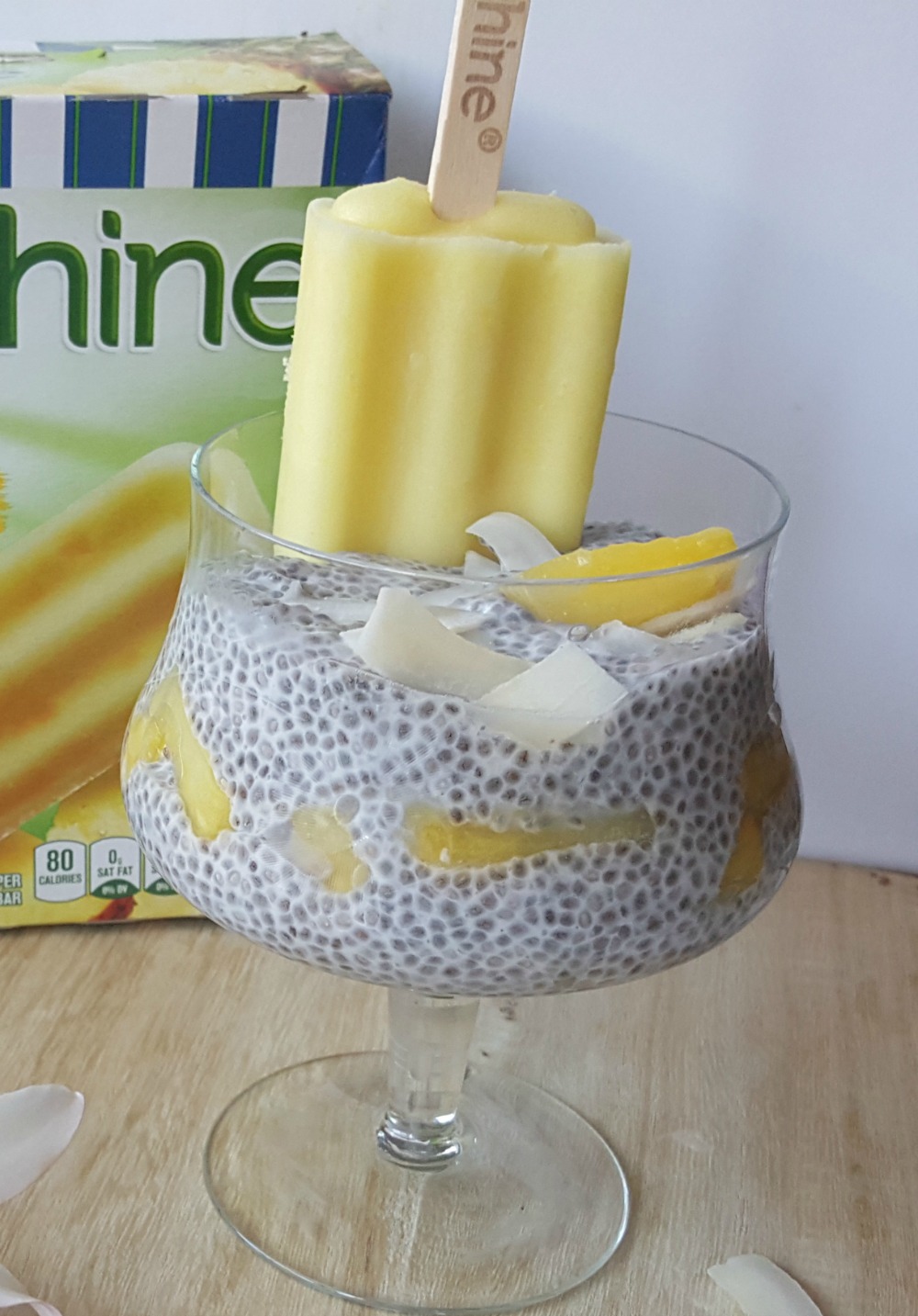 Outshine also makes a creamy coconut fruit bar, but it has some dairy, so I stuck with the pineapple. If that is not an issue for you, this Pina Colada Chia Pudding would taste delicious with the coconut bar too.

Tropical Pina Colada Chia Pudding with Outshine Fruit Bars #SnackBrighter
Vegan Dessert
Ingredients
3 Outshine Pineapple (or Creamy Coconut) Fruit Bars
½ cup chia seeds
1.5 cups coconut milk (from a carton)
½ cup coconut milk (full or reduced fat, from a can)
1-2 Tablespoons maple syrup (according to your sweetness preference)
pinch of salt
½ cup fresh or frozen pineapple chunks
Coconut chips or shredded coconut (for garnish)
Instructions
In a small bowl, combine the chia seeds, both types of coconut milk, maple syrup and salt.
Gently mix together, then refrigerate for at least 4 hours.
Spoon 3-4 tablespoons of the pudding into three serving bowls or glasses.
Add a layer of the pineapple, saving a piece or two for garnish.
Spoon the remainder of the pudding on top of the pineapple.
Unwrap the Outshine Pineapple fruit bars and dip them into the pudding.
Garnish with remaining pineapple and coconut chips.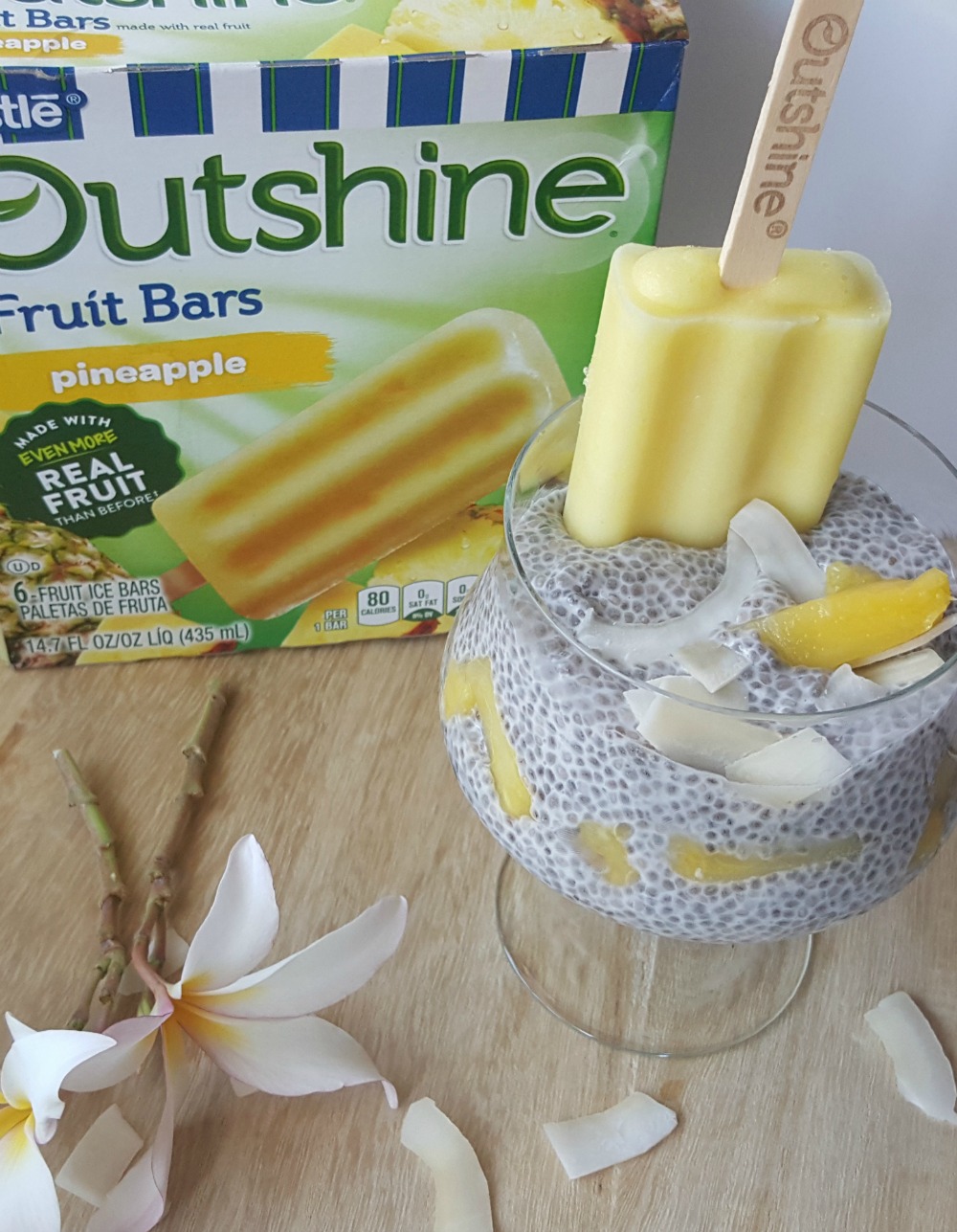 Not only was this Pina Colada Chia Pudding delicious, it was also fun to eat. We used the Outshine pineapple fruit bar like a spoon so that we could indulge in the pudding along with a bite of the fruit bar! Kids would love this too! Who doesn't love fun food?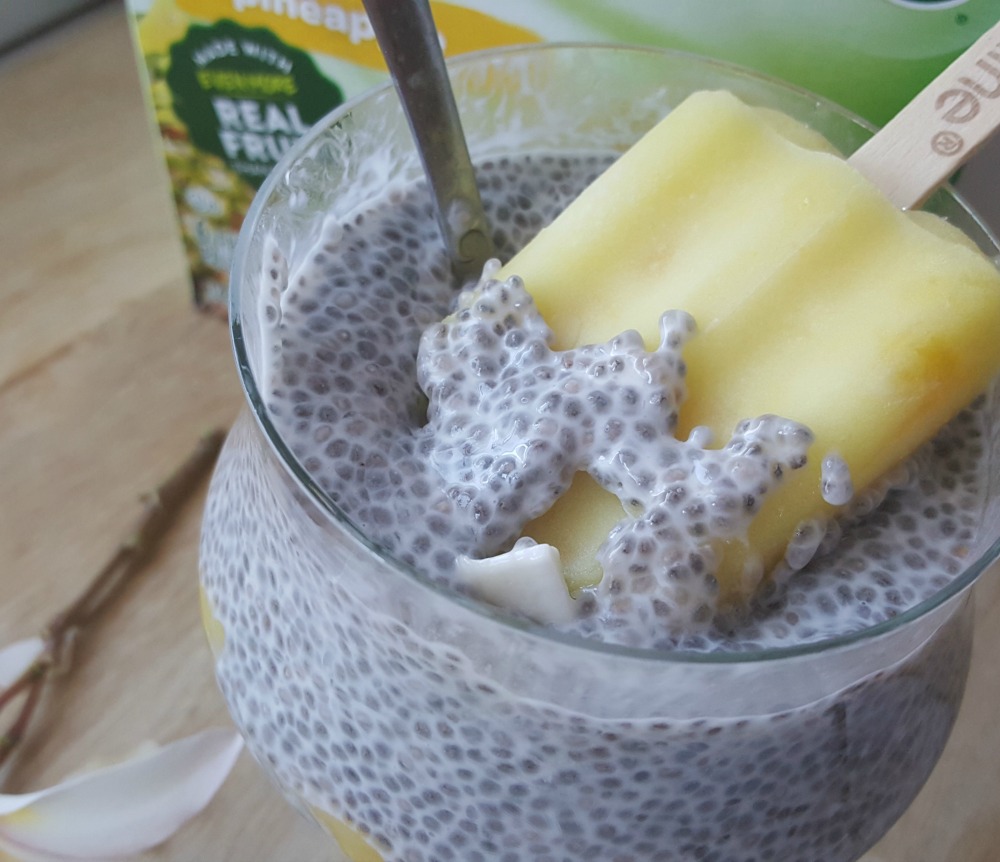 I found my Outshine Fruit Bars at Target, but you can check here to find the nearest place to shop where you live. Would you like to know a little more about Outshine Fruit and Yogurt Bars? Check here.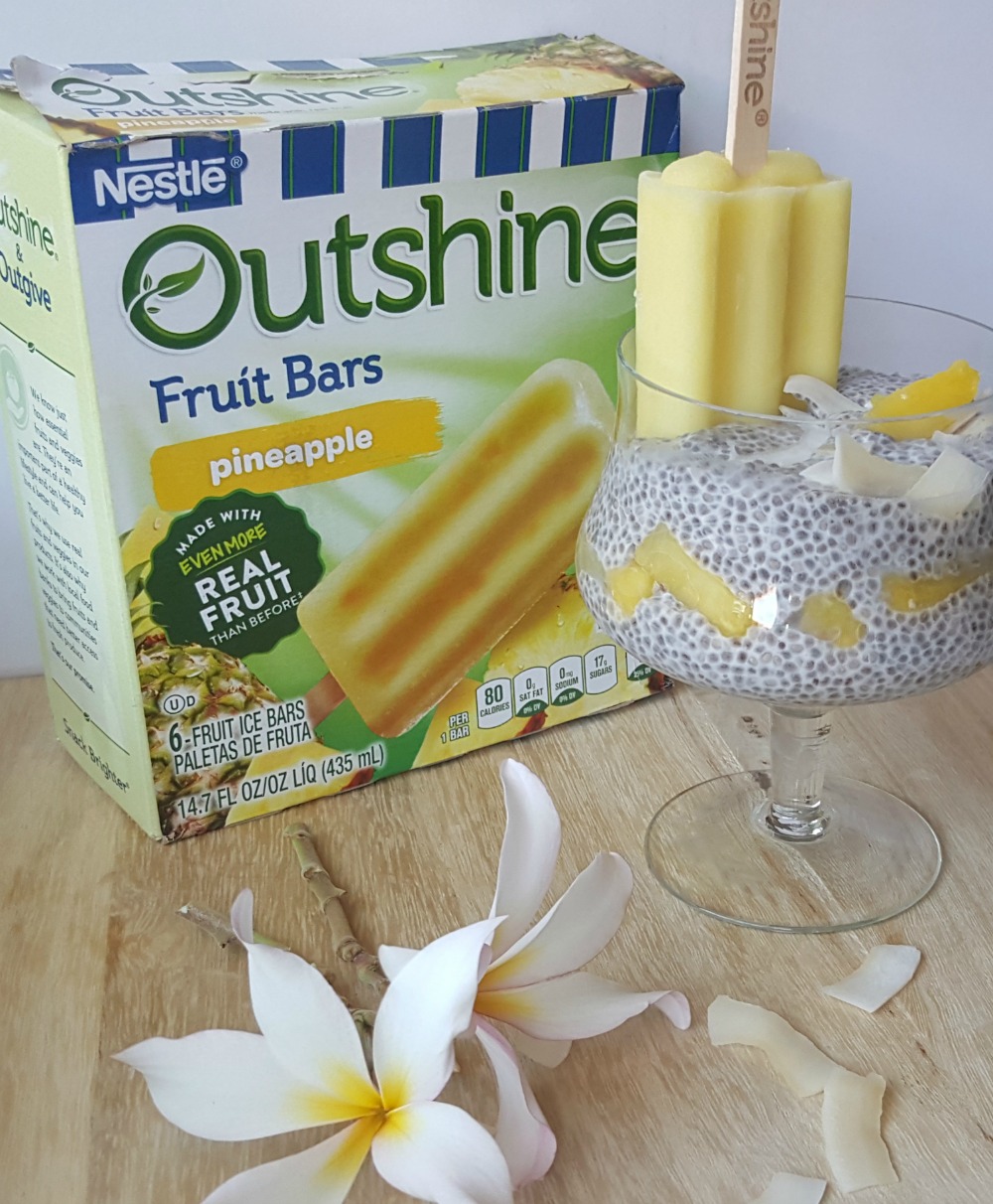 What flavor Outshine fruit bar is calling your name? Check here for the full lineup. Have you made chia pudding before? Frankly, this was my first time and now I'm hooked! So delicious and good!
---
My weekly linkups! Please stop by and check out all of the great recipes, workouts, and information that all these awesome bloggers share every week!
Meatless Monday with Sarah and Deborah
Meatless Monday with Annmarie  and Rachel
Inspire Me Monday with Janice
Anything Goes with Marilyn
Wild Workout Wednesday with Annmarie, Michelle, Jen, and Nicole
The Plant Based Potluck Party with Deborah
The Running Coaches' Corner with Rachel, Suz, Lora Marie, and Me!
Giveaway Roundup and Try Out Thursdays with Smitha
The Blogger's Pit Stop with Kathleen, Janice, Julie and Me!
Living a Life of Fitness, Health and Happiness with Jill
Friday Favorites with Heather