Last week, in 12 Essential Tips to Avoid Running Injuries, I mentioned that improving running form will reduce your injury risk.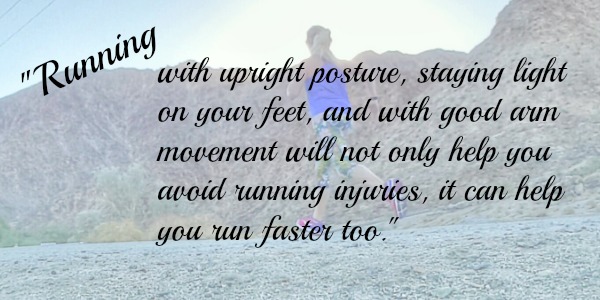 "Running with upright posture, staying light on your feet, and with good arm movement will not only help you avoid running injuries, it can help you run faster too." I also added that learning to activate your glutes before your run, strengthening your core, and flexibility training can also help.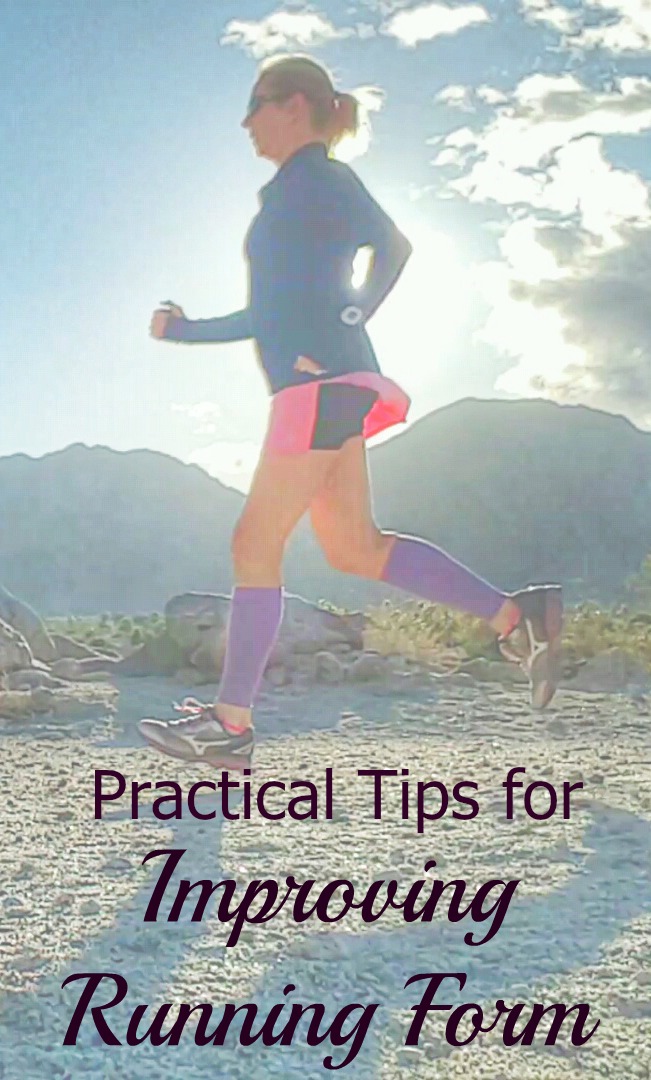 Here are some practical tips, drills, and suggestions that will help you understand running form and take steps to improve it.
The Basics of Improving Running Form
First of all, if you have been running for a while without injury and performing at a level that you're pleased with, you probably don't need to worry too much about your running form. You don't need to mess with something that isn't broken.
That being said, if you feel you want to run with the best form possible, the first place to start is posture. Running tall means just that: no slumping or rounding of shoulders or back, striving to be as tall as is possible.
Visualize a string attached to the top of your head, gently lifting you upward. Go ahead, do it now. Can you feel how it immediately makes you stand straighter and feel taller? On your next run, remember that string. It will immediately help you in improving running form.
Next, take a look at your stride. Ideally, your foot will land directly under your body as your run. Many new runners overstride, taking too long steps that result in a bounding, heavy-footed effect. Don't overthink this, but try shortening your stride slightly instead of trying to make up ground with each step. Think of your foot landing under you hips, not in front.
You can also check your stride rate. That means how many steps you're taking per minute. Too few and you're probably overstriding and wasting energy in vertical movement. Aim for a stride rate of 180 to 190. To check, on your next easy run simply count your stride on a level surface for a minute.
Finally, your arms, shoulders, and hands should be relaxed, the elbows at about a 90-degree angle. Keep your hands loosely fisted, and allow your arms to operate naturally, which is in opposition to your foot stride. Try to avoid a cross-body movement with your arms, as that can expend extra energy.
Practice these tips on short runs so that they can become habits. Read on below for exercises and drills that will help you in improving running form.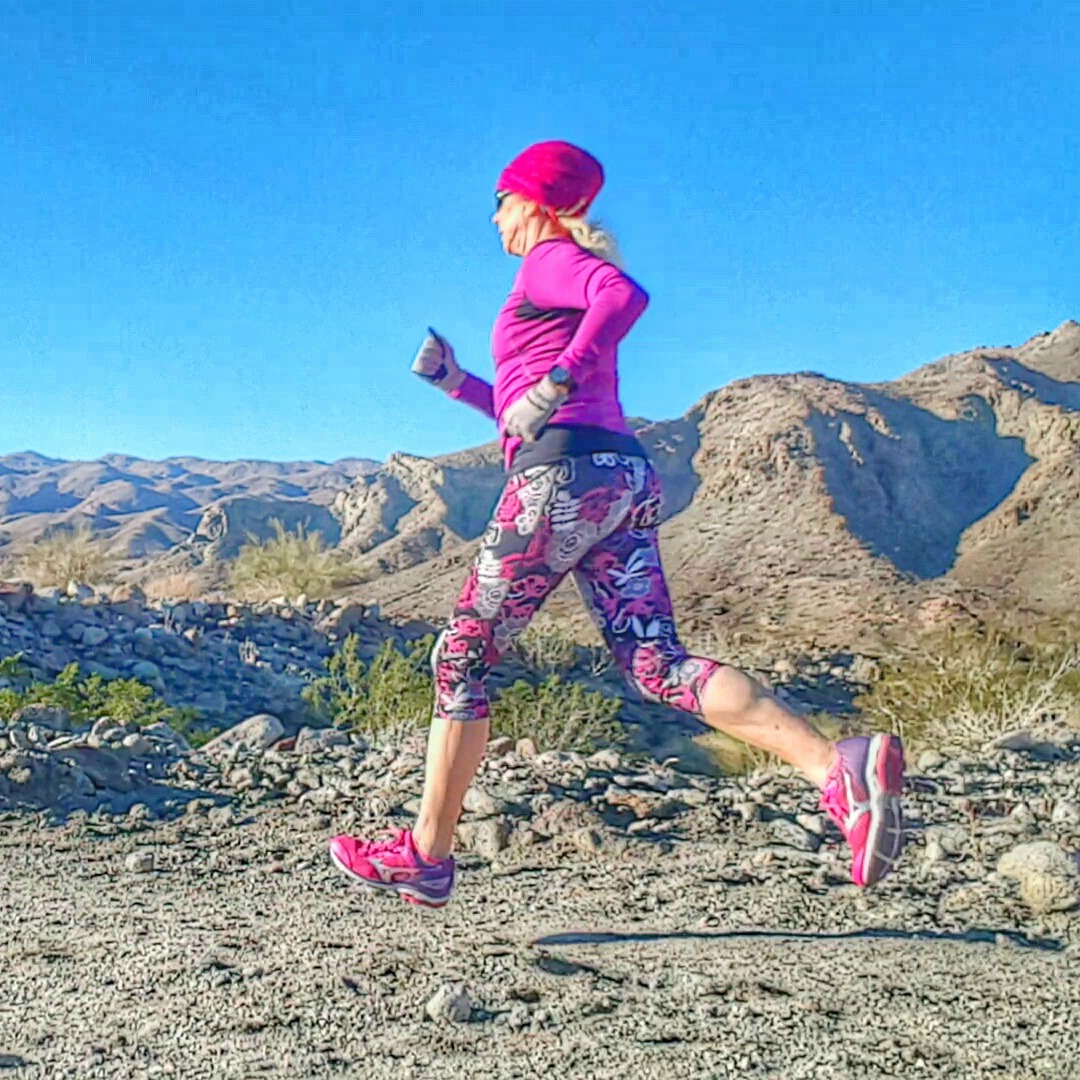 Exercises for Improving Running Form
A lot of good running form starts in the weight room. Here are some exercises that will help you improve yours.
Strengthening your core will help improve your posture and enable you to stand tall for even your long runs. Perform exercises like planks, side planks, back extensions, supermans, and bird dogs several times a week. Here are some of my favorites: Seven Exercises for a Strong Core.
Strengthening and activating your glutes is vital for improving running form as well as for preventing injury. Exercises like monster walks, clamshells, one-leg deadlifts, and side lunges will both "wake up" and strengthen those important gluteal muscles.
An overall strengthening program targeting your upper and lower body to balance your strength and improve your posture will also help with improving running form. Here's my favorite: Eight Essential Strength Exercises for Runners.
Drills for Improving Running Form
It's all fine and good to tell you to do these things, but what is the best way to actually implement them? In addition to strength training and visualization of better form, here are some drills that will assist in improving running form.
Do each of these drills two or three times a week, generally after your warm up but before the main part of your workout, doing two sets of about 30 seconds or 50 meters each. If you have a safe, soft surface (like grass) you can do them in your bare feet.
Butt Kicks engage the hamstrings and dynamically stretch the quadriceps. They help improve leg turnover and cadence. To do them, aim to kick yourself in the butt by just flicking your lower legs. Keep your upper legs as close to perpendicular to the ground as you can and your upper body still.
High Knees strengthen the hip flexors, dynamically stretch the hamstrings, and power up the glutes, and teach your body to lift off of the ground as opposed to push off, improving your stride and cadence. To do them drive each knee up, then focus on lowering the leg rather on just letting it fall, landing softly near the ball of your foot. Practice at a moderate pace, then speed it up when you improve your skills.
Skipping, done slowly, strengthens the foot and calf muscles that help the toe off phase of your running stride. It also stimulates the high knee action needed during your stride. How to do them: Like regular skipping but done slowly, focusing on form, height, and knee lift. Your arms should work as they do when you're running, helping to drive you up. Keep a steady cadence while skipping.
Cariocas (or grapevines) help loosen up hip flexors and increase hip mobility. They also improve coordination. To do them, move laterally, alternately crossing the outside leg first behind then in front of the other leg. (When I used to teach line dancing, I'd say out loud, "side, behind, side, in front.) Your arms will rotate in the opposite direction of the legs. Stay light on your feet. As you advance you can lift the outside leg higher as you bring it across in front. Be sure to do this drill in the opposite direction for each set.
Strides (or Striders) aren't exactly a running drill, but they may be one of the most important things you can add to your training to improve your running form. They can be done following your drills, or can be added to the end of your easier runs. They are also a great way to stay warm and ready to run right before a race. They can be done two or three times a week.
You'll need a flat, safe area of 80 to 100 yards. A football field or track works great, but you can also do them on the street in front of your house. They can be done barefoot, which helps improve lower leg strength and proprioception.
Do a stride by gradually accelerating to about 95% of your maximum speed, hold that pace for about a third of the total stride distance, then decelerate for the final third. Catch your breath for about a minute, then do the next stride. Start with four strides, then you can increase to six after a few weeks.
There are many other running drills, but these will get you started and will definitely help in improving running form.
Do you have a favorite drill or tip that has helped you improve your running form? Do you do strides before or after your workouts? Please share!
And Now It's Time for the Running Coaches' Corner!
Loading InLinkz ...
---
Weekly Linkups
My weekly linkups! Please stop by and check out all of the great recipes, workouts, and information that all these awesome bloggers share every week!
Meatless Monday with Sarah and Deborah
Meatless Monday with Annmarie  and Rachel
Inspire Me Monday with Janice
Anything Goes with Marilyn
Wild Workout Wednesday with Annmarie, Michelle, Jen, and Nicole
The Plant-Based Potluck Party with Deborah
The Running Coaches' Corner with Rachel, Suz, Lora Marie, and Me!
Giveaway Roundup and Try Out Thursdays with Smitha
The Blogger's Pit Stop with Kathleen, Janice, Julie and Me!
Living a Life of Fitness, Health and Happiness with Jill
Friday Favorites with Heather
Sunday Fitness and Food with Angela and Ilka