If you read my blog, you may know that I'm not really a treadmill running fan. All summer long, in spite of miserable hot and humid weather in the desert, I have still managed to run outside. I love being outdoors, feeling the wind in my face, seeing other runners, and enjoying the changing scenery. All of which you don't get when running on a treadmill, right?
Well, until now.
How to Enjoy Running on a Treadmill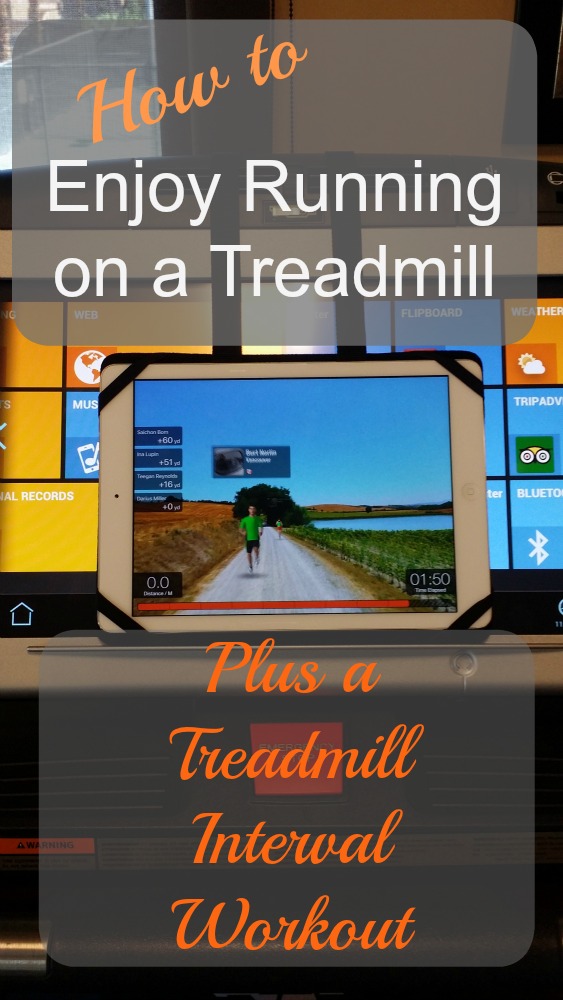 The folks at Run Social contacted me a few weeks ago to see if I'd be interested in trying out their new app. I hesitated at first, even told them that I dislike running on a treadmill, but I finally decided to give it a go. Even then it took me a couple more weeks to try it out.
Run Social is a free app (available on Apple App Store), that allows you to run the world. From Tuscany to Joshua Tree, a tropical paradise to the Swiss Alps, you can virtually get out of the gym, off the treadmill, and onto the winding lanes of a small town in Italy or the streets of London.
Run Social has about 15 video routes of various distances that are available to purchase and download for about $1.99 to $9.99. And those $9.99 ones are actually marathons! Yes, you can run either the London or the Prague marathon, virtually, on your treadmill.
Okay, now that sounds fun and all, but you might say that more and more treadmills offer virtual running routes. That's true, but here is the difference (and the reason the app is called Run Social).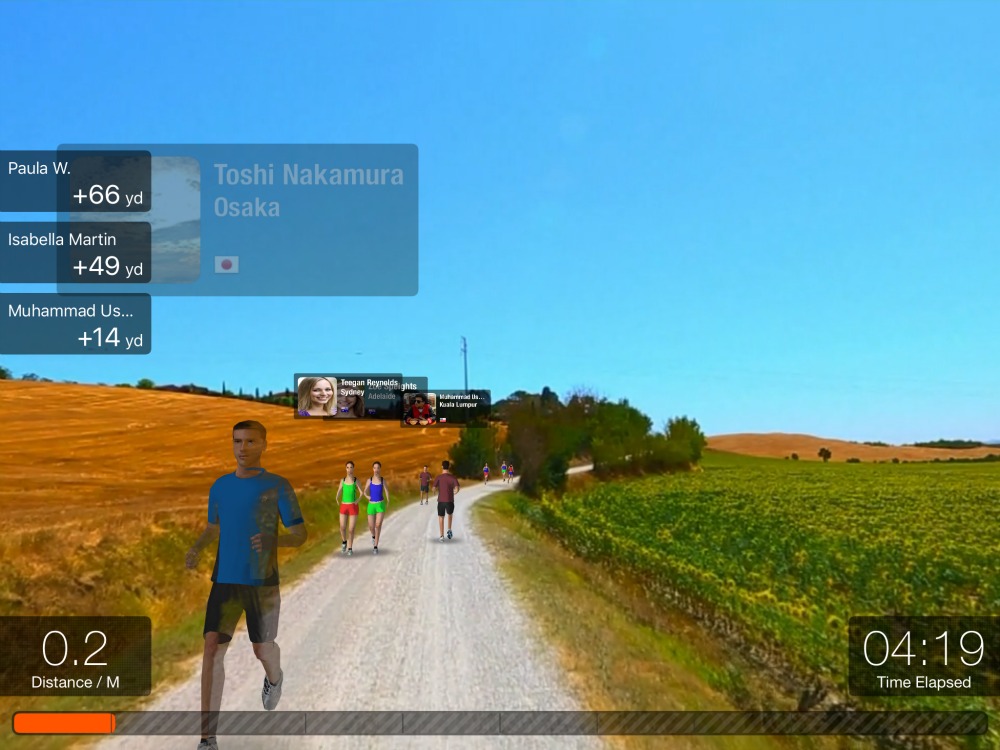 As you start your run (or walk!), you will see other runners along the route. These are all other real runners, from all over the world, using the Run Social app and running the same route that you are! As you pass them (or, in my case, as they pass you), you will see their name and country tagged over their avatar. There are also runners coming toward you in the other direction (but I couldn't make my avatar wave, hopefully that will be coming soon).
This was what made it fun to be running on a treadmill. As people passed me, I actually picked up my speed! They provided the encouragement for me to push a little bit, plus they helped me manage to (almost) forget I was on a treadmill.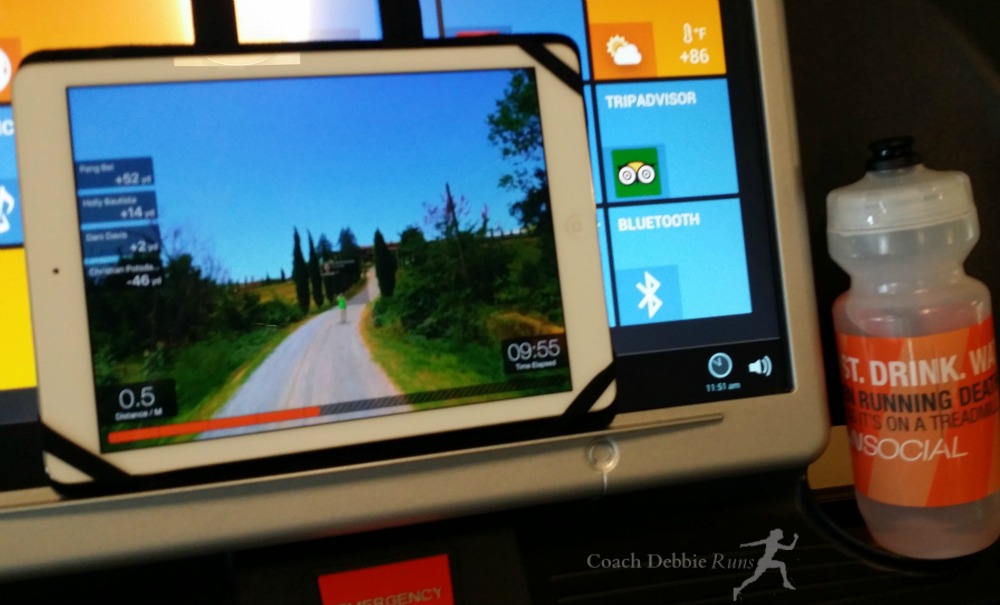 With Run Social you can even hold running events! You can create an event, name it, pick a time, invite your friends (either private or public), and you can all get together virtually for a run, no matter where you actually live! You can even run one of the marathons together!
Run Social can also be viewed on a big screen. You can hook your iPhone to your television and really enjoy the view. Not only will you see your running route in beautiful HD color, you will still be able to control the app from your phone.
There are a few different ways to track your speed. The basic one, which I used, is to start the app, set the speed, then set the same speed on your treadmill. You can use the TreadTracker (available for purchase on the Run Social website). It actually hooks up under your treadmill to track the pace you're running. They also have a pedometer with a built in sensor, which is not quite as accurate, but still a good option.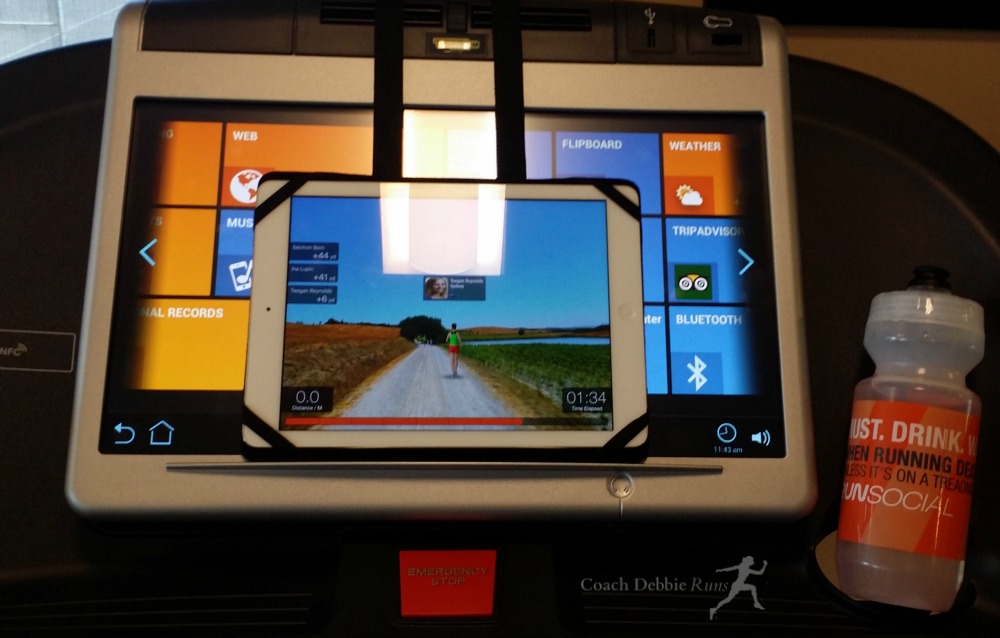 And finally, if you're using certain LifeFitness equipment, you can connect via Bluetooth to track your speed. What's really cool about that option is that you can set the app to automatically control the incline on your treadmill. Then you can really enjoy those Swiss Alps!
For the first time, I can honestly say that I enjoyed my treadmill run. I think it was the chasing people down part, but, really, everything about Run Social makes running on a treadmill, well, fun! For those of you who are approaching winter weather (sorry to mention it!), you now have an option to make your indoor runs more interesting. And for those who already enjoy treadmill running, this app is going to make it even better!
Treadmill Speed Workout
Another way to make running on a treadmill more fun is to do a speed workout! Here's one of my favorites.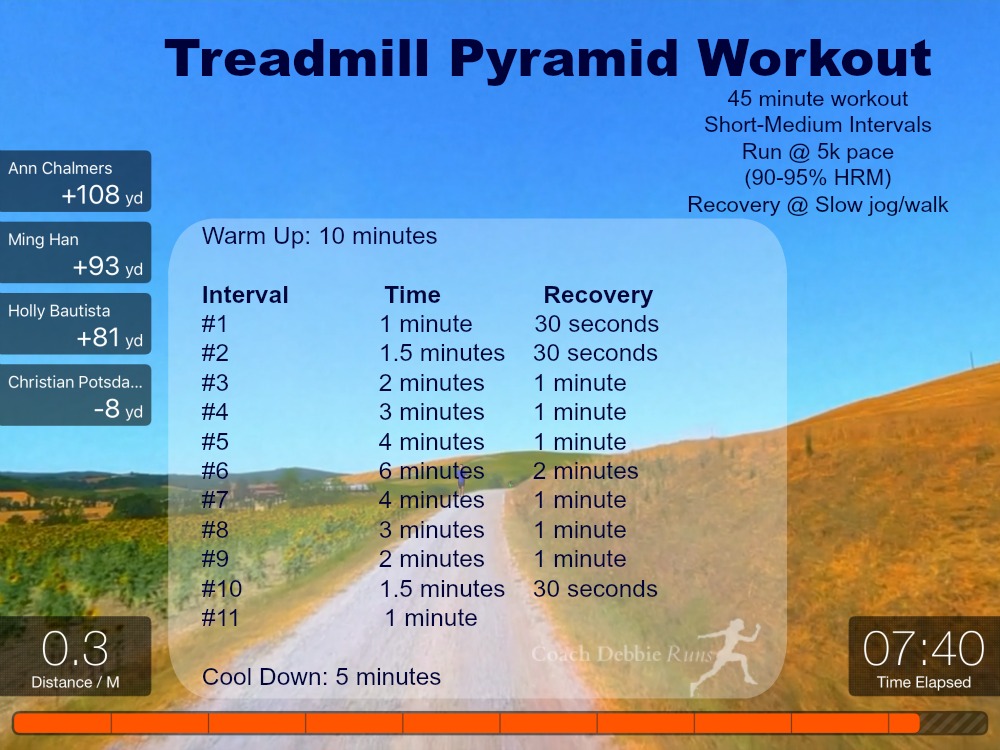 Are you a treadmill lover? Or is it a dreadmill?
I received a free download, plus a water bottle and the very cool PadGrip, which is a great way to secure your tablet on a treadmill, in exchange for my honest review of RunSocial. All opinions are my own.
---
My weekly linkups! Please stop by and check out all of the great recipes, workouts, and information that all these awesome bloggers share every week!
Sunday Blog Hop with Jenn
Meatless Monday with Tina and Deborah
Meatless Monday with Annmarie 
Inspire Me Monday with Janice
Anything Goes with Marilyn
Bonnie, the Pin Junkie
Tip Tuesday with Debbie in Shape
Wild Workout Wednesday with Annmarie, Michelle, Sarah, and Angelena Marie
Wednesday Wisdom with Nanna's Wisdom
The Blog Booster Party with Kathleen
Friday Fitness with Jill