If you read (and hopefully do) my workouts, you know that I love to be outdoors, at home, or in a studio. Sometimes, though, it is fun, and can be functional, to hit the gym for a change.
All you need for this circuit workout is a treadmill, mat, and a pair of dumbbells, though you can, if you want, change up some the exercises to make use of cable, benches, balls, and other gym equipment at hand. Possible variations are suggested below.
On the run/walk portion of the workout (with the exception of the warm up), push yourself! Sprint or walk very fast, get your heart rate up there! It's only two minutes at a time!
Click on the graphic to enlarge or print.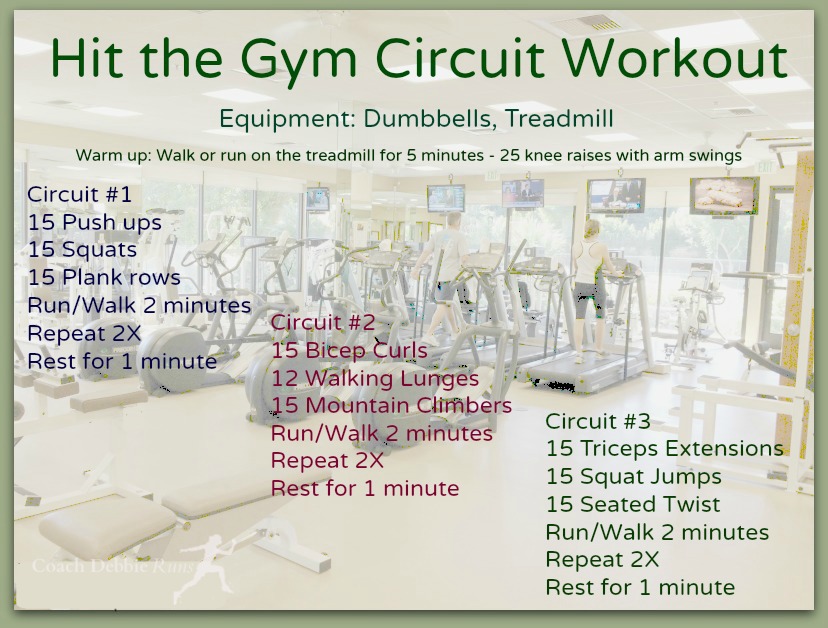 Variations
Circuit 1: You can replace the pushup with a chest press on a stability ball. Instead of plank rows, you can try a standing cable row.
Circuit 2: You can use the cable for bicep curls if you like, or challenge your balance by standing on a Bosu as you curl. Instead of the walking lunges, you might try step ups on a bench or step.
Circuit 3: There are a variety of ways to perform triceps extensions in the gym. You can use the cable for press downs or overhead extensions. You can do dips, either using a bench or a dip bar (or an assisted dip/pullup machine).
You can also use something besides the treadmill if you prefer. Try an elliptical, bike, or even a jump rope or try some plain old jumping jacks. Just be sure to work hard for those two minutes.
Variety is the spice of life, right? So try this workout, change it up as desired to keep it fun and interesting, and you're in for a spicy and functional treat!
Do you have a favorite in-the-gym exercise? Any gym time on the weekend agenda?
---
My weekly linkups! Please stop by and check out all of the great recipes, workouts, and information that all these awesome bloggers share every week!
Sunday Blog Hop with Jenn
Meatless Monday with Tina and Deborah
Meatless Monday with Annmarie 
Inspire Me Monday with Janice
Anything Goes with Marilyn
Link it to Me with Chantal
Bonnie, the Pin Junkie
Tip Tuesday with Debbie in Shape
Coffee and Conversation with Pat and Candy
Wild Workout Wednesday with Annmarie, Michelle, Sarah, and Angelena Marie
Wednesday Wisdom with Nanna's Wisdom
The Blog Booster Party with Kathleen
Friday Fitness with Jill