I've mentioned on Instagram that my next race will be the Tram Road Challenge in October. It is my anniversary race and Alan is going to be the announcer, which is always fun. It is also a very hilly race.
As it says above, the race is basically 3.7 miles straight up, gaining about 2,000 feet in elevation. That's a challenge no matter how you train, but there are certain workouts that will help runners conquer any hilly race.
How to Conquer a Hilly Race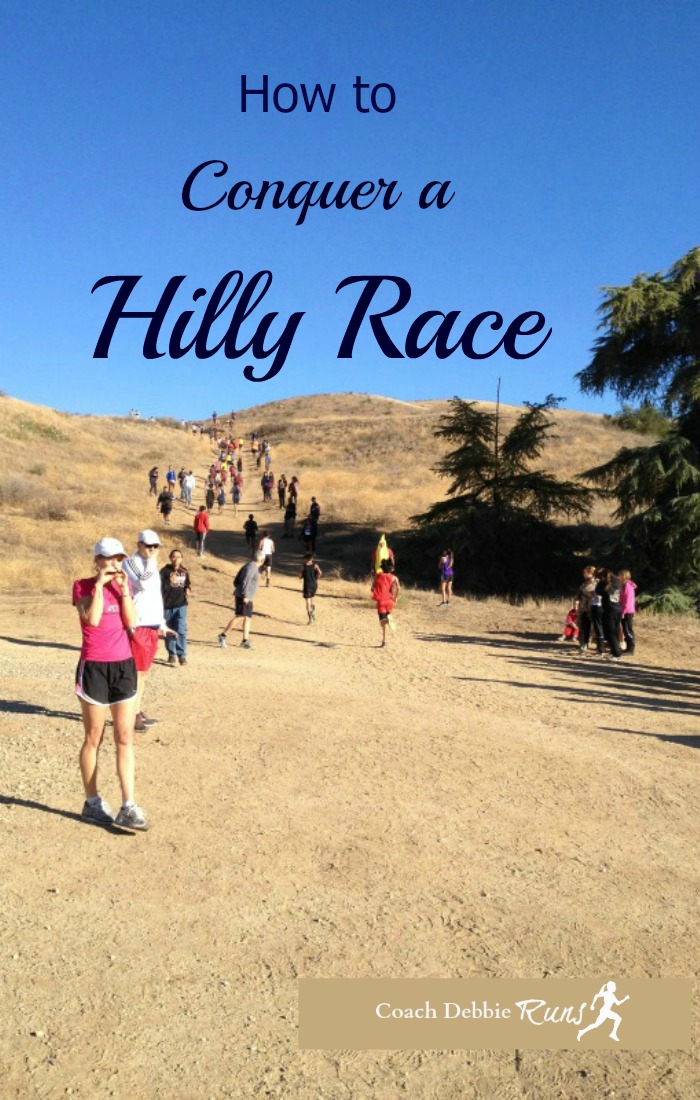 Hill Workouts
Well, of course, you might say, one must do hill workouts when training for a hilly race. Yes, it's obvious, but still needs to be listed here. There are different types of hill workouts, including hill sprints and longer rolling hill runs, all of which will benefit you in a hilly race. Some might be more appropriate depending on where you are in your training cycle, or upon the type or distance of hilly race which you're running. Here are three different hill workouts that will make you stronger and faster.
Running Downhill
While my race is almost entirely uphill, most hilly races have almost an equal about of downhill running as uphill. Most runners will focus on the uphill, assuming that the downhill will take care of itself. However, downhill running is a lot more difficult than it seems at first glance and runners can benefit from incorporating it into their training. Here are eight tips for running downhill.
Endurance
While certain hill workouts mentioned above will improve your endurance and stamina, having a base of endurance running early in your training cycle will give you an advantage as the intensity increases. Depending upon the length of your race, incorporate a weekly long run of six to 12 miles (for races up to half marathon distance).
Strength Training
A hilly race is very challenging  for your entire body, so a strength program that includes unilateral and core exercises is vital. A strong core will help you resist the gravity that wants to pull you down as you run uphill, and, in general, strength training will help you run faster and prevent injuries. Here is a great strength training program for runners (that only takes about 30 minutes!).
Run on the Appropriate Surface
It's simple. If you're training for a road race you should do most of your running on the road. Likewise, if you're racing on the trails, get on the trails as much as possible. At the very least, complete your long runs and hill workouts on the appropriate surface. This will help you adapt to the conditions/surface on which you'll be racing, which will help you run faster.
Following these tips will help you run faster and conquer your hilly race.
Do you have anything to add to the conversation? Any particular workout that has helped you smash a hilly race?  Will you follow me on Instagram?
Now It's Time for the Running Coaches' Corner!
Loading InLinkz ...
---
My weekly linkups! Please stop by and check out all of the great recipes, workouts, and information that all these awesome bloggers share every week!
Meatless Monday with Sarah and Deborah
Meatless Monday with Annmarie  and Rachel
Inspire Me Monday with Janice
Anything Goes with Marilyn
Wild Workout Wednesday with Annmarie, Michelle, Jen, and Nicole
The Plant Based Potluck Party with Deborah
The Running Coaches' Corner with Rachel, Suz, Lora Marie, and Me!
Giveaway Roundup and Try Out Thursdays with Smitha
The Blogger's Pit Stop with Kathleen, Janice, Julie and Me!
Living a Life of Fitness, Health and Happiness with Jill
Friday Favorites with Heather