Since this is the last Running Coaches' Corner of the year, I thought I'd take a look back and share some of my best running tips from 2016. I've enjoyed not only sharing my own favorite running tips, but learning from the other experienced coaches who co-host with me and those who link up with us every week. I'm looking forward to 2017 and another year of running!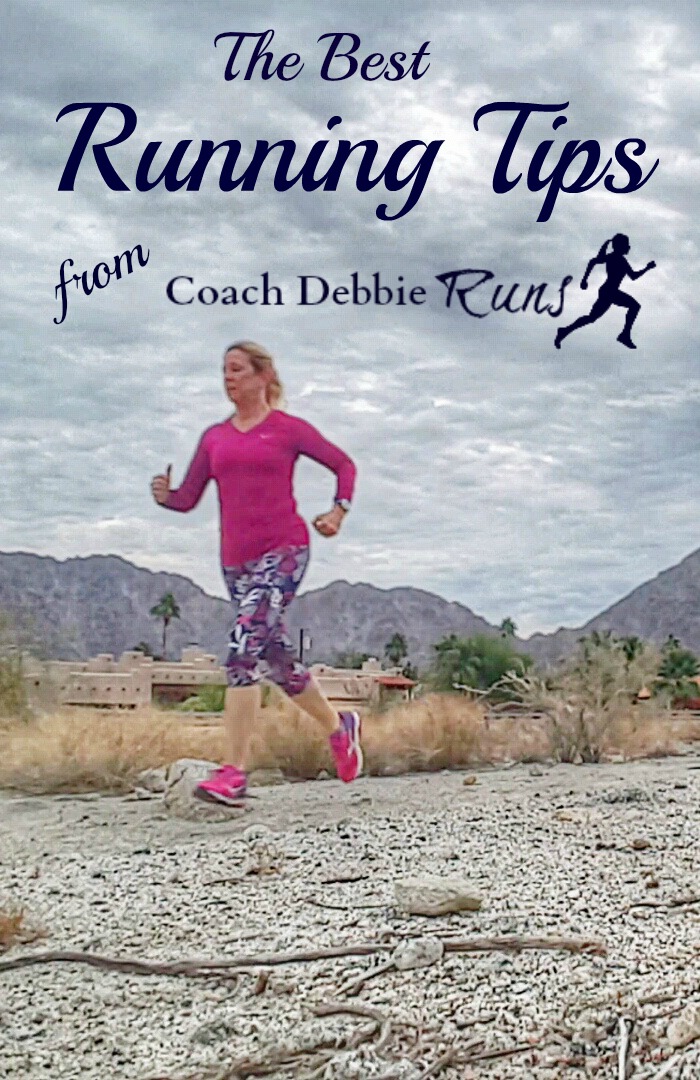 Best Running Tips for Beginners
I love introducing new runners to this sport that I love, so I write a lot to help people start out the right way, to not get injured and to learn to enjoy running. Here are some of my best running tips for beginners.
Don't start out running. Alternating running and walking is the best way to get started.
Rest and recovery are an important part of training.
Strength training will make you a better runner (and help prevent injury).
Find a running tribe.
Don't "run through it."
Invest in good shoes.
Call yourself a runner.
Treat yourself like an athlete.
Sign up for a race. Or don't!
Hire a coach to help you get started on the right foot.
Find details and more tips for beginners in these posts:
14 Useful Things to Know when You Start Running (January 2016)
10 Tips for Starting a Running Program in the New Year (December 2016)
Best Running Tips for the Marathon
I've done a lot of marathons. And I've learned something from ever single one. Here are the top tips from 2016 that I shared here on the blog and with my own running clients.
Build a strong mileage base.
Don't try anything new on race day.
Do a variety of speed training including tempo runs, pace runs, and hill workouts.
Recovery is an important part of marathon training.
Practice your fueling during your training.
Create realistic goals.
Tapering is important. Don't skip it.
Your nutrition is an important part of training and recovery.
Allow your body to recover after your marathon.
Hire a coach to create a personalized plan that will help you reach your goals.
Find details and more marathon tips in these posts:
5 Tips for Returning to the Marathon (February 2016)
6 Tips for Complete Marathon Recovery (April 2016)
The Art (and Some Science) of the Marathon Taper (August 2016)
5 Race Day Rules to Help You Reach Your Marathon Goals (September 2016)
8 Tips that will Improve Your Marathon Time (September 2016)
The Top 5 Marathon Mistakes (and how to avoid them) (November 2016)
Best Running Tips for Injury Prevention
Nobody wants to end up on the sidelines because of an injury. Here are my best tips for staying healthy and uninjured.
Don't ignore small injuries.
Build up your mileage base slowly.
Rest and recovery are important parts of your training program.
Wear appropriate shoes.
Take the time for stretching and foam rolling.
Get enough sleep.
Strength train.
Run with good posture and form.
Pay attention to your body's signals.
Include massage and/or fascial stretch therapy in your recovery plan.
Find details and more injury prevention tips in these posts.
5 Excellent Reasons to Wear Compression Socks (May 2016)
10 Ways to Cause a Running Injury (August 2016)
Dealing with Plantar Fasciitis (August 2016)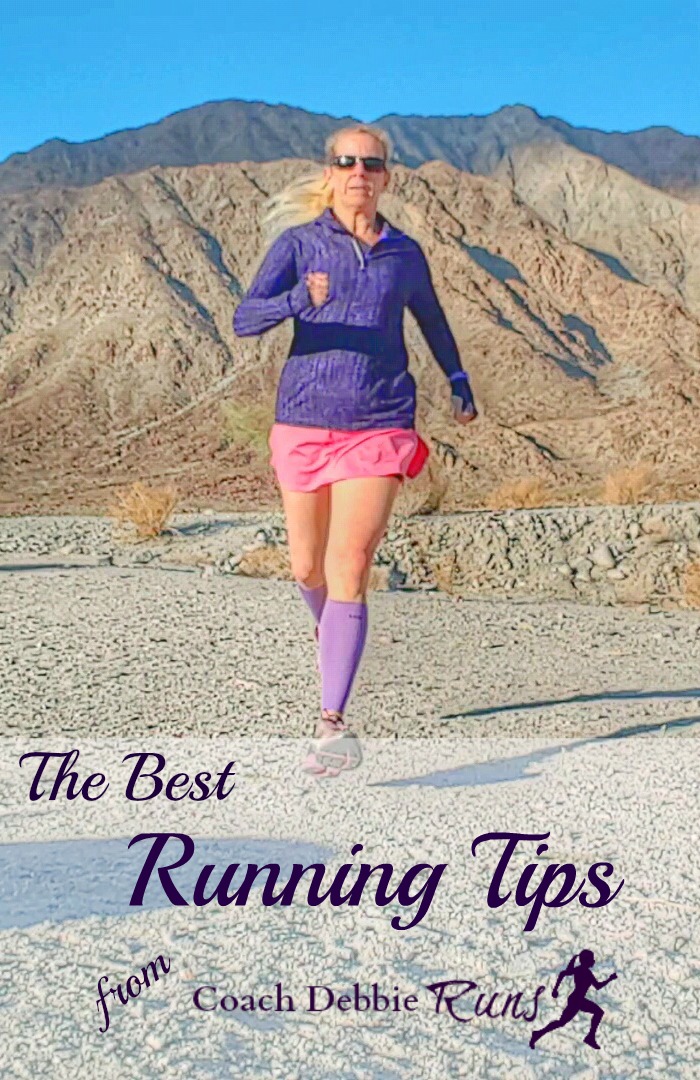 Best Running Tips
Finally, here are some of my best running tips that don't really fit into a category.
To run faster you must run faster. Not always, but sometimes.
Adapt your training to your event. Add hill (and downhill) training for hilly races, shorter intervals for shorter races, etc.
Strides are the "secret sauce" of running. They can improve your form, speed, and leg turnover.
Follow your training plan.
Fuel for your training. And your racing.
Hydrate. Before, during, after your run.
Have a race plan.
Get enough sleep.
Cross-train to help balance your body. Strength training, yoga, and stretching are all good choices.
Call yourself a runner. Because you are.
For more details on these general tips, see these posts.
10 Tips that will Make You a Better Runner (February 2016)
Running Against Time: 6 Ways to Hold Off the Inevitable (July 2016)
9 Tips to Run a Better Race at Any Distance (November 2016)
Thank you for reading Coach Debbie Runs for the last year. I hope to see you back in 2017! I know that many of you are also running coaches or experienced runners. What one piece of advice would you give to a runner?
And Now It's Time for the Running Coaches' Corner!
Loading InLinkz ...
---
Weekly Linkups
My weekly linkups! Please stop by and check out all of the great recipes, workouts, and information that all these awesome bloggers share every week!
Meatless Monday with Sarah and Deborah
Meatless Monday with Annmarie  and Rachel
Inspire Me Monday with Janice
Anything Goes with Marilyn
Wild Workout Wednesday with Annmarie, Michelle, Jen, and Nicole
The Plant Based Potluck Party with Deborah
The Running Coaches' Corner with Rachel, Suz, Lora Marie, and Me!
Giveaway Roundup and Try Out Thursdays with Smitha
The Blogger's Pit Stop with Kathleen, Janice, Julie and Me!
Living a Life of Fitness, Health and Happiness with Jill
Friday Favorites with Heather