As you read this I am on the road to Vegas, baby! I'm finally heading to Blogfest! I'm really excited about this two-day blogging conference held in conjunction with the IDEA World Fitness Convention! After two days of non-stop blogging information, I will be spending the next two days with all things fitness. It is always fun and informative and I'll be sharing everything I learn here on the blog!
Since I'm doing important things like trying on clothes making lists, packing, and making sure my husband has decent food to eat, I'm sharing this post from a couple years ago, 8 Essential Strength Exercises for Runners. I hope you enjoy it!
8 Essential Strength Exercises for Runners
If your goal is to be the best runner you can be, you will need to more than just run. Adding specific strength training exercises will help you become a faster, more efficient, injury-free runner. The best part is you can do this by completing the 30-minute workout below, with these essential strength exercise for runners, just twice a week!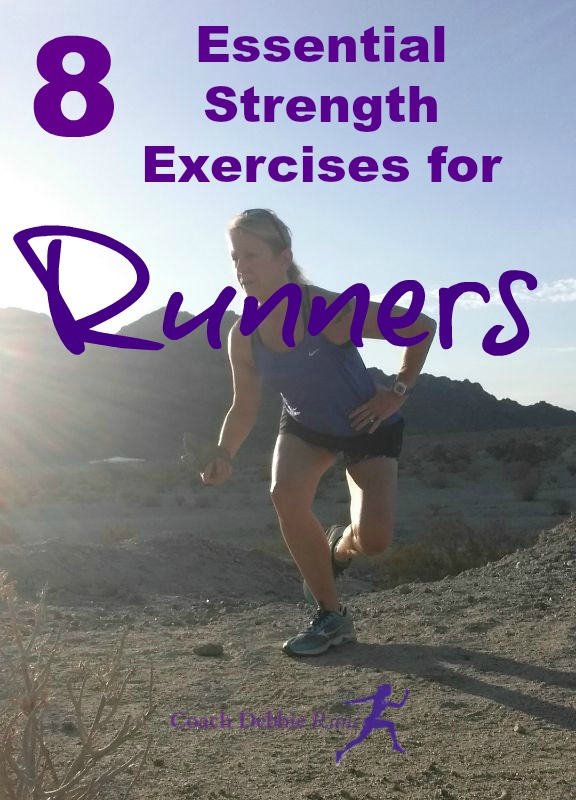 Squats
Squats strengthen your quads, glutes, hamstrings and core, all essential for great running form and protection from injury.
Stand with legs hip-distance apart. Bend your knees and sit into the squat until you feel your glutes engage, slightly lower than 90 degrees, keeping your knees behind your toes. Return to standing. Keep your core engaged through the set.
Challenge: To progress, add extra resistance by holding 10-pound dumbbells.
Single-Leg Deadlifts
One-legged deadlifts strengthen your hamstrings and glutes, as well as improve your balance.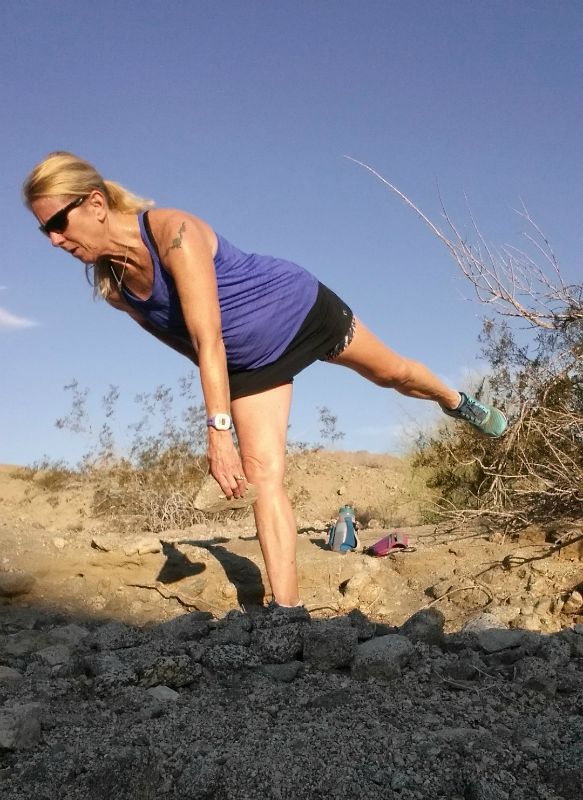 Stand with your weight on one leg. Engage your core, and bend at the hips, keeping your spine neutral, until your upper body and leg are parallel to the ground. Engage your glutes and hamstrings on your standing leg as you return to upright. Complete reps, then repeat on the other leg.
Challenge: Hold a kettlebell or dumbbell in one hand. Or a rock.
Side Lunge
The side lunge strengthens your glutes, as well as your adductors, hip flexors, and calves, all of which will help balance your lower body and prevent injury.
From a standing position, take a large step to the right side. As you land, keep both feet facing forward, bend your right knee, and sit back into the lunge. Your left leg remains straight. Engage your glutes and push strongly off your right foot to return to your starting position. Complete reps, then repeat on the other side.
One Leg Squat
This unilateral exercise may be the most important one a runner can do. It not only improves your coordination, which is important because running is essentially a series of one-legged hops, it also balances out the strength in your lower body.
Stand on your right leg. Your left leg can be extended in front of you (pistol squat), or held up behind you, in a semi- curtsey position. Extend your arms in front of you and sit back as low as you can, keeping your knee in alignment with your foot. Engage your hamstrings and glutes and return to standing.
Push Up
The push-up is a great exercise because it strengthens all the muscles in your upper body and core, which help a runner maintain good posture.
Begin in a high plank position, bend your elbows and lower your body until it almost touches the floor. Press back up to your starting position. Keep your core engaged and your body in alignment (including your head and neck) throughout the movement.
Plank
A strong core is essential for good running form and injury prevention.
Prop yourself up on your forearms and toes. Your elbows should be directly under your shoulders. Engage your abdominal muscles, and keep your body in alignment without allowing your hips to sag. Keep your core and glutes engaged, squeezing tight, for 30 seconds to a minute. Don't forget to breathe!
Variations: You can also support yourself on your hands with your elbows straight. Make sure to keep your wrists directly under your shoulders.
Challenges: 1). Move from high plank to low plank slowly. 2). Lift one leg at a time (not too high! And keep those glutes tight). 3). Bend one knee and bring it up to your side. Straighten it out and repeat with the other leg.
Side Plank
Lie on your side, and press up onto your forearm and the outside of the bottom foot. Keep your elbow under your shoulder and your hips and legs stacked. Keep your core engaged and your body in alignment. Hold the plank for 30 seconds on each side.
Challenge: From your side plank position, lower your hip slowly, then return to your side plank. Repeat several times.
Bird Dog with tuck
The bird dog strengthens the muscles in your low back. Adding the tuck also works the abdominal muscles, as well as your balance.
From your hands and knees, extend your right arm and left leg until both are straight and parallel to the ground. Hold for a second then pull your knee and elbow in, engaging your abdominal muscles and rounding your back slightly, trying to touch knee to elbow. Hold for a second, then extend the arm and leg. Do all the reps on one side, then repeat on the other.
8 Essential Strength Exercises for Runners: The Workout
This 30-minute workout contains all the essential strength exercises for runners and can be done two or three times a week. It needs little or no equipment and can be done following a shorter run to be sure that you are fully warmed up.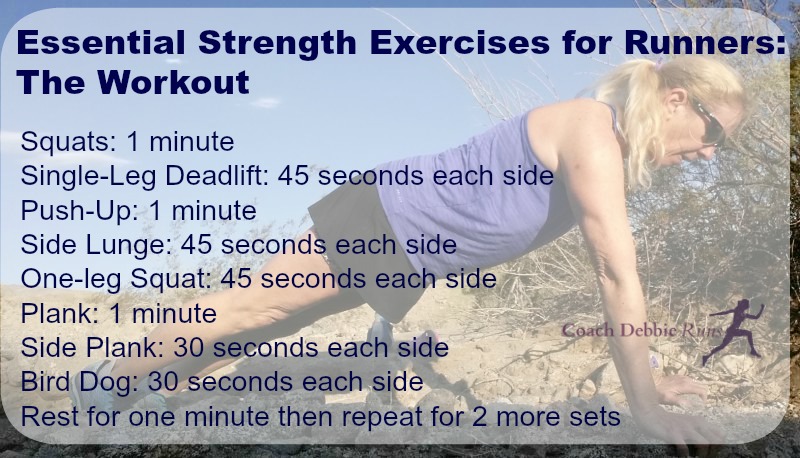 Do you have a favorite strength exercise that helps your running? Have you been to Las Vegas lately? Any tips?
Disclaimer: Although I am a certified Personal Trainer, I am not YOUR Personal Trainer. Always adapt workouts to suit your body and fitness level. Consult your doctor before beginning a new exercise program.
And Now It's Time for the Running Coaches' Corner!
Loading InLinkz ...
---
Weekly Linkups
My weekly linkups! Please stop by and check out all of the great recipes, workouts, and information that all these awesome bloggers share every week!
Meatless Monday with Sarah and Deborah
Meatless Monday with Annmarie  and Dixya
Tuesdays on the Run with Marcia, Erika, and Patty
Inspire Me Monday with Janice
Wild Workout Wednesday with Annmarie, Michelle, Jen, and Nicole
The Plant-Based Potluck Party with Deborah
The Running Coaches' Corner with Rachel, Suz, Lora Marie, and Me!
Friday 5 2.0 with Rachel and Lacey and Meranda