As you know, I'm currently in the middle of my 4-week Faster 10k program, getting ready for the LaceUp Running Series race in Irvine on September 3. Last week my training was great. I got all my workouts in, including my interval and tempo runs. This week, though, it's going to be a bit of a challenge.
For a little background, I will be working at 6:30 am all week long. In order to be at work on time, non-stinky and fed, I would need to run at about 4:00. Since running alone in the dark is not my thing, and since running outdoors after work is a non-starter (it's 114 outside right now as I write this at 4:45 pm), my only option this week has been to switch to indoor workouts.
I put my thinking cap on and came up with these 5 indoor workouts that will benefit my running and accomplish most of what I could outside. I'm off on the weekend, so I will be able to do my long run on the road. Whew!
5 Indoor Workouts that will Make You a Better Runner
1. Treadmill Pyramid Interval Workout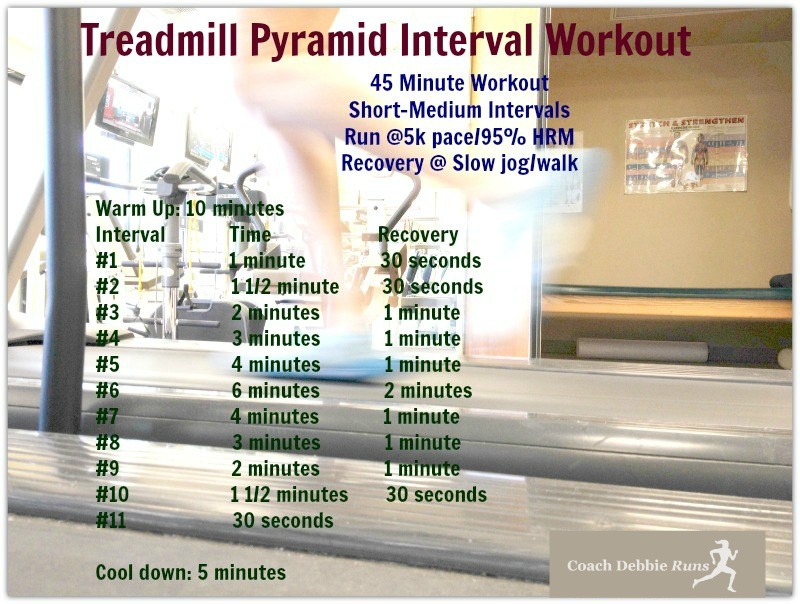 This 45 minute pyramid workout is comprised of mostly short to medium intervals that you can run at a pretty high intensity. Each one should be at about 95% of your maximal effort, which is about your 5k pace.
How it helps: Short, fast intervals will improve your V02 max, your ability to process and use oxygen.
2. Elliptical Tempo Workout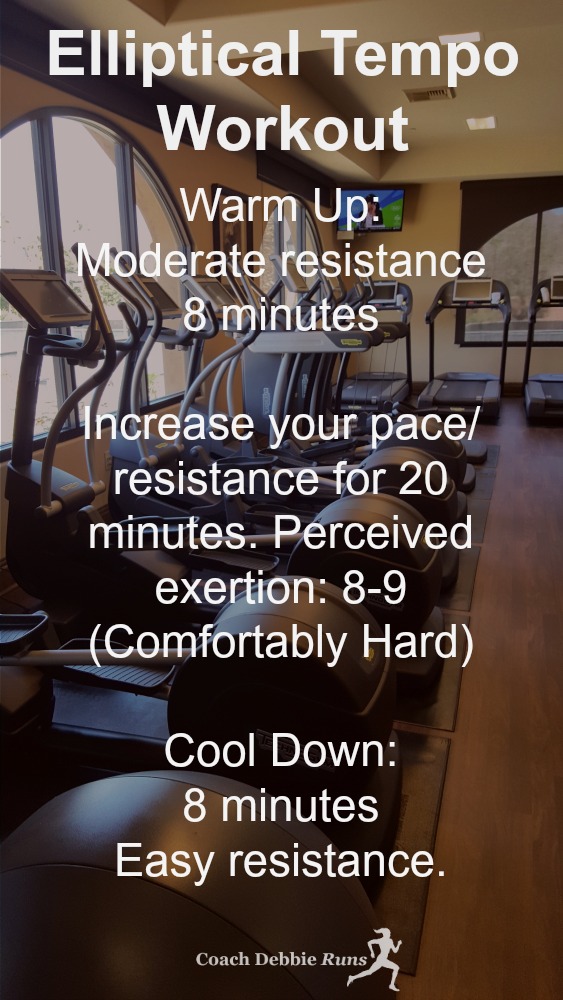 For this workout, you will be working at your lactate threshold level (LT), which is the point at which lactic acid starts to build up in your blood. That equates to about your 10-15k pace, or about 85% of your maximum effort. Think of it as "comfortably hard."
How it helps: Tempo runs help improve your lactate threshold, which improves your stamina and enables you to run faster longer. And while, for the most part, runners need to run, an occasional break from the pounding of running can be beneficial.
3. Runner's Power Workout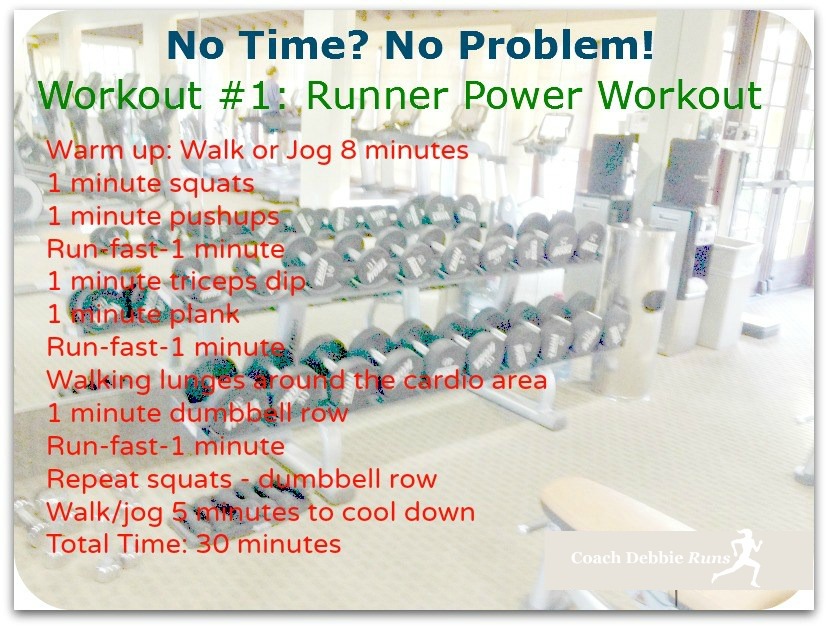 Do this circuit twice through by repeating the exercises from the squats through the dumbbell row before finishing with a five-minute walk/job cool down.
How it helps: This workout strengthens your entire body, including your core, which is essential for performance and injury prevention. It includes running intervals, which makes it more interesting for runners. And they're short, so the fact that you're on a treadmill isn't too oppressive.
4. TRX Circuit Workout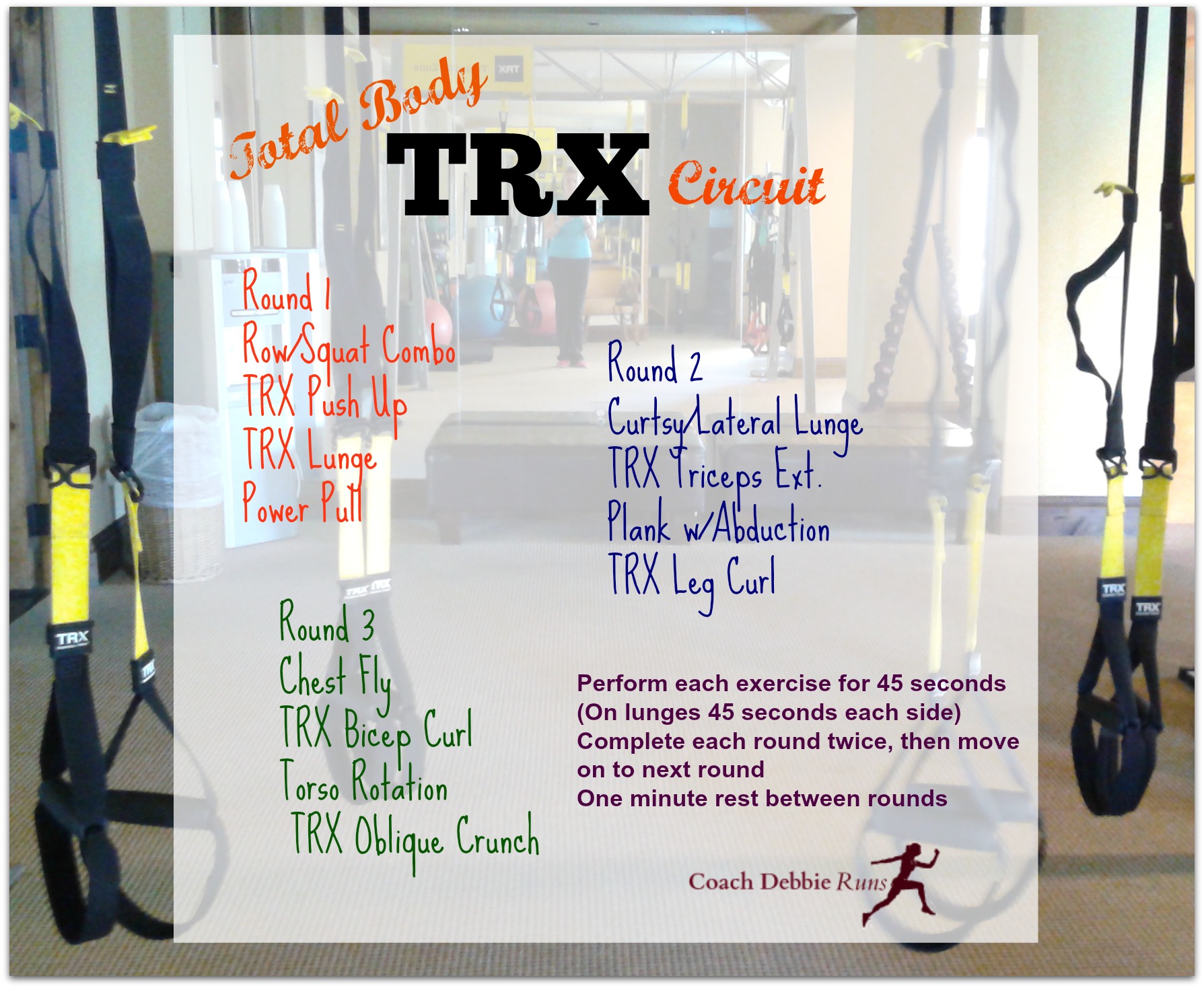 Be sure to use good form for each exercise and keep your core engaged throughout. Here's a great resource for details of most of the TRX exercises shown here.
How it helps: Here's another workout that will strengthen your core and improve your balance.
5. Functional Stretching
Combine these two stretching workouts (both videos). There is a link below each for detailed instruction.
The Core Four
Hips and Hamstrings
How it helps: These stretches target your hips, glutes, hamstrings, hip flexors and lats, all areas of concern for runners. The continuing movement helps to target all angles of the muscles, the joints, as well as the fascia.
As you can see, even if you are stuck with indoor workouts you have options that will help make you a better runner.
What's your favorite indoor workout?
Disclaimer: Although I am a certified Coach and Personal Trainer, I am not YOUR Coach or Personal Trainer. Always adapt workouts to suit your body and fitness level. Always consult your doctor before beginning a new exercise program.
And Now It's Time for the Running Coaches' Corner!
Loading InLinkz ...
---
My weekly linkups! Please stop by and check out all of the great recipes, workouts, and information that all these awesome bloggers share every week!
Meatless Monday with Sarah and Deborah
Meatless Monday with Annmarie  and Rachel
Inspire Me Monday with Janice
Anything Goes with Marilyn
Wild Workout Wednesday with Annmarie, Michelle, Jen, and Nicole
The Plant Based Potluck Party with Deborah
The Running Coaches' Corner with Rachel, Suz, Lora Marie, and Me!
Giveaway Roundup and Try Out Thursdays with Smitha
The Blogger's Pit Stop with Kathleen, Janice, Julie and Me!
Living a Life of Fitness, Health and Happiness with Jill