Welcome to part 1 of my series on how to take your blog to the next level. I decided to write this after lunching with my daughter in law the other day. She has a blog, updates it occasionally, but is interested in perhaps doing a little more. We were discussing what she can do, but there was quite a lot of information to pass on so I was inspired to write this series.  I hope that it will help anyone who has started a blog and wants to move on to the next level.
This first post will help you pinpoint what your goals for your blog are. Future posts will help beginners learn how to increase followers, own their own URL (website name), become self hosted, and monitize their blog.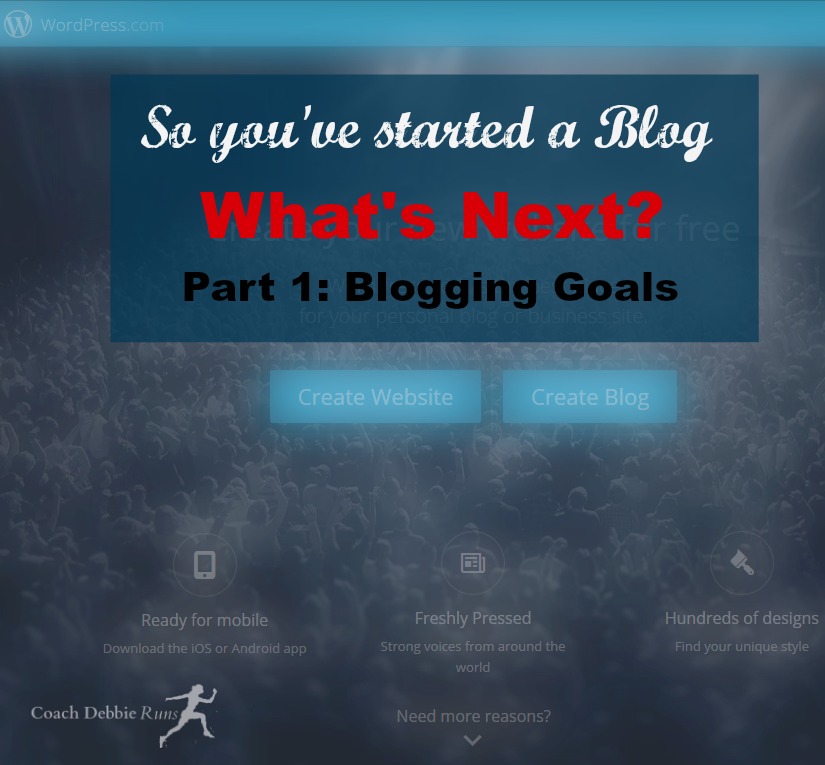 You've Started a Blog. What's Next?
So you've gone and done it. Or perhaps you're planning on doing it. In any case, you've started a blog. You put a lot of thought into your blog name, rolled your favorite topics around in your head for a while, maybe even written your first few posts. Perhaps some people have even read it. So now what?
I'm not going to cover the actual step by step process of creating a blog in this post. There are a lot of resources out there that will help you get started. I want to help you decide what to do next, and perhaps guide you through the process of growing your blog.
Blogging Goals
When I started my blog over six years ago, I had no clue what I wanted to do with it. Or what I was going to write about. Or anything, really. I just had a friend who had a blog and it looked like fun, so…
Finding your voice
My blog has evolved over the years, and probably will continue to do so. It is a personal blog, where I write about the things that are important to me: fitness, health, plant based diet, animals. While those things have remained the same over the years, my blog has changed focus to reflect my priorities at any given time. At first, Live from La Quinta was a chronicle of my life, with a few random recipes thrown in for fun. Gradually I added more workouts, less recipes for a while (now I'm back "into cooking" so you see more recipes again). As I put my real life focus back on running, my blog reflected that, even to the point of my brand change to Coach Debbie Runs. My most recent change has been the addition of blogging "how to" posts, sharing the knowledge I've acquired over the last six years in an effort to help other bloggers achieve their goals.
That was a long way of stating that whatever you choose to write about right now may or may not be your focus two years from now. And that's okay.
That being said, as we start to take a look at goals for your blog, take a moment and think about what you want to write about. While random life stuff is fine, it will be easier to find a loyal audience by focusing on one or two main topics.
Here are some questions to help you figure it out:
What do you love to do? This could be cooking, running, fashion, makeup, spending time with your family, and so on.
What are you an expert at? Are you a good cook? A coach or personal trainer? Do you keep up with designers and the latest fashions? Are you a mom? Or a dad?
Is your life changing in some way? This could be a pregnancy or trying to get pregnant, weight loss, divorce, job change, training for your first marathon.
If someone asked your best friend what you always talk about, what would they say?
If you ask yourself these questions, you can find one or two main topics for your blog. That doesn't mean that you can't write about "other stuff." It just means that you now have a focus.
How much time can you spend on your blog?
Whether you want to blog for a hobby, to track your life, to have a writing outlet, or to make a little (or a lot) of money, blogging takes time. If you choose to keep your blog small, maybe for your family or a few friends, a couple hours a week will be adequate. However, if you want your blog to grow, find an audience, increase your views, you will need to spend more time, not just writing, but marketing your blog.
How much time? Depending on your posting frequency, the time you spend daily on your blog can be from one hour to over four hours a day or more. This would include not only writing posts, but using social media to market your blog, time spent reading and commenting on other blogs (a very important aspect of marketing), upkeep on your site, researching and preparing a post, responding to comments and emails, and other miscellaneous chores.
How often should you post?
Knowing how much time you have to dedicate to your blog will help you decide how frequently to post. There are many opinions about how often you should update your blog. Some bloggers post once a day or even more often. Others post once a week. You should post what feels right for you. Quality will win out over quantity, so if you put more effort and research into one or two blog posts a week, you will be more successful in the long run than if you hammer out five off the cuff posts.
Homework!
Sit down with a pad of paper and ask yourself some of these questions. Be honest with yourself. If you currently work full time, run a household and barely have time to grab a quick meal, chances are trying to blog five days a week is just going to stress you out. By next week, you should have an idea of where you want your blog to go.
Action Plan:
Write one post with your new goals in mind. Based on your goals and your topic list, your post can reflect who you are, what you're planning to do, or you can jump directly into writing about the topic that you have chosen to focus on.
Next week we will discuss how to increase your readership.  Please feel free to ask any questions in the comments or by email: debbie@coachdebbieruns.com. I'd also love so see your homework, so feel free to share a link.
The Starting a Blog Series
This is Part 1: Setting Goals
---
My weekly linkups! Please stop by and check out all of the great recipes, workouts, and information that all these awesome bloggers share every week!
Meatless Monday with Tina and Deborah
Meatless Monday with Annmarie 
Bonnie, the Pin Junkie
Tip Tuesday with Debbie in Shape
Wednesday Wisdom with Nanna's Wisdom
That Friday Blog Hop with xoxo Rebecca
The Blog Booster Party with Kathleen