Last week I wrote about how to blog better on a time budget. One of the comments suggested that having a Virtual Assistant can be the answer to a blogger's time challenged needs.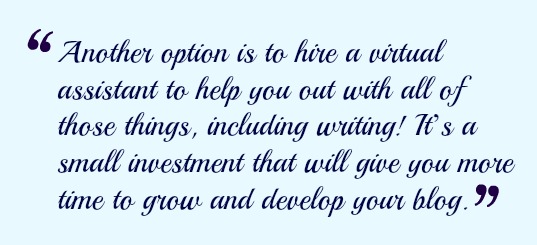 I was intrigued. Could hiring a virtual assistant be the answer to a busy blogger's prayers? I reached out to both virtual assistants and bloggers to find the answer.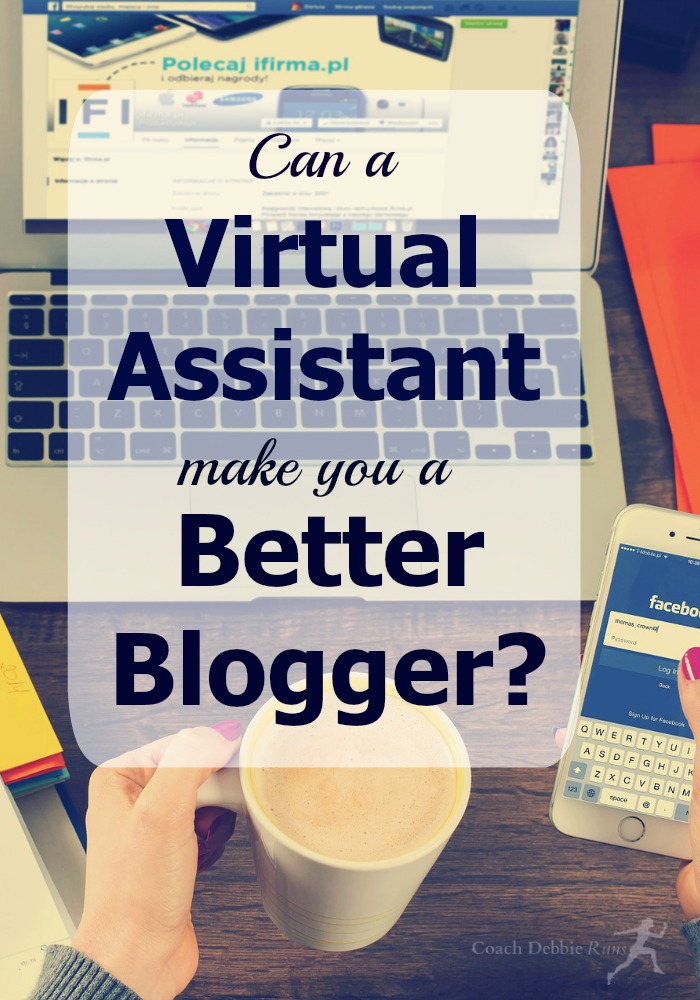 What Does a Virtual Assistant Do?
Maybe a better question would be, what doesn't a virtual assistant do? Meaning that they can take on tasks from the simple to the complex. Lindsay, blogger at The Lean Green Bean, says that her VA helps her with a lot of social media stuff that she doesn't have time to do, especially Pinterest and Facebook. She also sends her virtual assistant various small projects that pop-up that usually involve creating spreadsheets or collecting links of posts from Lindsay's blog. Her VA will submit her recipes for food sites like FoodGawker, helps update old posts for SEO and affiliate links, etc.
Richel, a professional virtual assistant says that depending on the needs of her clients, she helps with a variety of things. Sometimes it's social media, other times it's general office duties. She's currently handling the social media posting for five clients. She responds to questions, manages their communities and events, etc. She has another client for whom she also manages travel, calls, ordering, and more (sort of like a virtual office manager).
One of the things I learned from Stephanie's website is that a good virtual assistant can speak with your (the client's) voice so that social media conversations and other postings sound natural and true to you. A VA can also generate your editorial calendar, promote old posts, screen and answer emails, and even help with content creation.
How Does Having a Virtual Assistant Benefit a Blogger?
Richel says that the bloggers that she works with specifically use her not only as a way to delegate responsibilities but also as a sounding board. Because she knows their business and interacts with their fans, she knows their audience well. She is also invested in their "business" in a different way, so she sees things differently.
From a blogger's perspective, Lindsay says that it helps take some of the pressure off of her trying to do it all herself. Plus it frees up a lot of time for her to focus on things that require her skills and talents like recipe development and photography versus doing things that others could do, like pinning to Pinterest, that are important but she just don't have time to get to.
And as Chantel says, sometimes it can feel like your blog may take up a little too much of your time.  You might feel that you have a hard time balancing work and life in general.  VA's can help you create a work/life balance.
The whole idea is that a virtual assistant can take some of the load off of a busy blogger's back and allow her to spend her precious time doing what she does best: creating fabulous content. That and actually living a life away from the computer.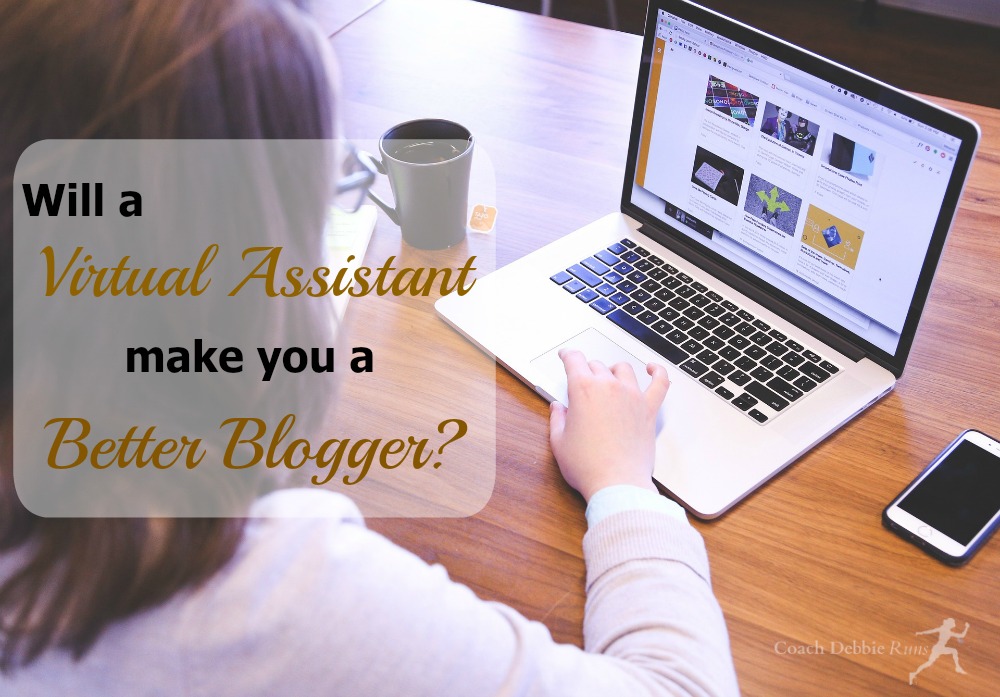 Where Does One Find a Virtual Assistant?
Well, apparently it's not difficult. They're out there. If you belong to a Facebook blogging group, you can put it out there. Lindsay found her virtual assistant through the program that she did her dietetic internship with. Richel says that most of her clients find her through  sites like Upwork, DigiServed, and also through referrals.
Finding a trustworthy and diligent VA is vital, so getting a referral from a blogger you trust is a great way to connect with a virtual assistant. Make your expectations clear so that there will be no surprises.
From Richel: When hiring a virtual assistant you should always know exactly what you want them to do and also know exactly what their skill set is before hiring them. Don't assume that a person that has done more "office management" type virtual assisting understands the art of social media. Also, you should outline what you expect them to do and stick to that.
How Much Does a Virtual Assistant Charge?
Ah, here's the question you wanted to ask, right? Well, the answer is…it varies. And it's a lot more in reach than I expected.
Lindsay works with a student.  She thought that someone who views it as a side job for just a little extra cash would be more affordable than finding someone who is a VA as their full-time job. She says the lower end of the spectrum like that is $10-$15/hr.
If you opt to go for a professional, expect to pay anywhere from $15 to $40 per hour. Some VAs may charge by the week, which can run around $100. Of course, pricing will also depend on what your expectations are, how much work is involved, and the skill set of the person you are hiring.
Remember that higher pricing does not necessarily mean a better quality of work. Richel recalls working with a new client who had been using a virtual assistant who charged around $40 an hour, but the work quality just was not up to par.
I'd suggest researching by talking to other bloggers, checking various websites, and above all, interviewing your potential virtual assistant to find out her qualifications, experience, and to make sure that she is a good fit for you and your blog.
Final Thoughts
Richel says that if you're thinking about becoming a virtual assistant you need to have organization as a top priority. Managing things virtually is not as easy as you might think. It takes a lot of personal organization on top of what you do for your clients.
And Lindsay says this, "It's been the best thing I've done for my sanity. I've only been working with her for a couple of months and already it's helped me immensely. I was heading toward blogger burnout trying to do it all myself and she's helped make blogging fun again by allowing me to focus on the things I enjoy more."
My final thoughts are that hiring a virtual assistant is a lot more affordable than I thought. If you are trying to grow your blog and find ways to make money, while attracting more readers and still producing great quality content, hiring a virtual assistant may well be the way to go.
Many thanks to the virtual assistants and bloggers who helped me put this post together including Lindsay of The Lean Green Bean, Richel of Essentially Blissful Life, Chantel, Alexa, and Travis at Confident Collaborations, and Stephanie, my original commenter, of CRM Virtual Assistants.
Have you ever hired a virtual assistant? Ever thought about it? What do you think the biggest benefit would be?
---
My weekly linkups! Please stop by and check out all of the great recipes, workouts, and information that all these awesome bloggers share every week!
Sunday Blog Hop with Jenn
Meatless Monday with Tina and Deborah
Meatless Monday with Annmarie 
Inspire Me Monday with Janice
Anything Goes with Marilyn
Link it to Me with Chantal
Bonnie, the Pin Junkie
Tip Tuesday with Debbie in Shape
Wild Workout Wednesday with Annmarie, Michelle, Sarah, and Angelena Marie
Wednesday Wisdom with Nanna's Wisdom
The Blog Booster Party with Kathleen
Friday Fitness with Jill