During the last two weeks before Thanksgiving, you will find hundreds of vegan Thanksgiving recipes on the internet. While I love to browse through them all, I confess that I tend to stick to a traditional menu (sans turkey, of course). Most Thanksgiving recipes are easy to veganize without losing any of the delicious flavor. I have a few favorites that I make every year.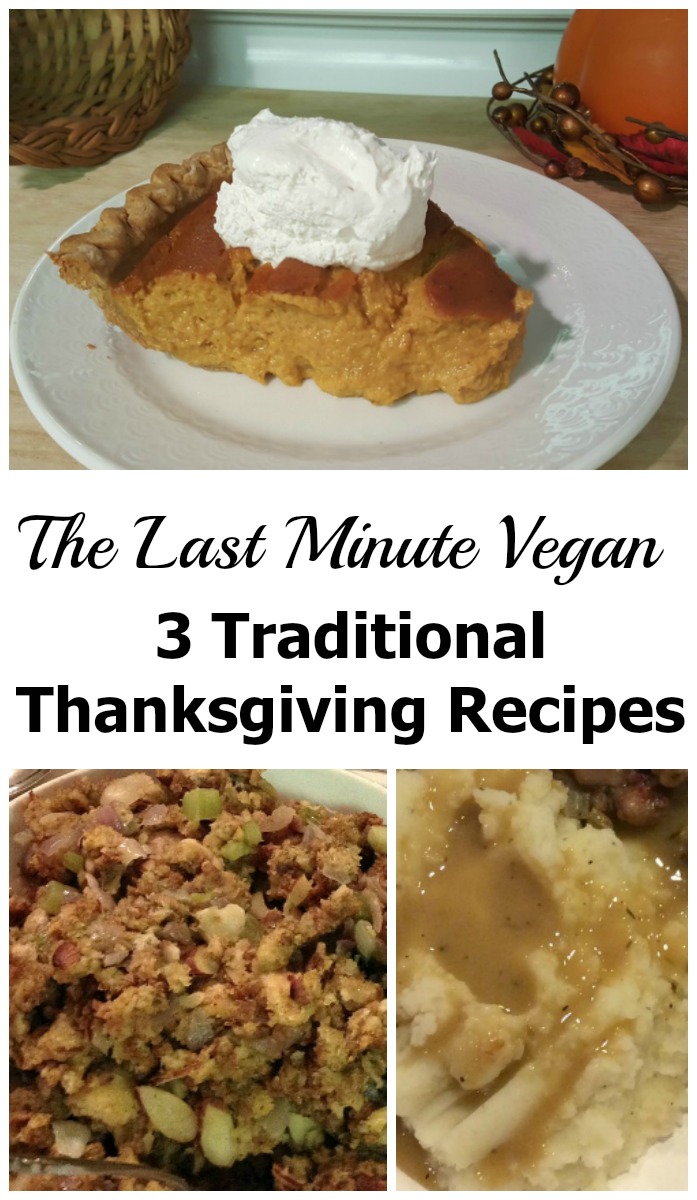 3 Last Minute Vegan Thanksgiving Recipes
Here are three of my favorite vegan versions of traditional Thanksgiving dishes.
Vegan Stuffing
Stuffing really is my favorite part of Thanksgiving dinner. I'm not sure why I don't make it at other times of the year, but I don't so it always has that special holiday feeling to it. In spite of the name, this dressing has never seen the inside of a turkey, though!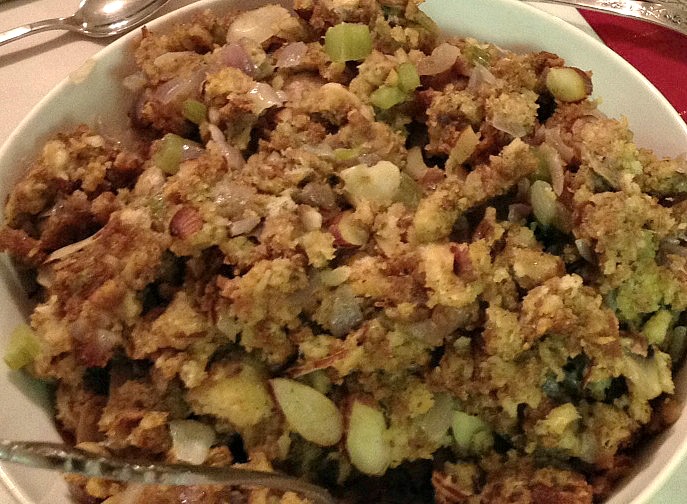 Vegan Stuffing
Vegan Thanksgiving Stuffing
Ingredients
10 cups vegan bread, cut into ½ inch cubes
Cooking Spray
2 tablespoons olive oil
1 cup onions, chopped
1 cup celery, chopped
2 cloves garlic
¾ cup mushrooms, sliced
½ cup sliced almonds
½ cup fresh parsley, minced
1 teaspoon poultry seasoning
1 teaspoon dried sage
1 teaspoon thyme
½ teaspoon salt
½ teaspoon pepper
2-3 cups vegetable broth
Instructions
Preheat oven to 400. Spray a large casserole dish with cooking spray.
Toast the bread cubes on a large baking sheet until golden brown. Place in a large bowl and set aside.
Turn the oven down to 350.
Heat the oil over medium heat. Saute the onions, garlic, celery for about 5 minutes. Add the mushrooms and continue to cook until the vegetable are soft. Transfer the mixture into the bowl of bread crumbs.
Add the seasonings, almonds, and parsley and stir the mixture until well mixed.
Add two cups of the vegetable broth and stir until it is absorbed. Add more if needed so that the mixture is moist, but not soggy.
Pour mixture into the casserole dish. Cover and bake 25 minutes. Remove the cover and bake another 10-15 minutes.
Mushroom Gravy
If you'd asked me years ago, I would have said that a good gravy needed to have all those drippings and crusty parts that you scrape off the bottom of your turkey pan. Thankfully for the turkey, I was wrong. This rich gravy will satisfy everyone, vegan or carnivore.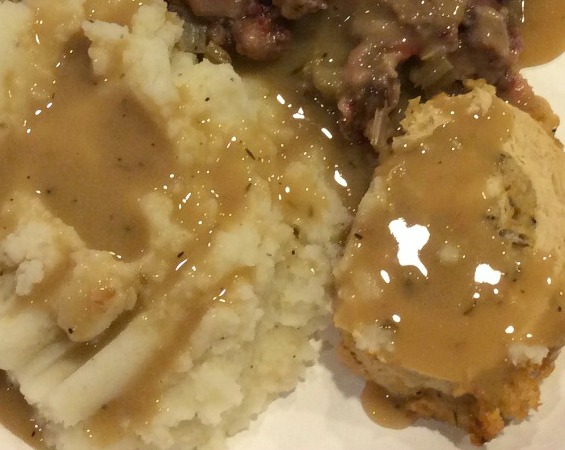 Vegan Mushroom Gravy
Vegan Thanksgiving Recipe
Ingredients
3 cups vegetable broth
1 cup water
½ cup mushrooms chopped
½ onion chopped
2 tablespoons nutritional yeast
1 teaspoon garlic powder
1 tablespoon soy sauce
½ cup flour
Instructions
Preheat the oil over medium heat in a large saucepan. Add the onion and sauté until soft. Add the mushrooms and cook for 5 more minutes. Add the broth, water, garlic powder, nutritional yeast, and soy sauce. Bring to a boil then reduce heat to low. Gradually add the flour, stirring to avoid lumps. Simmer until the gravy is thickened.
Easy Maple Pumpkin Pie
After going vegan, I went for years without my favorite holiday pie. Finally, after a little experimentation, I got this one just right.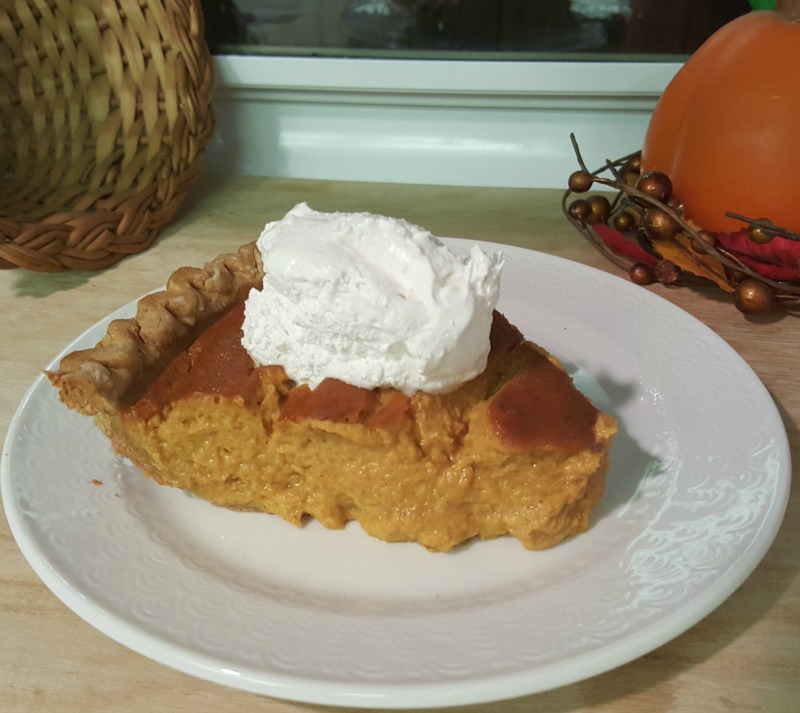 Vegan Maple Pumpkin Pie
Ingredients
¾ lb. silken tofu
1 15 oz. can pumpkin purée
1 teaspoon cinnamon
½ teaspoon nutmeg
½ teaspoon salt
2 tablespoons maple syrup
½ cup brown sugar
1 tablespoon molasses
⅓ cup sunflower oil
1 pre-made vegan pie crust
Instructions
Combine all the ingredients except the pie crust in a blender or food processor. Blend until creamy. Pour into pie crust. Bake at 425 for 15 minutes and 350 for 45 minutes.
Chill and serve with vegan whipped cream or ice cream.
I hope that all of you have a safe, wonderful, and cruelty-free Thanksgiving.
Originally published a few years ago, I like to take it out, dust it off, and share every year.
---
Weekly Linkups
My weekly linkups! Please stop by and check out all of the great recipes, workouts, and information that all these awesome bloggers share every week!
Meatless Monday with Sarah and Deborah
Meatless Monday with Annmarie  and Dixya
Tuesdays on the Run with Marcia, Erika, and Patty
Inspire Me Monday with Janice
Wild Workout Wednesday with Annmarie, Jen, and Nicole
The Plant-Based Potluck Party with Deborah
The Running Coaches' Corner with Rachel, Suz, Lora Marie, and Me!
Friday 5 2.0 with Rachel and Lacey and Meranda