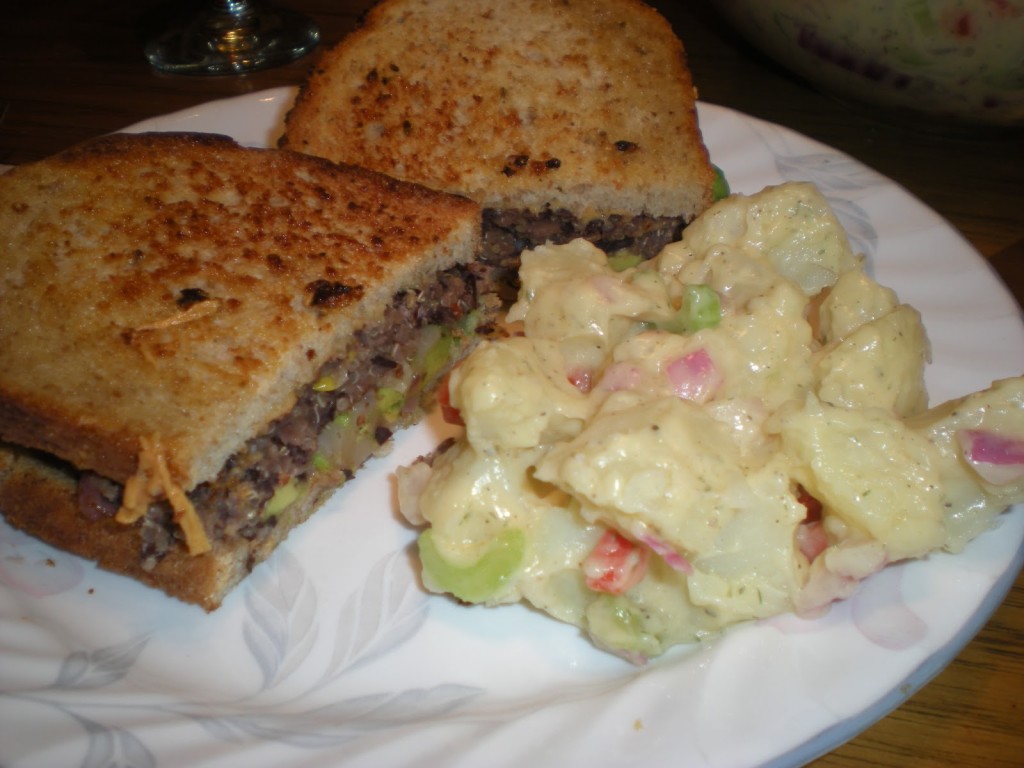 Tempeh Patty Melts
Ingredients
1/2 package tempeh, cut in half, then sliced lengthwise to create 2 burger size patties.
2 tablespoons tamari
1/2 cup vegetable broth
1 tablespoon olive oil (for marinade)
1 tablespoon olive oil (for grilling tempeh)
1/2 small onion, thinly sliced
4 slices rye bread
2 tablespoons vegan butter (I used Earth Balance)
1/2 cup vegan cheese (I used Daiya mozzarella because that's what I had on hand)
1/2 avocado, sliced
Directions
Steam tempeh in a steam basket or rice cooker for 15-20 minutes.
While tempeh is steaming, mix together tamari, olive oil, and vegetable broth.
Remove tempeh from steaming basket. Place in a flat dish and cover with marinade. Set aside for about 10 minutes.
Preheat olive oil over medium high heat. Cook tempeh until browned on both sides. Reduce heat to medium, move patties aside and add onions, cooking until soft, about 5 minutes. Set aside.
Preheat a large frying pan over medium heat. Spread vegan butter thinly on both sides of rye bread. Place in pan and brown slightly on one side. Turn over, and moving fairly quickly, add vegan cheese to all slices of the bread. Add tempeh patty, onions and avocado. Place both sides of the sandwich together,  pressing down firmly so that melted cheese helps hold it together. Brown on both sides.
Another tasty way to use tempeh! Have you tried it yet?