I first made this vegan lasagna shortly after I discovered cashew cheese. I'm pretty sure it was the first time I'd made lasagna since I became a vegan, but when I found out how easy and delicious it was to make cashew cheese, I knew it would make a perfect vegan "ricotta" too.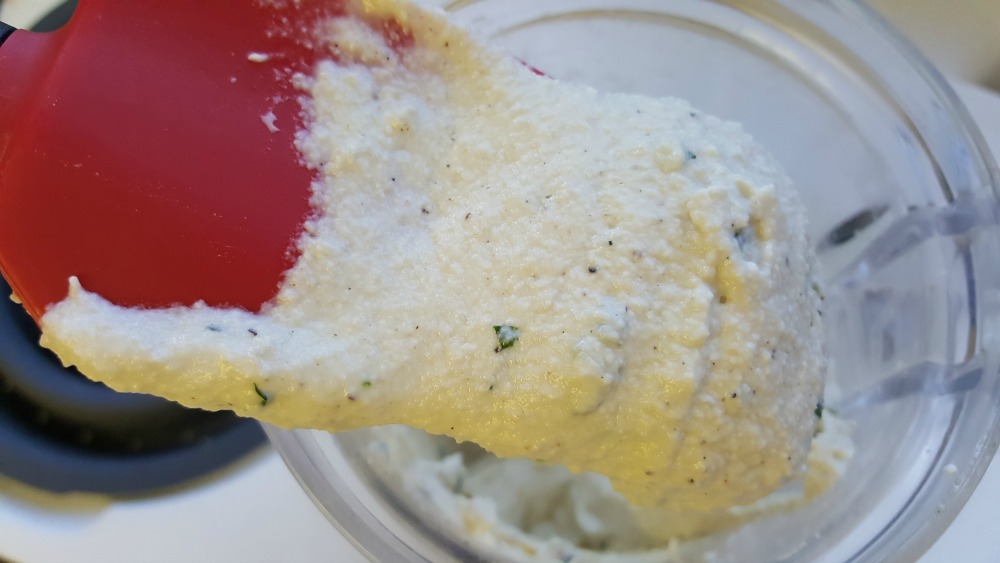 I always seem to have basic tomato pasta sauce in my freezer. I make it in huge batches, divide it into smaller containers, then it's so easy to pull it out to thaw when needed. My favorite is this recipe, but you can use your own favorite if you prefer.
While having both items already prepared are part of what makes this vegan lasagna so easy, both the basil cashew ricotta and basic tomato pasta sauce are pretty quick and simple to make. You can reduce the simmer time for the sauce as necessary. The key for the ricotta is to use this recipe, double it, and substitute two tablespoons fresh basil for the parsley.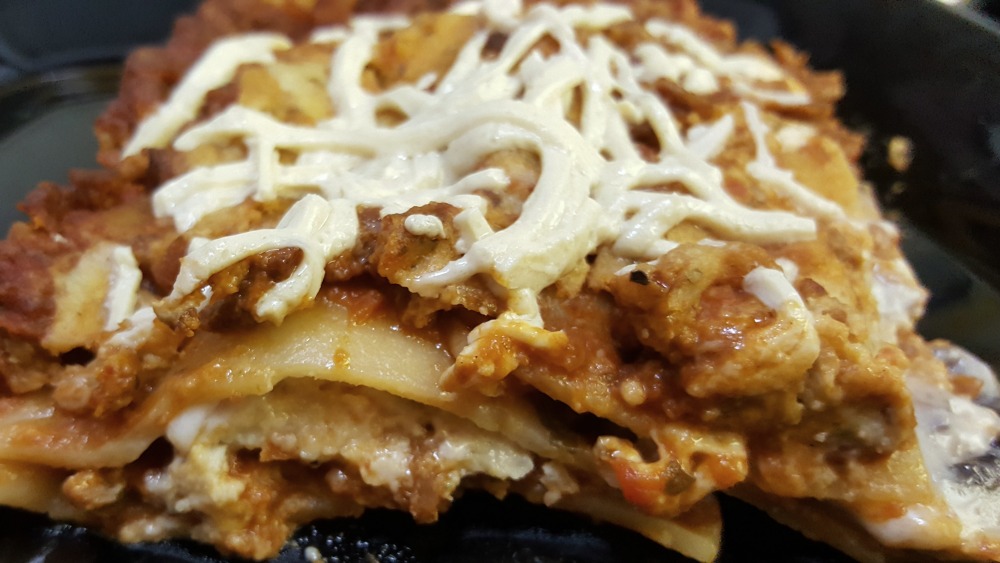 I used Gardein Beefless Ground, which is gluten-free, so if you wish you can use gluten-free pasta.
Vegan Lasagna with Basil Cashew Ricotta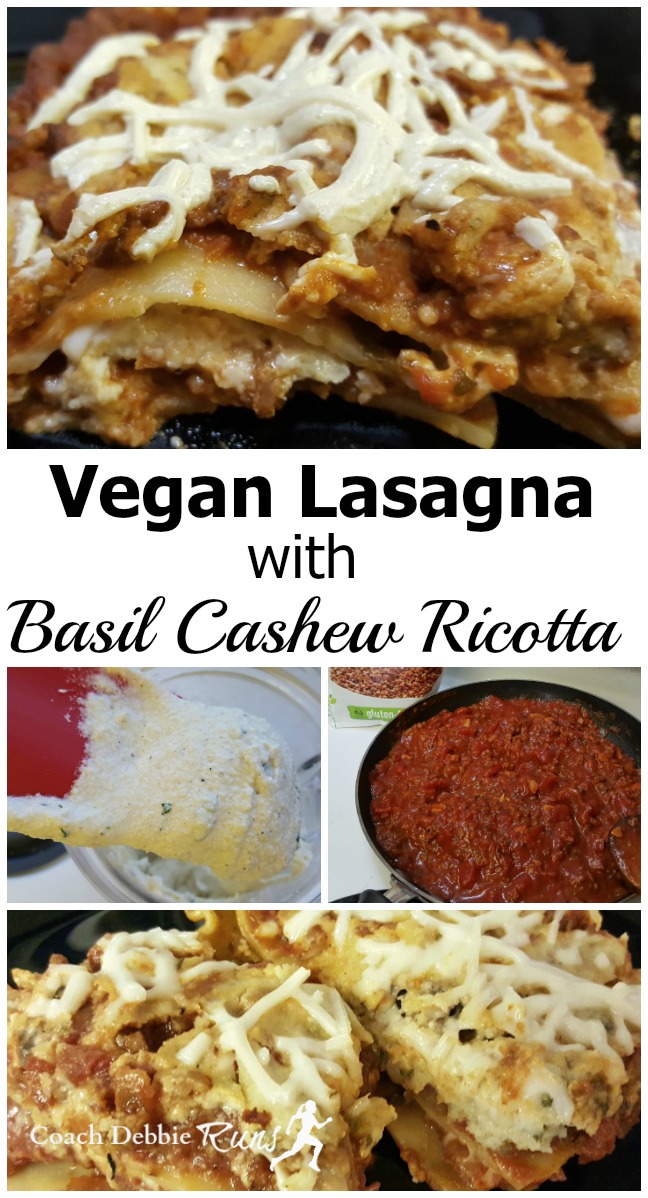 Easy Vegan Lasagna with Basil Cashew Ricotta
Vegan
Ingredients
Lasagna noodles, prepared according to package directions
1 tablespoon olive oil
1 package vegan ground beef
1 cup onion, chopped
3 cups basic pasta sauce (see this recipe) or use your favorite
2 cups basil cashew ricotta (see this recipe - double it and replace the parsley with 2 tablespoons chopped basil)
1 cup mushrooms, thinly sliced
½ cup Vegan mozzarella cheese
Instructions
Preheat oven to 400.
Lightly oil a large casserole dish.
Heat oil in a frying pan over medium heat. Add onions and cook for a few minutes until soft.
Add vegan ground beef and cook until lightly browned.
Add basic pasta sauce. Bring to a low boil then reduce to simmer.
Prepare basil cashew ricotta.
In your casserole dish layer:
A thin layer of sauce
Lasagna noodles
Sauce
Basil cashew ricotta
Mushrooms
Repeat layers. Top with any remaining sauce.
Cover with foil and bake at 400 degrees for 40 minutes.
Remove foil, sprinkle with vegan mozzarella cheese, and bake for about 5 more minutes, until cheese is melted.
Allow to sit for about 10 minutes before serving.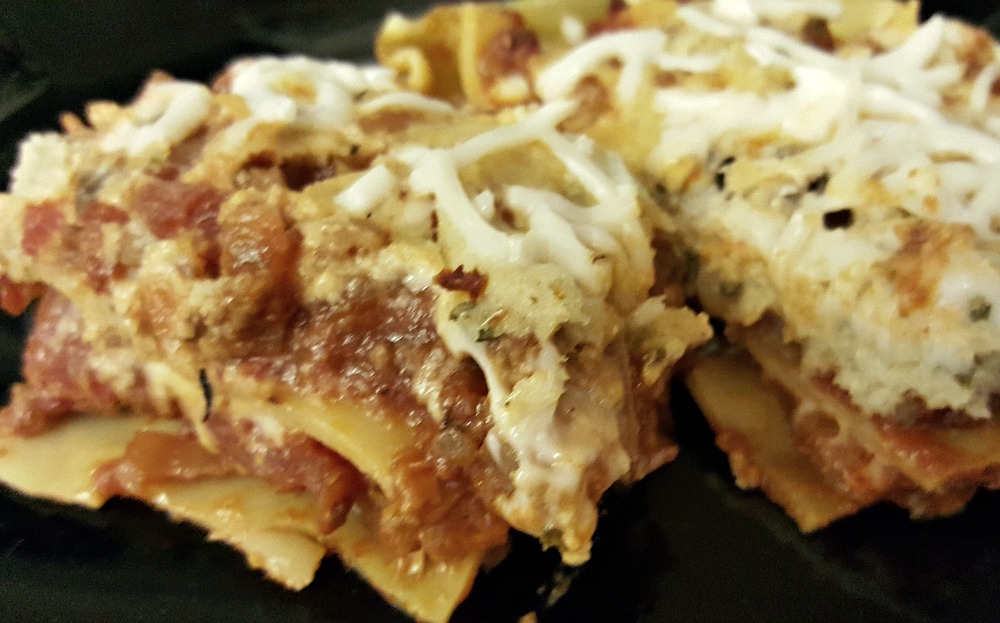 Depending on the size of your casserole dish, you can make two or three layers of lasagna noodles (add an additional 10 minutes of cooking time if you add a layer).
Are you a lasagna lover? Have you tried cashew cheese?
---
Weekly Linkups
My weekly linkups! Please stop by and check out all of the great recipes, workouts, and information that all these awesome bloggers share every week!
Meatless Monday with Sarah and Deborah
Meatless Monday with Annmarie  and Rachel
Inspire Me Monday with Janice
Anything Goes with Marilyn
Wild Workout Wednesday with Annmarie, Michelle, Jen, and Nicole
The Plant Based Potluck Party with Deborah
The Running Coaches' Corner with Rachel, Suz, Lora Marie, and Me!
Giveaway Roundup and Try Out Thursdays with Smitha
The Blogger's Pit Stop with Kathleen, Janice, Julie and Me!
Living a Life of Fitness, Health and Happiness with Jill
Friday Favorites with Heather