I always think of myself as pretty healthy. After all, I've dedicated my life to it. I'm a personal trainer and coach. I follow a plant-based diet and try to eat healthfully, choosing whole foods as much as possible. I run, weight train, do yoga, regularly. I keep up to date on nutritional news, both for myself and so I can pass information on to my clients.
But with all that being said, I am 54 years old (55 in a week!). I have some aches and pains, including a bad knee, an occasional sore back, migraines, a "ghost" pain that appears from time to time. I am also vegan, and while I try to follow a healthful, balanced diet, I am not always sure that I'm getting enough of all the important nutrients.
So I was excited when I was invited to join the Wellness FX Baseline Program, which includes a complete blood panel with double the diagnostics of a typical physical, and offers personalized care from a member of their healthcare team. I remember last year after I received my lab results, I had to sit at my computer, looking up the results, finding out what was normal, high, low, while trying to figure out the abbreviations on the one page sheet I was given.
Not anymore. Wellness FX gives each member a web page that, once your results come in, shows you the results of your tests, the healthy and unhealthy ranges, plus a link to explain each result. Even better, you will be able to schedule a 20 minute consultation phone call with one of their healthcare team, who will personally review your results, answer your questions, and offer recommendations for improving your health.
My Experience
After signing up on the WellnessFX website, I was given a choice of locations to have my blood taken. They all take appointments, but when I checked the available times, the early appointments were all taken. Seeing as I do not do well when I am fasting, I decided to drop in and risk waiting a little while.
I arrived at the lab at about 6:45 in the morning, and after a very short wait, I was called back to have my blood taken. I had really tried hard to hydrate before the blood test, and that seemed to work. No problems, I had lots of blood to give.
The woman who drew my blood was very pleasant and had no problems with my picture taking (she even held her position for a moment so I could get a good shot). I have always liked to watch the process (the vampire in me?), so taking pictures came naturally.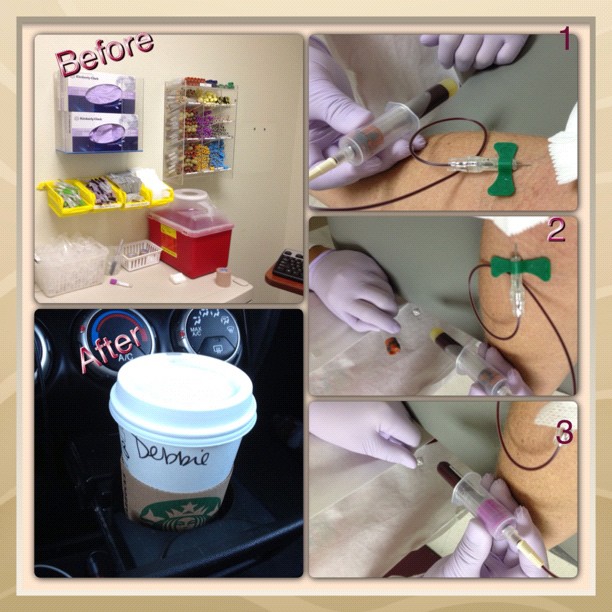 Blood work accomplished, I made a dash for the next logical location: Starbucks.
The Results
Two days later I received an email from WellnessFX to let me know that my results were in. It also said that there were no critical issues, but I should consult my doctor about my TSH. The email also reminded me that once I checked my results, I should schedule my consultation with one of their Wellness Team.
I quickly logged onto my results page. It is divided into categories by health issue: Cardiovascular Health, Metabolic, Liver, Kidney, Electrolytes, Bone, and Vitamins. First the good news. My liver and kidney function is good, my electrolytes are normal, my calcium is good. My vitamin D was a little low, which surprised me considering I live and work out in the desert. Darn sunscreen.
The not-so-good news, as indicated in the email, is that my TSH was too high, which happens when your thyroid is underactive. As very clearly explained on my results page: "The thyroid gland makes hormones that regulate your body's metabolism. An underactive thyroid results in low energy and weight gain, while an overactive thyroid causes hyper-activity or excessive weight loss." And here I've been blaming my tiredness on lack of sleep.
Also on the bad news side, is my cholesterol. In spite of eating a pretty healthy vegan diet, exercising, and maintaining a good body weight, my cholesterol is moderately high at 218. While my HDL (good cholesterol) is in the good range, it is not outstanding and doesn't make up for the high level of LDL (bad cholesterol).
Even scarier for me, probably because I recently saw a 60 minutes report on the topic, was the Apo B level. From the website, "Apolipoprotein B, or Apo B, is the protein in bad cholesterol that binds to arteries to create clogging cholesterol deposits. Because it causes LDL binding to blood vessels, studies have shown that your ApoB level may be a better measure of cardiovascular risk than even LDL cholesterol." High is over 80, and mine is 130.
I was ready for my consult. I needed someone to explain what was going on and what I could do to take charge of my health. I needed someone to calm me down.
Following the directions on the WellnessFX website, I scheduled my 20 minute appointment with Kathleen, a registered dietician. I chose her from a list of health professionals mainly because her bio stated that she specialized in vegan and vegetarian diets. After I made my appointment, I was sent a confirmation and told to find a quiet location where I had a good internet connection and to have my results page open during the call.
The Consultation
I made my call right on time. Kathleen told me that I didn't need to take notes, because she would be writing up her recommendations and that I should check my page in the morning for her full list of recommendations.
We discussed my diet a little bit. I try to eat pretty healthily and told her so. She got right down to it though and asked about my carb consumption. Um, a little high, yes. After all, I'm a long distance runner, right? Doesn't that give me carte blanche with carbs? Well, no, says Kathleen. (note from me: long distance may be a bit of an exaggeration at this point in my training anyway).
She also asked about any supplements that I take (B-12 only) and other health issues (migraines and my ghost pain, which appears occasionally under my left rib, and has never been diagnosed).
Kathleen was so professional and thorough. By the end of our call (which actually went over the allotted time by a few minutes), she had heard me out and made several recommendations. She reminded me again to check the website in the morning, because she would have them all in writing and possibly add things that could be helpful to me.
Kathleen told me that I should eat less carbs. She said that cutting down on the starchy carbohydrates and adding more vegetables could help my lower my cholesterol, plus get rid of that little bloaty belly (don't know how she saw that over the phone!). She also recommended adding some flax, chia or hemp seeds daily, and warned me to watch my portion size (I'm actually pretty good at that part already). She said I should eat protein at every meal, and may need to supplement with pea or rice protein powder. I should avoid overly processed soy (like soy protein powder), and limit my fruit to 3-4 servings a day.
To improve my vitamin D level, she suggested a vegan source of D3, mushroom powder, which is made by Dole (yes, the pineapple people). It gets it's D from UV light, just like people do. Even though my B levels weren't included in this test (last year they were good), supplementing B12 is a must for vegans.  She suggested a type of B12, methylcobalamin, and said I should take it with L-5 methyl folate, such as Metagenics Vessel Care
which might also help my migraines. And to make sure that I get enough Omega 3s, I should use a vegan DHA supplement and make sure to eat walnuts, chia, flax, pumpkin seeds, or leafy greens daily.
Finally, and I saved the hardest best for last, Kathleen suggested that I try a gluten free diet for a few weeks. She thought that it might help not only with my thyroid function, but also help my migraines and my "ghost" pain. She suggested that I do some research about what I need to do to be successful, then pick a time and stick to the gluten free diet for three weeks. I should see how I feel, then pay close attention to any symptoms or issues as I add the gluten back in.
Overall, I was so pleased and impressed with WellnessFX! The price for the Baseline Program is $199, and for that you get the full blood panel with twice the diagnostics of a regular physical, your own personalized webpage where your results are posted, which includes a comprehensive description of each test, plus a 20 minute consultation with a health professional scheduled at your convenience in the privacy of your own home.
Now, I need your help. For someone who usually eats cereal and rye toast for breakfast, a sandwich for lunch, and who loves to cook with seitan, which is made from wheat gluten, going gluten free is a foreign concept. I would love any suggestions, recipes, links, kicks in the butt, ideas that you might like to share.
While I'm not quite ready to go all the way yet, I have already started making a few changes. Instead of cereal this morning I made a smoothie (yeah, I had the toast too, so sue me. Small steps). Dinner was grilled tofu, roasted asparagus, sweet potatoes, and kale. Good start, I think.
FitFluential LLC compensated me for this Campaign. All opinions are my own.