Last week I attended the Sway Social, a blogging conference put on by the Sway Group (you may know them as the Sits Girls). Basically, Sway Social is the 2017 version of Bloggy Boot Camp, and is a one-day, intense conference which serves up a ton of blogging and social media information in just about eight hours.
While I intended to share what I learned in one blog post, when I finished the section on Pinterest I realized that I needed to break my Sway Social experience into at least two parts simply because there was so much information to share.
Do you follow me on Pinterest?
What I Learned about Blogging at the Sway Social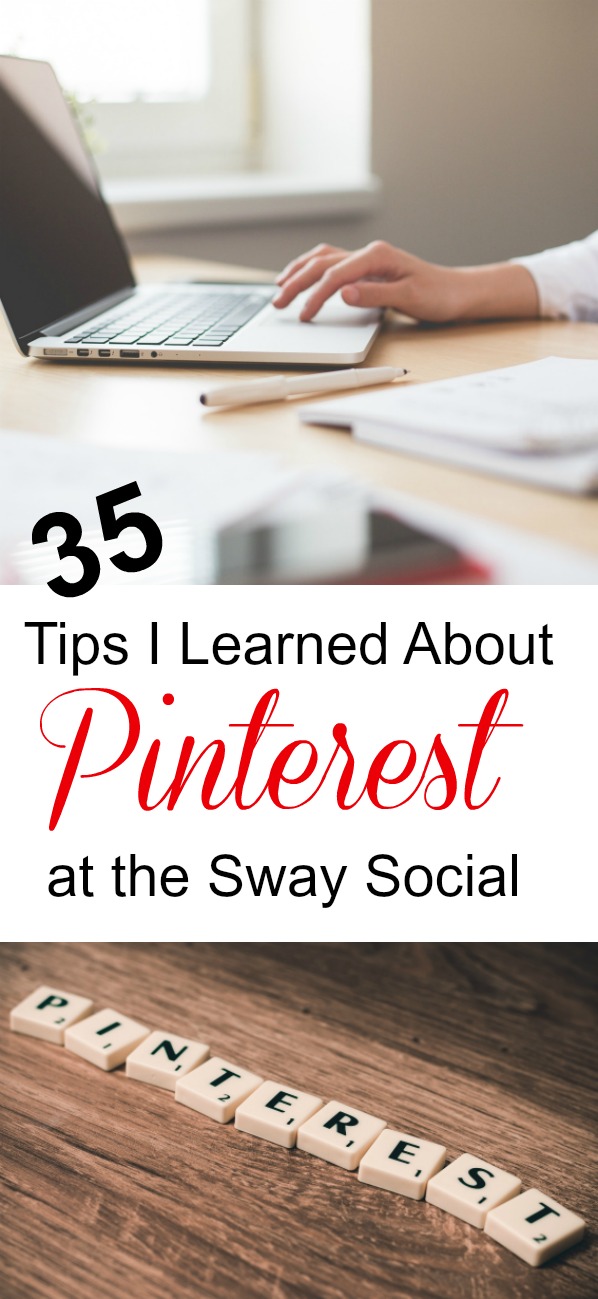 With so much to cover and so little time, things moved fast at the Sway Social. First up was Tori Tait talking about the real power of Pinterest. In addition to running her lifestyle blog, Thoughtfully Simple, Tori has been the Director of Content and Community at The Grommet since 2009.
The Power of Pinterest
I am actually pretty well acquainted with the power of Pinterest. It is the number one social media referrer to my blog. In spite of that, I sometimes feel like I don't have a well-developed Pinterest strategy, so I was anxious to hear what Tori had to say.
What I Learned
If you don't have a business accountbusiness account, get one now. That will give you access to analytics, which will tell you which pins get the most repins and click throughs, as well as the number of impressions each pin gets. You can also learn a lot about your audience, including their location and their interests.
It's not about you, it's about your content. Stay honest with your audience. Give them what they expect when they click through your pin. Don't lure them in with compilation posts that make them have to click through further links.
You need to have Rich Pins and a Pin It button on your site.
Use SEO rich descriptions with keywords (add this to your "alt image" tags on your photos). Don't use hashtags, instead use descriptive sentences that use words that will catch your audience's eye.
Your content should tap into a planner's mindset. Think seasonal posts in advance as your audience plans for holidays and other special events.
Use high-quality vertical pins. The current ideal size is 600 x 900-1560 (which is the maximum length for a pin). Always go big. Remember how many people view Pinterest on mobile. Your long pin will take up their screen!
Use a creative mindset. How are you going to make your pin stand out among the thousands of similar pins? Continually test your pins to find what works the best.
Your descriptions are important. Speak to the pinner. How will this improve their life? Your images and descriptions should work together.
Deliver on your promises. Don't lead your audience on with a sub-par experience when they click through.
Think like an advertiser.
Tap into those analytics. Once you know your most popular pin, iterate on it! Produce more like it, share it, etc.
When you find the pins that are most pinned from your site you will know what your audience wants to read. Post more like that.
Incorporate your top pins into other marketing.
Update old posts with new pins.
Create more than one pinnable image. Test which pin drives more traffic.
All pinnable images don't have to be on your post. You can upload on the backend (to your blog) or directly to Pinterest.
Incorporate Pinterest messaging in blog posts, emails and newsletters, and social media in order to remind people to pin, push specific content, and engage with your community.
Use the Pinterest widget builder to drop within posts to remind people about other pins.
If you try promoted pins, experiment with a small budget first, always use CPC campaigns (to drive website traffic), use the largest pin size, and create a great landing experience.
Also, tap into that planning mode, use keyword targeting with 30-50 words, and get creative.
Target females unless your post or product is specifically for men.
Think about the device your readers are using and their location.
If you're interested in brand partnerships, pitch them your ideas, playing to their business and trends. Check out what they are already pinning.
Create unique content and plan your photos specifically for Pinterest.
Create a board for your brand collaborations.
 Make more than one version.
You can pin 20 pins in the morning without a problem. Pinterest will push through the day.
Pinterest wants to see you active, if even for just a few minutes a day.
You don't need to go back and delete old pins.
It doesn't matter how many boards you have.
Pinning directly from your blog is good.
So is pinning from your own board.
Pinterest wants to see activity and doesn't care if you're pinning your own pins or someone else's.
Pin other's content for community and if it is something you want to save.
Check what others are pinning (source.pinterest.com in the search box) and pin some of that occasionally.
Do you understand why my head is swimming? Pinterest, like most social media, is ever-evolving. Nothing that we learn is carved in stone. Trying to keep up is a challenging proposition, which is why conferences like the Sway Social are so helpful.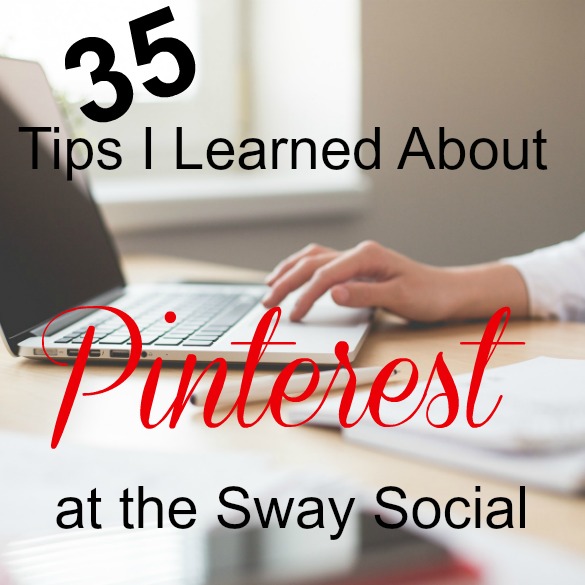 Special thanks to Tiffany Romero, Tori Tait, the entire Sway Group, and the other speakers at the Sway Social. Next week I'll be sharing what I learned about Partnering with your significant other on your blog, Food photography, SEO, Legal mistakes blogger make and more. Yes, they covered all of that information in ONE DAY!!!
And do you want to know what was even better? The entire conference was free! We paid $35 when we registered, then it was refunded after we showed up. And it included lunch! All just part of the Sway Group's efforts to provide blogging education to all. And special thanks to Amber Products, who sponsored the conference.
Did you learn anything new about Pinterest from these tips? Anything surprising? I was surprised with the updated information about the ideal pin size. And I was happy to learn that it is good to pin directly from your site since I frequently do that and wasn't sure if that was the right thing to do.
And in case you're wondering, yes, I did make two vertical pinnable images for this post. The one shown here plus an extra one to upload directly to Pinterest.
---
Weekly Linkups
My weekly linkups! Please stop by and check out all of the great recipes, workouts, and information that all these awesome bloggers share every week!
Meatless Monday with Sarah and Deborah
Meatless Monday with Annmarie  and Dixya
Tuesdays on the Run with Marcia, Erika, and Patty
Inspire Me Monday with Janice
Wild Workout Wednesday with Annmarie, Michelle, Jen, and Nicole
The Plant-Based Potluck Party with Deborah
The Running Coaches' Corner with Rachel, Suz, Lora Marie, and Me!
Friday 5 2.0 with Rachel and Lacey and Meranda