Welcome to Part 3 of my series on starting a blog. Today we're going to discuss owning your own domain name and self-hosting. Did you miss the previous posts?
Part 1: Blogging Goals
Part 2: 11 Tips to Get More Readers
Starting a Blog: Own Your Domain
If you're just starting a blog, you may very well have used one of the popular and free blog building tools available. Today I'm going to focus on the two most popular, Blogger and WordPress.com. That means that most likely you have a website with an URL like blackdograceproduction.blogspot.com or debwoodruff.wordpress.com. They're great, they're free, so why would you want to change?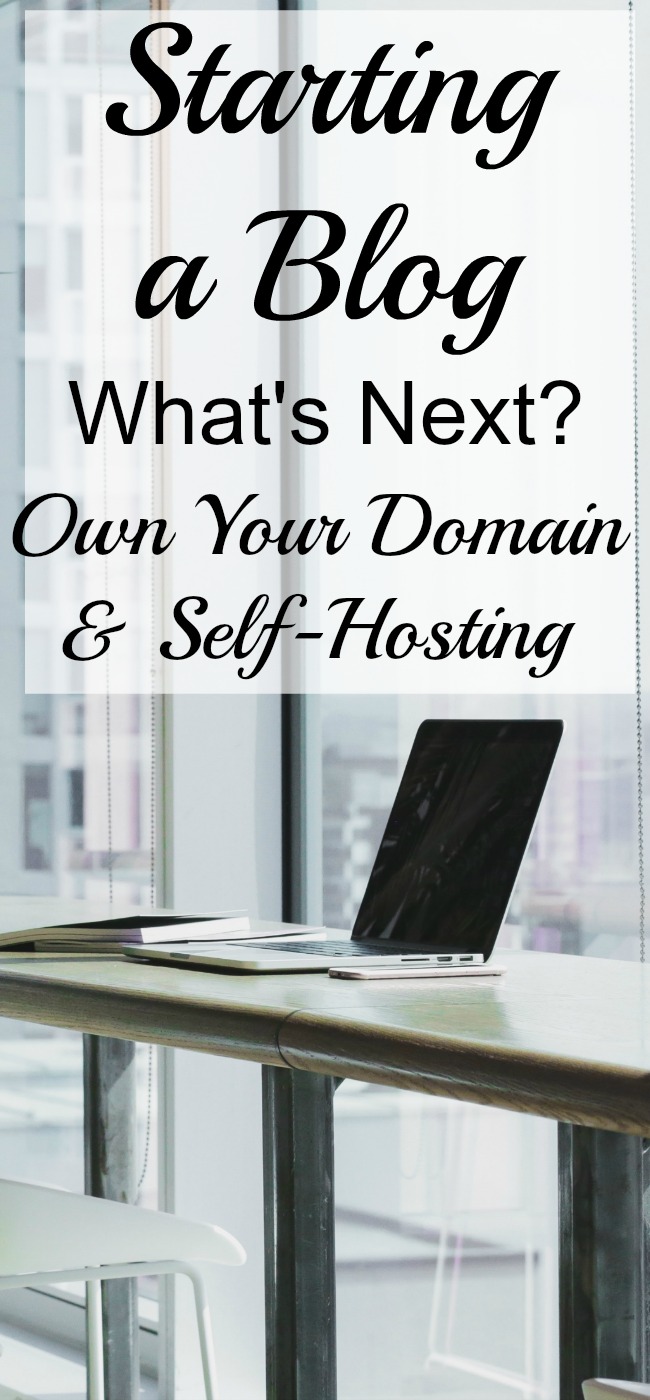 Well, for a few reasons. First on the list is that having your own URL, say www.blackdograceproduction.com, makes a more businesslike appearance. If you want to take your blog to the next level, that is important.
Second, it is easier to remember. I can easily remember www.debwoodruff.com (well, it is me, so that does help a little), but tack on the wordpress part and it gets more difficult.
Third, your blog should represent your personal brand, no matter what your plans down the line. Especially since those plans may change, you may want to start monetizing your blog, and become self-hosted, in which case you will need your own domain name, if it's still available.
Other reasons include easier search, improving your web presence, and that it's just cool to have one (yes, that's one of the reasons I still own debwoodruff.com).
Finally, why wouldn't you? For around $10 a year, your URL can represent you. That's less than two Frappucinos! Let's do it!
Where Do I Start?
This is the easiest part. There are dozens of places to purchase your own domain. When I purchased my first domain, I did it right through the Blogger site (which actually used Go Daddy). I've also purchased a few through Domain.com. Others include Namecheap.com, Register.com, Network Solutions.com and many more. Most web hosting sites sell domain names too, which can make it easier when and if you choose to become self-hosted. (Note: I'm not endorsing any of the above. I've only had experience with Go Daddy and Domain.)
Picking a Domain Name
The next step is picking your domain name. The logical thing to do is to purchase the name that matches your current Blogger or WordPress name, right? Not necessarily. For one thing, it may not be available, or you may have to do a variation on your current name. And, now that you're buying your own URL, you want it to be something you can stick with. What sounded cute and fun when you started your free blog just may not fit as you move forward.
I really suggest checking to see if your own name is available. You can still call your blog whatever you want, but if you have your name for your URL, you really are branding yourself. Sadly, my name has not been available since I first started checking years ago (hence the debwoodruff.com).
What about .ORG, .CO, .BIZ?
You have the option, if yourname.com is not available, to choose from a number of extensions, including .org, .biz, and .co. If you're in the US, ".com" is really the standard for most websites. What if I type in your URL, but use .com, and end up on an entirely different website? It's really for you to decide, but I prefer to use the .com extension.
What's Next?
So you have your user name and you're ready to go. You have several options, but this post will cover two: Keeping your free Blogger or WordPress.com site, or becoming self hosted. There are advantages to both. It just depends on your needs and goals.
Free or Self-Hosted?
If your goal is to have your own space on the web where you can write what you want, have other people read your writing, and keep things simple and virtually free, by all means stick with Blogger or WordPress.com. You can always change your mind later. If, however, you want to make some money, either through advertising, sponsorships, sales of products or services, or other means, or if you want full control over your website, self-hosted is the way to go. WordPress.com does not allow advertising or sponsored posts, and gives you few options with widgets and personalization. Blogger also has some restrictions, with which I am not as familiar. Of course, web hosting costs money, though it doesn't have to be too expensive. The price varies with your needs.
So let's get started on the how-to, shall we?
Blogger
Here are step by step instruction for using your own domain in Blogger (called Third Party Domain).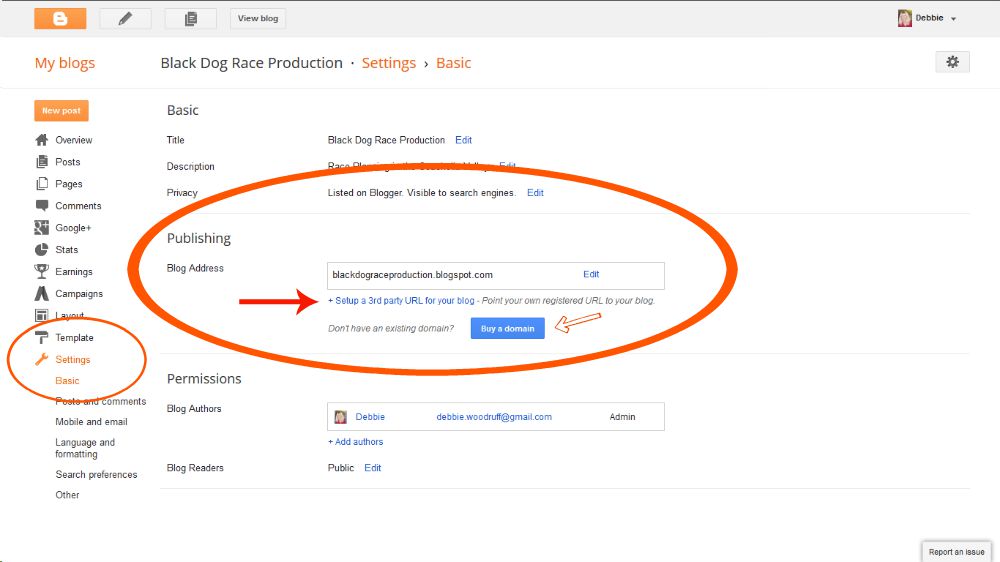 In your Blogger dashboard, select Settings then Set Up a 3rd Party URL for your blog. If you have not yet purchased your domain, you can do it here, through Blogger, by clicking the blue button.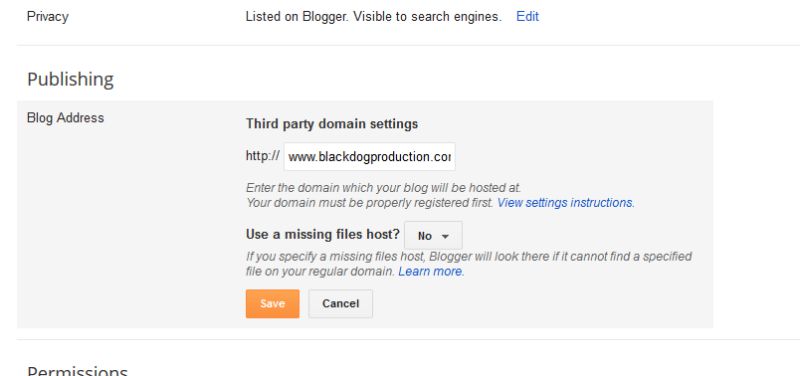 If you already have your own domain, enter it here. Be sure to use "www." If you click on View Setting Instructions it will also lead you through the process. Click Save.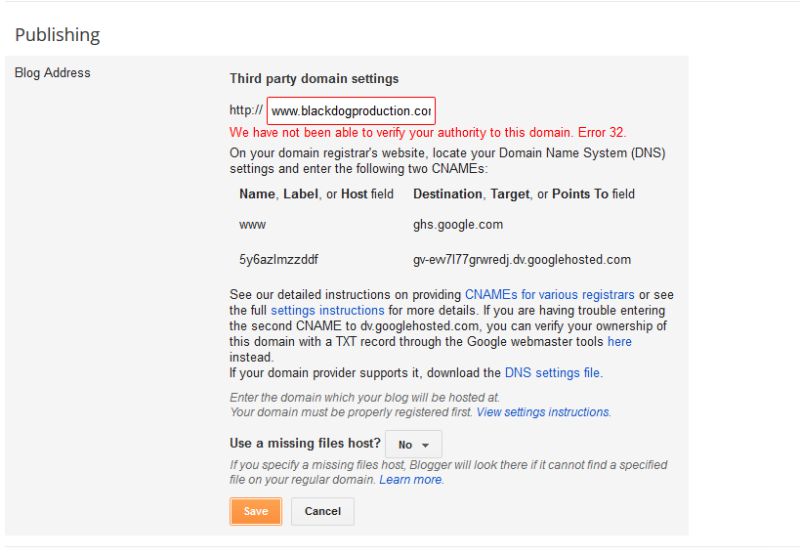 You will receive the error message above, and instruction to go to your domain registrar, locate DNS, then CNAME and enter the following CNAMEs.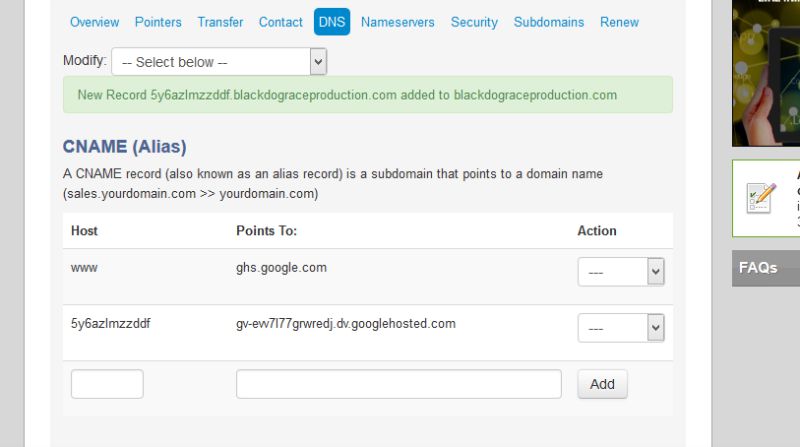 This is the view in my registrar, Domain.com. First navigate to your domain and select it. Click on DNS, then Modify and select CNAME from the drop down menu. Fill in the information from the previous photo (yours will be different).
The next step is optional but important. Right now, if someone types in www.yourdomain.com, it will lead them to your Blogger website. However, if they don't type the "www" they will get an error message. In order to fix this there are two more steps.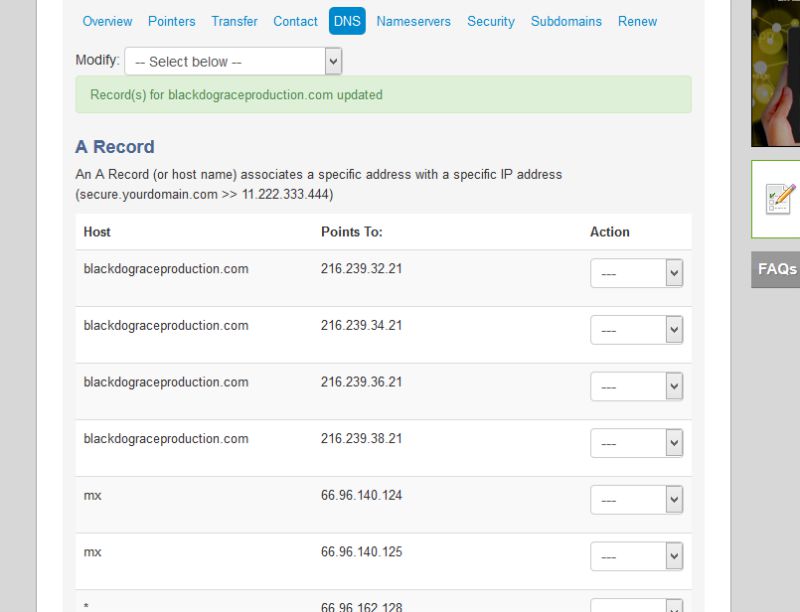 On your registrar, navigate to DNS (you're already there), then select A Record from the drop down menu. Scroll down to the bottom of the A Record and enter (Host) your domain name without the "www." Under Points To, enter the IP addresses shown above (all four of them). These IP addresses are also on the Setting Instructions (see below).

Now, wait. It can take a few hours to be verified and work properly. When my URL had not been verified by then, I had to go back and verify it manually. Read here for instructions on how to verify your URL. It's very simple, and takes just a few minutes.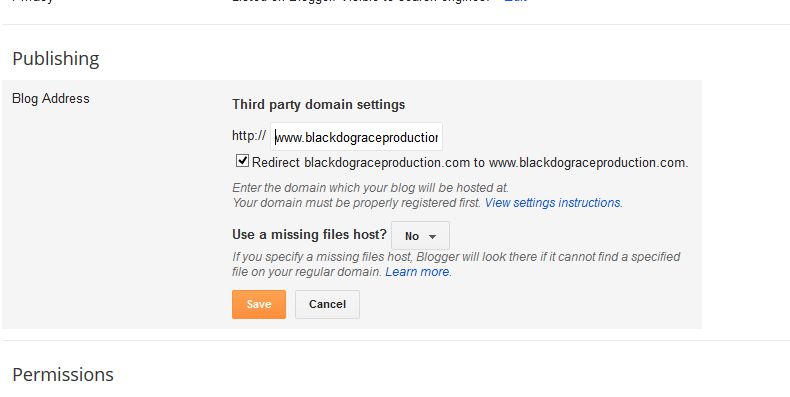 Your final step is to go back to your dashboard settings and check the box that says "Redirect yourwebsite.com to www.yourwebsite.com. Now, if someone just types it in without the "www" they will still make it to your site.
WordPress.com
A little disclaimer here first. While I have had two previous WordPress.com sites that I have switched to my own domain name, I didn't do it here because there is a $13 per year fee to Map Your Domain, which is what WordPress calls it. Instead, I will walk you through the process as much as I can, but I may be missing some screenshots.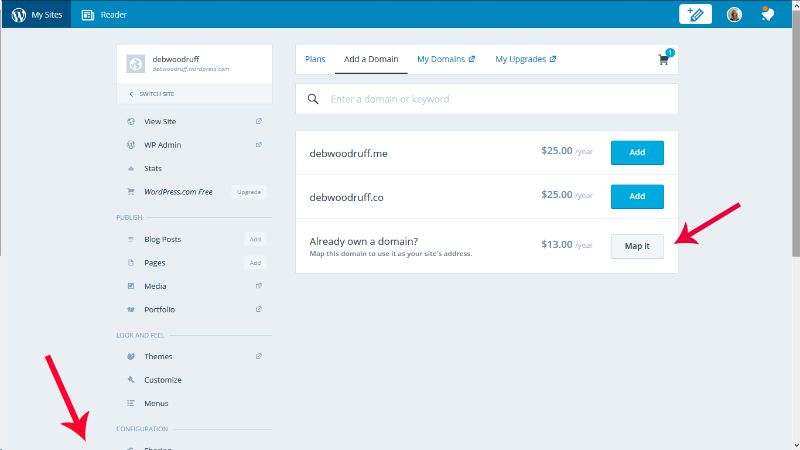 In your WordPress dashboard select Domain (at the bottom of the list, it wouldn't fit in the screenshot). As you can see, you can purchase a domain and the mapping through WordPress (it doesn't show debwoodruff.com because it is (obviously) not available. The $25 is for the domain itself and the first year of mapping. If you already have a domain, click Map It.

Fill in your domain name and click Add. This will take you to a page where you can pay your $13.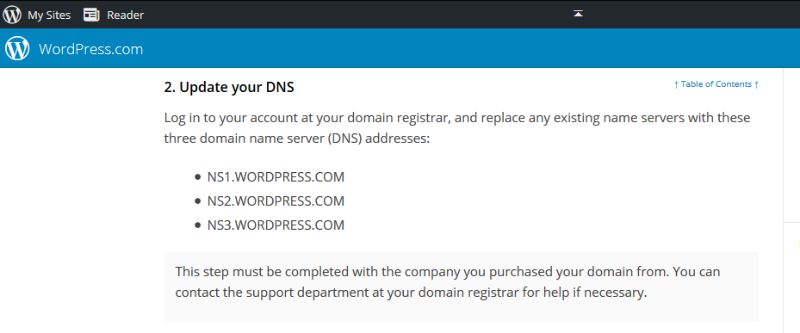 Then you will need to update your DNS on your domain registrar. You'll need to use all three name servers shown above.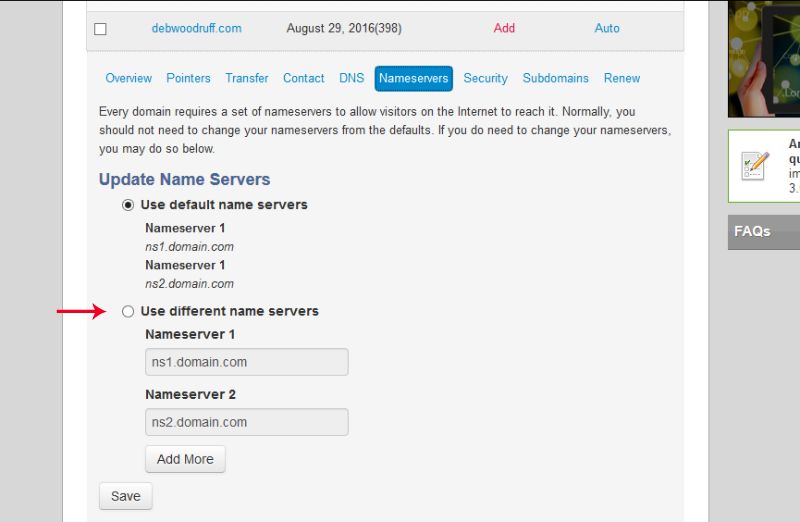 Here again is my account on Domain.com. Select your domain, then Nameservers. Select "Use different name servers," and fill in the three from the previous picture. Click Save.
Then wait. It can take a few hours, but then you'll be up and running with your own domain!
Self Hosting
Now it's time to take the next step. To become self hosted, you're going to need to find a host. I use Hostgator and I've been happy with them. Other well ranked hosts include WPEngine and Host1Plus. Prices start around $4.00 a month depending on the size of your blog and your needs.
I'm not going to go into detail here, because each host will be different and they can help you with the process. Believe me, it is very do-able by a layman. I know that because I've done it myself several times.
Action Plan
Be brave. Buy your domain. It's only about $10. Report back. Next week we'll discuss ways to monitize your blog.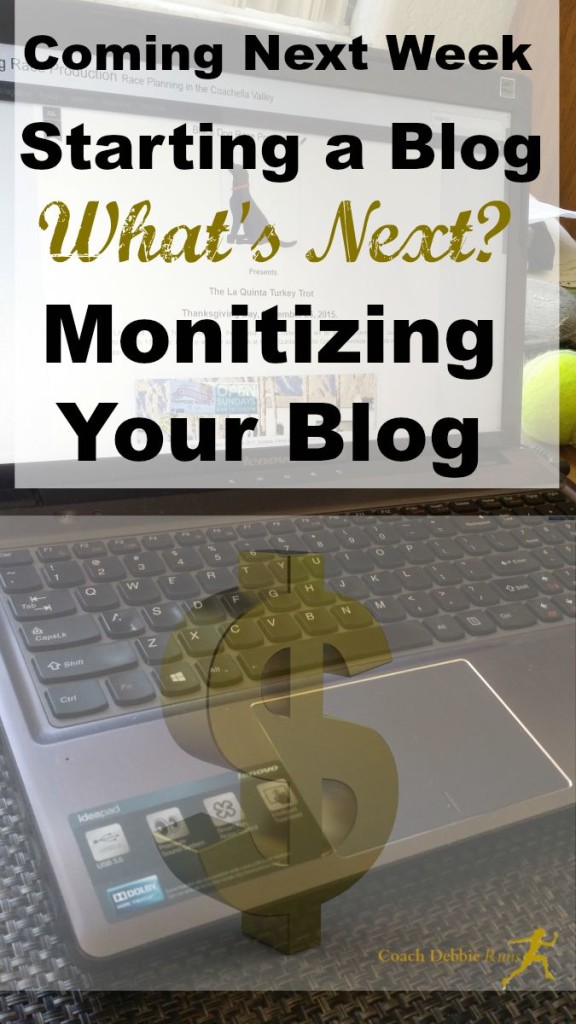 The Starting a Blog Series
This is Part 3: Own Your Domain
Part 4: Make Money Blogging
For those of my readers who are already experienced bloggers, I hope you will contribute to the conversation and add any tips that have helped you.
Updated from a post originally published in July, 2015.
---
Weekly Linkups
My weekly linkups! Please stop by and check out all of the great recipes, workouts, and information that all these awesome bloggers share every week!
Meatless Monday with Sarah and Deborah
Meatless Monday with Annmarie  and Dixya
Tuesdays on the Run with Marcia, Erika, and Patty
Inspire Me Monday with Janice
Wild Workout Wednesday with Annmarie, Jen, and Nicole
The Plant-Based Potluck Party with Deborah
The Running Coaches' Corner with Rachel, Suz, Lora Marie, and Me!
Friday 5 2.0 with Rachel and Lacey and Meranda