So you're starting a blog!  You've set your goals, found more readers, purchased your own domain and become self hosted. The next step may be to start to make money blogging. This post will help you get started.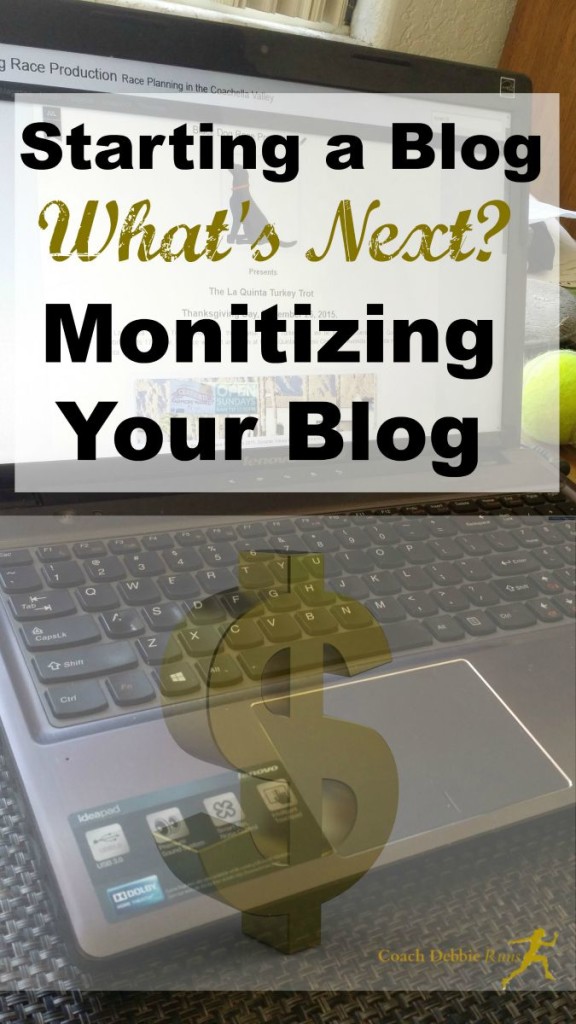 Make Money Blogging
There are many ways to make money blogging. Some are direct, like advertising, sponsored posts, and product reviews. Other ways include selling products or services through your blog. This post, which I will update regularly, will discuss some of the methods that I'm familiar with, plus I hope that readers will chime in with their suggestions, which I'll add to the list.
First step (which is done if you've read my previous posts), is to make sure you're writing quality posts, you site is clean and professional looking, and you've got your social media in order. Don't worry if you don't have huge numbers yet. Numbers are important but they are not the only thing that brands look at.
One reminder. While I am working with some of these organizations, I'm not recommending them for you. Your needs may be different than mine. I suggest you go to each, do a little more research, see what they have to offer, then make your decision.
And before we get started, I want to apologize for using the word 'opportunity' so frequently in this post. But that is what this is all about and there aren't all that many appropriate synonyms.
Affiliate Advertising
Affiliate advertising is working either directly through a brand or, more common, through an affiliate network. You place the ads on your site, when people purchase through your link you earn a commission. It is my opinion that affiliate advertising works the best when you offer products that you love. Maybe you've already talked about them on your blog, if so, your readers know that they can trust your recommendation.
Shareasale:I work with several affiliate marketing companies because you will find different brands on each one. With Shareasale I affiliate with PRO Compression, YogaDownload.com, TrueandCo.com, and a few others.
Commission Junction: I just reinstated CJ, and right now I just affiliate with Moo.com. They do offer a wide variety of advertisers though, so you should check them out.
Linkshare: With Linkshare I advertise Lorna Jane
, Road Runner Sports
, and a few others.
Google Adsense: Adsense is another service available from Google. You can select or veto categories, pick the size of the ad that you want, and use as many or few ads as you want. The downside is that even though you've picked your categories, sometimes the ads are not in line with your own personal brand.
Amazon Associates: This is one of my favorite affiliations. Since you can buy almost anything through Amazon, you can link to almost everything that you write about organically.
Publishing Networks
See that Blogher ad on my right sidebar and at the bottom of the page? I work with the Blogher Publishing Network. Publishing networks are a bit more exclusive, meaning you can't work with more than one, so be sure to research your choices. With the ads, you get paid on a CPM basis (costs per 1,000 impressions). You may or may not have control over the types of ads. For example, with Blogher I was able to choose not to show ads for meat products. I have noticed though, that some are slipping in. I've checked my settings, but at this point have not contacted Blogher to see if they have changed their policy for ad restriction.
Some of the networks also restrict the other advertising, sponsored posts, and other types of revenue methods that you can use, so that's even a better reason to read the fine print. Publishing networks frequently offer sponsored post opportunities, social media opportunities (you get paid so much to tweet or post to Facebook), and syndication (where one of your posts appears on their site).
Blogher: This is my network, and I've been pretty happy with them (barring the chicken ads, see above). Obviously, the more pageviews you have, the more CPM (which applies to all of the publishing networks), but I've had other writing opportunities as well. And they just syndicated one of my posts last week!
Mode Media: I have had no experience with Mode Media (formerly Glam). Maybe one of my readers will comment and I'll add to the post.
Sovrn: Here is another advertising network option.
 "Middleman Agencies"
This is a large category, and each company offers different types of opportunities and in a variety of ways. Some are basically advertising agencies that work with bloggers and brands. Other have a personal networking aspect, where you connect with other bloggers and they offer a few paid opportunities along the way. The companies listed below are in no particular order, and I will add more as I learn of them.
TapInfluence: One of my top choices for sponsored posts, the platform is also used by other marketing groups because they have a user-friendly program that does it all. Here you don't apply directly for campaigns, you are sent invitations to apply for campaigns that might fit your niche.
Social Fabric: Social Fabric, which is the shopper social media company owned by Collective Bias, has many things to offer. There are a lot of sponsored post opportunities for which you can apply, there is a community of other bloggers with questions and advice, and they have SoFabU, which offers an amazing array of blogging education opportunities.
Linqia: I have had a lot of success with Linqia and their pay-per-click medium. They also have a great platform, a good community of bloggers working together on campaigns, and they pay faster than any other company that I've worked with.
Fitfluential: Fitfluential has a special place in my heart because it was the first networking group that I joined. Kelly and crew were the ones that taught me exactly what I could do with my blog. Generally aimed toward health and fitness bloggers, they also have a great community that is more than willing to help.
SweatPink: I became a Sweat Pink Ambassador shortly after starting with Fitfluential. Back then it was all about the community, but Fit Approach, the geniuses behind Sweat Pink have gradually added more sponsored opportunities. This is also aimed at the health and fitness blogger, and welcomes new and want-to-be bloggers with open arms. Fit Approach also partnered with IDEA to put on Blogfest, the unique merging of blogging and fitness education held in conjunction with the IDEA World Fitness Convention.
IZEA: On IZEA you bid for a variety of types of sponsored posts, tweets. I have not worked with them yet, but others who have had good things to stay.
Sverve: Sverve is another community of bloggers with sponsored opportunities. You can share your posts, endorse other bloggers, and apply for a variety of paid opportunities.
Massive Sway: This is part of the SITS Girls organization. They offer sponsored post opportunities as well as support and blogging education through the SITS Girls website.
Clever Girls Collective: Another company that offers sponsored post opportunities. I've done several for them. The dashboard is easy to understand, and they have a list of opportunities that you can apply for.
One to One Network:I have mostly worked on social media blasts with the One2One network, but they do have some sponsored post opportunities you can apply for.
WeaveMedia: This group is totally new to me (I haven't even been accepted yet!).
Tomoson: At this point, all I've had from Tomoson is the chance to buy discounted products to review. Not my deal. But, a few bloggers have had success in the past, so I'll stick around for a while to see how it goes.
Brandbacker: Another new-to-me company. I'll keep this updated as I learn more.
Crowdbooster: Crowdbooster is a pretty new company, so I'm not exactly sure how it will work out. They invited me to apply for one sponsored post (for which I was later turned down). Even their website isn't really in place yet. I wasn't able to log in as I prepared for this post, and after emailing support I was told that with launching their new service they are focusing on matching bloggers with brands, so they don't really have a platform yet. I'll update as I learn more.
PopSugarSelect: Although I'm a member of Pop Sugar Select, I haven't had the opportunity to write a sponsored post for them. I know many bloggers who have though, so it might be worth your while. Note: They are disallowed by some of the Publishing Networks, including Mode Media.
You can also make contact directly with brands that you love and want to work with. I won't be covering that in this post, but it is certainly possible. Do remember one thing that was pointed out when I went to Bloggy Boot Camp: When you work with an agency who acts as your middleman, you can be assured that they have lawyers that read and understand the contracts that you will have to sign. Without that, you are on your own to make sure that your rights are protected, that your deliverables are in line with FTC regulations, and that you're getting the best deal possible. Just food for thought.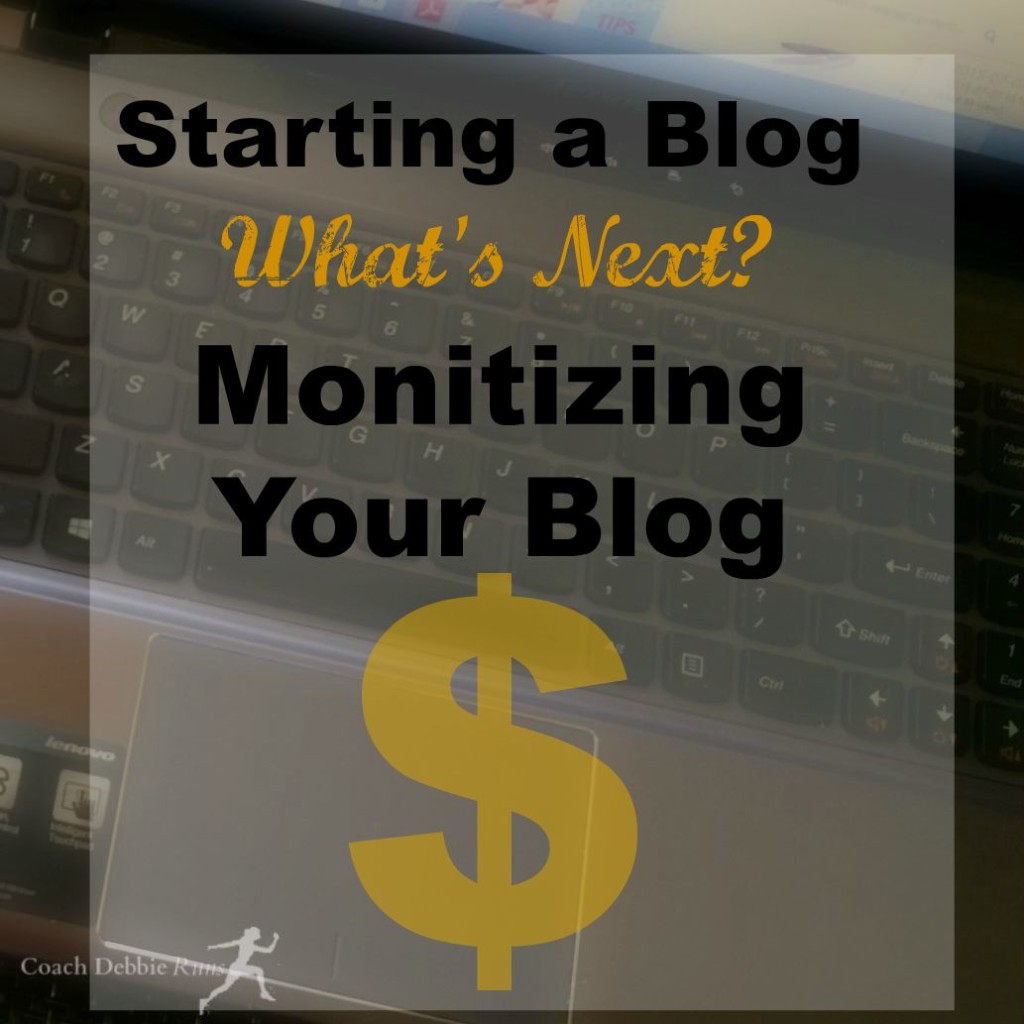 Selling Products or Services
You already may have a product or service that you can sell on your blog. What are you an expert at? Can you help me get organized, clean my closet, get fit, eat right, run a marathon? Or maybe all of those things? If you have the skills, present it right, and market yourself, you can sell your services on your blog.
Or, you can take those same skills mentioned above and create an ebook. Then you are generating an ongoing source of income. Here are some resources. Note: I have not yet created an ebook so I have not personally used any of the resources below. I hope that having them all in one place will help you (and me) get started on our first ebook!
How to Create an Ebook from Start to Finish:
How to Make and Publish an Ebook:
Gumroad:Sell your work directly to your audience.
The Starting a Blog Series
This is Part 4: Make Money Blogging
Things that make it all worthwhile
I got this tweet from Wendy:
.@CoachDebbieRuns I have my own domain name! So excited! Thanks for your guidance!!! http://t.co/8kSBbypakl

— TakingtheLongWayHome (@oldrunningmom) August 2, 2015
Yep. That makes my day.
Surprise, surprise! This post contains affiliate links!
For my beginning bloggers, this list will get you started. Your homework this week: Pick at least two or three of these options and go for it! Sign up with one of the agencies, research your ebook, join a publishing or affiliate network. Report back in the comments. You'll be on your way to making money blogging!
For my more advanced readers, I know that I missed a lot of opportunities to make money blogging. Let me know in the comments and I'll add them to the list. Thanks in advance!
---
My weekly linkups! Please stop by and check out all of the great recipes, workouts, and information that all these awesome bloggers share every week!
Meatless Monday with Tina and Deborah
Meatless Monday with Annmarie 
Bonnie, the Pin Junkie
Tip Tuesday with Debbie in Shape
Wild Workout Wednesday with Annmarie, Michelle, Sarah, and Angelena Marie
Wednesday Wisdom with Nanna's Wisdom
The Blog Booster Party with Kathleen
Friday Fitness with Jill