If you're just starting a blog, it may sometimes feel like you're talking to the air. You're speaking, but is anyone listening? There are several ways to get people to come to your blog. This post will help you begin to get more blog readers.
Welcome to part 2 of my series on how to take your blog to the next level. I hope that it will help anyone who has started a blog and wants practical tips for how to reach their goals.
Don't miss part one: New Blogger Tips: Setting Strategic Goals for Your Blog.
11 Tips plus 11 Bonus Tips = 22 Tips to get more Blog Readers!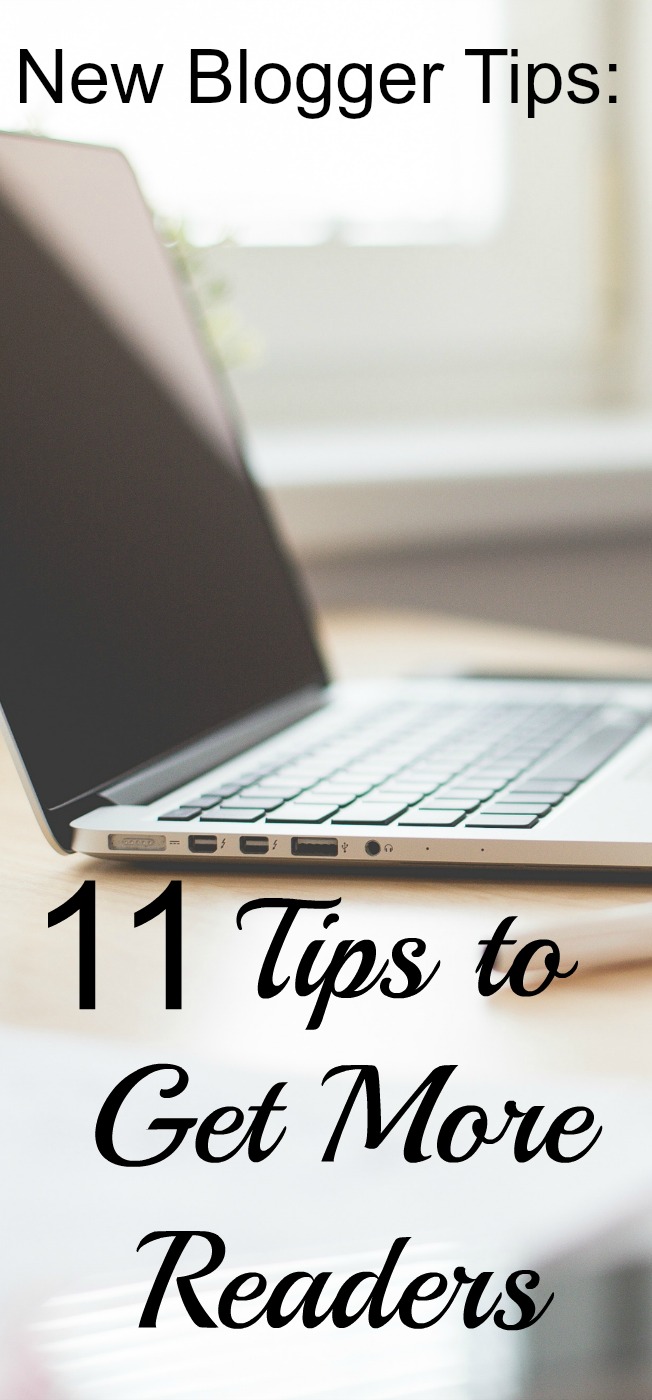 New Blogger Tips: 11 Tips to Get More Blog Readers
Write quality content. This is probably the most important thing you can do if you want to build your readership. Sure, you can attract readers with social media, and all the other methods mentioned below. But if you want them to stick around and become loyal followers, you need to produce quality content.
Bonus Tip: You don't have to write a novel for each post. Somewhere between 500 and 1,000 words is optimal.
Use large, clear, attractive images. Readers like pretty. Pretty images not only attract readers but allow them to share, which will attract more readers.  Many bloggers, including me, receive up to half of their traffic from Pinterest, so you can see that making images "pinnable" can be very important. Images also do well on other social media too. Twitter users frequently use pictures in their tweets to make them more attractive to click on and retweet.
Bonus Tip: Be sure to update the "Alt text" for your image. Use your keyword, along with a short description. That is what shows up when the image is shared. You don't want it to have the title of the image that your camera assigned!
Create social media accounts specifically for your blog. If you haven't done this already, create Facebook, Twitter, Instagram, and Pinterest accounts for your blog. Spend some time to follow and interact with other users. If starting with all four sounds too intimidating, pick one or two to start. If you are new to social media, it will take some time to find your niche, the type of sharing that you enjoy the most and that reaches the most potential readers of your blog.
Bonus Tip: Make sure that all of your social media accounts include information about you, your blog, and your niche. This will help others find you!
Share, share, and share some more. Now that you've started those social media accounts, start sharing your content. The key, though, is, don't just share your stuff. Find a great article? Share it. Read an interesting post? Share it. It is very important to share a variety of content and interact (see above) with others.
Bonus Tip: Use hashtags, especially on Twitter and Instagram. This will help people who don't already follow you find your content.
Use keywords. Keywords are how searchers find you, so you can see that using descriptive, specific keywords can help get more blog readers to your site. Don't overload your post, one or two keywords or phrases are fine. Use it within your title, your headline, and in your actual post. For example, my keyword is "get more blog readers."
Bonus Tip: Google Adwords Keyword Planner is a free tool that can help you find what keywords readers use in searches. You need to sign up for Adwords, but the planner is free.
Learn at least a little about SEO. Keywords are important, but there are other things to learn about SEO (Search Engine Optimization) that can help your blog be search-friendly. Here is a post I wrote about SEO for beginners.
Bonus Tip: You can change the URL of your post so that it is clear, concise, and contains your keyword. In WordPress, this is at the top of your edit post page, right under the title.
Visit, comment on, and share other blogs. Finding other blogs that you love, leaving thoughtful comments, and sharing the posts through social media is a great way to bring readers.
Bonus Tip: When commenting, don't just say, "great post!" Find something that moves you and write about it, ask a question if you'd like clarification, or even disagree (respectfully).
Share the love within your post. If you refer to another blog that you follow, product that you love, or information that you want to share from another source, be sure to link to it. This applies to your own posts too, so if you're referring to something that you've written, link to that older post. This will keep readers hanging around longer and increase your pageviews too.
Bonus Tip: Set the link to open in another window, especially if you're linking to an outside post. Otherwise, your reader may wander off and not come back.
Make sure that your readers can share your posts, and that they can follow you on social media. You must have social media share buttons easily visible within each post so that your readers can share your content. They should also be able to find out how to follow you, so make sure that you have follow buttons in your sidebar or header.
Bonus Tip: Check the settings on your share buttons to make sure that your Twitter handle will show up when readers share your post.
Treat your readers right. When someone takes the time to comment on your post, be sure to reply, answer their questions, and thank them (if that applies). Same goes for social media. When your followers share your post, be sure to thank them.
Bonus Tip: There are several plugins available that will send an email to someone when they comment on your blog. Get one! Many people want to interact with you, but few have the time to keep checking back to see if you replied to their comment.
Join linkup "parties" to share your posts and to find other new blogs. Linkups are a great way to share your content and find other blogs to read. Part of the "deal" with linkups is that you must stop by and comment on several other blogs in the linkup. Some will even highlight popular or interesting posts the following week, which can lead to more readers.
Bonus Tip: Check below for my favorite linkups.
Action Plan
Pick one or two tips from this post and go for it! And remember, you don't have to do all the things right away. Take small steps, implement one or two of these suggestions a week, and you will start to see your numbers increase.
Next week we will discuss owning your own URL and whether (and how) to go self-hosted. Please feel free to ask any questions in the comments. I'd also love to see your homework, so feel free to share a link. If there is any topic you would like to read more about in this series, please let me know.
For those of my readers who are already experienced bloggers, I hope you will contribute to the conversation and add any tips that have helped you.
The New Blogger Tips Series
This is Part 2: Get More Readers
---
Weekly Linkups
My weekly linkups! Please stop by and check out all of the great recipes, workouts, and information that all these awesome bloggers share every week!
Meatless Monday with Sarah and Deborah
Meatless Monday with Annmarie  and Dixya
Tuesdays on the Run with Marcia, Erika, and Patty
Inspire Me Monday with Janice
Wild Workout Wednesday with Annmarie, Jen, and Nicole
The Plant-Based Potluck Party with Deborah
The Running Coaches' Corner with Rachel, Suz, Lora Marie, and Me!
Friday 5 2.0 with Rachel and Lacey and Meranda