This Spicy Seitan Skillet Meal was one of the first recipes I ever published, back in 2011! I make it (or variations) frequently, so since I shared my favorite Easy Homemade Seitan recipe last week, this seemed like a good time to pull it out, update, and share it again.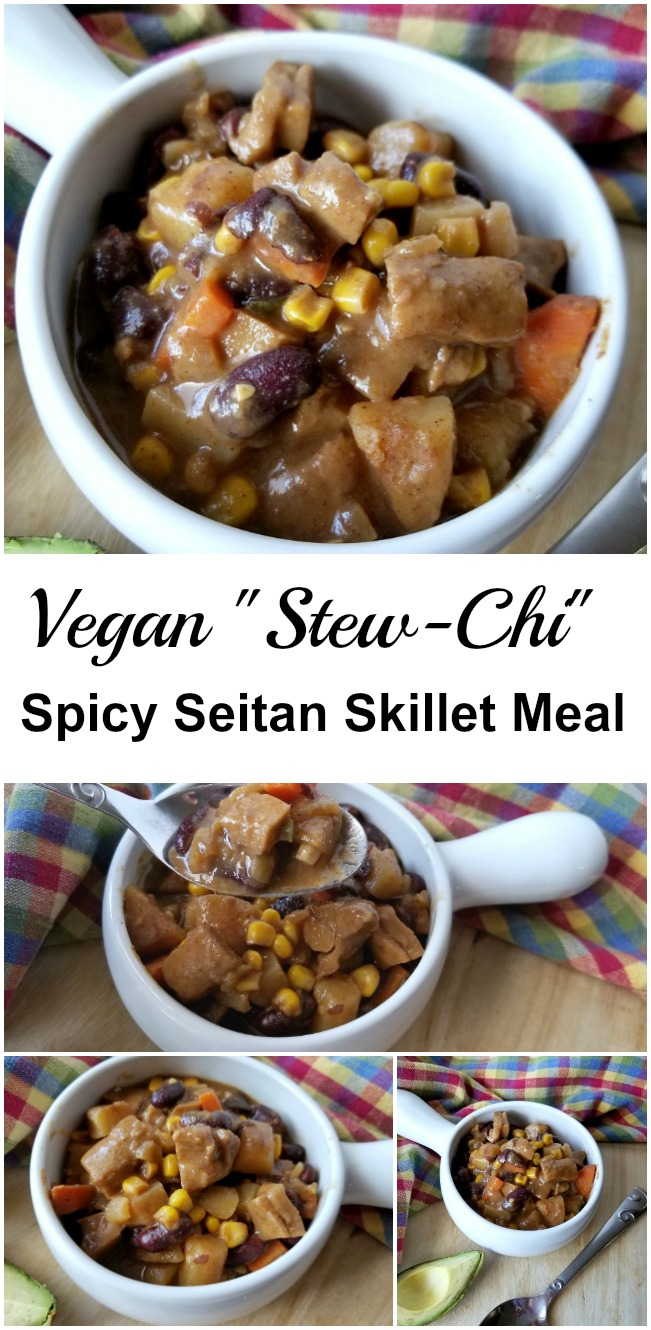 This was definitely one of my 'what's in the pantry' meals, but it was so delicious I decided I'd better write it down as soon as possible. I frequently create a dish with what's on hand and it often turns out really good, but I quickly forget what I did to make it special. This spicy seitan skillet meal was so yummy that I was inspired to put pen to paper (so to speak) so that I could actually make it again.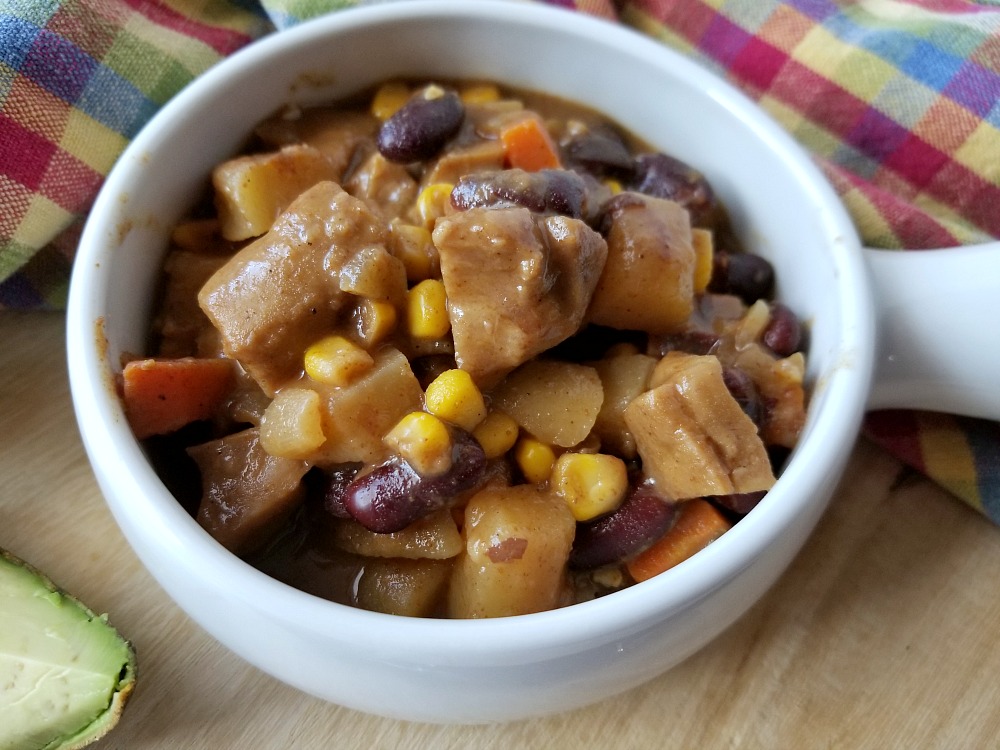 While I would have originally called it simply a stew, I added some chili powder and serrano chilis, which prompted Alan to rename it "Stew-Chi," a combination of stew and chili. That works, though I feel that whatever you call it, it is delicious.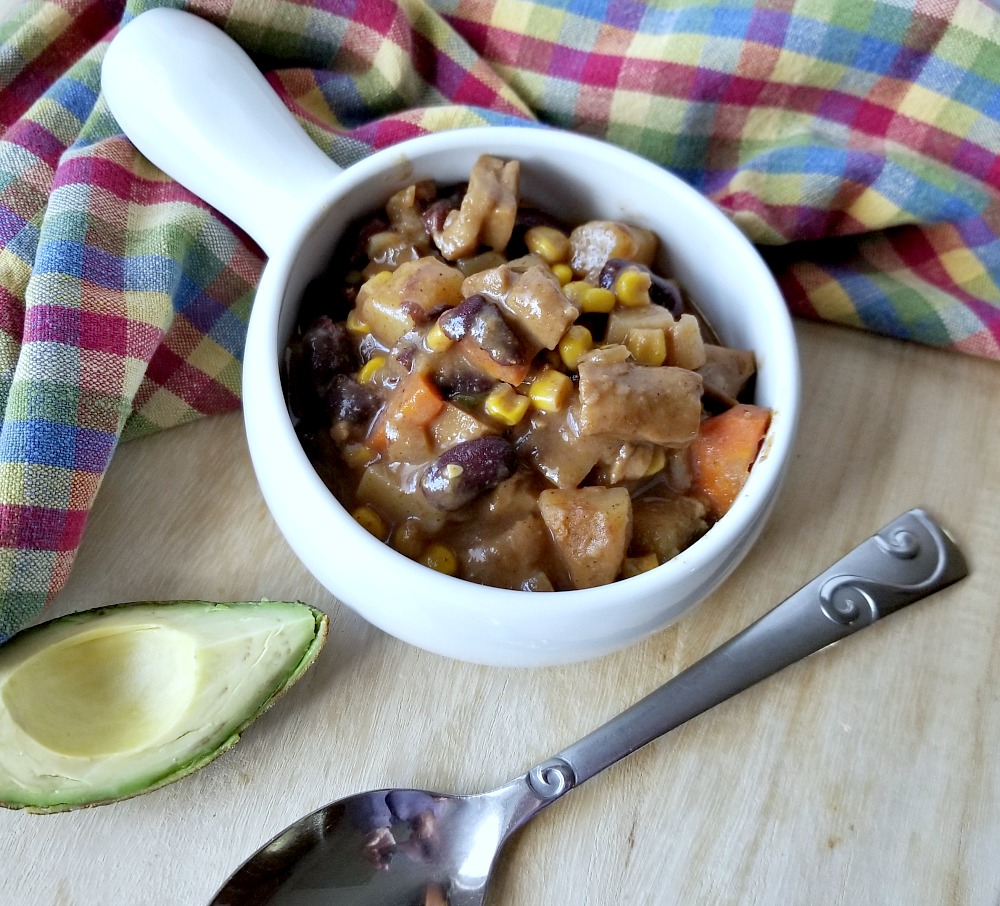 One of the nice things about what's in the cupboard meals is that you can substitute or add vegetables that are in your own cupboard. This Spicy Seitan Skillet Meal would be delicious with zucchini, other peppers, sweet potatoes, or just about any of your favorite veggies!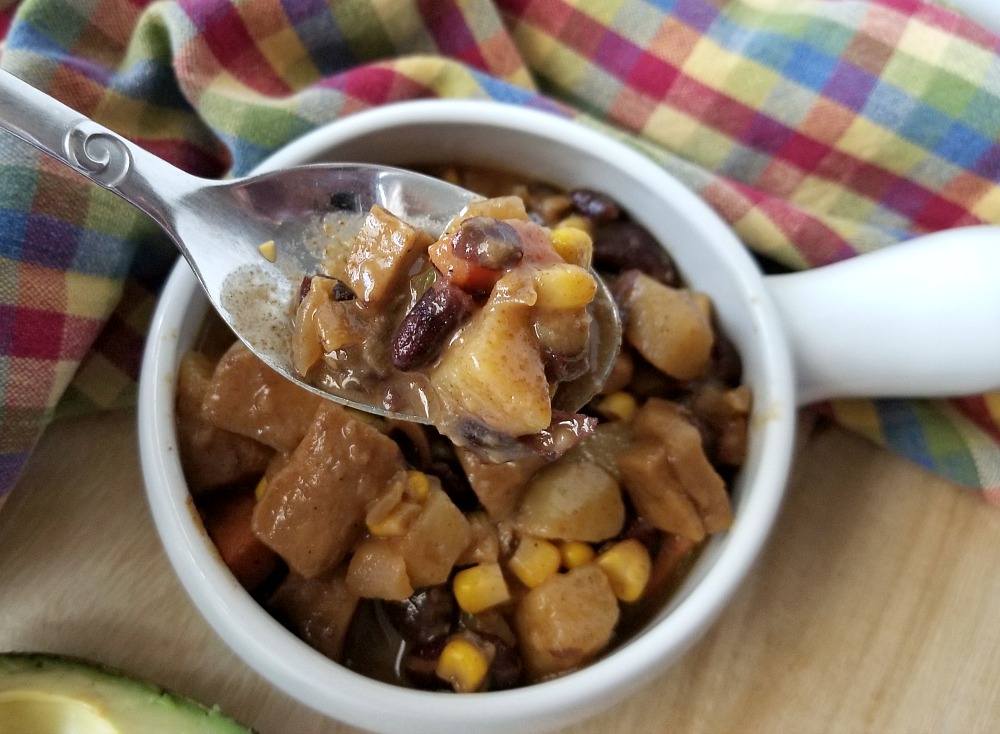 For a gluten-free version, you can easily substitute jackfruit for the seitan. The beans in the dish provide plenty of protein for a delicious, hearty meal.
Vegan "Stew-Chi" Spicy Seitan Skillet Meal
Vegan "Stew-Chi" Spicy Seitan Skillet Meal
Vegan/Vegetarian Main Dish
Recipe type:
Vegan/Vegetarian
Ingredients
2 tablespoons olive oil
3 cloves garlic, minced
½ cup onion, chopped
½ yellow bell pepper, chopped
1 Serrano chile (optional), chopped (I didn't seed it because I love the hotness, but you can if you prefer a little milder spice)
1 potato, cut into 1-inch cubes
1 carrot, chopped
1 cup (or one package) seitan, cut into 1-inch cubes\
1 tablespoon chili powder
1 cup vegetable broth
1 cup water
½ cup red wine (optional, you can use more broth if you'd like)
1 can kidney or other beans, rinsed and drained
½ cup corn
1 teaspoon sea salt
pepper to taste
flour
avocado, tortillas, crackers (all optional)
Instructions
Preheat the oil in your skillet over medium heat.
Add the garlic and onion. Cook and stir for two minutes.
Add the yellow pepper and serrano. Continue to cook for several more minutes until the veggies are soft.
Add the potatoes and carrots. Cook for about 5 minutes
Add the seitan and cook for about two more minutes.
Add the chili powder.
Add the broth, water, wine, salt, and pepper. Bring to a boil.
Add the beans and corn.
Reduce the heat to simmer. Cook about 10 minutes or until the potatoes are tender and the liquid has thickened.
If the liquid is too thin, sprinkle a little flour slowly as you stir it in (up to about a tablespoon).
Serve with a few slices of avocado, tortillas or crackers.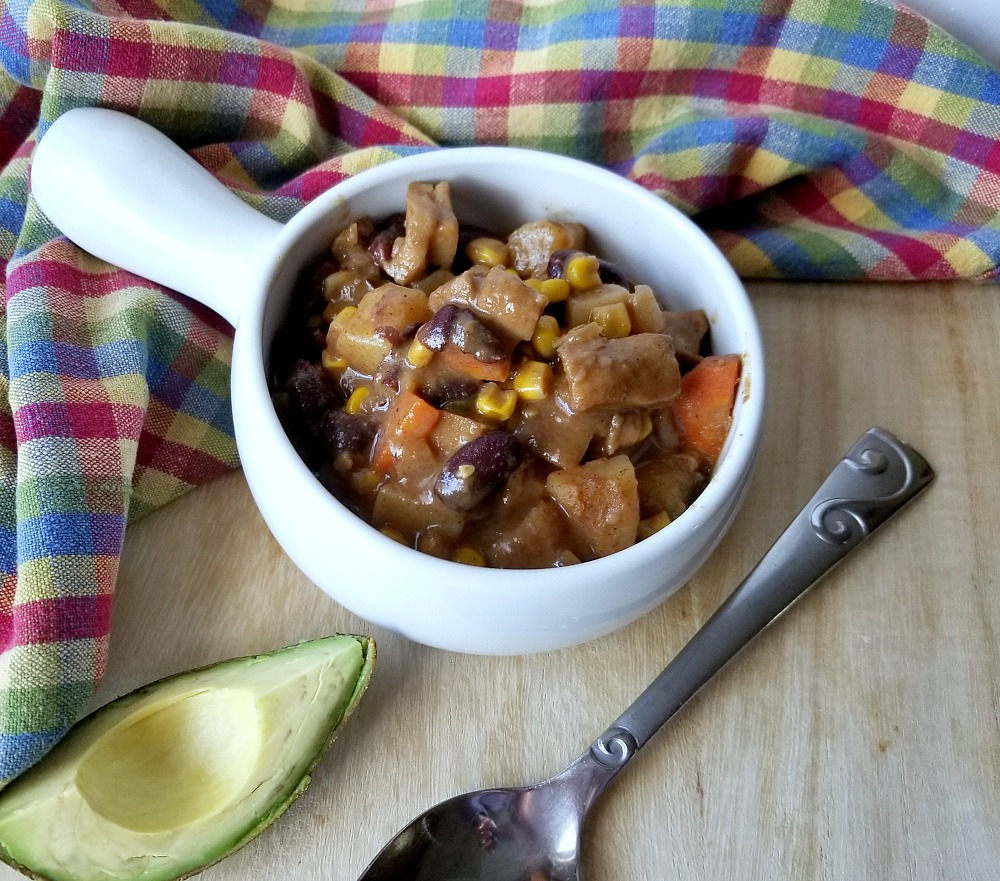 Top with a couple slices of avocado and serve with tortillas or crackers. Perfect for a cold winter evening!
Tell me, what's your favorite type of cold weather food?
---
Weekly Linkups
My weekly linkups! Please stop by and check out all of the great recipes, workouts, and information that all these awesome bloggers share every week!
Meatless Monday with Sarah and Deborah
Meatless Monday with Annmarie  and Dixya
Tuesdays on the Run with Marcia, Erika, and Patty
Inspire Me Monday with Janice
Wild Workout Wednesday with Annmarie, Jen, and Nicole
The Plant-Based Potluck Party with Deborah
The Running Coaches' Corner with Rachel, Suz, Lora Marie, and Me!
Friday 5 2.0 with Rachel and Lacey and Meranda