Welcome to the Running Coaches' Corner on its new (and permanent) day, Wednesday! The theme for the month is nutrition, but we welcome any and all posts about running. Whether you're a coach, experienced runner, or a newbie, we would love for you to share your posts, ask questions, and share your running knowledge.
As you may be able to tell by the title of this post, I'm starting off April with a fail. No nutrition post (though I will talk about my vegan food over the weekend!). I've just been very busy and I haven't had time to do the proper justice to the post I want to share, Fueling for the Run on a Plant-Based Diet. Next week, I promise.
The Carlsbad 5000
Instead, let's talk about the Carlsbad 5000! Not only did I get to run my first 5k in a while, this was a return to a race that I first ran 21 years ago. It was one of my first ever 5ks back in 1995. I have done it several more times since then, but you always remember your first, right?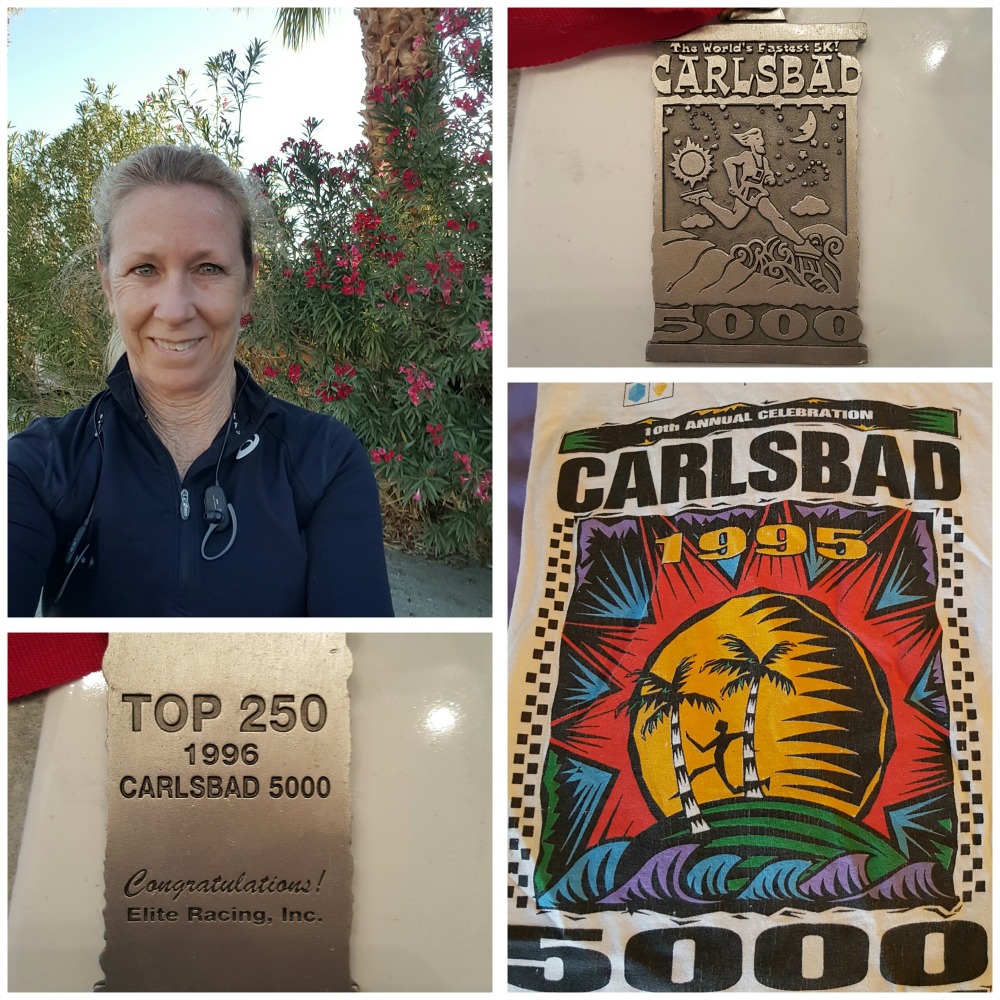 This was also Alan's first 5k in years! Since becoming a triathlete, he rarely does road races anymore. The last "real" race for him was the Rock and Roll Marathon in San Diego in 2014.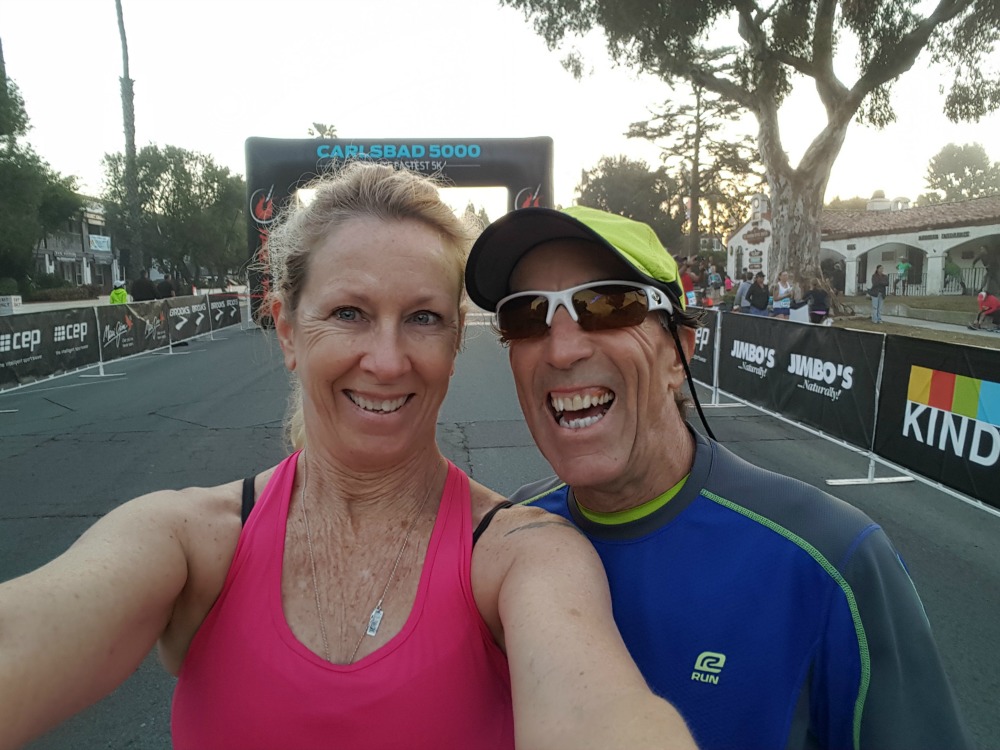 Neither of us has been doing any race specific training. I've been building a base with my eye on this year's Rock and Roll Marathon in San Diego (likely to be the half at the rate I'm training) while Alan is also building endurance toward a couple International distance triathlons this summer.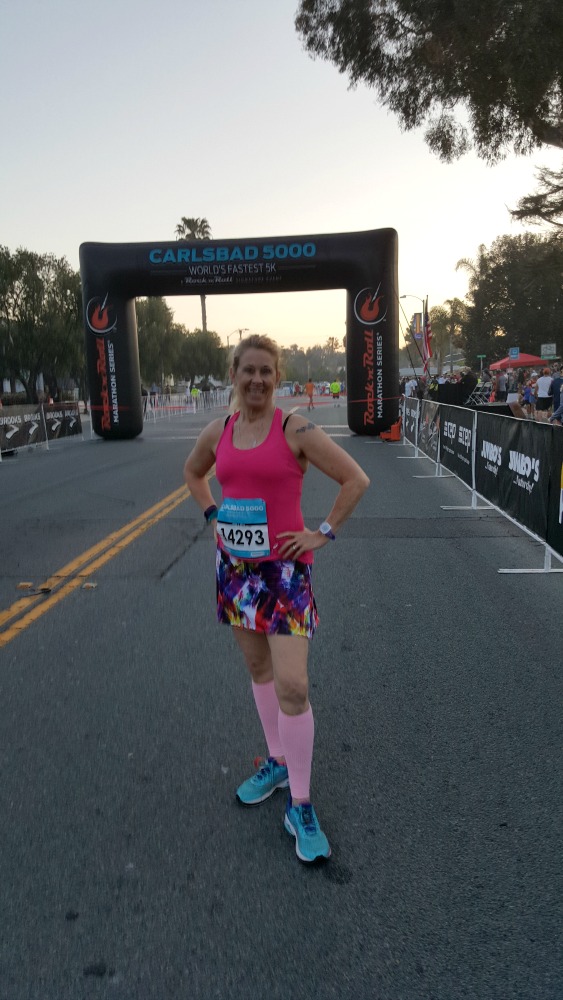 (Don't you love my Psyched print skirt? It is my favorite! Don't forget you can save 20% at Skirts Sports with the code CDR20!)
That is my excuse my way of saying that we had no expectations or even goals for Carlsbad. We just went out intending to have fun, push a little, but hopefully not blow ourselves up!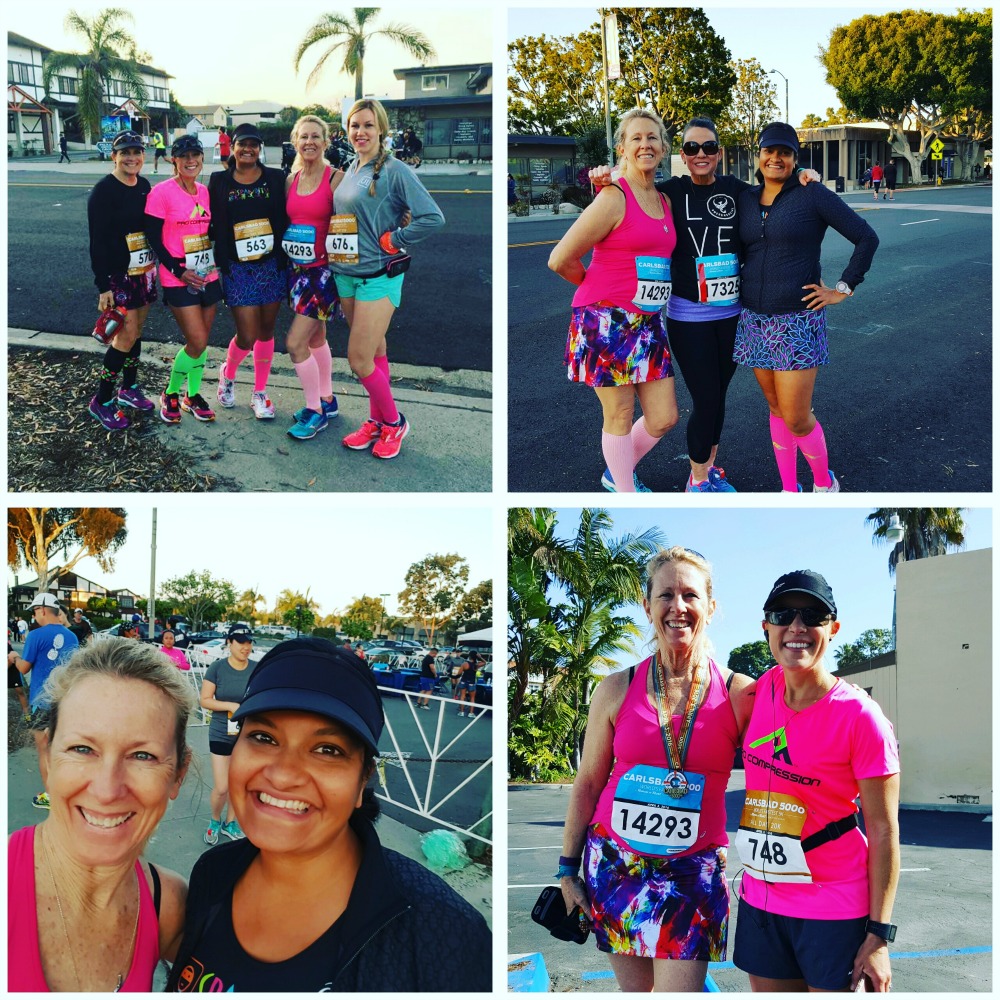 I also had a meetup planned with the Rock and Blog team. I'm new to the team this year, and there are so many awesome bloggers that I have yet to meet! Most were planning to run the All Day 20k, an event which involves running four 5ks back to back (maybe next year!), and the few that were doing just the 5k were coming off completing Ragnar So Cal the day before. Yes, they are animals (and mostly a lot younger than me!).
Alan's race was at 7:00, mine was at 7:56. (They have to plan the races around the train schedule, which runs right through the course. The train, not the schedule.) My Rock 'n' Blog meetup was at 6:40, but close to the start line, so all could be accomplished.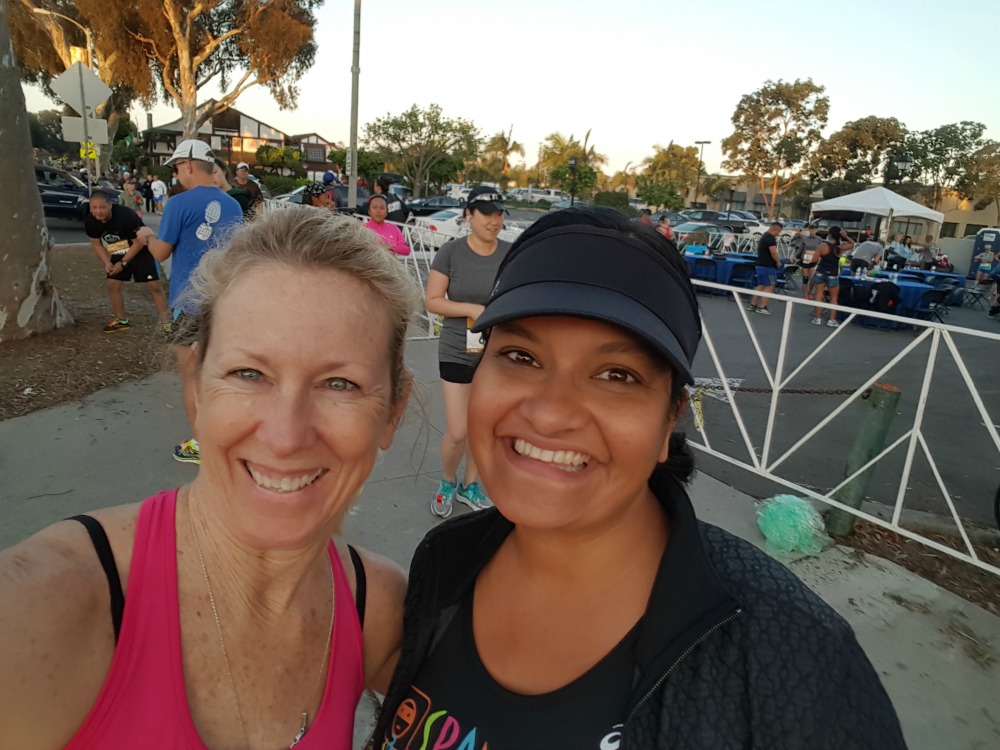 As Alan went to warm up, I headed to the All Day 20k tent and my meetup. There I finally got to meet Smitha! I've been reading her blog for ages, and she lives in San Diego, so it was about time that we met. Such a sweet lady!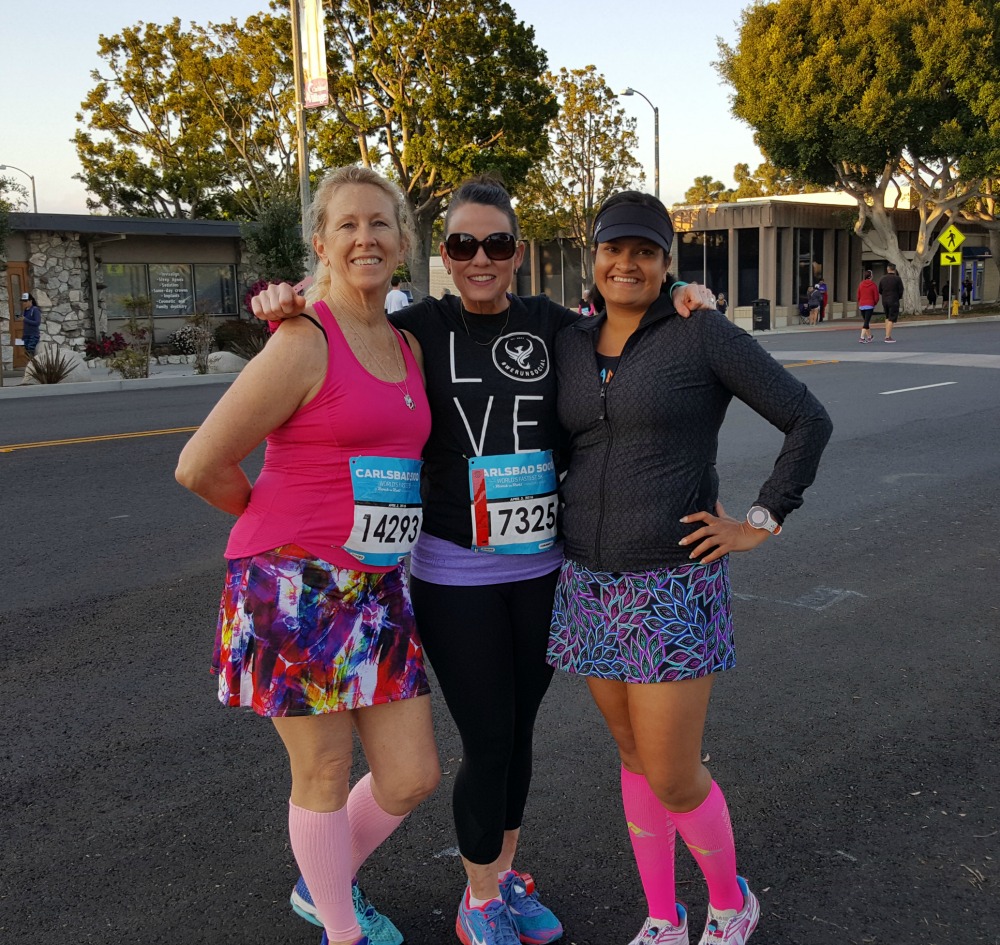 I also got a chance to see Lisa, Sarah, and Linzie again, and to meet Diane, the Runnin' Rocker! And finally, though I almost blew it, I met Kristin. I was almost standing right next to her while we took pictures, but it wasn't until a while later that I realized that I really didn't get to "meet" her! At that point, I hurried back to the tent and introduced myself, where she was between her third and fourth 5k. She, unlike me, having heard the introductions before, was like, yeah, we just met. I think she thought I was just rude. Nope, just a little slow on the trigger, apparently. Anyway, Stuft Mama, I was happy to finally meet you.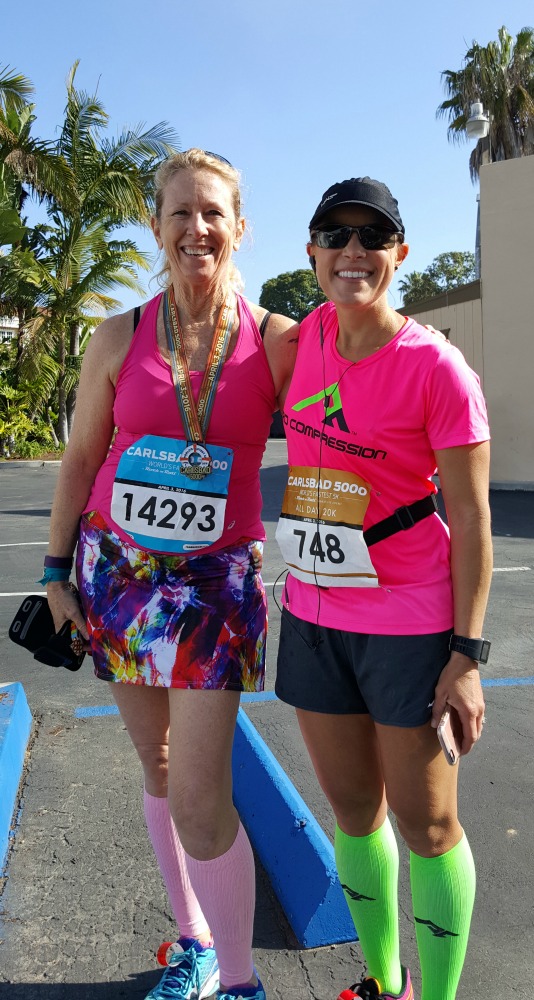 Since we were so close to the start line, I was still able to catch some (bad) pictures of Alan as his race started. Since I had no idea how fast he (a former 17-minute runner) would be, I left the crew and headed over to the finish line. I didn't have to wait too long either. He finished looking strong at about an 8:40 pace. He said he really enjoyed his race.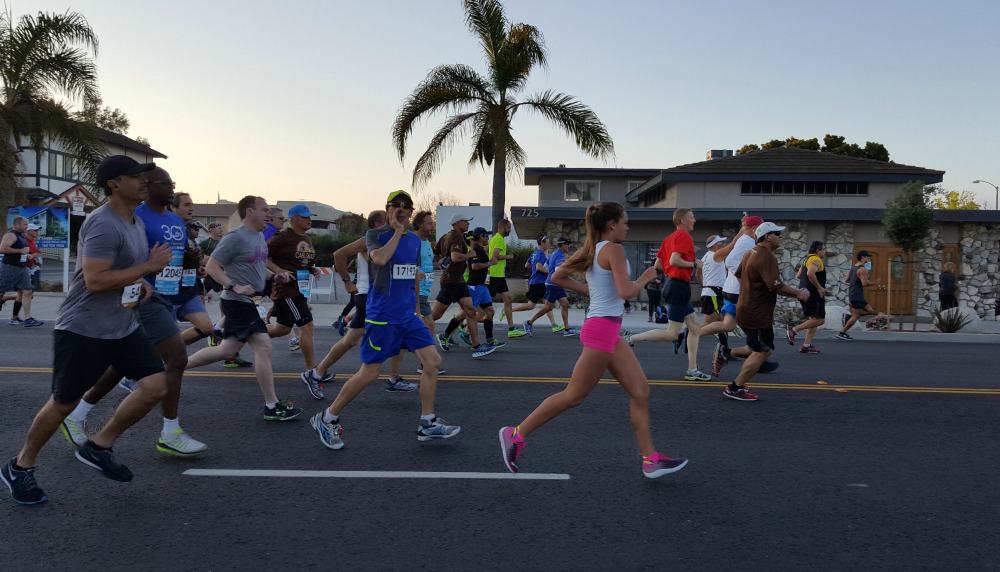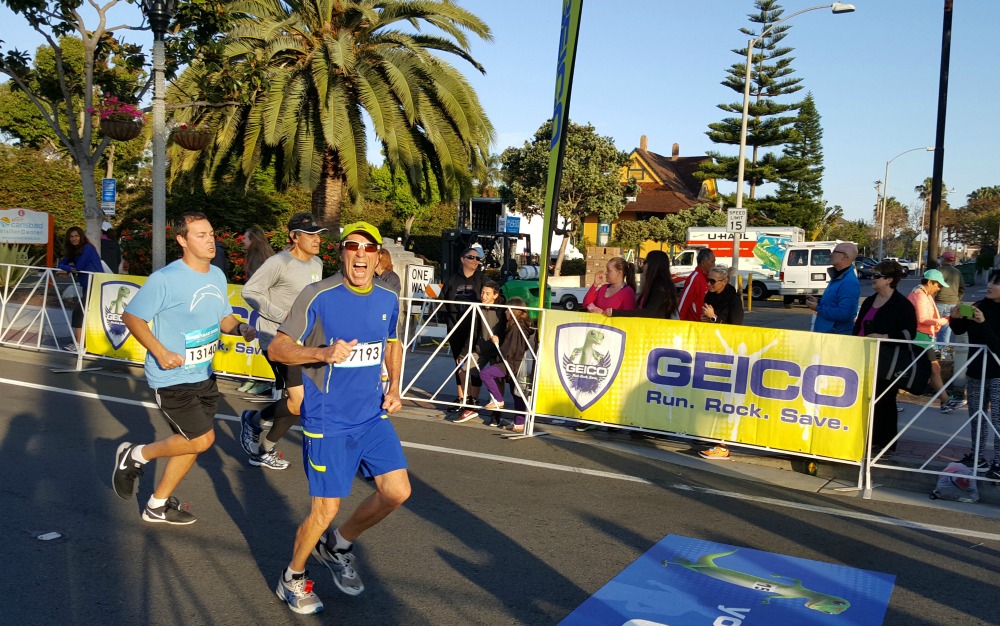 Then it was time for me to warm up and then head to the start line. I was hoping to find Lisa again, since she would be in the Masters' race along with me (though way ahead of me), but no luck. Alan was ready with his camera and caught me both at the beginning and at the finish line.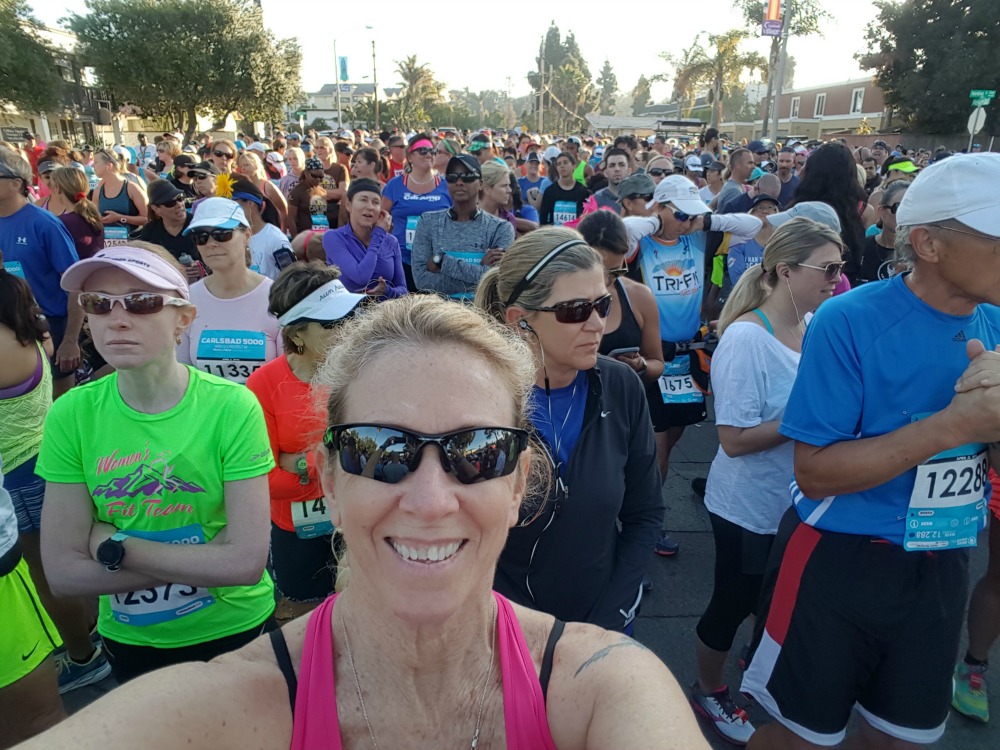 My main goal was to finish in under 30 minutes. Time has slowed this former sub-20 minute runner considerably anyway, then to top if all off, my times since recovering from my broken patella seem to be even slower. So when I saw my first mile was 9:13, I was pretty happy.
The Carlsbad 5000 is really a beautiful course. You start in the Village of Carlsbad, then head west where you run most of the race along the ocean. It was a gorgeous day, and it was hard not to just gaze off toward the water. But I restrained myself and managed my second mile in 9:16, so I felt I was running pretty steady.
Then I got into mile three were my good old exercise-induced asthma reared its ugly head. I felt it coming though, so I didn't wait until it was a full blown attack. I stopped to walk, used my inhaler, and after a short time was able to start running again. And I was happy to see that my time for mile three was around 9:40. Not bad considering the walking.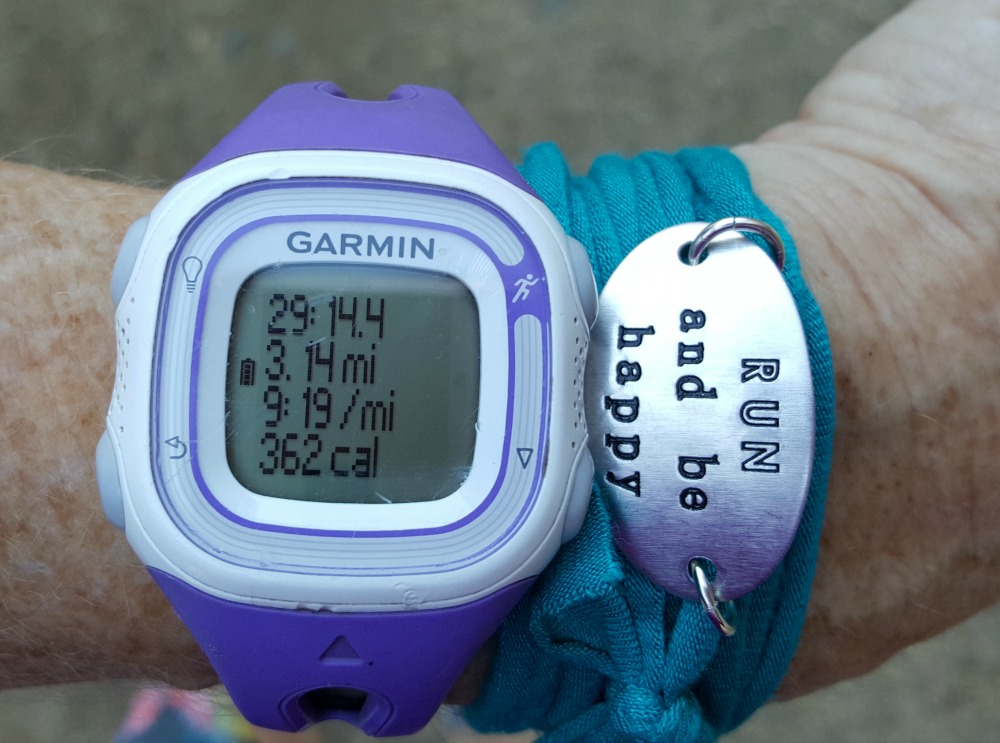 I ended up finishing the race in 29:15 (official time). That's a 9:25 per mile average, but most importantly under 30 minutes! I had a great time, in spite of the asthma. My knee didn't hurt at all (now it's more arthritis than anything to do with my injury). It makes me want to actually train!
Now it's really time to start training for Rock 'n' Roll San Diego. I ran a 2:00 half marathon just a couple years ago, so it would be nice to get close to that. Want to join me? Save $15 on any Rock 'n' Roll marathon or half marathon with the code COACHDEBBIERUNS and I'll see you there! Or in Los Angeles. Or in Las Vegas. Or….?
The Vegan Food
This post is getting quite long, so let me leave you with a couple photos and quick descriptions of two of our meals while in Carlsbad.
Saturday night dinner was at the Veggie Grill. I was thrilled to find out that this vegan chain had a restaurant in Carlsbad, so I essentially ate all the food. Well not quite, but close. Appetizer: Spicy Buffalo "Wings." Entree: Tres "Fish" tacos for me, Tres "Chicken" tacos for Alan. Dessert: Carrot cake for Alan, Chocolate parfait for me. I basically needed a marathon to burn off all the calories from this meal, not a 5k!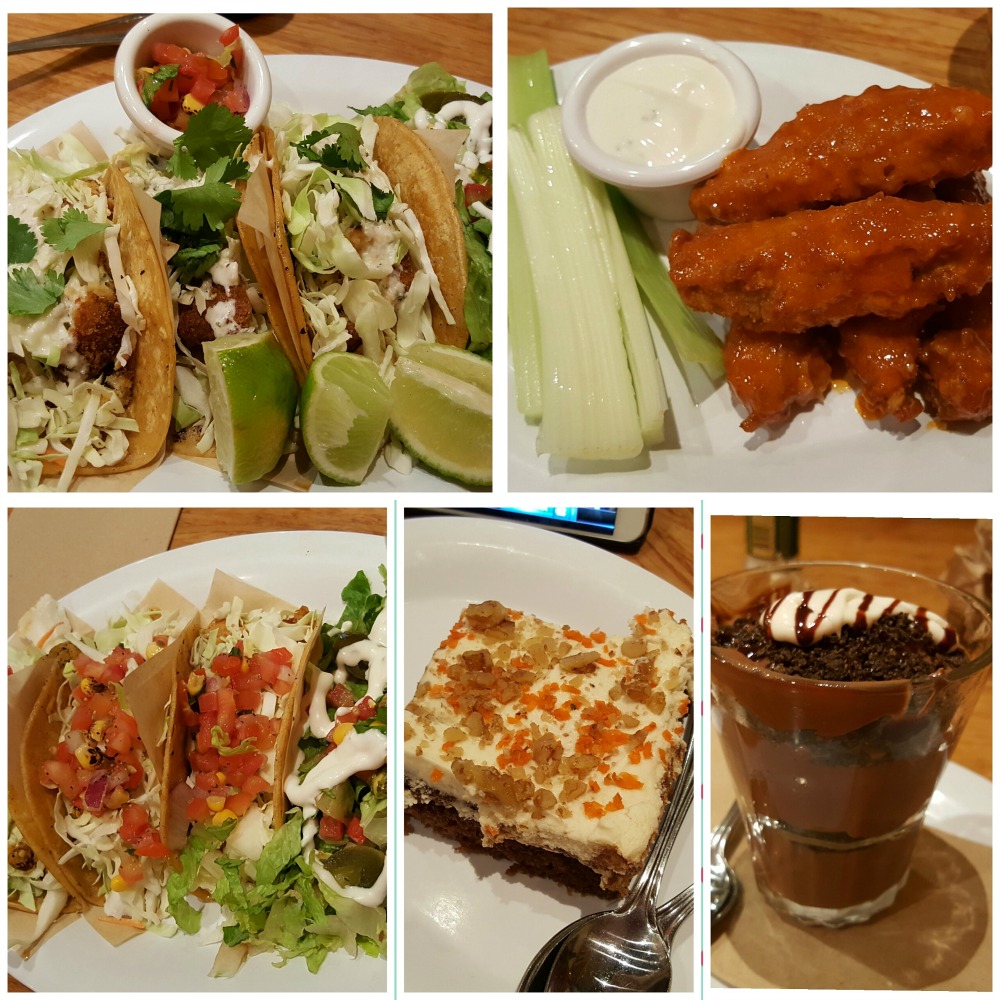 I was starving after the race, so before we headed home we stopped at the Lotus Cafe in Encinitas, an old favorite. I was craving a tofu scramble, but when I saw the pancakes my sweet tooth kicked in. I finally compromised and had a single buckwheat pancake on the side. Everything was really delicious!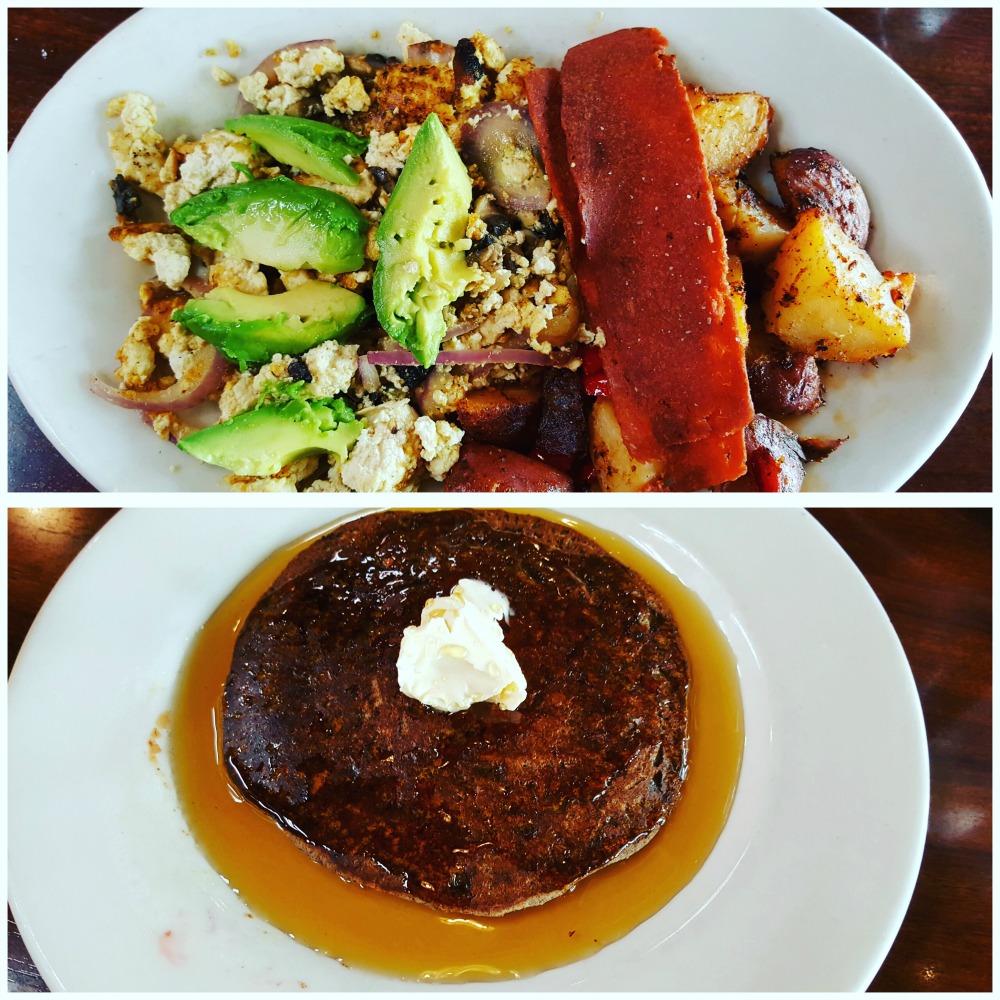 I hope you had a great weekend! Any races, events, or great food to share?
Now it's time for the Running Coaches' Corner!
Loading InLinkz ...
---
My weekly linkups! Please stop by and check out all of the great recipes, workouts, and information that all these awesome bloggers share every week!
Sunday Blog Hop with Jenn
Meatless Monday with Sarah and Deborah
Meatless Monday with Annmarie 
Inspire Me Monday with Janice
Anything Goes with Marilyn
Bonnie, the Pin Junkie
Tip Tuesday with Debbie in Shape
Wild Workout Wednesday with Annmarie, Michelle, Sarah, and Angelena Marie
Wednesday Wisdom with Nanna's Wisdom
The Running Coaches' Corner with Rachel, Suz, Lora Marie, and Me!
The Blogger's Pit Stop with Kathleen
Let's Get Real with Karen.
Friday Fitness with Jill
Fitness Friday with Miranda