I write a lot about how to run faster. I share workouts, running tips, and general information about how runners can train to be better at their sport.
I was intrigued by a comment on one of my posts a few years ago. I was asked if losing weight was important in order to run faster. That is quite a complex question, and while I answered to the best of my ability at the time, I wanted to do a little research and address the question fully.  Here is the question: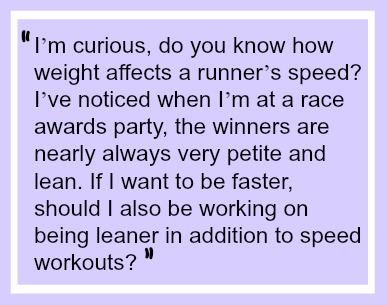 I think that is a great question. Because it's true, isn't it? When you look at the runners who win, both men and women, they are frequently very lean, and sometimes quite petite. Here is my original response: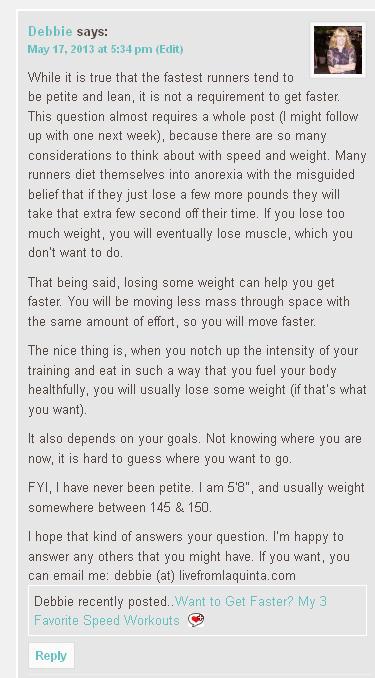 As you can see, my answer was a little on the lines of  "yes, but no, but yes, and be careful."
Will I Run Faster if I Weigh Less?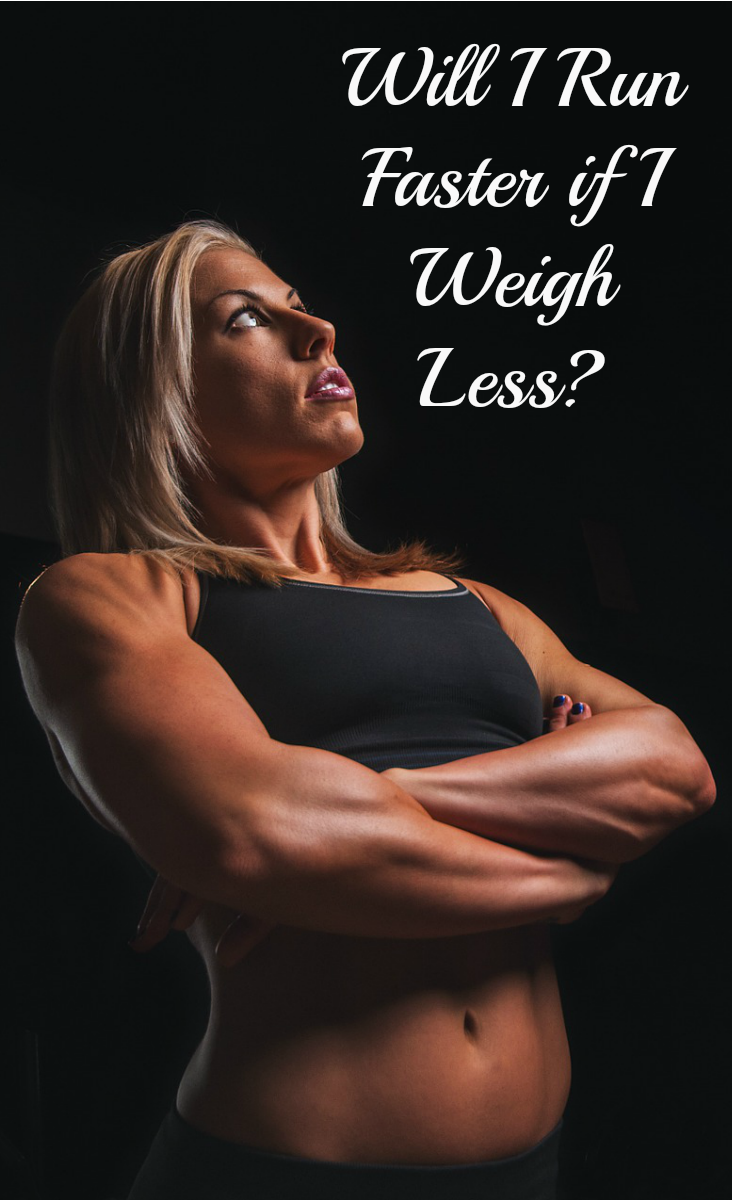 It is a complex question if only because runners can be intense types who can fall into the trap of thinking if a little weight loss is good, more would be better.
Improving your V02 Max is one way of getting faster. V02 Max is the maximum amount of oxygen a given runner can use per unit time per unit body mass. That means the lighter a runner is at a certain fitness level, the faster they will run (at least in theory). Remember, though, that not all excess weight is body fat. Muscle weight is entirely different and can contribute to performance despite its high density.
Estimates concerning an ideal weight for performance can vary. While some running coaches would say that the ideal weight for a distance runner would be about 10-15% below the median weight, frequently world class distance runners can be up to 10% below that. But while these world class runners perform much better at weights significantly below average, there must be limits in terms of what is beneficial or even healthy.
So how much does weight loss affect speed? Joe Henderson, the author of many books on running and training, estimates that a runner with a 10-pound weight loss can run 20 seconds per mile faster. That being said, you still have to look at the big picture. If a man who is six feet tall and weighs 200 pounds loses 10 pounds of fat, he will increase his speed by that 20 seconds per mile (on average). What if that man already weighs 170? Would a 10-pound weight loss lead to the same speed gain? Or would the possible loss of muscle actually slow him down?
Using myself as an example, I probably weighed around 145 when I was training seriously, maybe a pound or two less. I am 5'8″, and that is a good weight for me. I know that when I get below 140 I certainly look like a distance runner because my cheeks tend to cave in. Would I have run faster though? I don't know.
One of the problems with the thought that weight loss leads to speed gains is, as I alluded to above, that many runners take it too far. They may feel that if they just lose another five or 10 pounds, they will get the edge they need. This can lead not only to eating disorders, but to increased injuries and illnesses, decreased performance, and for women, the Female Athlete Triad, the combination of disordered eating, bone loss, and cessation of the menstrual cycle.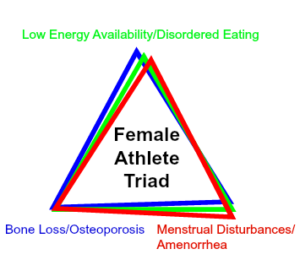 So while the typical American may be out of shape and overweight and could benefit from a weight loss program, competitive runners are typically much closer to an ideal weight, both for health and performance purposes. Remember that more is not always better.
In conclusion, I would say that if you are overweight, even moderately, some weight loss will help you become faster. If you are already at a healthy weight for your height, be very careful about further weight loss, because while it may lead to slightly better race times, there may be other consequences to your health and to your future performance.
Remember, I am a personal trainer and a coach, not a doctor or psychologist. I wrote my own opinions, researched and read other opinions to write this post.  You should always do what is right for you and your body, and if you are in doubt about what that is, you should speak with your own doctor.
This post originally appeared on Live from La Quinta in May 2013.
Don't miss your chance to win a Momentum Jewelry Motivate Wrap of your choice!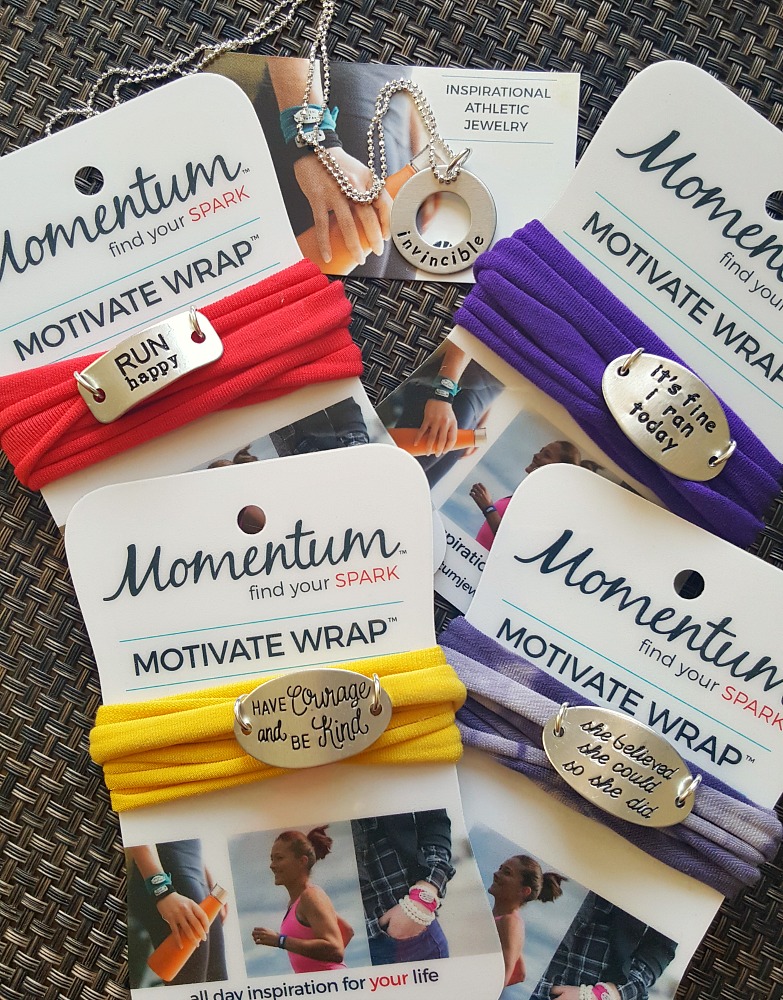 ---
Weekly Linkups
My weekly linkups! Please stop by and check out all of the great recipes, workouts, and information that all these awesome bloggers share every week!
Meatless Monday with Sarah and Deborah
Meatless Monday with Annmarie  and Dixya
Tuesdays on the Run with Marcia, Erika, and Patty
Inspire Me Monday with Janice
Wild Workout Wednesday with Annmarie, Michelle, Jen, and Nicole
The Plant-Based Potluck Party with Deborah
The Running Coaches' Corner with Rachel, Suz, Lora Marie, and Me!
Giveaway Roundup and Try Out Thursdays with Smitha
The Blogger's Pit Stop with Kathleen, Janice, Julie, and Menaka
Friday 5 2.0 with Rachel and Lacey and Meranda