Happy Meatless Monday! I'm popping in quickly to share a delicious and easy Italian theme Freekeh Salad. I call it the Red, White, and Green Freekeh Salad (with Pesto), because as I was chopping ingredients to make it I noticed that they all were, well, red, white, and green! Brilliant! That, along with the Freekeh Foods Freekeh Rosemary Sage
and the pesto set a theme for the day. (I also tried the Tamari
, which I think I like even better. You can find that recipe on Tina Muir's blog.)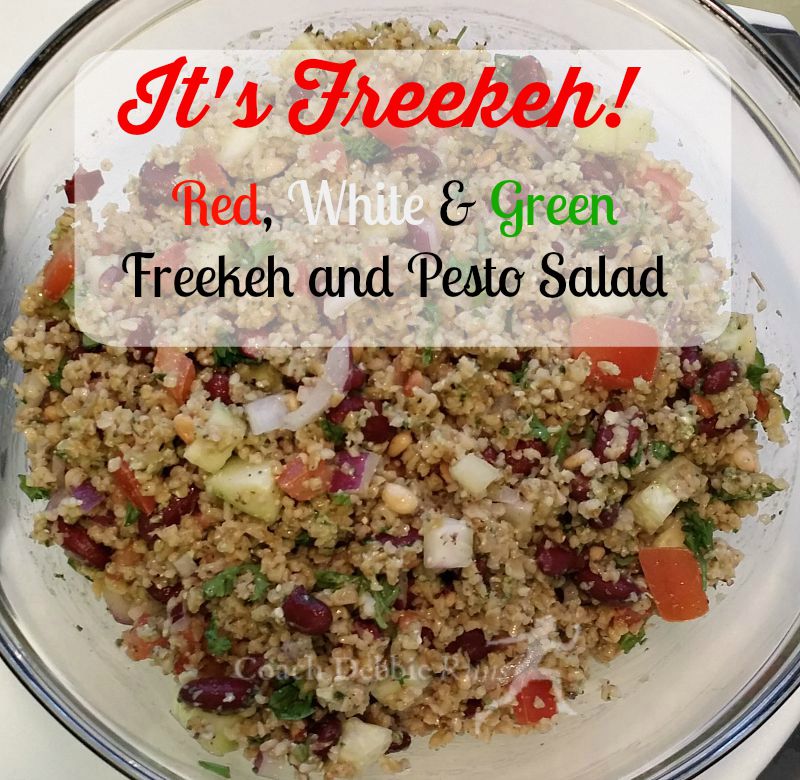 As you read this, I am in Tempe, Arizona, where I will finally be attending my Fascial Stretch Therapy Certification class starting today (Monday). It lasts all week, basically 9-5:30 every day, so you may not see much of me this week. I do have a couple things planned though, so stay tuned.
For this salad, I used that last bag of freekeh that I won from Fit Approach. I'd better hurry and order more, because I've been loving this easy-to-cook, delicious grain. I also used the leftover pesto from my favorite Pesto Pizza (<– You can find the pesto recipe there.). Note: If you're gluten intolerant, this recipe will work beautifully with rice or quinoa too.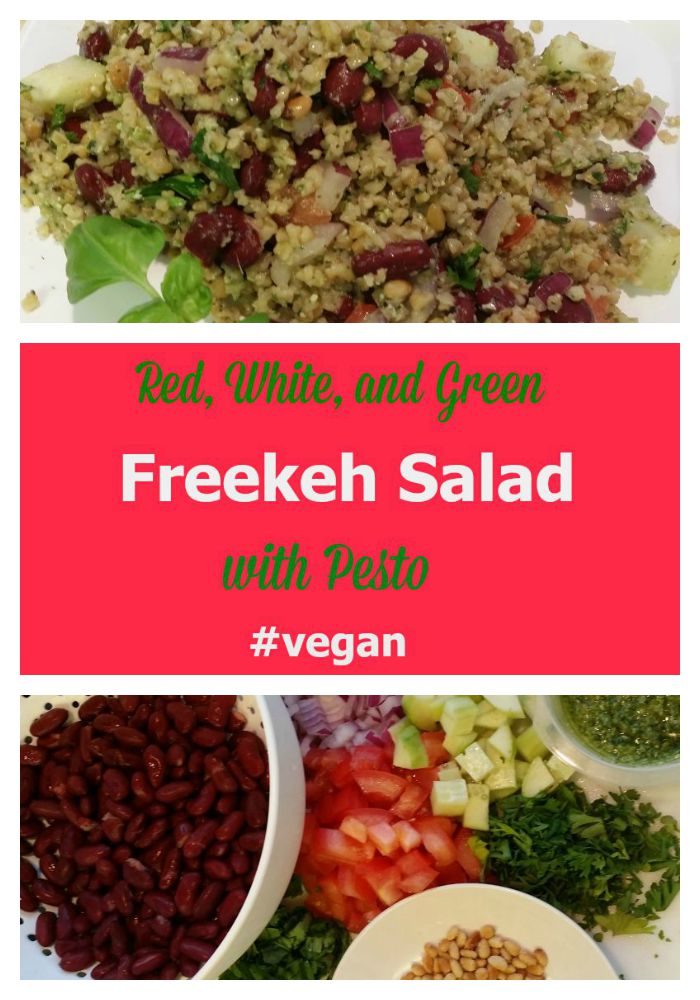 Red, White, and Green Freekeh Salad with Pesto
Ingredients
1 package Rosemary Sage Freekeh Foods freekeh, prepared according to package directions
10 ounces kidney beans, rinsed and drained
1/2 red onion, chopped
1 large tomato, chopped
1/2 cup cucumber, chopped
1/2 cup roasted pinenuts
2 tablespoons parsley, chopped
2 tablespoons basil, chopped
1/2 cup vegan pesto
Directions
After preparing the freekeh, allow it to cool for about 15 minutes, then spoon it into a large bowl.
Gently stir of other ingredients except the pesto.
Add the pesto and stir again, gently, until thoroughly mixed.
Set aside or refrigerate for at least 15 minutes to allow the flavors to combine.
Can be served warm or chilled.
Serves 4-6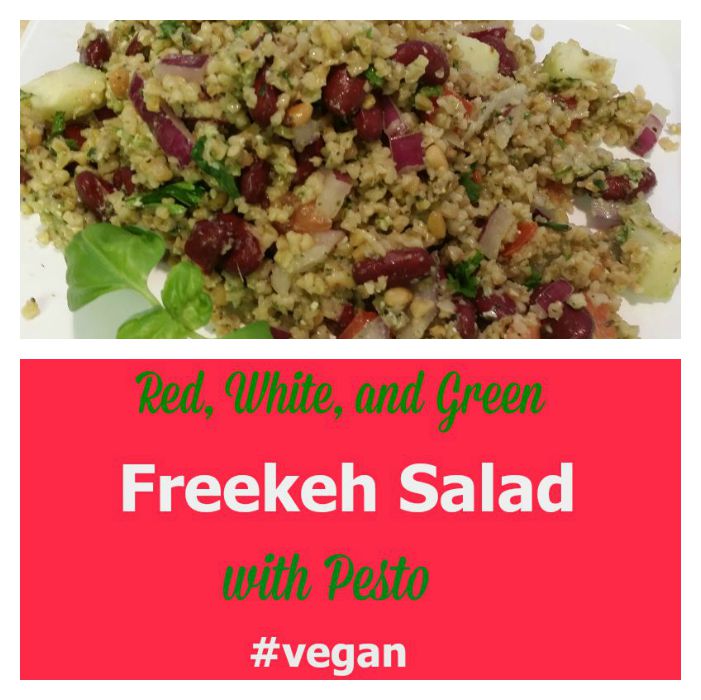 So here I am, in my hotel room, where I'll be staying for the next five days. The internet, I have found, is iffy. It tends to go in and out, so I've been in fear of losing my work all evening as I wrote this. My recipe plugin did not work either, which I assume is because of the poor internet connection.
I did manage to get out and explore a little. I found the location of my class for tomorrow morning, the Whole Foods, where I picked up some breakfast items and snacks, then managed to navigate back to the hotel without using the GPS, indicating I have a small concept of where I actually am. I found a vegan Thai restaurant and brought home some delicious curry and spring rolls (you'll have to check Instagram for those pics for now).
And now, after a very long day, which started about 4:00 am, a run, and about four hours of driving, I'm exhausted (and rambling a little, can you tell?). I wish you all a good evening. Check back tomorrow for my review of my Prana Monarch Convertible Pants (and remember you can save 15% on your purchase with the code LiveInprAnaF15CDR).
Oh, and, if you're a female blogger you'll understand my excitement, this post got shared by the Sits Girls on Twitter with their 42,000 followers! Kind of made my day. (Definitely rambling)
This post contains affiliate links.
---
My weekly linkups! Please stop by and check out all of the great recipes, workouts, and information that all these awesome bloggers share every week!
Meatless Monday with Tina and Deborah
Meatless Monday with Annmarie 
Inspire Me Monday with Janice
Anything Goes with Marilyn
Bonnie, the Pin Junkie
Tip Tuesday with Debbie in Shape
Wild Workout Wednesday with Annmarie, Michelle, Sarah, and Angelena Marie
Wednesday Wisdom with Nanna's Wisdom
The Blog Booster Party with Kathleen
Friday Fitness with Jill