There are so many traditionally non-vegan recipes that I have made since I became a vegan that I never cooked before. It's kind of funny.  Potato Salad. Carrot Cake. Quiche. And this one, Macaroni and Cheese.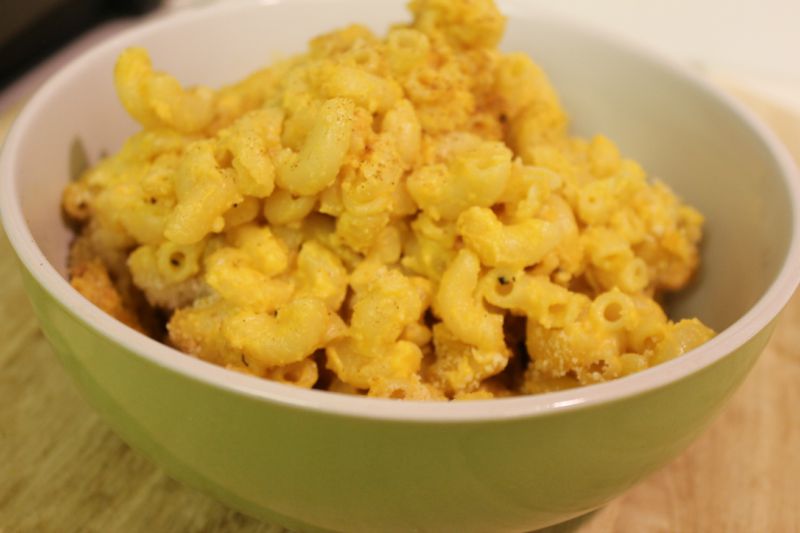 The idea started on Thursday, when I was with a client who had his daughter and grandchildren in town for Easter. He told me that his 12 year old granddaughter had woken up in the morning and baked muffins for everyone. I thought that was pretty impressive and asked if she liked to cook as well, or was it just baking that she enjoyed. He said that she mostly baked, but she did cook a few things, macaroni and cheese being one of her dishes.
A little flash went off in my head. My mouth actually started watering. Hmmm, mac and cheese. Although there are recipes out there, it's not a meal that vegans eat very often. I've seen recipes, and they usually involve using nutritional yeast for that cheesy flavor, soaked, ground nuts for texture, along with oil and other seasonings.
I thought, "There must be an easier way!" It was a weeknight, after all, and something that sounds as easy and youthful as macaroni and cheese shouldn't take the whole evening to prepare. Surely, I can build upon the cheesy goodness of an already prepared cheese substitute. So I stopped at the store (hurray to Ralphs, which I usually complain about, for carrying Daiya cheddar "cheese.") and picked some up. They also had some Tofurky vegan kielbasa, and on a whim, I bought that, too.
I've used Daiya in a cheese sauce before, but I decided to spice it up a bit, adding mustard,  pepper, and paprika to add a bit of a bite. I just used one of the sausages, chopped, to top off the casserole, and I didn't have any breadcrumbs, so I skipped that.
Daiya Macaroni and Cheese, Vegan
Ingredients
12 ounces elbow macaroni, or pasta of your choice
One package Daiya Cheddar Shreds
Two tablespoons vegan margarine (I used Earth Balance)
Two tablespoons flour
One tablespoon spicy mustard
1 1/2 cups vegan milk (I used Almond milk, regular not vanilla(!)). You may need up to 1/4 cup more to make sure you have the right consistency for your sauce.
1/2 teaspoon salt (optional)
1/4 teaspoon pepper (or more to taste)
One vegan kielbasa (optional), chopped into small pieces
Paprika
 Method
Preheat oven to 350
Prepare pasta until it's just barely tender (about 5 minutes). If it is cooked any more, it will get mushy when baked. Drain and transfer to a greased baking dish.
Mix about 3/4 of the cheese into the pasta and set aside.
If you are using the vegan sausage, spray a small fry pan with oil and cook over medium high heat until lightly browned. Set aside.
In a saucepan, melt the margarine over medium heat. Add the salt and pepper, then stir in the flour. Mix in the mustard. Stir in the milk and keep stirring until it starts to boil gently. Reduce the heat and keep stirring until it starts to thicken. Remember, you want it creamy, not like a paste. Add a little more milk if it starts to get too thick.
Pour the milk mixture into the pasta and toss it well. Sprinkle the rest of the cheese over the top. Top with the sausage. Sprinkle lightly with the paprika.
Put it in the oven and bake for about 30 minutes, until the cheese is melted and bubbly.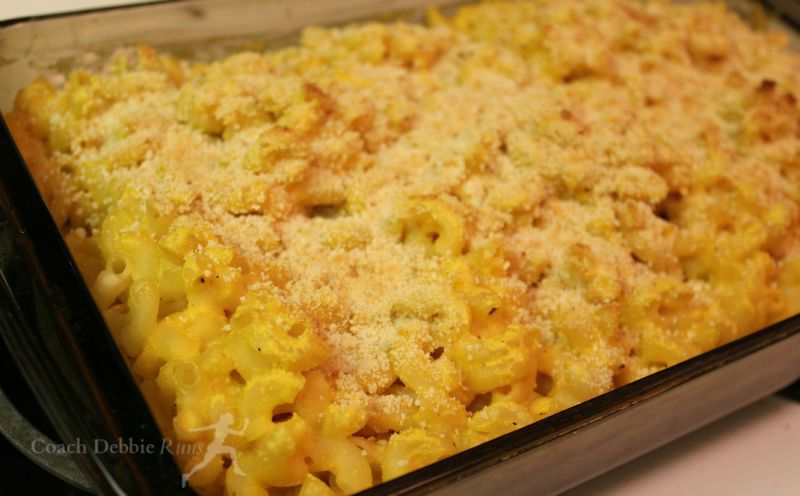 I will tell you the truth: It was totally awesome! The cheese was cheesy and melty, the spiciness was perfect, and the kielbasa added just the right amount of smoky flavor.
Many people, including vegetarians (maybe mostly vegetarians) say that the one thing that keeps them from a vegan diet is their love of cheese. Heck, I used to say that. That is because cheese is addictive. Seriously, it's been called "dairy crack."
I finally decided to cut out the cheese (cold tofurky!). At this point in my lifestyle, I use cheese substitutes rarely. But, just like sometimes I just need a (tofu) steak and potatoes, occasionally a girl just needs a little mac and cheese.