I want to congratulate all of my friends who ran marathons this weekend! I'm so proud of all of you! Now, just send some of your marathon mojo my way, please. I'm needing it right now. And, in return, if you'd like a little recovery motivation/advice, here are 6 tips for Marathon Recovery.
I'm not going to bore you with a recap of my training, but rather give it to you in two sentences. First (good news), I ran 28 miles last week, the most I've done in this training cycle. Second (not so good), I still haven't run more than seven miles for my long run. The clock is ticking down to the Honolulu Marathon.  Better get a move on (literally).
In much more exciting news, Follow Your Heart just announced that they have finally perfected the vegan egg! Called, logically, VeganEgg, it will be available online (think Amazon) toward the end of this month. As I mentioned on Facebook, many vegans say that cheese was the hardest thing that they gave up (though now there is Cashew Cheese!). For me, it was eggs. So you may say that I'm a little excited about this announcement.
Pumpkin Maple Blondies. Vegan and Gluten Free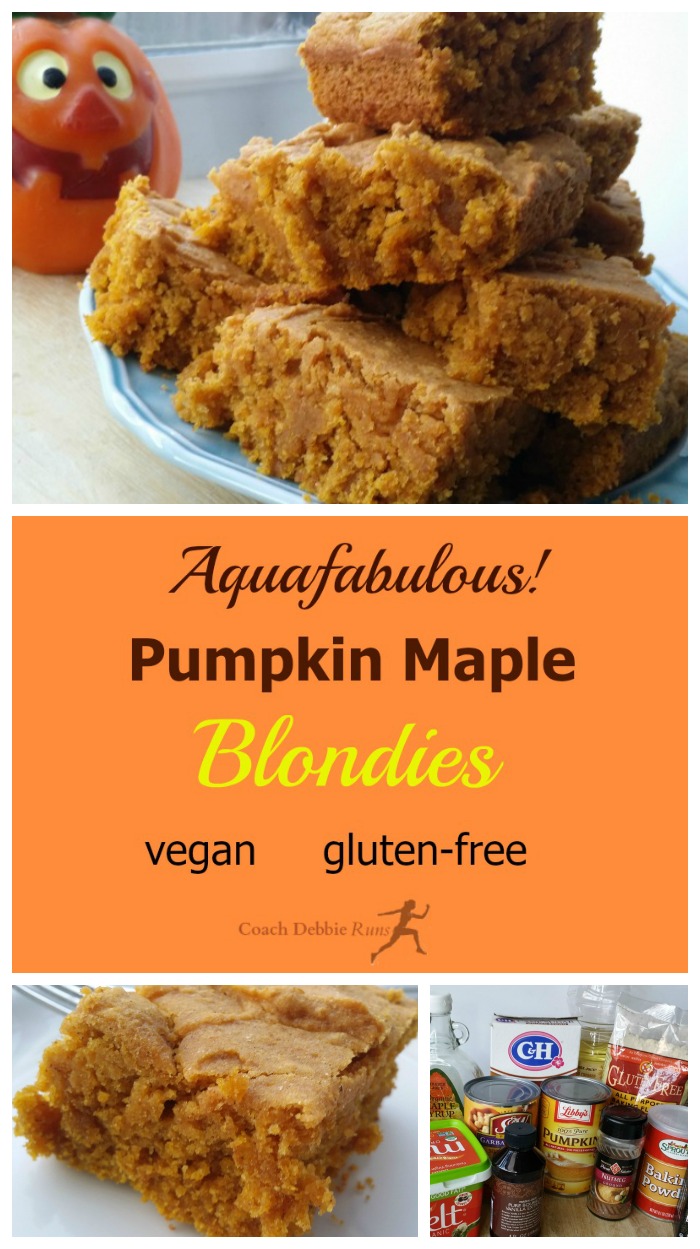 I'll admit it. I'm not a huge pumpkin person. I don't go wild when Starbucks finally starts selling their Pumpkin Spice Lattes (which is a good thing, since they're not vegan). I don't shove a little pumpkin into every meal that I make just because it's fall. But, as I was thinking up a recipe for Meatless Monday this week, Pumpkin Maple Blondies just popped into my head.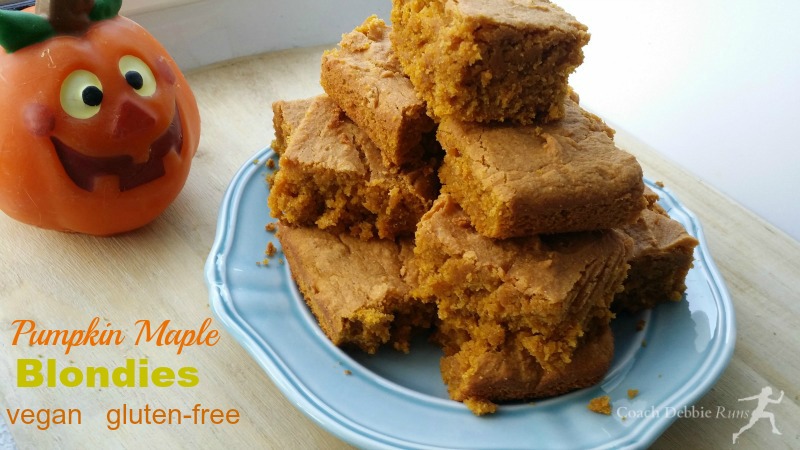 Which in itself is kind of weird. Not only am I not a huge pumpkin fan, I'm not a frequent baker, and I never, even before I went completely plant-based, made blondies. So, a lot of firsts in this recipe. Which, I admit, took several tries to perfect. Which, I also admit, my husband is very happy about.
Since the VeganEgg is not available yet, I used Aquafaba for my egg replacement. Did you forget what that was? It's bean juice! Seriously, it is the water that is left over after cooking beans, in this case, garbanzo beans. The liquid from canned beans works too.
My other recipes with Aquafaba:
Chocolate Chip Cookies
Banana Bread
Zucchini Apple Bread
All are vegan and gluten-free!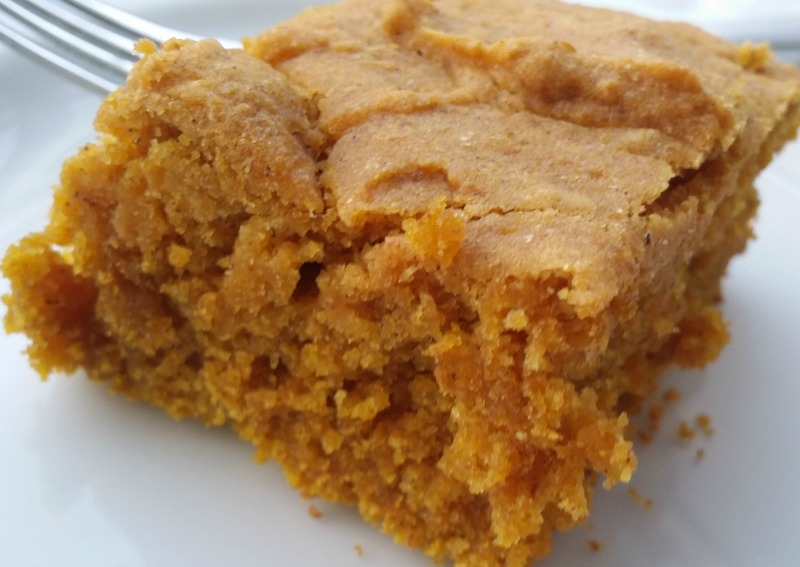 Pumpkin Maple Blondies. Vegan and Gluten Free
Ingredients
2¼ cups gluten free flour
2 teaspoons baking powder (make sure it's gluten free. Not all are.)
1 teaspoon cinnamon
½ teaspoon nutmeg
Pinch of salt
½ cup vegan butter
¼ cup sunflower oil
1 cup brown sugar
1 cup canned pumpkin
¼ cup maple syrup
6 tablespoons aquafaba
Instructions
Preheat oven to 350.
In a large bowl, combine the flour, baking powder, cinnamon, nutmeg, and salt.
In another bowl, cream together the vegan butter, oil, brown sugar, pumpkin, and maple syrup.
Slowly blend in the aquafaba.
Slowly add the liquid ingredients into the flour mixture. Blend until just smooth.
Pour into a greased baking pan.
Bake 25-30 minutes, until a toothpick comes out clean.
Allow to cool, then cut into squares.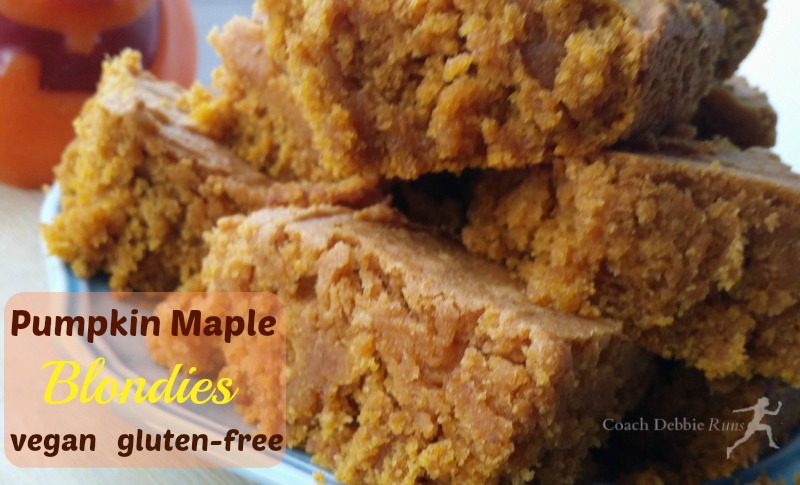 Did you race this weekend? How was it? Have you ever made Blondies? What do you think about the perfect Vegan Egg?
---
My weekly linkups! Please stop by and check out all of the great recipes, workouts, and information that all these awesome bloggers share every week!
Sunday Blog Hop with Jenn
Meatless Monday with Tina and Deborah
Meatless Monday with Annmarie 
Inspire Me Monday with Janice
Anything Goes with Marilyn
Link it to Me with Chantal
Bonnie, the Pin Junkie
Tip Tuesday with Debbie in Shape
Wild Workout Wednesday with Annmarie, Michelle, Sarah, and Angelena Marie
Wednesday Wisdom with Nanna's Wisdom
The Blog Booster Party with Kathleen
Friday Fitness with Jill