If I haven't made this clear enough yet, I am so happy that it is finally fall! October brings cooler weather, soup (<– yes! Check out this Butternut Squash Soup with Sweet Potato, White Beans, and Red Pepper. It just screams fall. ), and, best of all, treats like these Pumpkin Maple Blondies.
Cooler weather also brings racing weather here in the desert. Alan and I competed in the first event of the season last weekend. I ran the 5k while Alan did the reverse triathlon (run, bike, swim!). I'll have the recap on Wednesday, but I'll tell you this right now: we both finished second in our division! Fun times!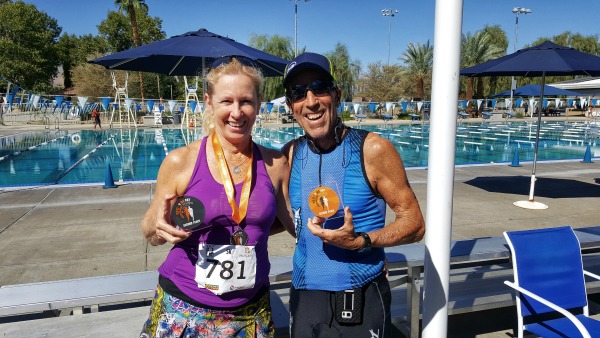 Pumpkin Maple Blondies. Vegan and Gluten Free
This Pumpkin Maple Blondies recipe is from a couple years ago, but heck, it's fall which means it's pumpkin season, right?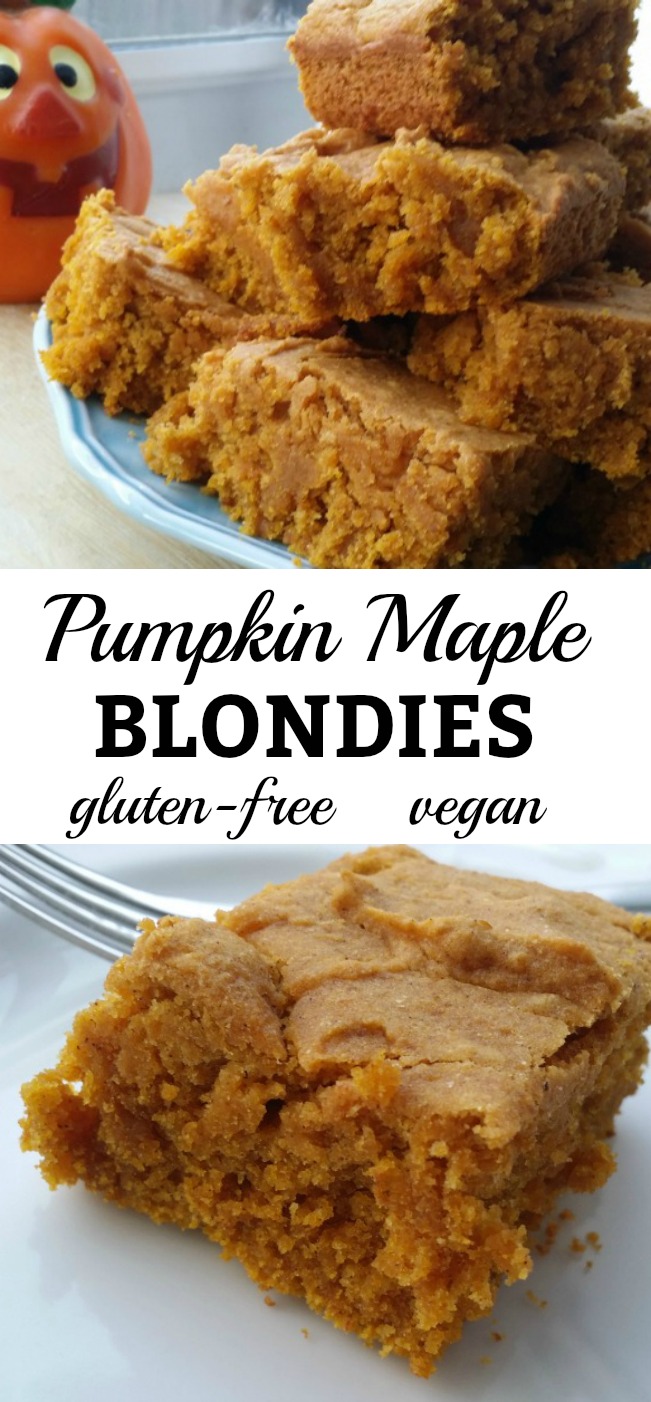 I'll admit it. I'm not a huge pumpkin person. I don't go wild when Starbucks finally starts selling their Pumpkin Spice Lattes (which is a good thing, since they're not vegan). I don't shove a little pumpkin into every meal that I make just because it's fall. But, as I was thinking up a recipe for Meatless Monday this week, Pumpkin Maple Blondies just popped into my head.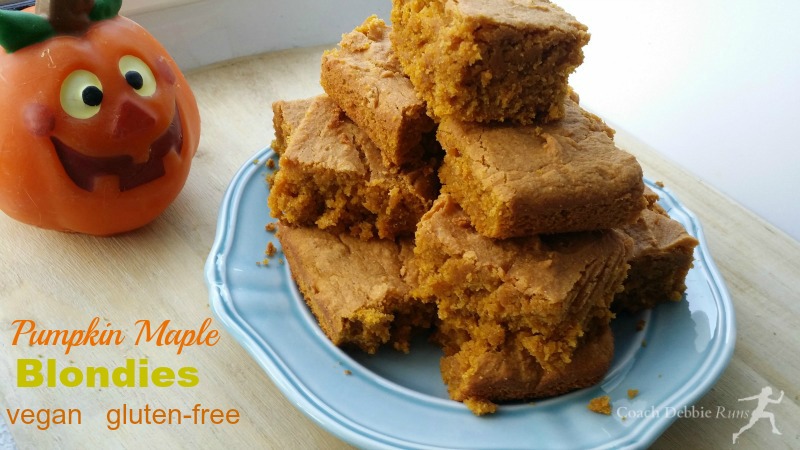 Which in itself is kind of weird. Not only am I not a huge pumpkin fan, I'm not a frequent baker, and I never, even before I went completely plant-based, made blondies. So, a lot of firsts in this recipe. Which, I admit, took several tries to perfect. Which, I also admit, my husband is very happy about.
I used Aquafaba for my egg replacement. Did you forget what that was? It's bean juice! Seriously, it is the water that is left over after cooking beans, in this case, garbanzo beans. The liquid from canned beans works too.
My other recipes with Aquafaba:
Chocolate Chip Cookies
Banana Bread
Zucchini Apple Bread
All are vegan and gluten-free!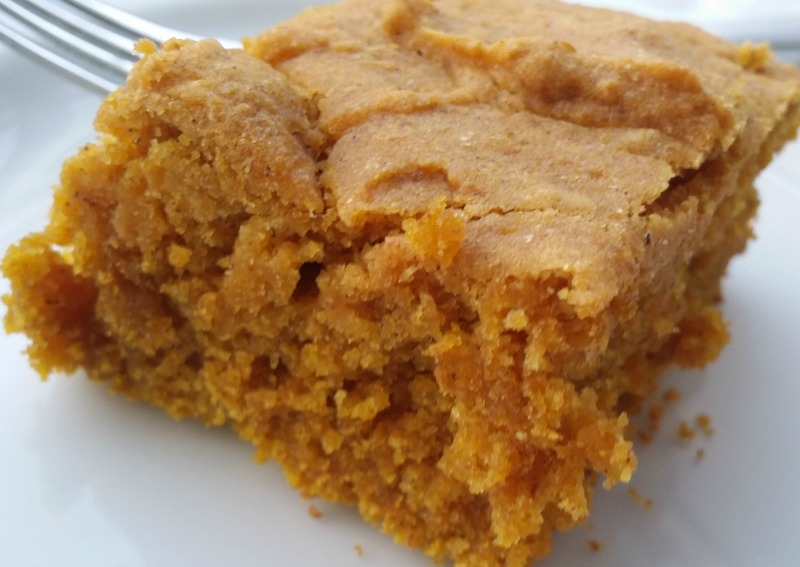 Pumpkin Maple Blondies. Vegan and Gluten Free
Ingredients
2¼ cups gluten free flour
2 teaspoons baking powder (make sure it's gluten free. Not all are.)
1 teaspoon cinnamon
½ teaspoon nutmeg
Pinch of salt
½ cup vegan butter
¼ cup sunflower oil
1 cup brown sugar
1 cup canned pumpkin
¼ cup maple syrup
6 tablespoons aquafaba
Instructions
Preheat oven to 350.
In a large bowl, combine the flour, baking powder, cinnamon, nutmeg, and salt.
In another bowl, cream together the vegan butter, oil, brown sugar, pumpkin, and maple syrup.
Slowly blend in the aquafaba.
Slowly add the liquid ingredients into the flour mixture. Blend until just smooth.
Pour into a greased baking pan.
Bake 25-30 minutes, until a toothpick comes out clean.
Allow to cool, then cut into squares.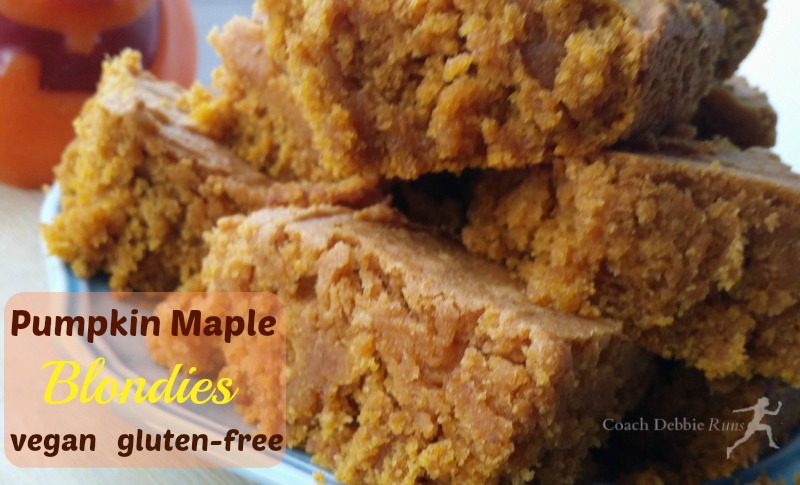 Did you race this weekend? How was it? Have you ever made Blondies?
---
Weekly Linkups
My weekly linkups! Please stop by and check out all of the great recipes, workouts, and information that all these awesome bloggers share every week!
Meatless Monday with Sarah and Deborah
Meatless Monday with Annmarie  and Dixya
Tuesdays on the Run with Marcia, Erika, and Patty
Inspire Me Monday with Janice
Wild Workout Wednesday with Annmarie, Jen, and Nicole
The Plant-Based Potluck Party with Deborah
The Running Coaches' Corner with Rachel, Suz, Lora Marie, and Me!
Friday 5 2.0 with Rachel and Lacey and Meranda