Last Saturday I ran my first 10k in a while, the Palm Springs Health Run 10k! While it wasn't a last-minute decision, in my effort to race more this year I added it to my calendar a few weeks ago. Since Alan usually rides his bike on Saturdays, I was perfectly willing to drive to Palm Springs on my own, but at the last minute, he was hired as the announcer of the race!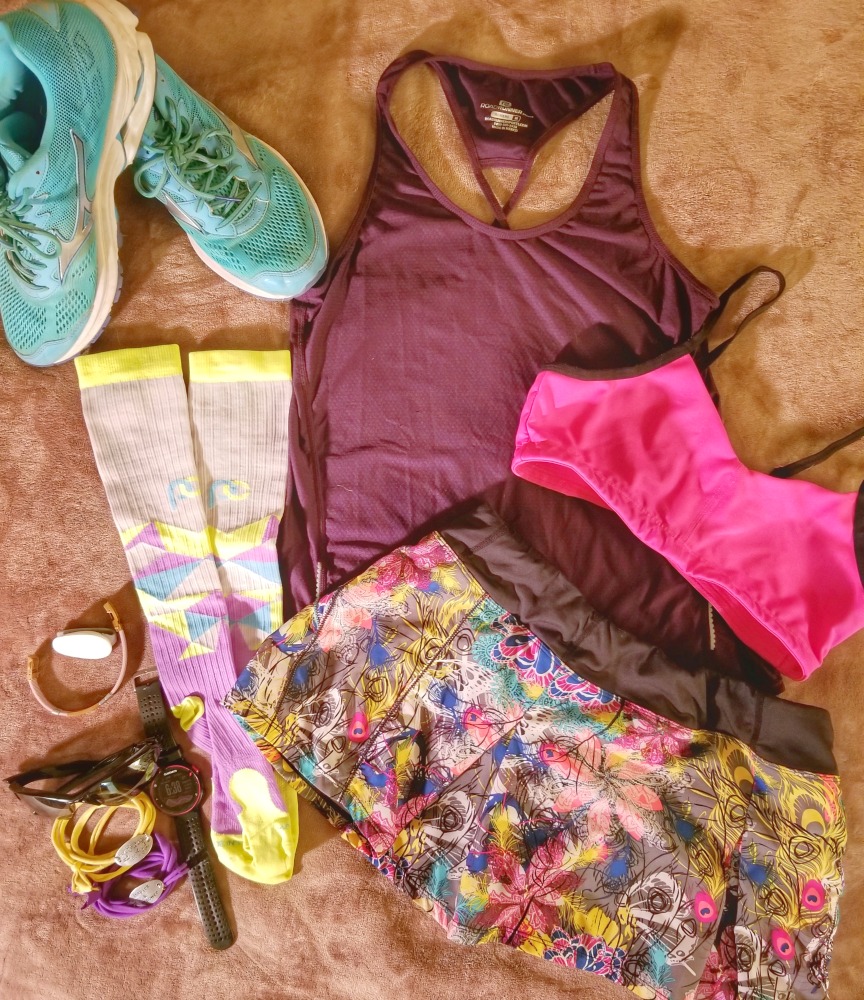 The only downside of that is that we have to get there earlier than I would if I was just running. With a race time of 8:00, Alan wanted to arrive at 6:00, which meant leaving our house at about 5:20. I know you east coasters will scoff, but it was a little chilly in the morning. So as usual when we do this, Alan went to work while I slept hung out in the car for a while.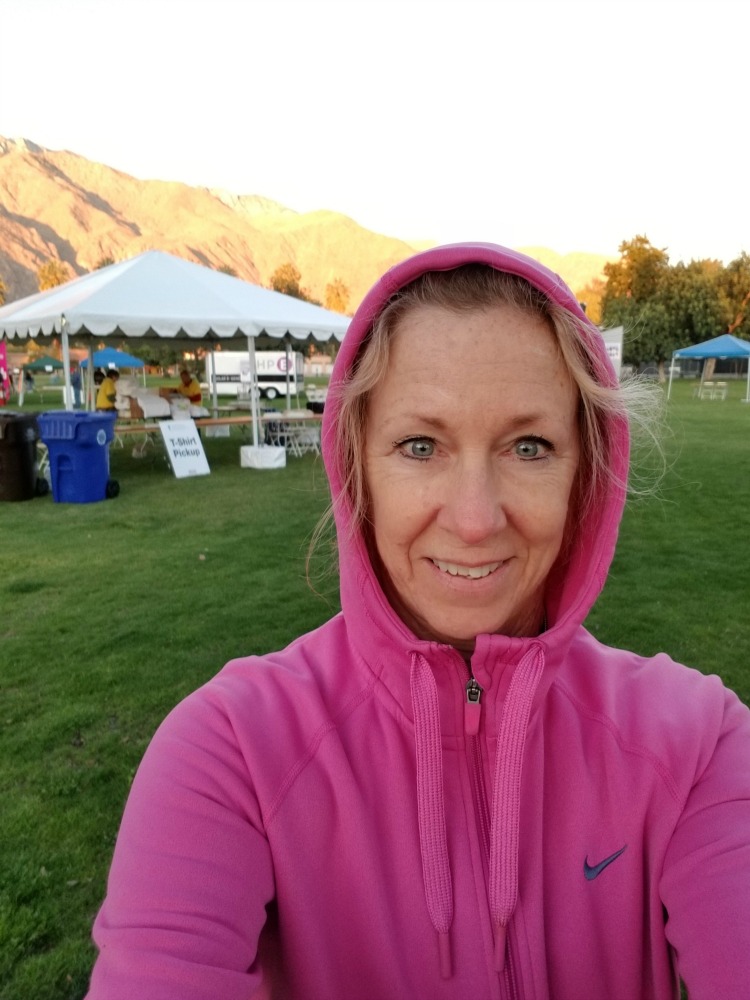 It may have been a little cold in the morning (high 40s), but it was heading toward 80 on Saturday! By the time we stood on the start line I could feel it warming up and I was able to run in just a skirt and tank.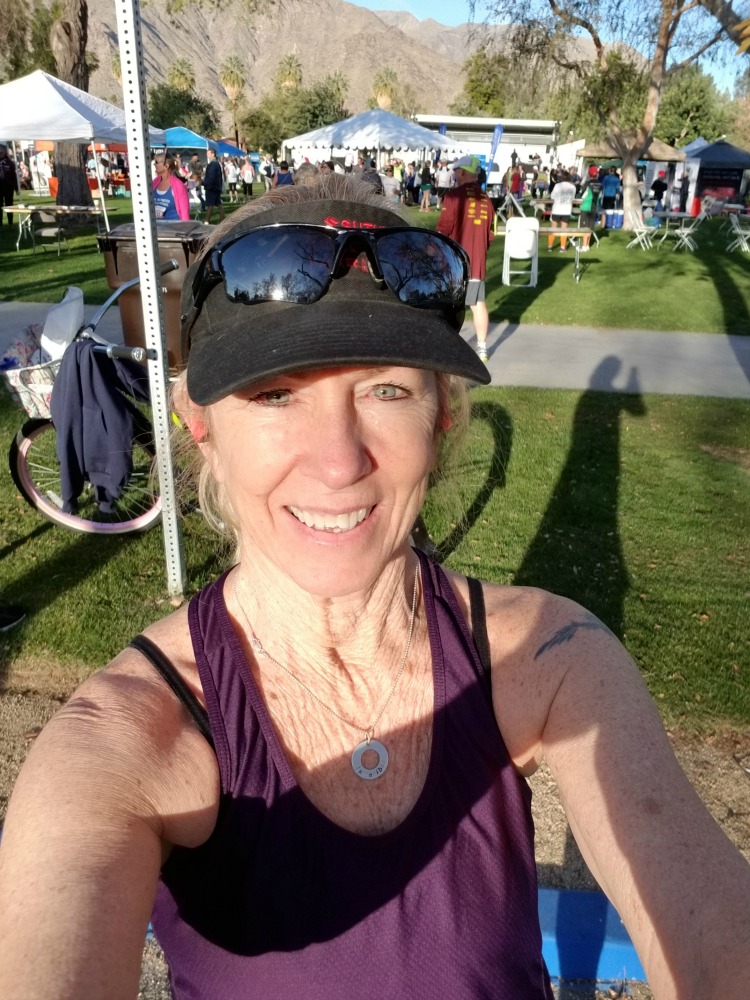 Palm Springs Health Run 10k Race Report
After an amazing acapella National Anthem we were off. The 10k started at 8:00 and was a two loop course, running right by the start/finish line at the halfway point. The 5k started at 8:30, and as luck would have it, the race started just as I had passed that point. Fortunately, there weren't a gazillion 5k-ers to run me over!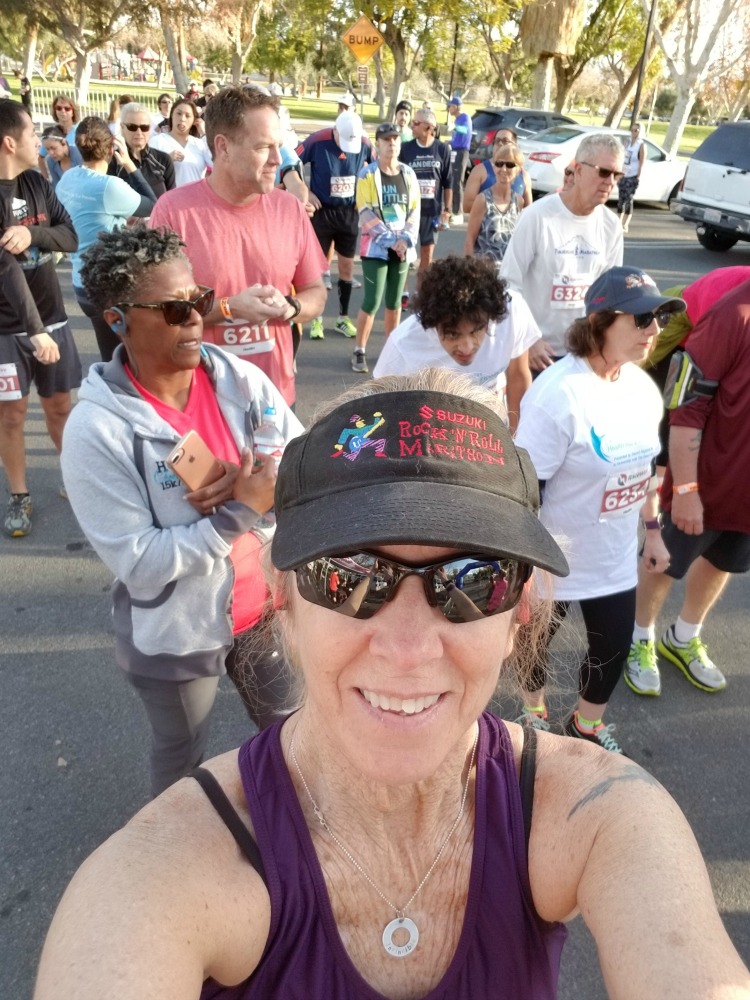 I had a few goals for this race. I wanted to finish in under an hour. I wanted to feel good and not have to deal with my exercise-induced asthma. And I wanted to have fun. I'm happy to say that I accomplished all of my goals!
The course was a pretty flat and simple one. We started in a park and basically ran a big rectangle around what is called the Movie Colony in Palm Springs. It's called that because back in the day many movie stars lived and played there. They are long gone now, moved to gated communities or big mansions in the hills, but the area still has a romantic feel to it, with many large properties and beautiful, if older, homes.
The first mile went well. It was pretty flat and I didn't get caught up in the excitement of the race. I chose not to use my inhaler before the start, though I carried it with me. Sometimes I feel like using it beforehand causes my lungs to first expand, then contract and actually bring on asthma. (This is totally subjective.) I did not look at my watch (throughout the race, except at mile markers), greeted and thanked volunteers, and tried without luck to make the cop on one of the corners smile. I finished the mile in 9:21, which I was quite happy with.
As I rounded a corner in the first mile, one of the (male) volunteers shouted "great socks!" I answered, "what about my skirt?" He responded that it looked great too. It was that kind of race.
Though the course was pretty flat, mile two had a slight incline. The route took us past the park where we started, and I passed up taking fluids at the first water station. One of my very few complaints was that they only offered a sports drink at the aid stations, no water. And that the first one had only hard plastic cups. I'm not sure if they're better for the environment (though paper seems more biodegradable), but I like to be able to pinch the top of my cup so that I don't spill liquid all over myself.
Anyway, the mile was slightly uphill, and my time for mile two was 9:34. Not bad!
Fortunately, that uphill meant that, as we followed the rectangle and headed back toward the park the course was slightly downhill. It felt good, and I managed a 9:04, my fastest mile of the race. I did sip the sports drink at the second station, which was fortunately in paper cups.
Since this was a double loop course, we passed right by the start/finish line at the halfway point, and as I mentioned, the 5k runners were lined up and ready to go just as I passed by. I really was a little nervous about them starting right behind me, but it turned out to be a non-issue. A few runners passed me quickly, and other did so along the way, but it wasn't the stampede I was concerned about.
Mile four went smoothly. The cop still wouldn't smile. The volunteer who liked my outfit told me that I was the best looking runner out there. My breathing stayed level. I ran 9:11, pretty good considering the weird run-past-the-finish line route through the parking lot.
Mile five was little tougher. This was the uphill portion once again, and this time I was feeling it. I again passed up the sports drink at the aid station, but on the bright side, I was able to make the police officer (a different one) smile as I passed him. Score! My time was 9:47.
Because I'd run it before, I was looking forward to mile six and it's downhill to the finish. Nothing exciting here and no asthma. My mile markers were way off, but my Garmin says 9:20 for the last mile.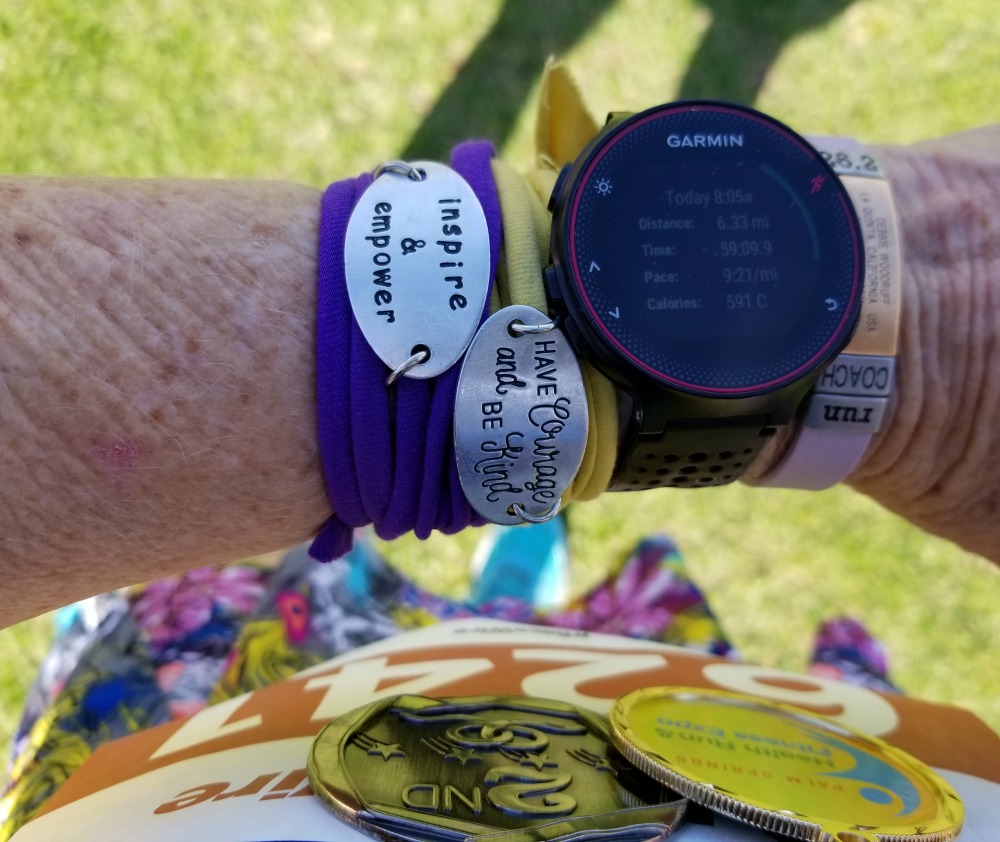 My Garmin also said that the course was 6.33, and I managed that last third of a mile at an 8:46 pace, which I consider a great way to finish. And of course, since Alan was announcing I got to hear, "here comes Debbie Woodruff, my favorite person in the whole world!" That is always my favorite thing to hear at the finish line.
My time for the Palm Springs Health Run 10k was 59:08, fulfilling my desire to finish in under an hour. That's an average pace of 9:30 (or if you want to believe my Garmin, 9:20 for 6.33 miles). That lets me know that my target of 2:10 for my upcoming half marathon is very doable.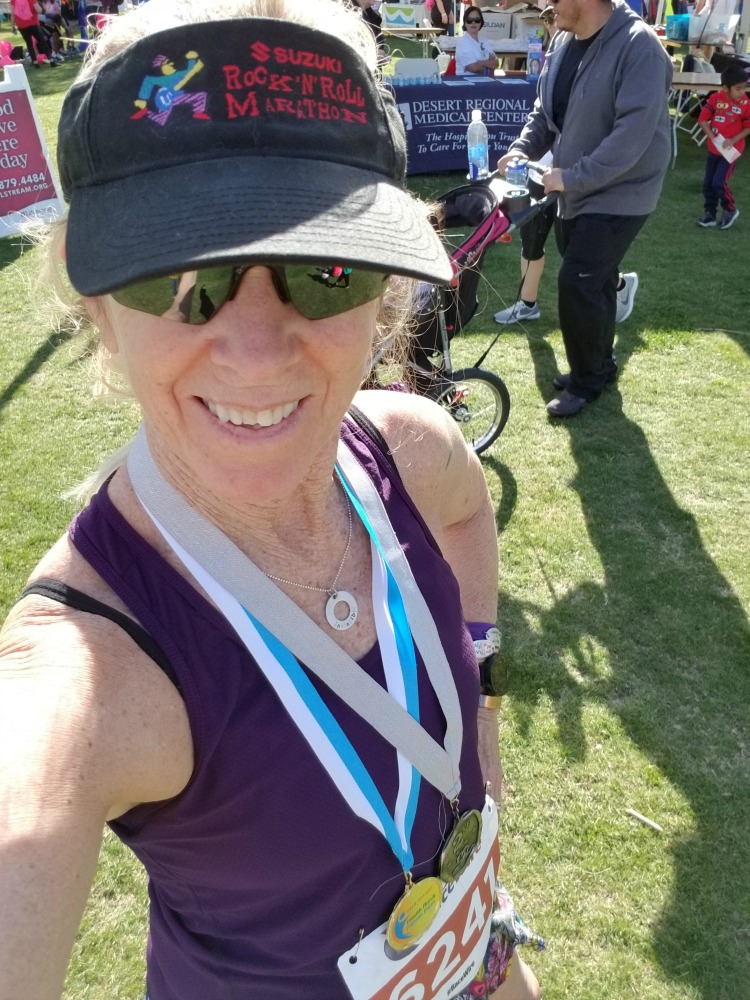 That time was good enough for second in my age division! You know I'm a newbie in the 60-64 division, so I was pleased to take home a second place medal. That time also makes me want to train a little harder, even though I don't do very many 10ks. But, the gal who won our division ran 54 something, so there's that.
All the Good Stuff!
In addition to having Alan as the announcer and my age group award, there were a lot of things to like about the Palm Springs Health Run 10k. The race started on time. There were plenty of police officers and volunteers on the course, which was flat, well-marked, and very conducive to a good time. The health fair/expo was quite large for a small race, with local celebrities, lots of booths offering samples and information.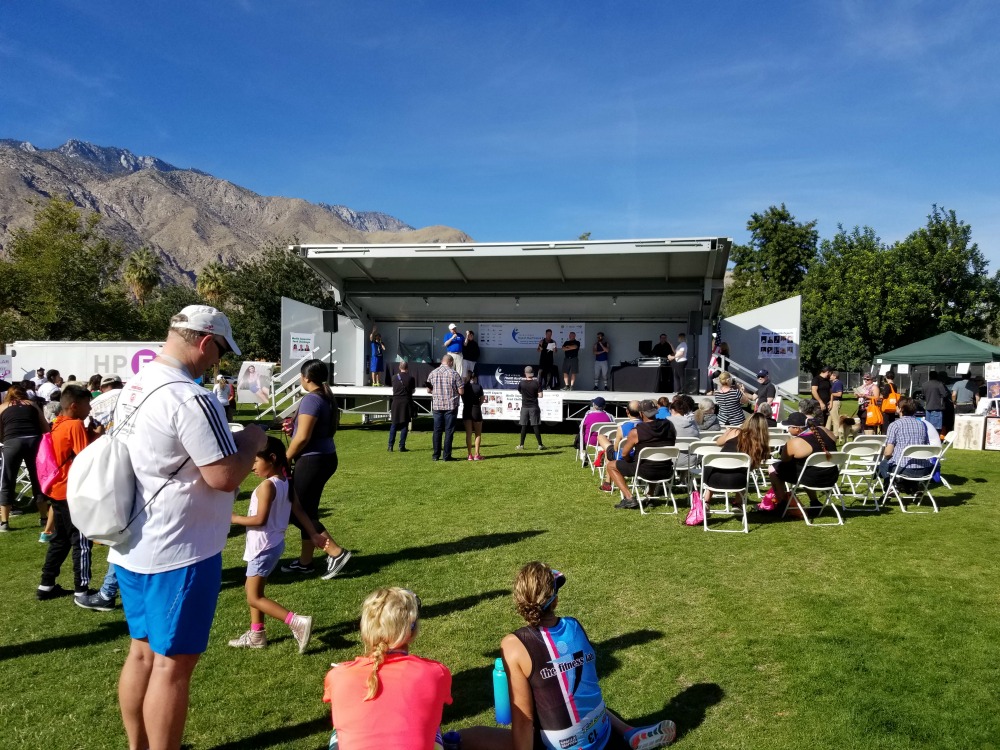 Although I come from an era where finisher's medals were reserved for marathon finishers, it is still fun to get one for finishing a 10k. The results were posted quickly. The award ceremony was just for overall winners of each race, and while that may be a downside to some, I appreciate being able to just stop by and pick up my age group award. And, best of all, they had free race photos! I always think that is a nice touch.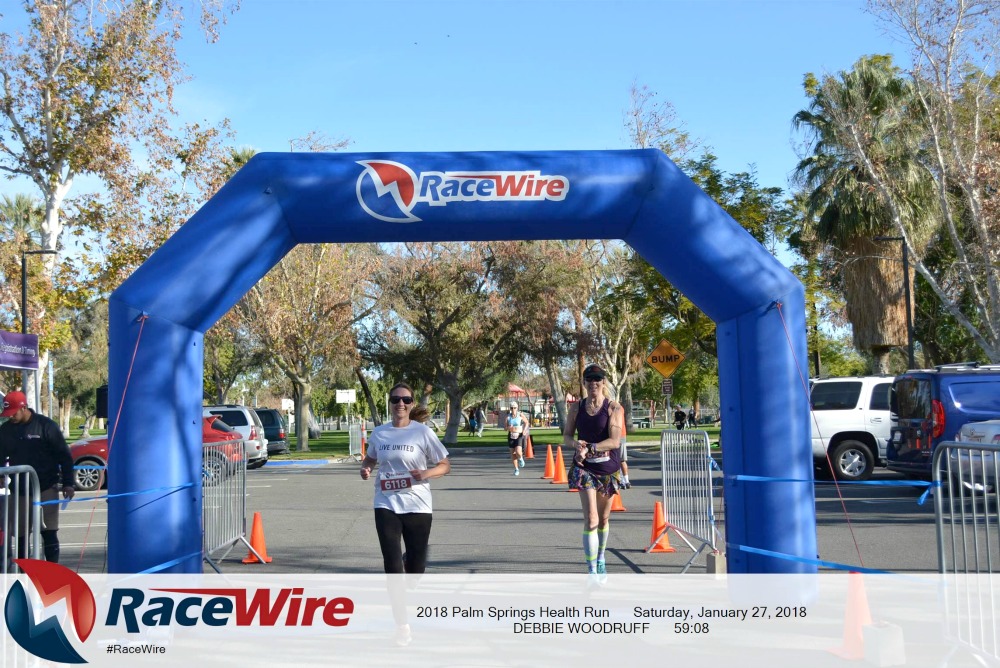 I remembered to bring my Race Recovery Kit. I felt so smart when I was able to stretch and roll out a few tight spots after the race!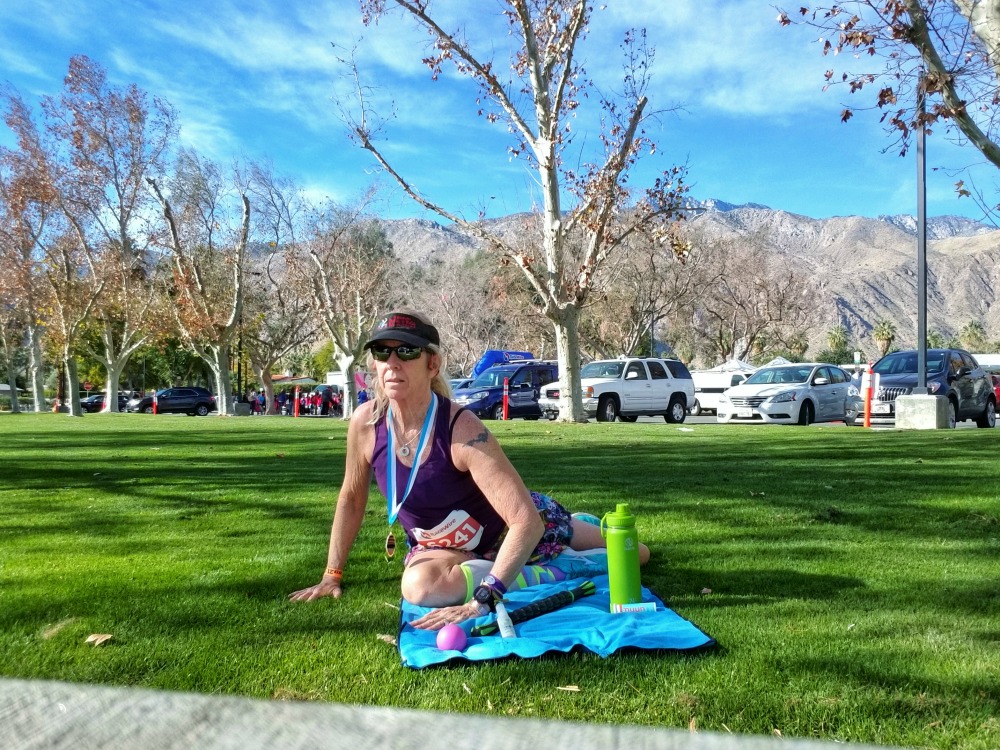 There was also a free, 1k kids' race. I love kids' races in general and there were a lot of children in the race! I believe they partnered with a local school and actually bused kids to the event because there were more people in the kids' race than in the 5k and 10k combined!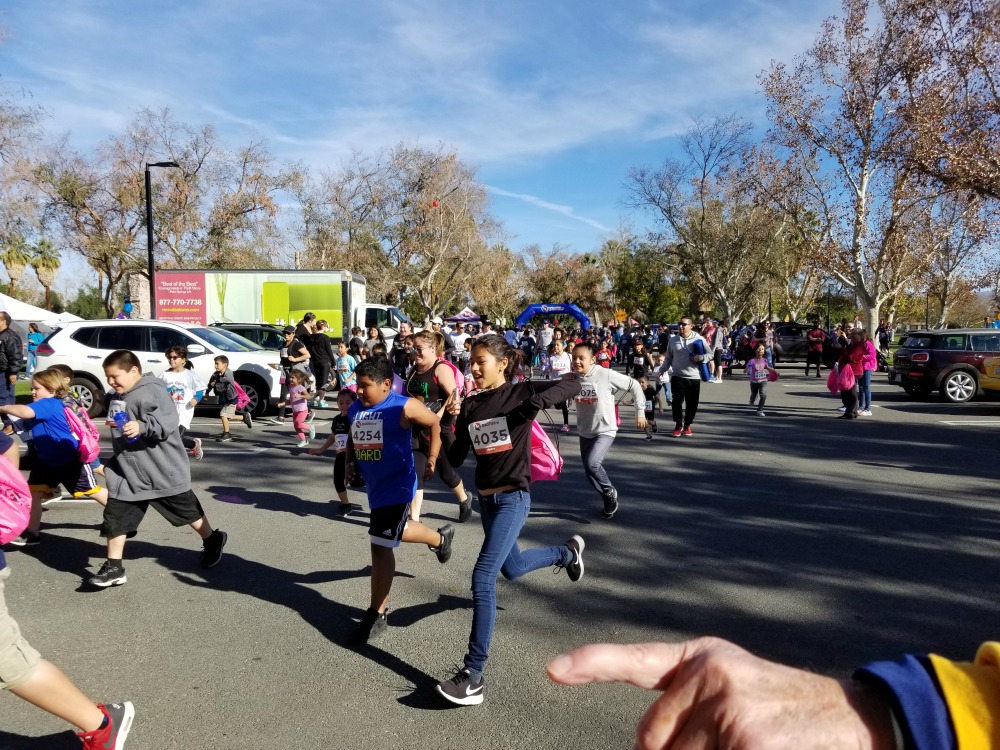 Some Not So Good Stuff
I have a few very minor complaints, which I ordinarily wouldn't bother about, but this is a race report so honesty counts. I mentioned the water stations before, and that may be my biggest complaint. I really just want water, not sports drink, in a short race like a 10k. And those hard plastic cups just don't work for me.
Although the course was USATF certified, it still measured long for my Garmin (yes, that's probably nitpicking since we all had to run the same distance). And though that double loop worked fine in a small race, there were still a few people that wandered blindly across the course as we passed by the 5k start line, and if the race grows I can see that becoming a problem. I had to holler at a few people to get off the course.
Finally, the t-shirt. White cotton t-shirt, circa (apparently) 1995. I'm pretty sure the Palm Springs Health Run 10k and 5k could do better.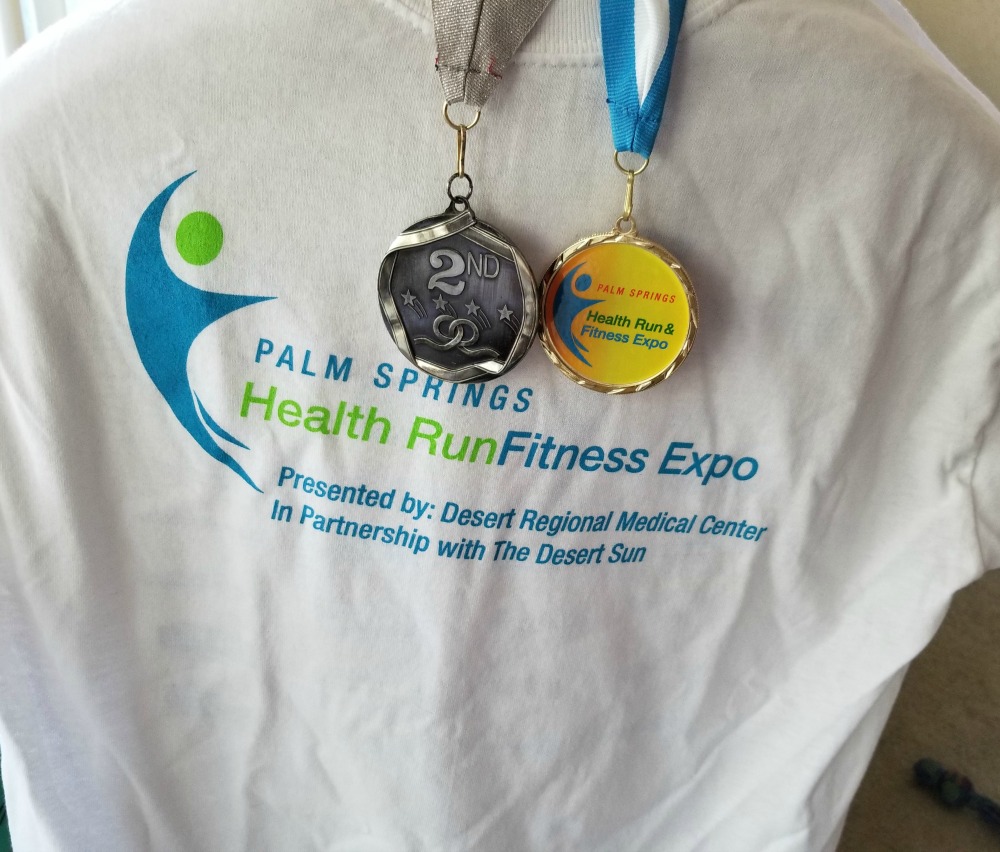 And Some Weird Stuff
What both Alan and I found extremely weird was that we didn't know a soul at the race! Alan announces a lot of local races, we put on a couple races a year, and we've been running in the desert for close to 30 years, but besides the owner of the local running store, I didn't recognize a single person! That's just weird!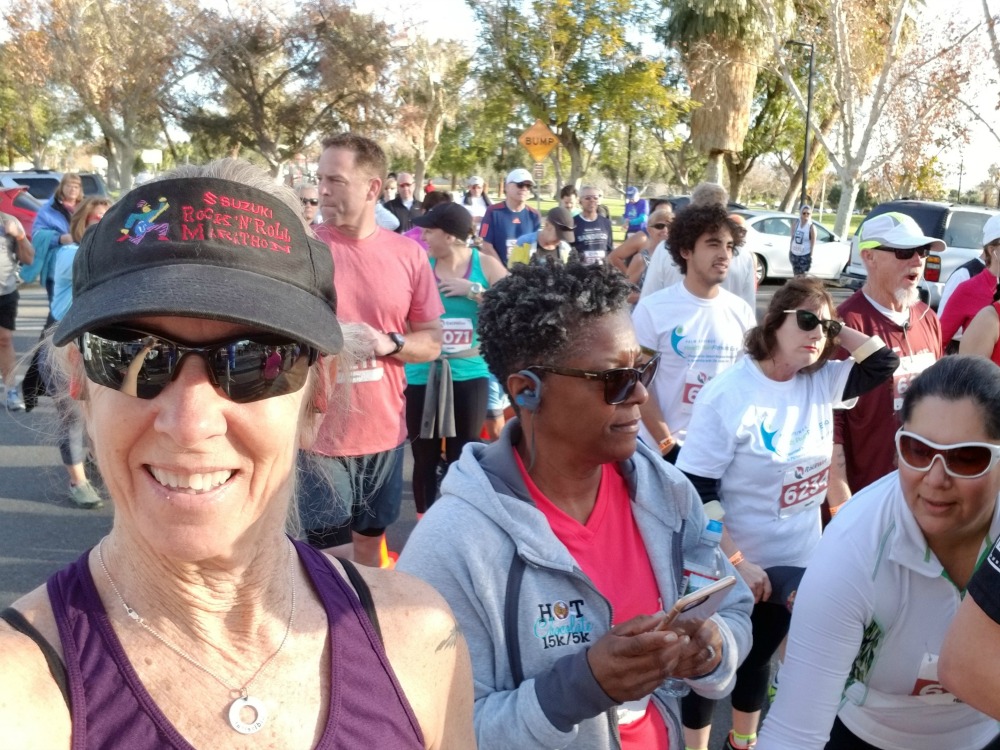 I ran this race without looking at my watch except at the mile markers, instead focusing on how I felt. That's a lot harder (for me at least) than it sounds, but my results show that this paid off. I didn't have any problems at all with my exercise induce asthma. I felt really relaxed through the race, and I hope I can bring this attitude with me to the Palm Desert Half Marathon in a couple weeks.
Did you race this past weekend? Link up your report! Do you pinch your cups at a water station?
And Now It's Time for the Running Coaches Corner!
Loading InLinkz ...
---
Weekly Linkups
My weekly linkups! Please stop by and check out all of the great recipes, workouts, and information that all these awesome bloggers share every week!
Meatless Monday with Sarah and Deborah
Meatless Monday with Annmarie  and Dixya
Tuesdays on the Run with Marcia, Erika, and Patty
Inspire Me Monday with Janice
Wild Workout Wednesday with Annmarie, Jen, and Nicole
The Plant-Based Potluck Party with Deborah
The Running Coaches' Corner with Rachel, Lora Marie, and Me!
Friday 5 2.0 with Rachel and Lacey and Meranda