Although I ran my first marathon over 15 years ago, I can remember the experience like it was yesterday. And even though I have run at least 35 marathons since, Honolulu 1996 still stands above and beyond all the rest (well, except maybe the Paris Marathon).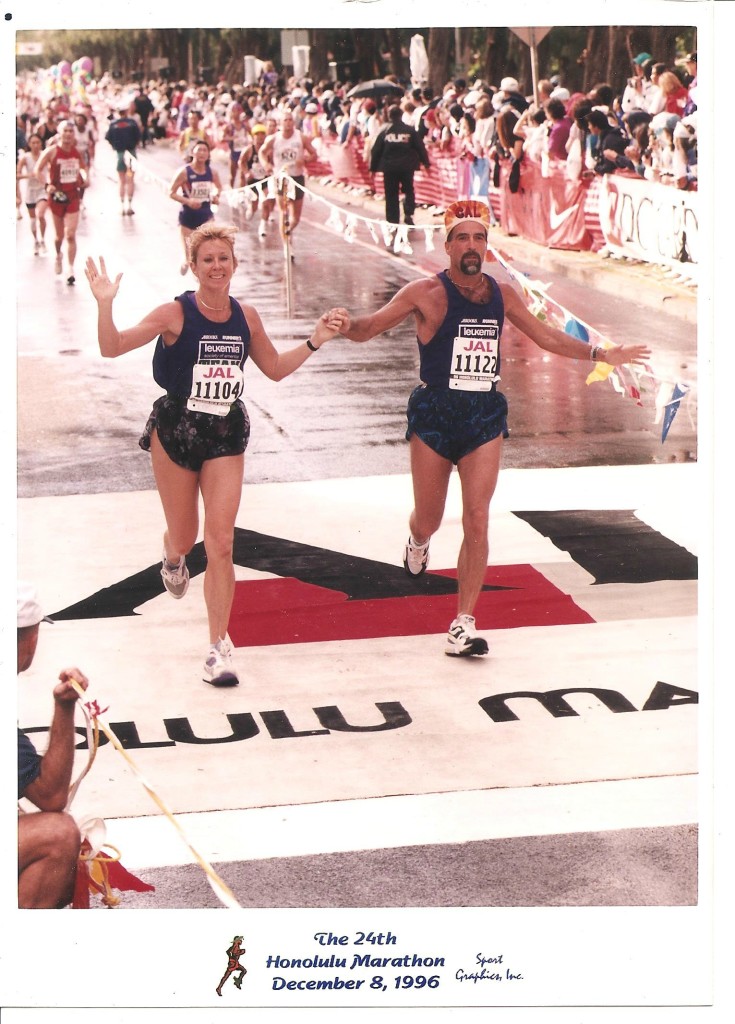 Back then, Alan was running for Team in Training and had run the Honolulu Marathon for five years straight. He used to raise so much money for them that when he asked if he could bring along a friend, they said no problem (he raised around $10,000 that year).
That is how we ended up at the Outrigger Reef on the Beach, the host hotel for the race, sharing the elevator with running legends like Frank Shorter (he was on the announcing team for the Waikiki Mile) and Mary Decker, not to mention the eventual winners of the marathon, Eric Kimaiyo of Kenya and Ramila Burangulova of Russia.
I had a goal time, almost whispered, because it sounded so fast, of around 3:45. I knew, based on my half marathon and other race times that it was feasible, but a marathon is so long and so many things can happen, that I mostly kept my goal time to myself and answered, "I just want to finish," when asked.
We arrived in Honolulu on Friday before the race. After checking in, we headed to the Expo, which conveniently was located right in the hotel. I think the Honolulu Marathon (and Nike, a big sponsor) was one of the first to realize the huge cash bonus of selling race gear at the expo. Sweatshirts, t-shirts, hats, and visors, all with the Honolulu Marathon logo, plus all kinds of Nike gear, watches, shoes, clothing all just waiting for us to spend our money on. Back then, they were all unisex (meaning mens sizes), it wasn't until several years later that the marketers got really smart and realized that women would buy even more if, gasp, the clothing actually fit properly.
In spite of our intentions to keep our legs rested, Alan and I walked along Waikiki Beach, and up and down Kalakaua Avenue, window shopping and people watching. We did manage to get back to the hotel pretty early, and stayed in for the rest of the night.
Saturday morning, we got up and took a short run, from the hotel to the finish line at Kapiolani Park, about a mile, and back. What you may not know about the race is that, with registration of over 30,000 runners, more than half of them came from Japan. In 1996, 59.25% were Japanese. They would come over with huge teams, and the morning before the race, one could watch these teams running together, carrying their team flag, almost in cadence, throughout Waikiki.
Then we started a tradition, which, stupid or not, we continued through all our subsequent marathon trips to Honolulu. We walked to the Running Room, a running store in Honolulu. Unfortunately, it was a little farther that we'd expected, so we wound up walking over five miles. Ah, but it was fun. Afterward, we hung around the hotel for most of the day, on the beach, then walked back to the park for the pre-marathon pasta party.
It was the first and last such event we'd ever attend. At $25 per person, we were more than disappointed to be fed cold spaghetti with marinara, and frankly, the rest of the event was so forgettable, I really can't remember much else about it. Well, lesson learned. Back to the hotel and early to bed.
Because of the warm, humid weather in Hawaii, the Honolulu Marathon starts early. Very early. 5:00 am early. And because of the expected 30,000 runners, in those days before chip timing, Alan, because of his previous experience with the race, knew we needed to get to the start line at Ala Moana Park very, very early. So with that in mind, knowing we had a mile or so to walk, we left the hotel at 3:00 am. Yes, you heard that right, 3:00 am.
Now, visualize this, my favorite memory of the Honolulu Marathon, which actually took place long before the race even started. We leave the hotel and start walking. It is dark. Because it is December 8, Waikiki is lit up like a Christmas tree. It is very quiet as Alan and I and a few others from the hotel start walking. The colored lights are beautiful, and light up the night air. As we walk, we are joined, first by a few, then by hundreds, then finally by thousands as we get closer and closer to the start line. Most people are focusing on the race, murmuring quietly to each other in many languages, but soon, just the massive amount of people turn this murmur into a low roar. When we finally arrive at the park, we work our way through all the runners, and find our spot, not too far from the start line, where we will wait for another hour before the race finally starts.
As we wait, announcers call out in both English and Japanese, helping to build the sense of excitement. As the start time approaches, we are pressed in amongst the thousands of runners, an endless sea that spreads out farther than we can see. Then the gun fires and we are off, alongside fireworks that spread out over the water to our left. It is still dark, and it is hard not to watch this display, but with so many people, it is important to watch where you're going, where they are going, so as not to get tripped up.
No mile by mile report here, just some race memories. Alan, who is a faster runner that I, stayed with me for this, my first marathon. The sun finally rising at about mile eight. The runners in traditional Hawaiian dress, including wooden sandals. The young Japanese woman who I swear I've seen at each Honolulu Marathon I've run, wearing bunny ears and a cottontail. The many Team in Training runners, coaches and spectators, all of them yelling, "Go Team," or "Go TNT!" when you'd run by.
Running along the Kalanianaole Highway, at about mile 12 or 13, and seeing the lead runners, a group of five or six men, mostly Kenyans, running in the other direction (I learned later that Kimaiyo, the winner, managed to string together seven consecutive miles, from mile 16 to 23, of 4:49 or less. Just imagine that.
Close to mile 21, I was running as you do, talking to a fellow sufferer runner, when Alan, who tended to run ahead, then come back to check on me, dashed up and said, in a annoyingly cheery voice, "Only five more miles to go!" The man I was running with looked at me sympathetically and said, "sometimes you must just want to kill him."
At about mile 22, I was running alone, turning a corner off the Kalanianaole Highway, into a small neighborhood. A group of about four or five girls starts yelling, "Go Debbie! You look great! You're almost there!" I was astounded, until Alan ran out from behind the girls, having set up the whole thing.
Oh, and asthma and nausea. The things that almost did me in. I had suffered from exercise induced asthma for a while, but it is in the marathon that I really have problems. I always carry an inhaler, and for years I used a combination of medications to control it, but running 26.2 miles was always a challenge for me, breathing-wise. In this marathon, I was fine until mile 16, where I had to stop, puff the inhaler, then walk until the symptoms passed. Then I'd be good for another mile or so, then I'd feel it coming again.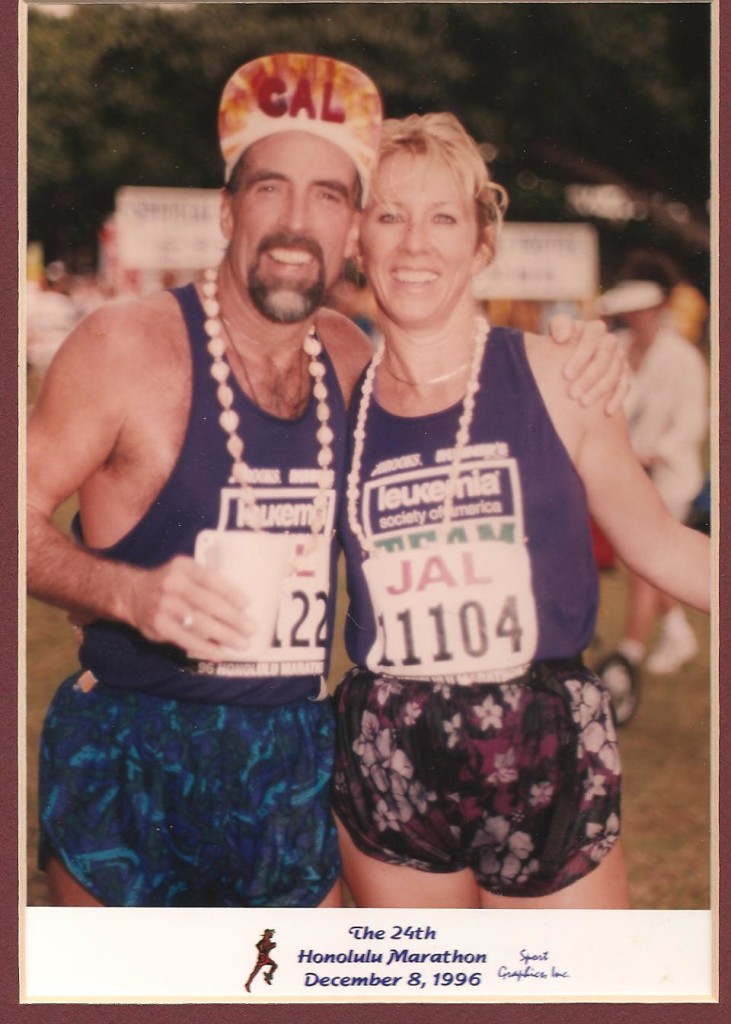 The nausea, which took me about five more marathons to figure out the cause, came on later. I actually stopped at mile 25, on Diamond Head, with only one downhill mile to go, and tried to make myself vomit into a trash can, believing it would make me feel better (it did, but only briefly).
Then there are the post-race memories. Walking back to the Team in Training Party, feeling too sick to eat or even enjoy a massage, again trying to make myself throw up in search of relief. So sore the next morning, as Alan and I got on a bus to the airport (headed to Kauai), that I could hardly climb the steps. Two days after the race, Alan took me on the "hike of my life," a six-hour trek on the Kalalau trail, along the Nā Pali coast in Kauai, almost crying because my toes hurt so bad, coming back to our hotel, muddy and tired, only to find that the hot water lasted about three minutes into the shower.
Swearing, the day after the race, "I'll never do this again!" Saying, two days after the race, "I know I can do this better."
Who said marathons weren't fun?
Fun enough, I guess. After I finished my first race, in 4:10, I came back five more times (clocking a course PR of 3:29 a couple years later). Oh, and I ran those other 30 marathons, always fighting the asthma (I actually had to drop out twice), clocking a personal best of 3:16:24 in St. George in 1999. I have many good marathon memories and experiences, good finish times, not so good finish times.
But, as they say, you always remember your first.