Are you looking for a Valentine treat that is sweet and delicious, plant-based, and easy to prepare? I'm pretty sure I'm going to make your day with these Medjool Date Truffles with Cashew Butter and Dark Chocolate.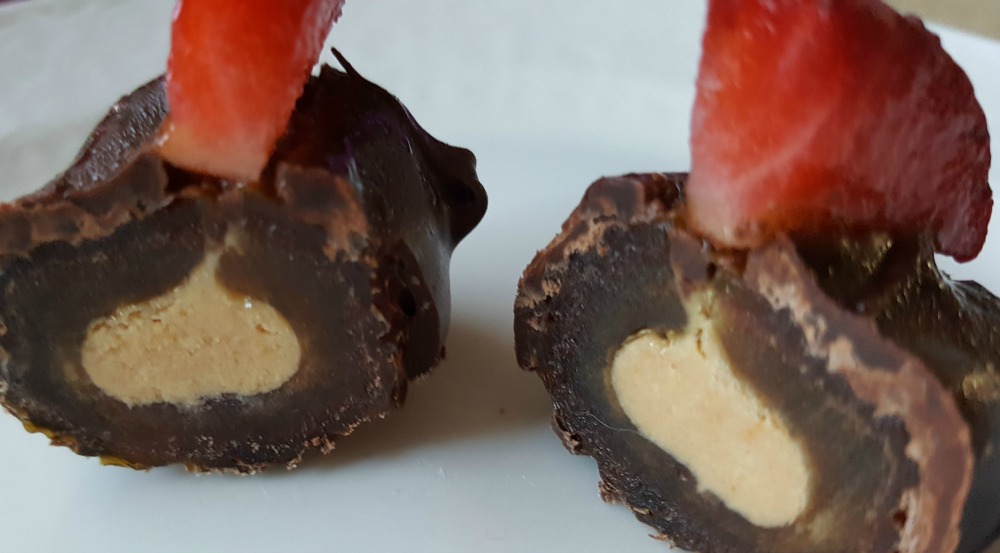 First of all, they're delicious. They have just the right amount of sweetness from the dates, a little bite with the dark chocolate, and the nutty flavor of fresh cashew butter.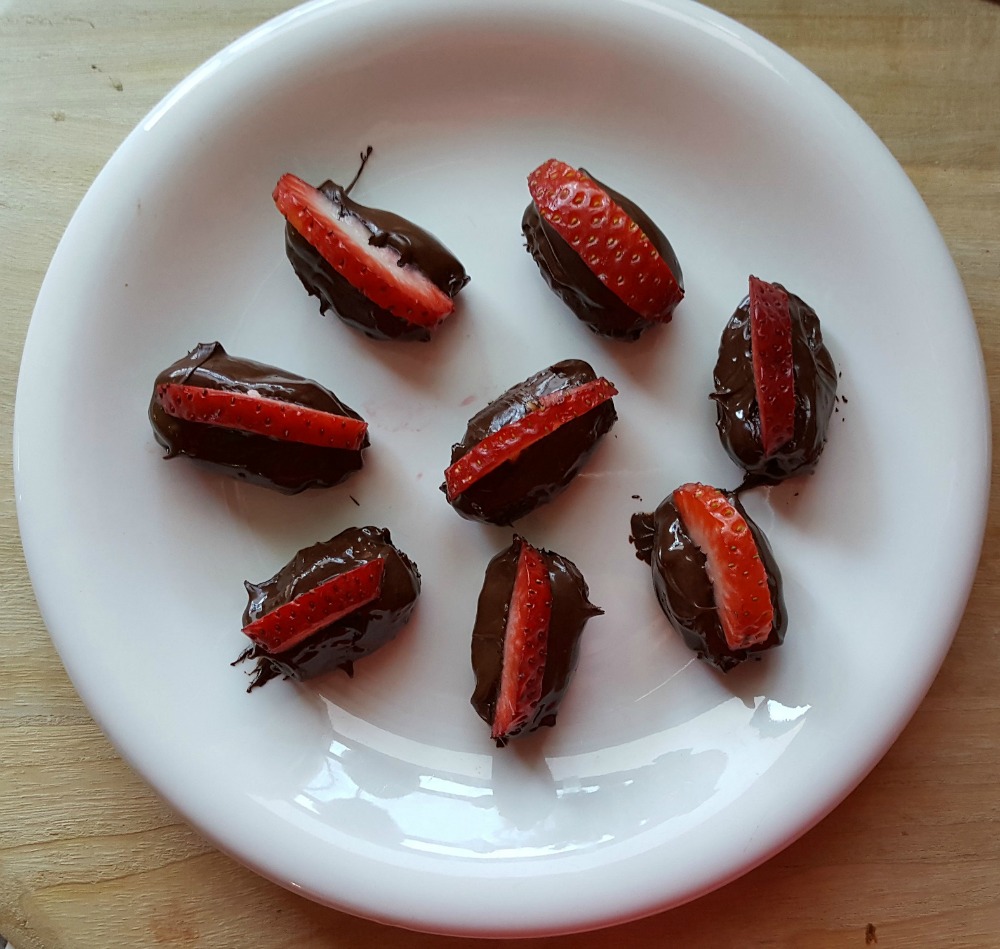 Second, these Medjool Date Truffles are good for you! They are plant-based, dairy- and gluten-free. Because of the sweetness of the dates, no added sugar is necessary. Medjool dates are loaded with nutrients, complex carbs, and fiber to fuel your day (or your workout). They contain more potassium than bananas, so they're great for recovery.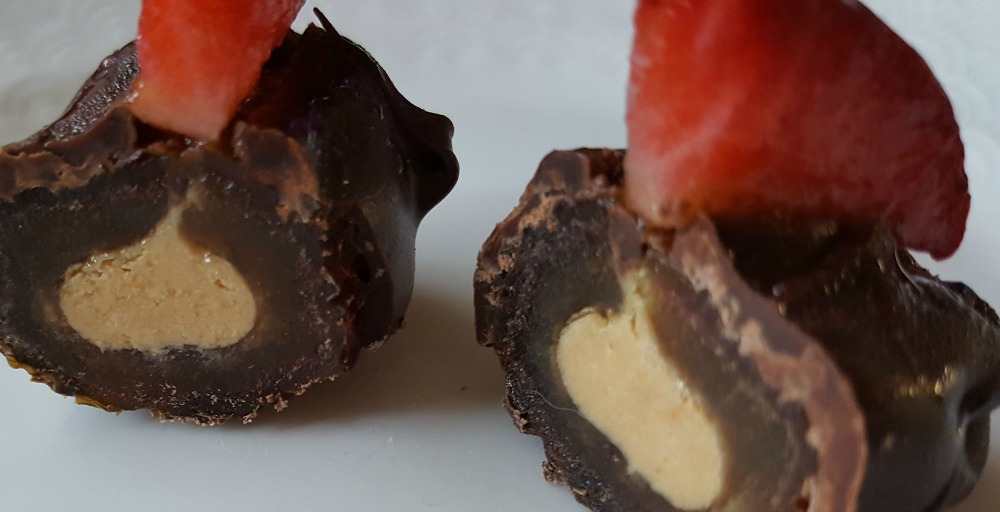 Cashews are a heart-healthy food that contain a flavanol that can help to fight tumors. They help to lower blood pressure, prevent gallstones and are lower in fats than most other nuts. And dark chocolate is a powerful source of antioxidants, can improve blood flow, and help to lower blood pressure.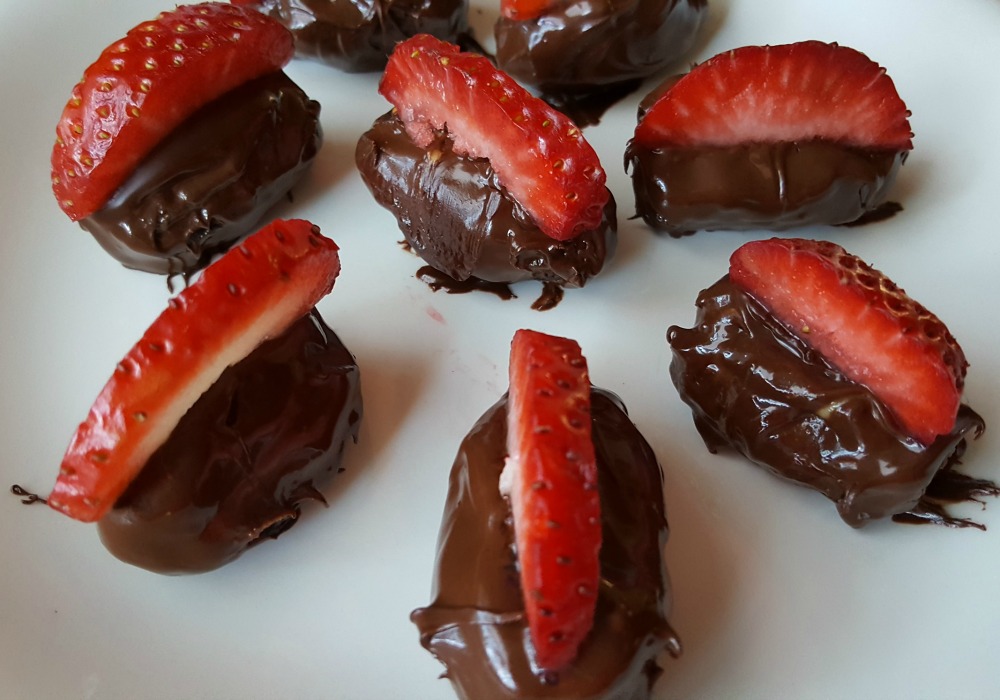 And finally, Medjool Date Truffles are easy to prepare! With only those three ingredients (plus a slice of strawberry for an accent), no mixing, baking, special equipment, or complicated instructions are needed.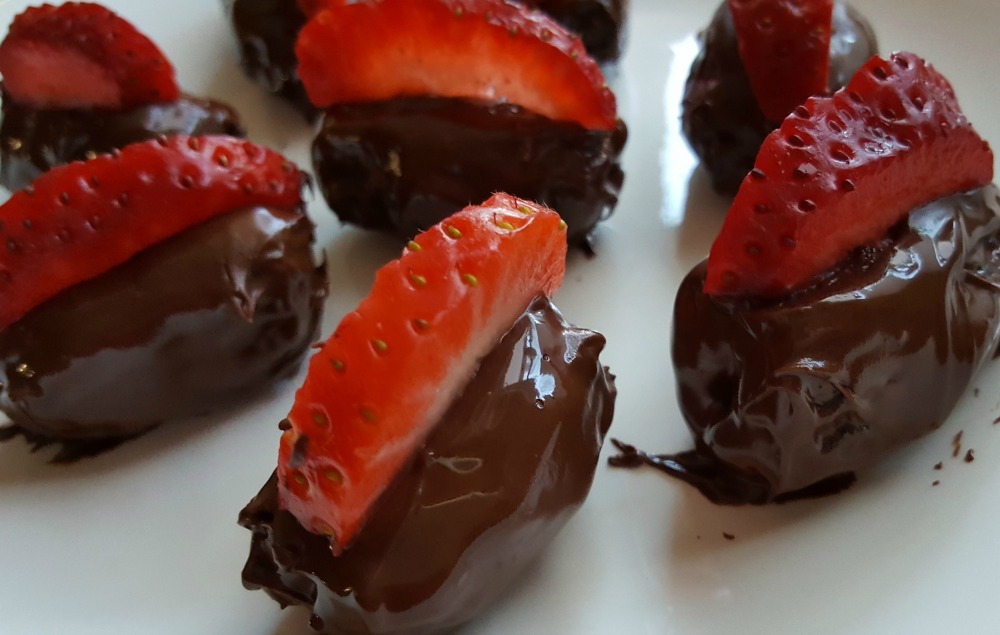 Medjool Date Truffles with Cashew Butter and Dark Chocolate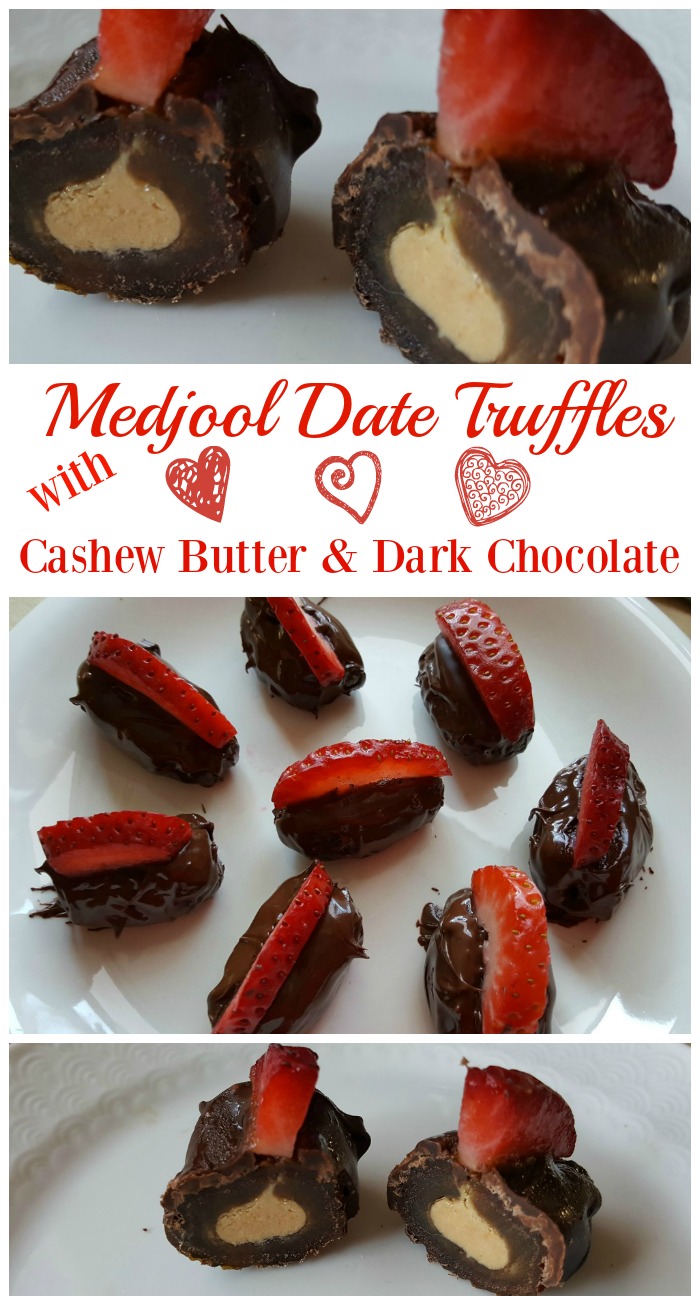 Medjool Date Truffles with Cashew Butter and Dark Chocolate
Vegan, Vegetarian
Ingredients
1 Dozen Natural Delights Medjool Dates pitted
About ½ cup cashew butter (Here's my recipe.)
About 4 oz dark chocolate (at least 72% cacao), broken into small pieces and melted
Strawberries, sliced for garnish (optional)
Instructions
Pit the Medjool dates carefully by slicing lengthwise and removing the pit. Pinch the date a little to create a small cavity.
Using a teaspoon, spoon a little cashew butter into each date. Press gently closed.
Roll each date in the melted dark chocolate until thinly coated. Use caution with the heated chocolate. Place each date on wax paper to cool.
Optional: After the chocolate has set, add a slice of strawberry to each truffle.
Refrigerate for at least an hour before serving.
Notes
Homemade cashew butter is the best.
Here's my recipe
.
I used one 3.5 oz. bar of Trader Joes Organic 73% Cacao Dark Chocolate, which is vegan-friendly.
To melt the chocolate, I broke the bar into pieces, placed in a heatproof ramekin. I filled a small frying pan with about an inch of water and heated the chocolate over medium heat until it melted, stirring frequently.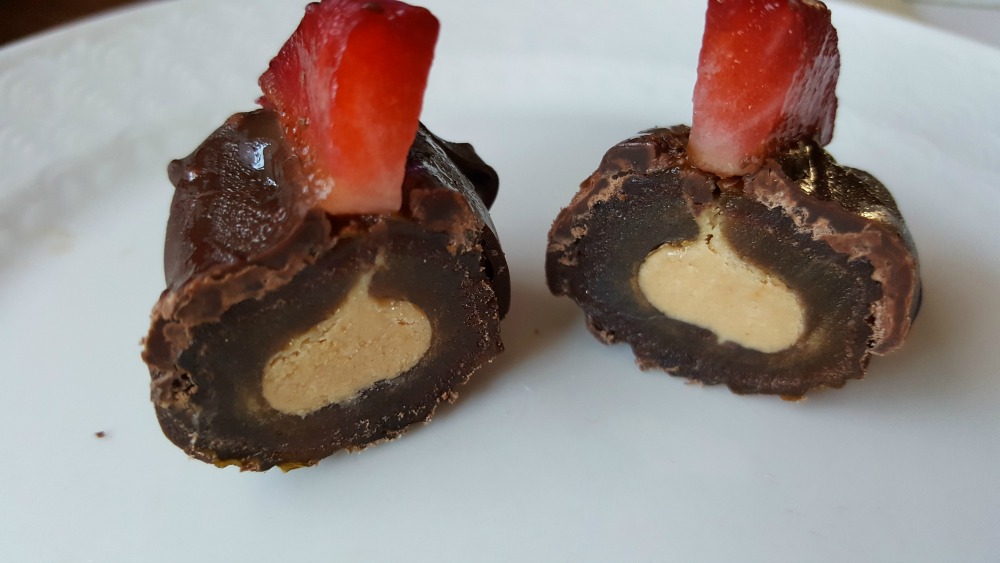 What are your plans for Valentine's Day?
This post was originally published in February 2017 as a sponsored post for Bard Valley Natural Delights Medjool Dates. All opinions (and recipes) are my own.
---
Weekly Linkups
My weekly linkups! Please stop by and check out all of the great recipes, workouts, and information that all these awesome bloggers share every week!
Meatless Monday with Sarah and Deborah
Meatless Monday with Annmarie  and Dixya
Tuesdays on the Run with Marcia, Erika, and Patty
Inspire Me Monday with Janice
Wild Workout Wednesday with Annmarie, Jen, and Nicole
The Plant-Based Potluck Party with Deborah
The Running Coaches' Corner with Rachel, Suz, Lora Marie, and Me!
Friday 5 2.0 with Rachel and Lacey and Meranda