This has been the year of the Medjool Date for me! As an ambassador for Natural Delights Medjool Dates, I have had the pleasure of creating and sharing a variety of different recipes that have Medjool Dates as an important ingredient. These Cashew and Medjool Date Recovery Bites are my most recent creation. Thanks, Natural Delights, for sponsoring this post.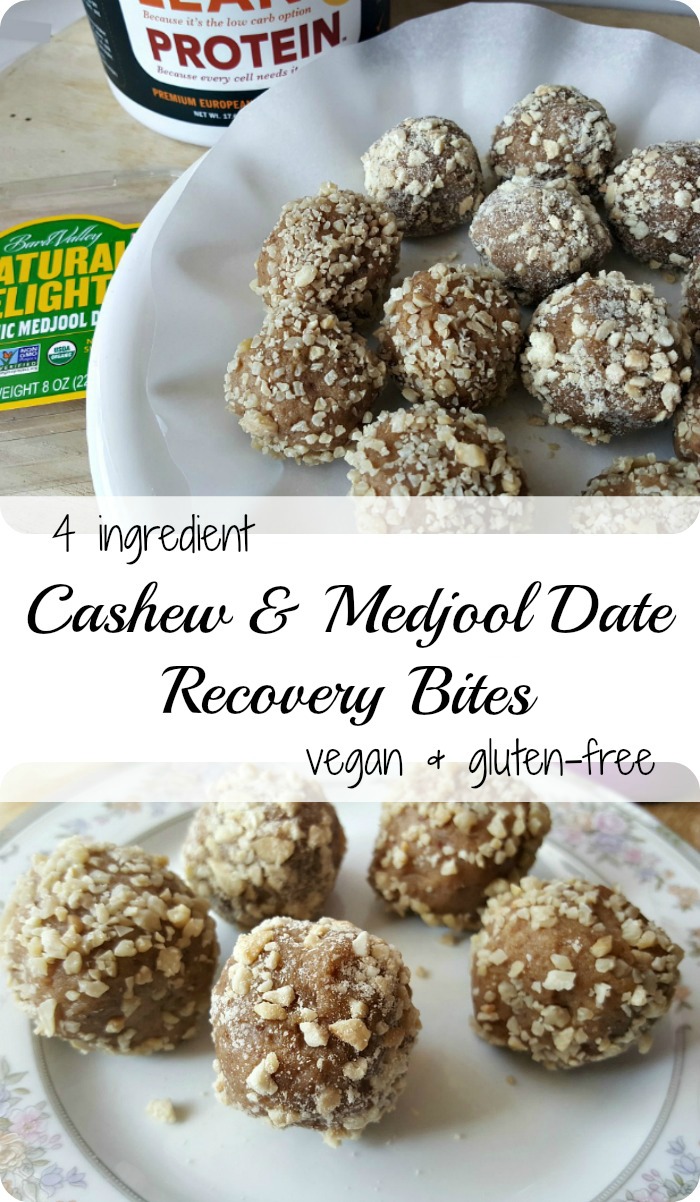 These Cashew and Medjool Date Recovery Bites taste like a sweet treat but are actually a nutrition-packed recovery system with no added sugar. Each recovery bite contains about 130 calories, with the 4:1 recommended ratio of carbs to protein that is essential for recovery. There are also electrolytes to help with rehydration, and these Cashew and Medjool Date Recovery Bites are vegan and gluten-free.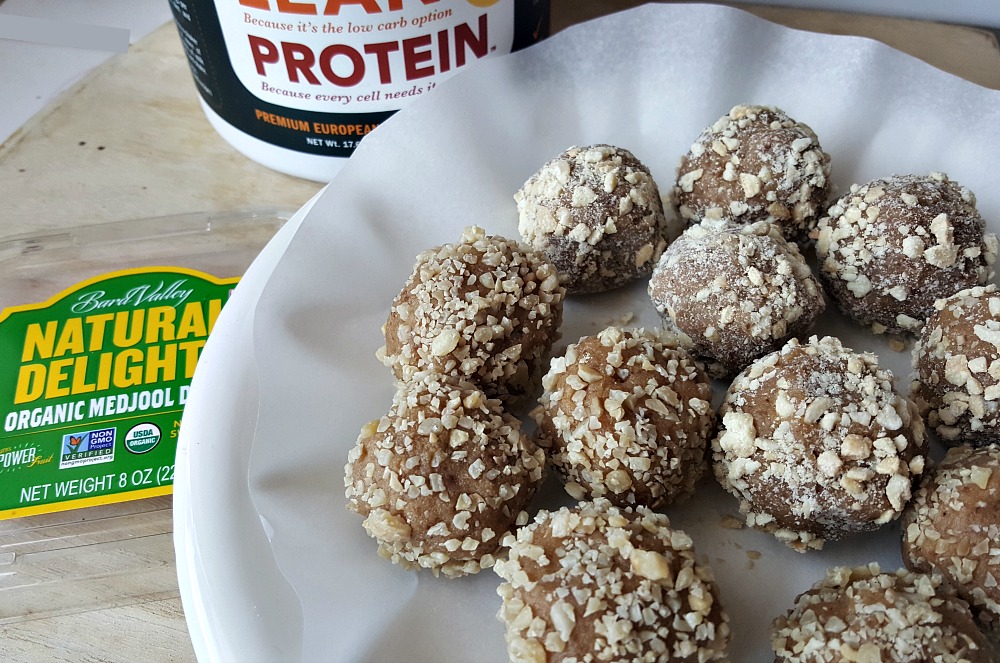 Medjool dates make a great fuel for athletes. They are loaded with nutrients, complex carbs, and fiber to fuel your day (or your workout). They contain more potassium than bananas, so they're great for recovery. Their natural sweetness makes them taste like a treat either on their own or when used to add texture and sweetness to a recipe.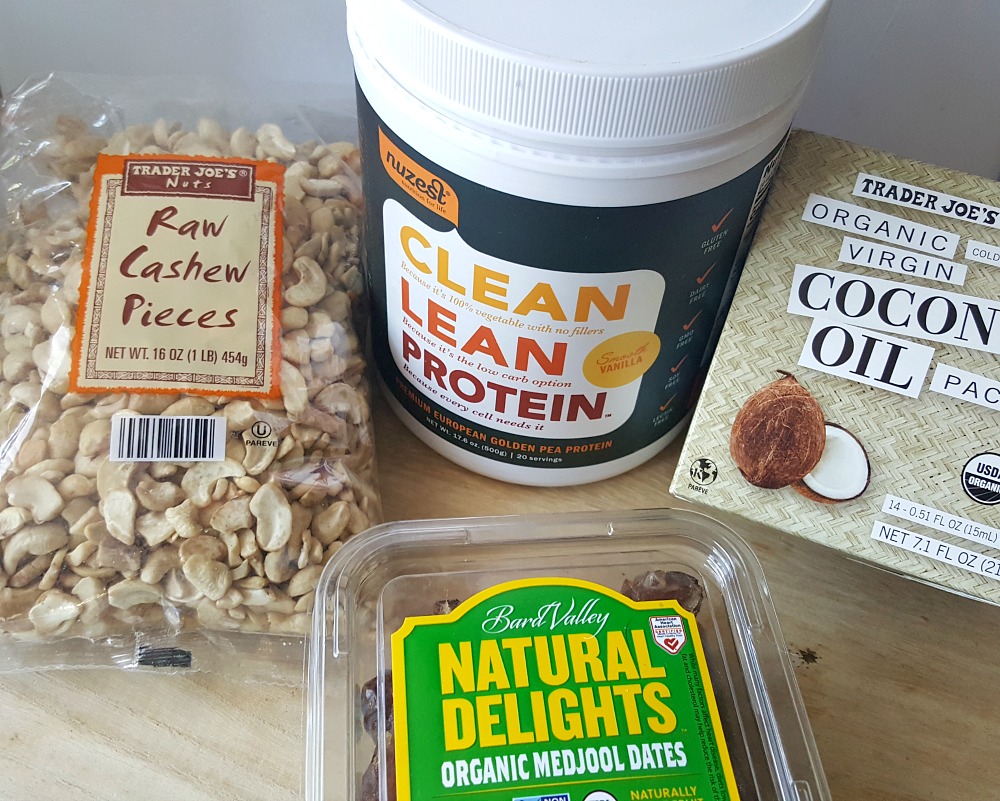 To add an extra protein boost to these Cashew and Medjool Date Recovery Bites, and to produce the proper recovery nutrient ratio, I used Nuzest Clean Lean Protein. I am an ambassador and affiliate for Nuzest because, to me, it is the finest plant-based protein powder available. It is allergen free and uses only premium European golden pea protein. It's vegan, gluten- and soy-free, non-GMO, and contains no added sugar. Nuzest Clean Lean Protein is also a complete protein, containing all nine essential amino acids.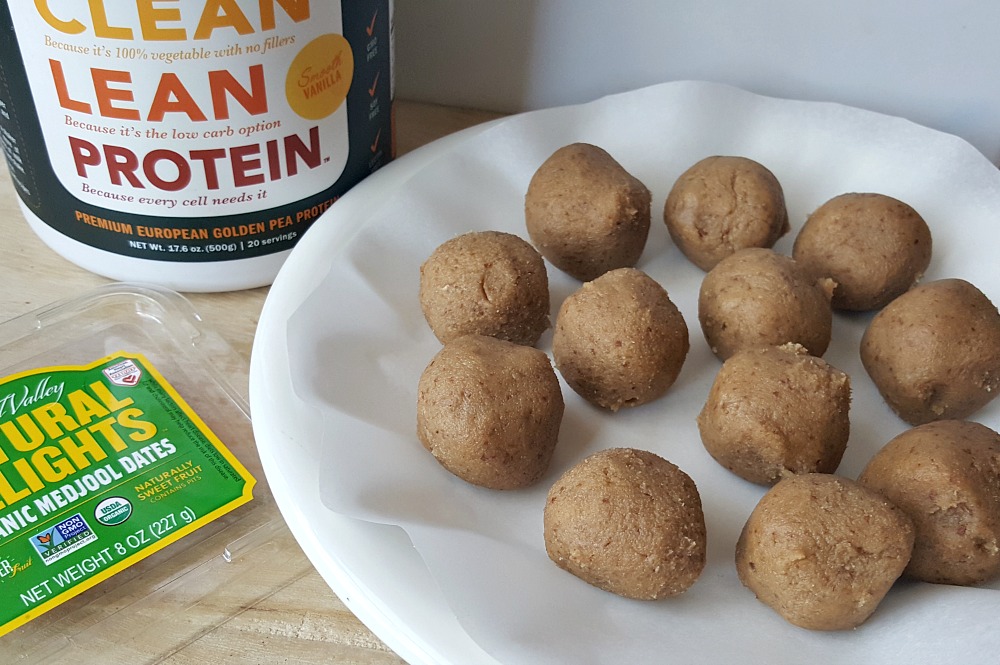 Cashew and Medjool Date Recovery Bites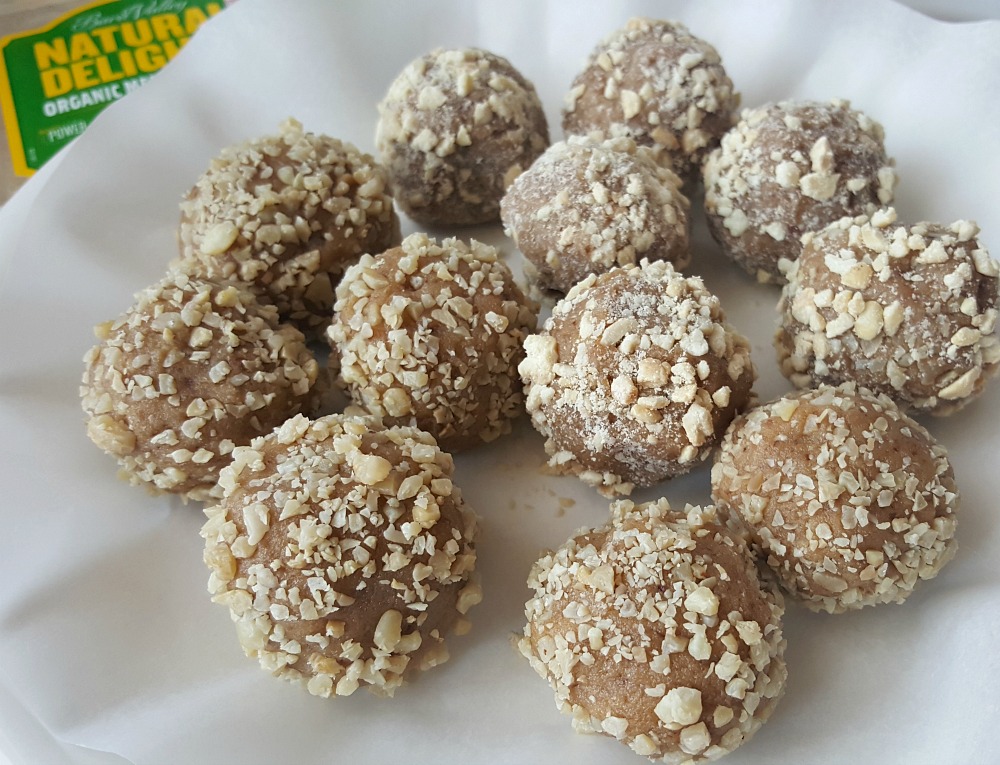 Cashew and Medjool Date Recovery Bites
Vegan/Vegetarian
Recipe type:
Snack, Recovery Food
Cuisine:
Vegan/Vegetarian
Ingredients
1 cup Natural Delights Medjool Dates, pitted
1¼ cup raw cashews
1 scoop vanilla Nuzest Clean Lean Protein powder
1 tablespoon coconut oil
1 teaspoon vanilla extract
½ teaspoon sea salt
Instructions
Soak the raw cashews in water for about an hour. Drain off excess water.
In a food processor, process the cashews until they are grainy, but not too smooth.
Spoon out three tablespoons of the cashews and set aside. Place them on a paper towel to soak up excess water.
Add the coconut oil, vanilla, protein powder, and salt to the food processor and process until the mixture is smooth.
Add the Medjool dates and process until smooth. The mixture will be thick. Spoon it into a bowl and refrigerate for about 15 minutes.
While the Medjool date mixture is cooling, place the ground cashews that you set aside in a 200-degree oven for about 15 minutes to dry them out. Let them cool for about 5 minutes.
Roll the mixture into balls. They should make about 12.
Roll each ball in the dried out ground cashews. Refrigerate for at least an hour until firmly set.
Nutrition Information
Serving size:
1 ball
Calories:
132
Fat:
6
Saturated fat:
2
Unsaturated fat:
4
Trans fat:
0
Carbohydrates:
15
Sugar:
10
Sodium:
54 mg
Fiber:
1
Protein:
3.5
Cholesterol:
0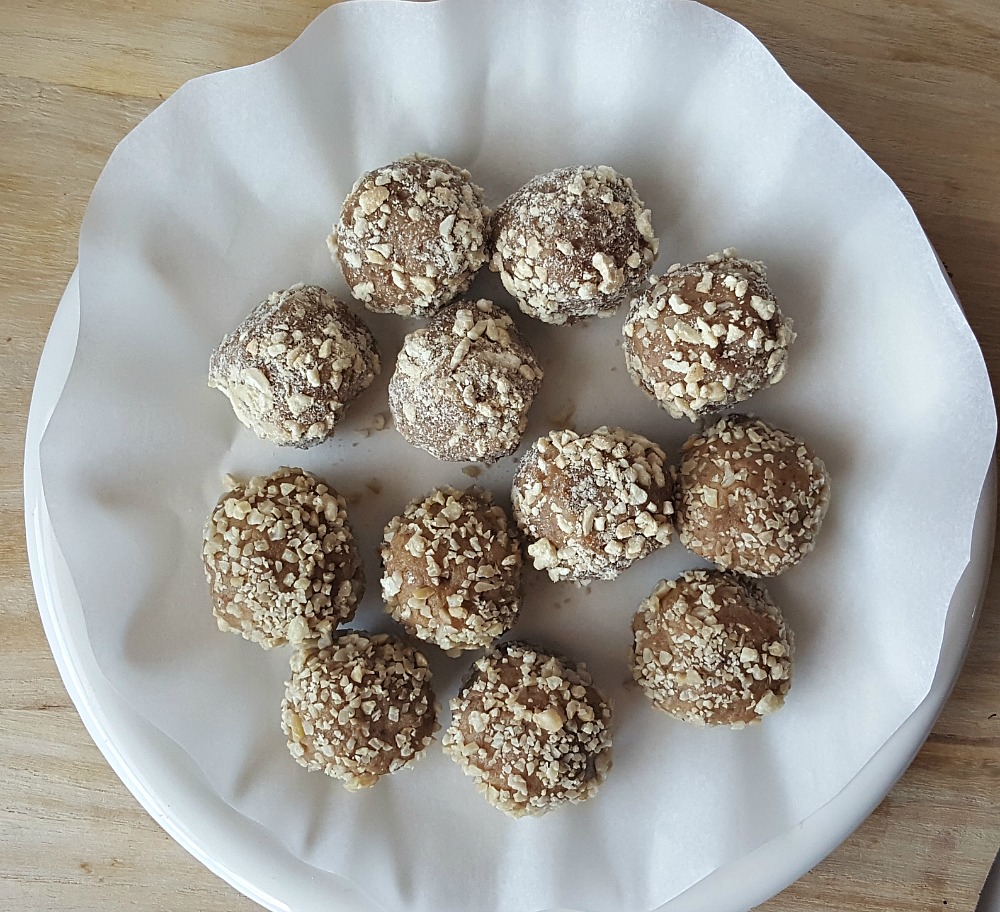 One (or two) of these Cashew and Medjool Date Recovery Bites will help refuel and rehydrate you after your next hard workout.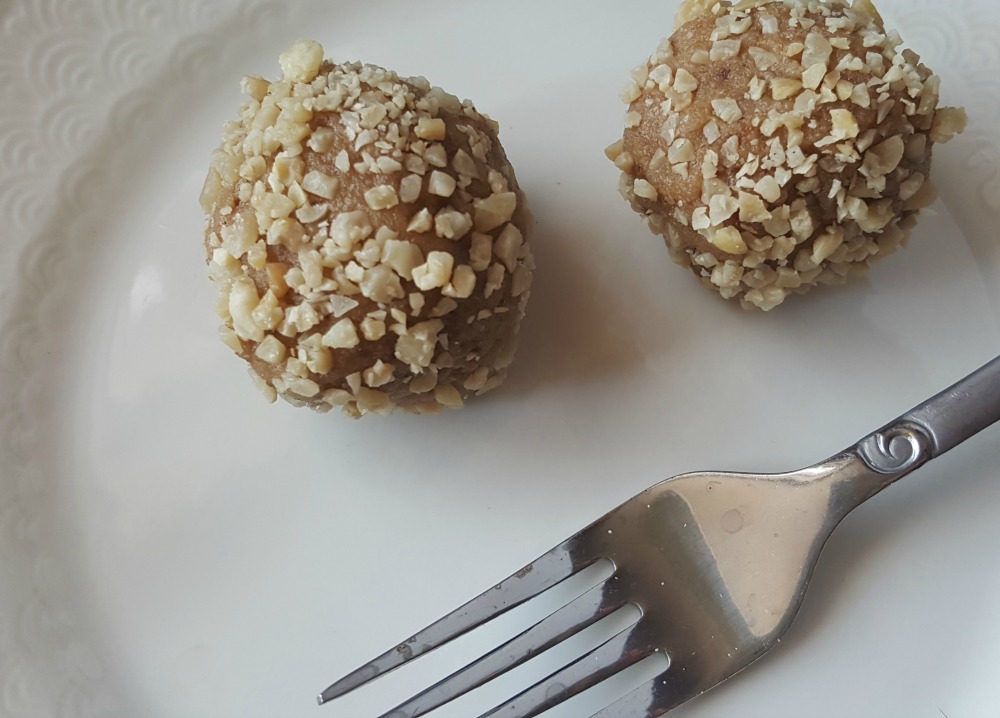 While I call these tasty treats "recovery bites," they also are great pre-workout fuel or just for a snack. When I traveled to Big Bear recently, I brought some along. First of all, when our two-hour drive turned into a four-hour ordeal, Alan and I were both approaching hangry territory before we reached our destination. We shared a couple Cashew and Medjool Date Recovery Bites and made it to our hotel and our late lunch without incident.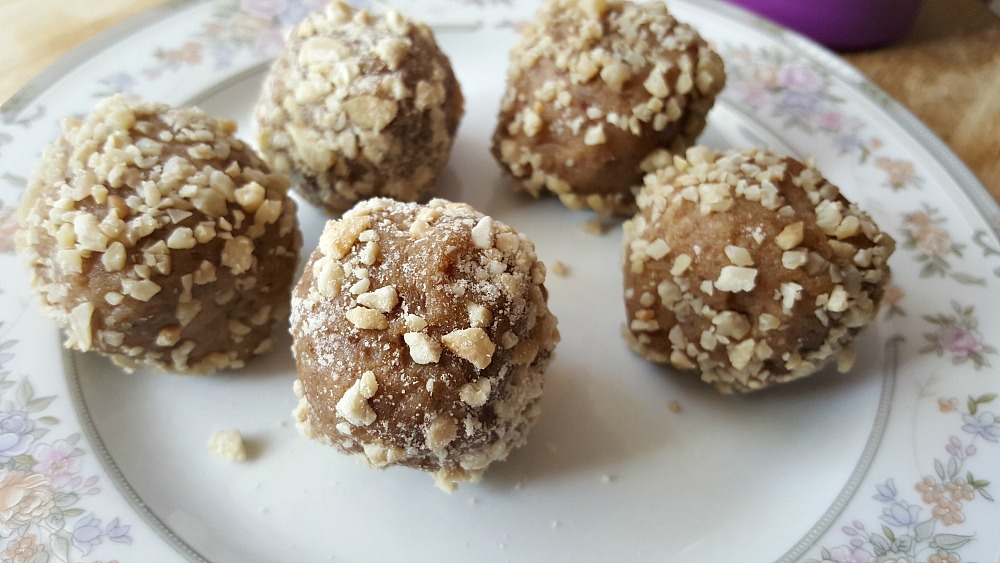 If you follow me on Instagram (<–Follow me!), you know that I enjoyed another Cashew and Medjool Date Recovery Bite before my Big Bear run! It went great with coffee and gave me the boost I needed for my workout.
Don't miss these delicious recipes made with Natural Delights Medjool Dates!
Chocolaty Walnut Date Balls
Medjool Date Truffles with Cashew Butter and Dark Chocolate
Medjool Date Appetizers with Cashew Cheese and Arugula
Medjool Date Energy Gels with Strawberry and Chia
What is your favorite recovery food?
---
Weekly Linkups
My weekly linkups! Please stop by and check out all of the great recipes, workouts, and information that all these awesome bloggers share every week!
Meatless Monday with Sarah and Deborah
Meatless Monday with Annmarie  and Dixya
Tuesdays on the Run with Marcia, Erika, and Patty
Inspire Me Monday with Janice
Wild Workout Wednesday with Annmarie, Jen, and Nicole
The Plant-Based Potluck Party with Deborah
The Running Coaches' Corner with Rachel, Suz, Lora Marie, and Me!
The Blogger's Pit Stop with Kathleen, Janice, Julie, and Menaka
Friday 5 2.0 with Rachel and Lacey and Meranda