So, you may have heard me shouting from the rooftops about the VeganEgg
. That's an affiliate link, by the way, but it won't do either of us any good because, just as I warned on Instagram, Amazon is already sold out.  Hopefully they will have it again soon. You can find a list of retailers here, some online, some not, plus a list of ingredients.
The VeganEgg is vegan, of course, which means egg- and dairy-free, and it is also soy-free, gluten-free, and Non-GMO. One serving, equal to one egg, has 40 calories with one gram of protein, 1.5 grams of fat, and 4 grams of fiber.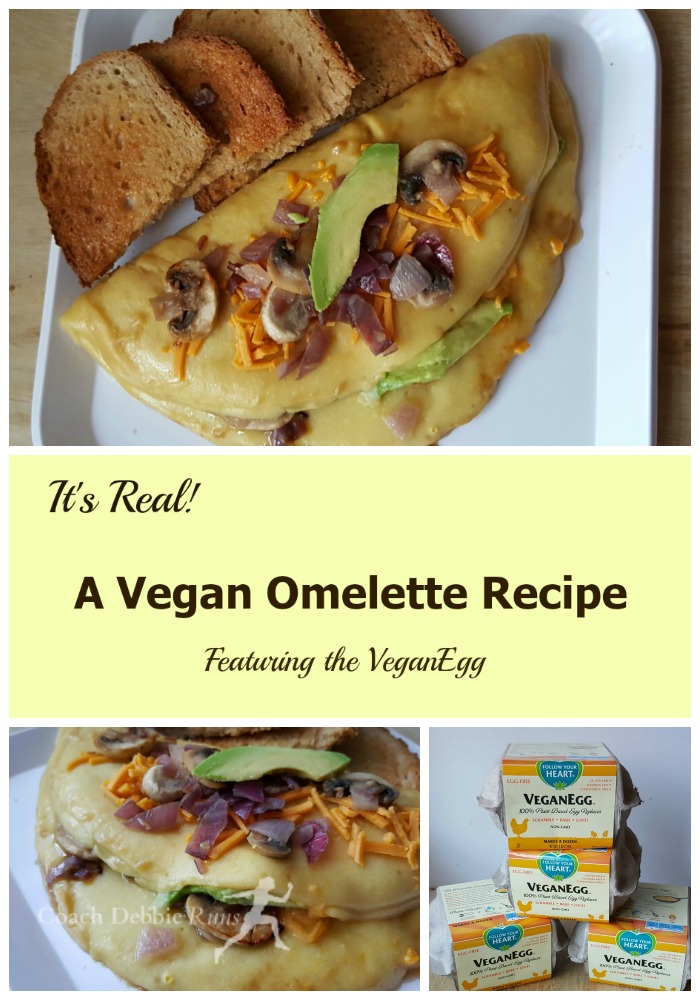 The VeganEgg is made by Follow Your Heart, which also makes a variety of plant-based dressings, cheeses, dips, and, of course, the best vegan mayo, Vegenaise. They did not pay me or give me any free stuff to write this. I'm just a true fan.
Fortunately, I ordered my VeganEgg as soon as I received an email that it was available on Amazon. I'd checked a couple other sites, several of which were already sold out, and the average price for a carton (equal to a dozen eggs) was around $7.50.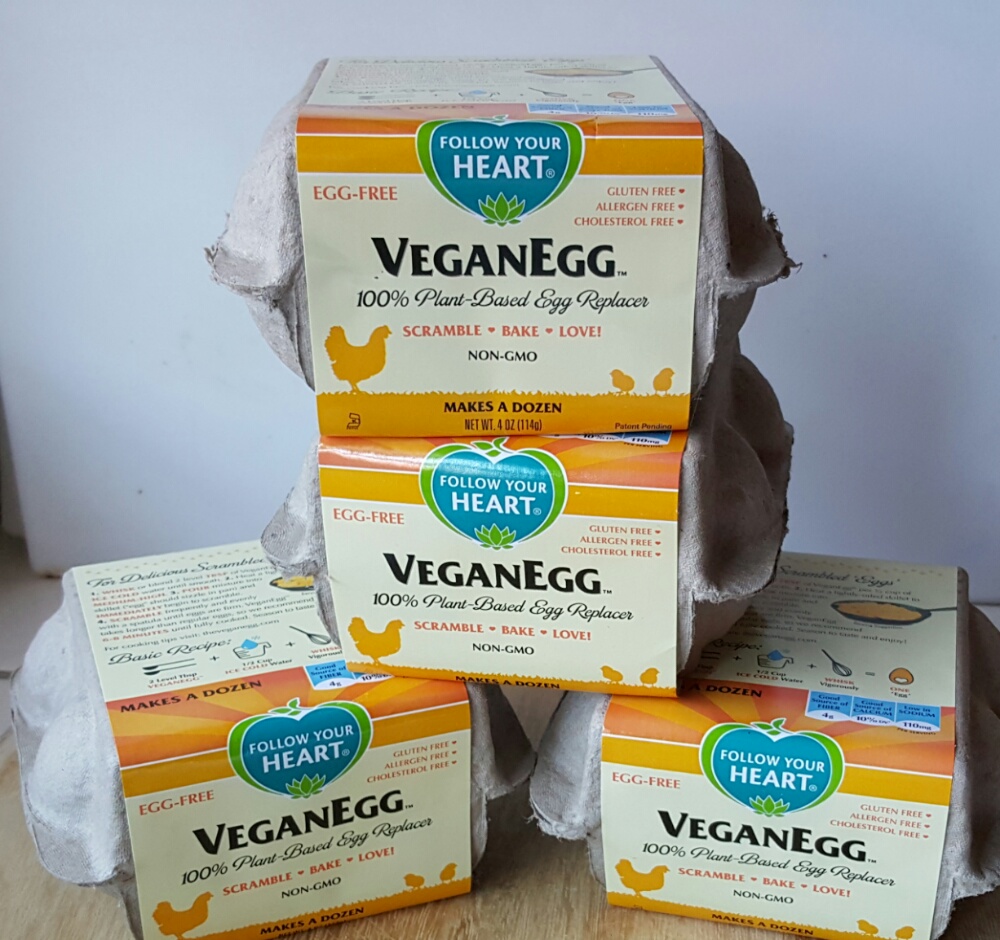 It was the same on Amazon, but with Amazon Prime I saved several dollars in shipping charges. The VeganEgg was an add-on item though, which meant the order had to be purchased along with something else that totaled at least $25.
I chose to purchase four cartons, showing my confidence in Follow Your Heart, as well as in the reviews I had read up until that time. Hence the giveaway. I will be giving two people one carton each of the VeganEgg. Enter using the Rafflecopter below the recipe.
The VeganEgg arrived on Wednesday afternoon. Thursday was Thanksgiving, bringing a 3:00 am wake up, Turkey Trot, food prep, and total exhaustion by the end of the day, so I didn't get a chance to try it until Friday. I followed directions, which are very simple, two tablespoons of VeganEgg and 1/2 cup of ice-cold water equal one egg. I doubled up.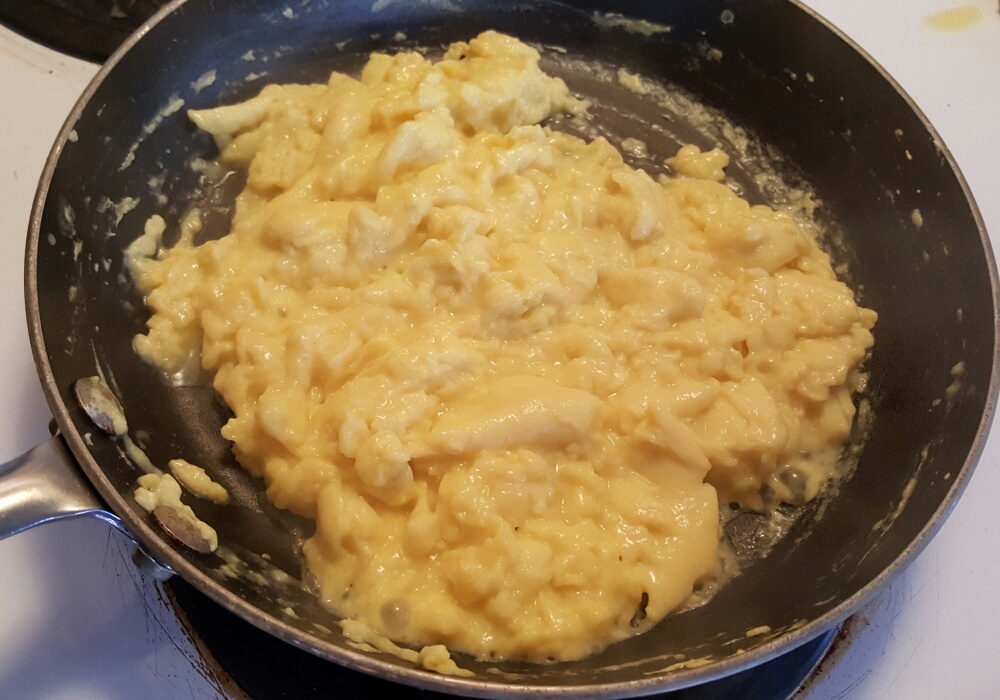 It was somewhat amazing to me to watch it cook. Seriously, it looked just like a scrambled egg, as I stirred it while it gradually got firmer. The directions say it takes longer than a real egg, but it still seemed to cook very quickly.
A quick taste told me that it was a little bland. It didn't really have the "eggy taste" that I was expecting. It certainly looked like the real thing, but the taste was a little lacking. To compensate, I added pepper and some Kala Namak (Himalayan Black Salt)
, which helped. It was good, but not as good as I'd hoped.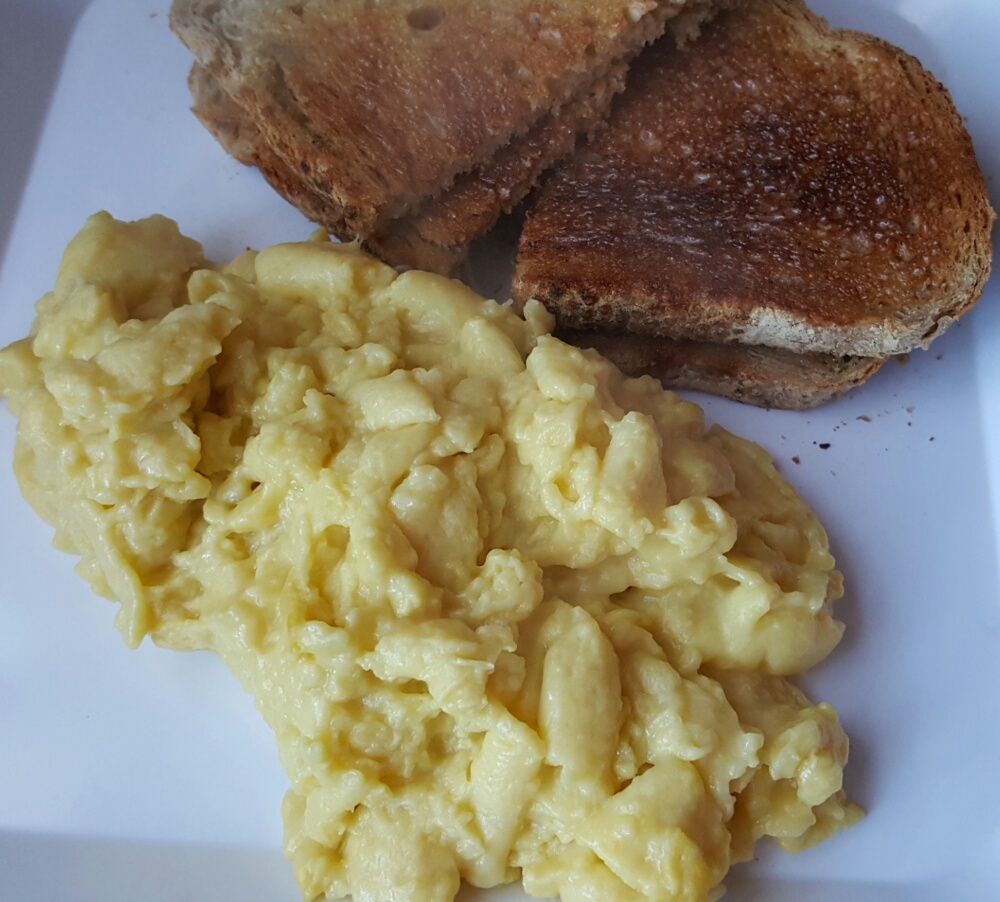 The VeganEgg Omelette
I was just getting started though. I was determined to make my first ever vegan omelette! I just knew I could make it delicious. And I did! The key was adding the black salt directly into the VeganEgg mix before I cooked it. It was perfect.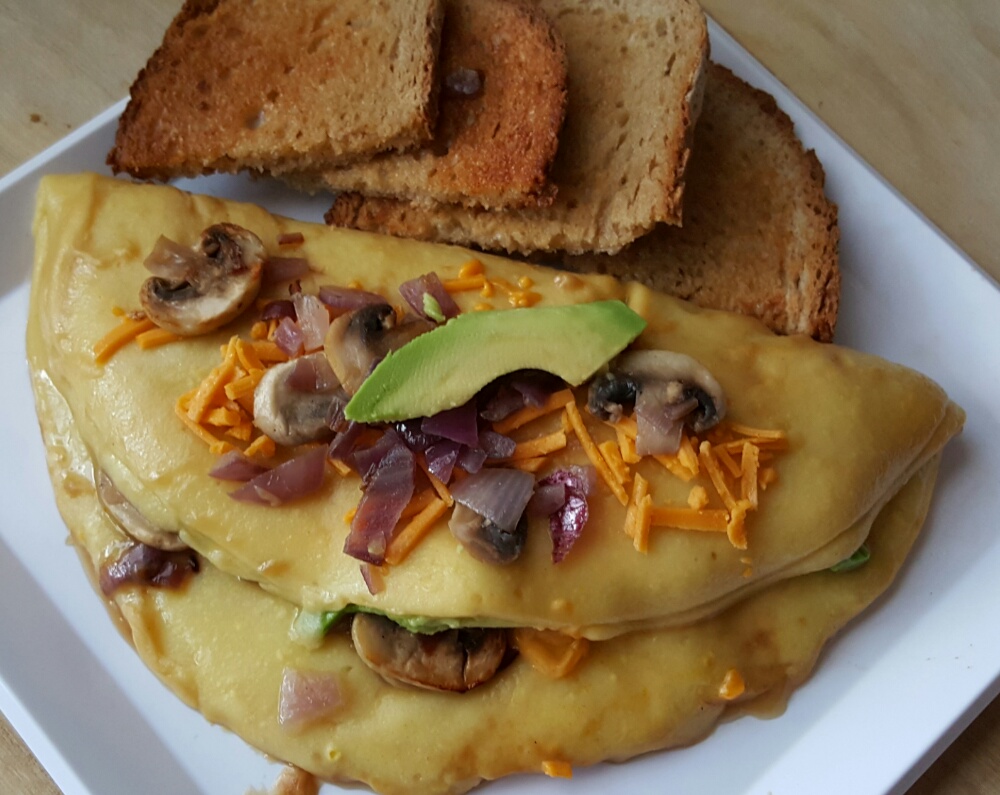 The VeganEgg Veggie Omelette
Ingredients
4 tablespoons Follow Your Heart VeganEgg
½ teaspoon Kala Namak (Himalayan Black Salt)
1 cup ice-cold water
1 tablespoon vegetable oil
¼ cup onions, chopped
¼ cup mushrooms, sliced
¼ cup vegan cheese, shredded
¼ avocado, sliced
Instructions
In a medium non-stick frying pan, heat the oil over medium heat. Add the mushrooms and onions and cook until soft. Remove from the pan. Keep the pan hot, adding a little more oil if necessary.
Measure out the VeganEgg in a small bowl and mix in the black salt. Slowly whisk in the cold water, whipping until smooth.
Pour the VeganEgg mixture into the same pan.
As it starts to cook, gently use a spatula to lift the edges and let some of the uncooked VeganEgg flow toward the edges and cook.
Allow to cook for 2-4 minutes until the center looks dry.
Add most of the cheese and cooked vegetables to one half of the omelette.
Carefully fold the omelette in half. Allow to cook for 2-3 three minutes on each side, until the vegan cheese is melted and the omelette looks done.
Slide onto a plate and sprinkle with the remaining cheese and vegetables.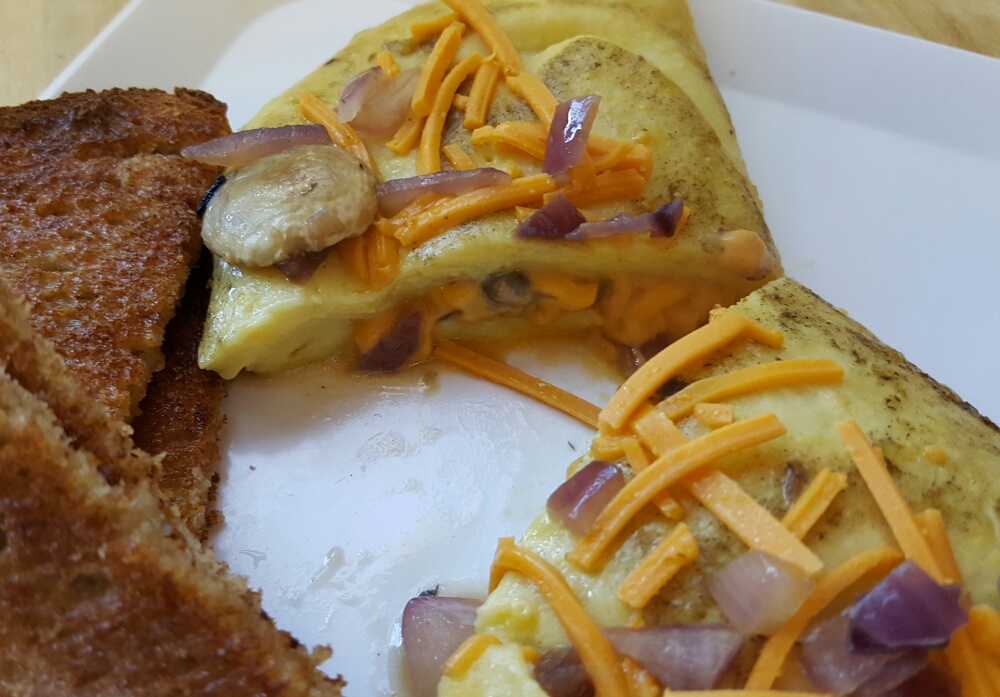 You may notice by my pictures that my first omelette didn't have avocado, even though it's in the recipe. That simply because I was out, a fact I remedied by the time I made my second omelette! Actually, you can use any vegetables that you like, use vegan cheese or not, as you prefer, or make other changes to make the omelette perfect for you.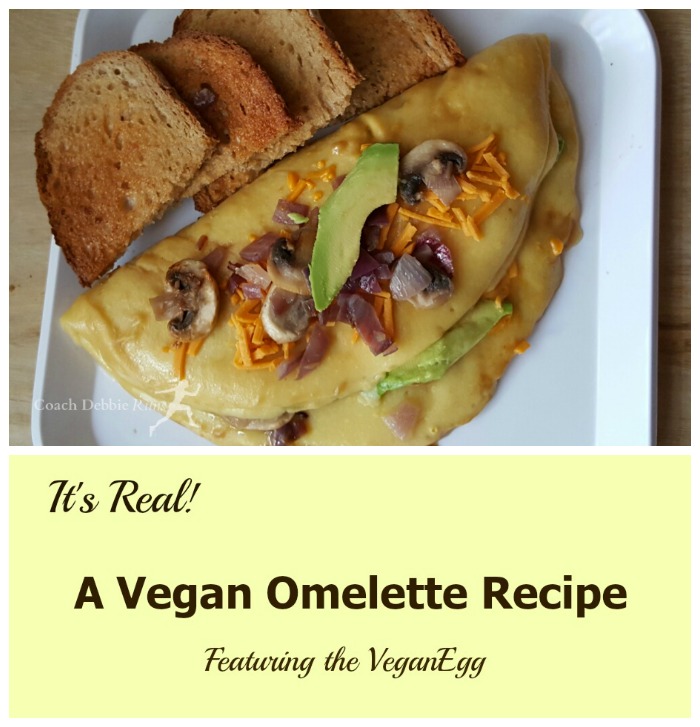 The VeganEgg will also substitute for any eggs used in baking. I can't wait to try it out!
What would you put into your perfect omelette?
---
My weekly linkups! Please stop by and check out all of the great recipes, workouts, and information that all these awesome bloggers share every week!
Sunday Blog Hop with Jenn
Meatless Monday with Tina and Deborah
Meatless Monday with Annmarie 
Inspire Me Monday with Janice
Anything Goes with Marilyn
Bonnie, the Pin Junkie
Tip Tuesday with Debbie in Shape
Wild Workout Wednesday with Annmarie, Michelle, Sarah, and Angelena Marie
Wednesday Wisdom with Nanna's Wisdom
The Blogger's Pit Stop with Kathleen
Friday Fitness with Jill