I have a lot of race pictures hanging around my house. I ran my first race (a 10k) in 1994, my first marathon in 1996, and over the last 20 years I've probably finished more than 100 races of various distances. While I don't always purchase the photos from a race, I have amassed a pretty good collection over the years. Every picture tells a story from my racing history. It is fun look at the pictures and think back on each racing adventure. Here are a few of my favorites.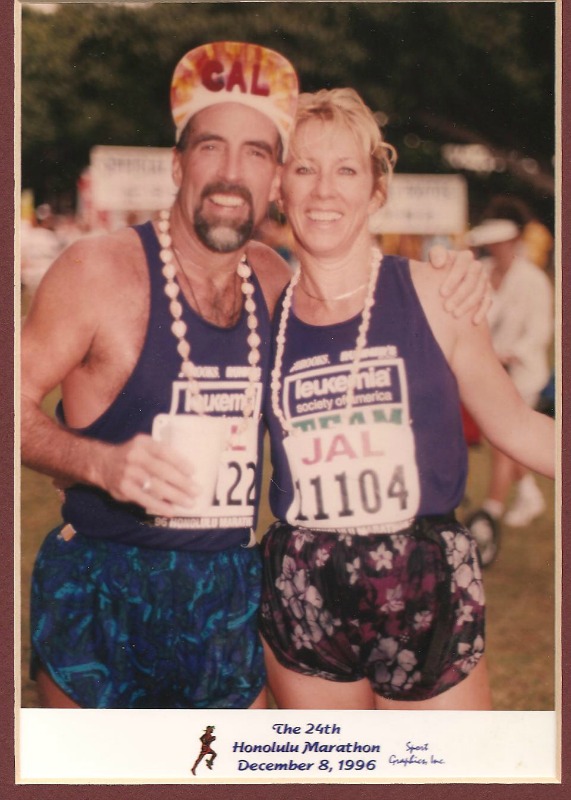 My first marathon. Alan, who is faster than me, ran the whole race with me. Of course, he had to run ahead from time to time, just to keep himself from getting bored running at my 4:10 finishing pace. Two big memories: At about mile 21, Alan had run ahead and I was running alongside another man. My exercise induced asthma had kicked in at mile 16, so I was having a tough time. Suddenly Alan came running back toward us and said, "Only 5 more miles to go," sounding very perky and fresh. The man I was running with said, under his breath, "sometimes you must just want to kill him!" A mile later, I was running alone. I turned a corner when a group of girls started yelling, "Go Debbie! You look great!" I was amazed until Alan ran out from where he was hiding behind them. More memories of my first marathon here.
We came back five more times to Honolulu (best part, besides the marathon, was the week we spent in Kauai each year after the race). This picture is from 1998. I was in great running shape and I was determined to run a PR in this race. Best moment was hearing Alan tell me a story about a man we knew from Kauai, a good runner, who saw Alan waiting for me at the finish. When Alan said that my best marathon time was around 3:50, the man kind of laughed and said, "you'll have a long wait." I showed him. I finished in 3:29 that year!
The San Francisco Marathon has changed courses many times over the years. This was my first SF Marathon, and the last time that they used this course (which I still think is my favorite). We started on the Marin County side of the Golden Gate Bridge. It was freezing and foggy as we waited for the start in the staging area. The first miles were running across the bridge (the last time for years that the race ran over it). The best part though, was that we finished in Kezar Stadium which was the former home of both the San Francisco 49ers and the Oakland Raiders. There really is no experience like finishing a marathon on the track of a stadium, with a crowd in the stands cheering you on.
This is from the first time Alan and I ran the Paris Marathon, in 1998. I actually had this photo blown up into poster size and it still hangs in our entry way. We raised money for Fred's Team. I can't even pick a favorite moment in the race. It was all amazing. I did write the whole story here, though.
 We went back to Paris (on our own dime) in 2001. While this picture wasn't an official race photo (we carried our own disposable camera), it is my favorite race picture of all time so I had to include it. One thing I love to think about. In spite of over 30,000 runner in both of our Paris Marathons, and stopping to take a lot of pictures, we still finished (together) in around 3:50. The good old days.
The Los Angeles Marathon in 2000. It was cold (about 40 degrees), windy, and pouring rain. We were soaking wet before we even started the race. Alan was smart and turned around at mile 5. My girlfriend and running partner, Linda, and I stuck with it. We ran the whole race in our garbage bags (the next year they started adding rain ponchos in the goody bag). I also kept my throwaway sweatshirt on, which must have weighed five pounds by the finish. We persevered, even though my asthma was so bad that I didn't even bother putting away my inhaler after mile 20. We finished together in 3:33, another proud moment. I couldn't have done it without her.
Another race in the rain (it was raining during every race we ran in the first half of 2000) with both my running partners. It wasn't nearly as cold though, so we all finished and looked pretty good at the end.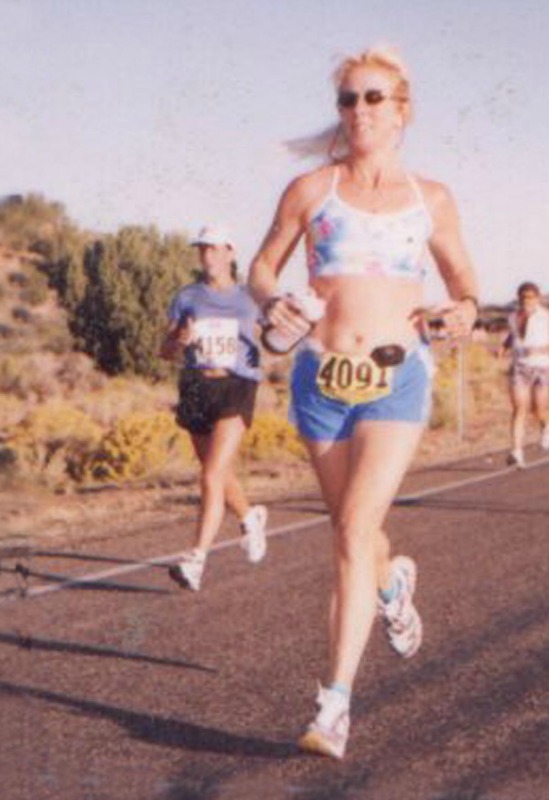 My marathon PR race, St. George in 1999. I ran 3:16: 24 in spite of two potty stops and basically hitting the wall at mile 20. One great memory from St. George is the start line. After busing you up to about 5,000 feet elevation, you are dropped off at the start line, where it is freezing and windy. To keep you warm, they build open fires. The downside of that, of course, is the smoke. It is very tough to stay warm and avoid breathing in the smoke from the fires. When we returned the next year (I really wanted to beat that time), we stocked up on throwaways from a St. George second hand store. We stayed pretty cozy and warm without having to get near the fires.
This is my favorite half marathon memory and Mom moment: Crossing the finish line of the La Jolla Half Marathon with my son in 2008. It was a long road for him to get there, and part of the amazing turnaround of his life that led to his marriage to a wonderful woman and the birth of my grandson (who will be a year old on Friday!).
I have competed in two triathlons in my life, both sprints. This picture was from the first. Let me start by saying, swimming is just not my thing. Alan swears that if I practiced I would come to love it as much as he does, but I'm just not feeling it. Ask me why then I chose for my first triathlon an open water swim from the beach in Imperial Beach. Of course, it happened to be in the roughest water of the summer. I loved the bike ride though!
I have also ridden about 20 or so century bike rides. This is from the Stagecoach Century, one of the few that I rode without Alan. The most memorable thing about it was that it was really, really windy that day, with gusts up to 50 miles per hour. It was an out and back course, with the first half not only into the wind, but uphill. That made for a fun return though. Nothing like hitting 30 mph on the flats with little effort! I had about a 1.5 hour negative split! I also got a bit of a kick when I went to the site to get the link for this post. There is still a picture of me riding from 2008!
This is another poster that hangs in our hallway. Alan ran in the 100th running of the Boston Marathon in 1996 (about a week after we met). It was his second Boston and he finished in about 3:08 (yes, he was that fast..he ran a sub-3 to qualify). The rest, well, the rest is his story to tell.
I hope you'll excuse me while I live in my racing past. I used to train pretty hard, but these days there are no more PRs for me, so I enjoy reliving my somewhat fast history.
What are your favorite race memories? Do you have a race photo that brings all those memories back to you?
Have a safe and wonderful Thanksgiving!