I love using seitan in my plant-based recipes. It is a perfect substitute for any kind of meat, it's high in protein, and it has a meaty texture that even omnivores will love. With this easy homemade seitan recipe, it is simple to make your own "wheat meat" in just about an hour (including simmering time).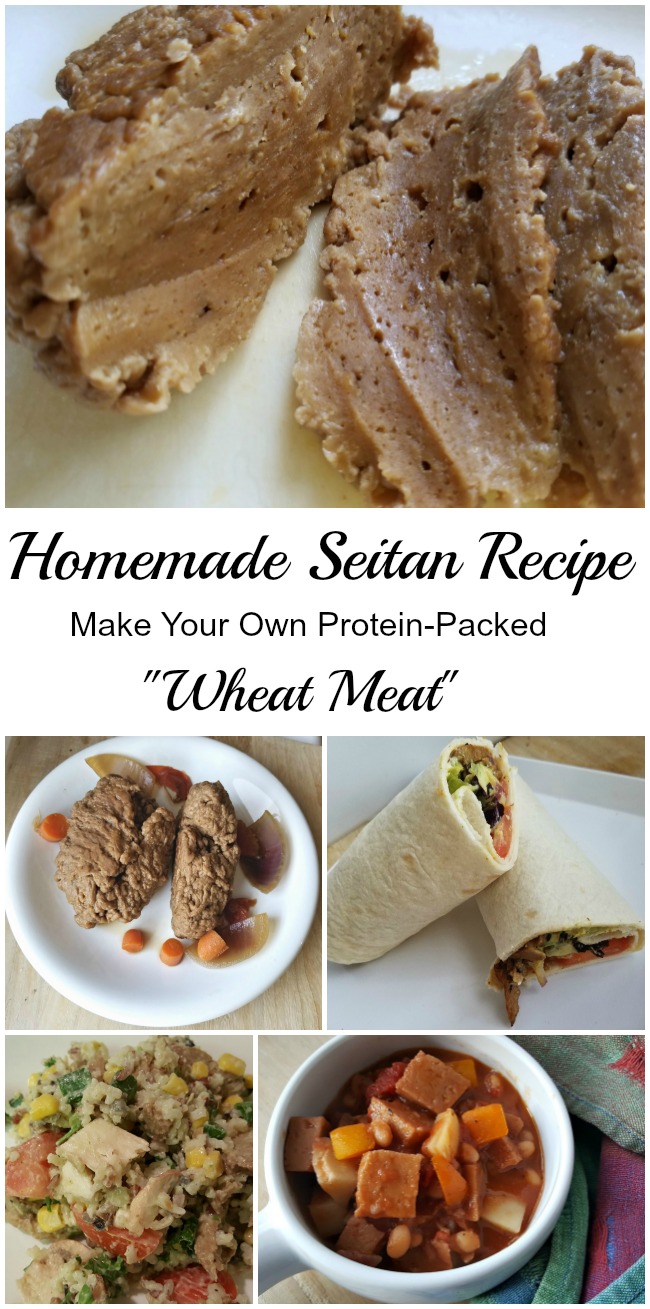 What is Seitan?
When I post a seitan recipe, one of the questions I always get is, "what is seitan?" Because it's been such a cooking go-to for me for so long, I forget that other people don't always know what it is!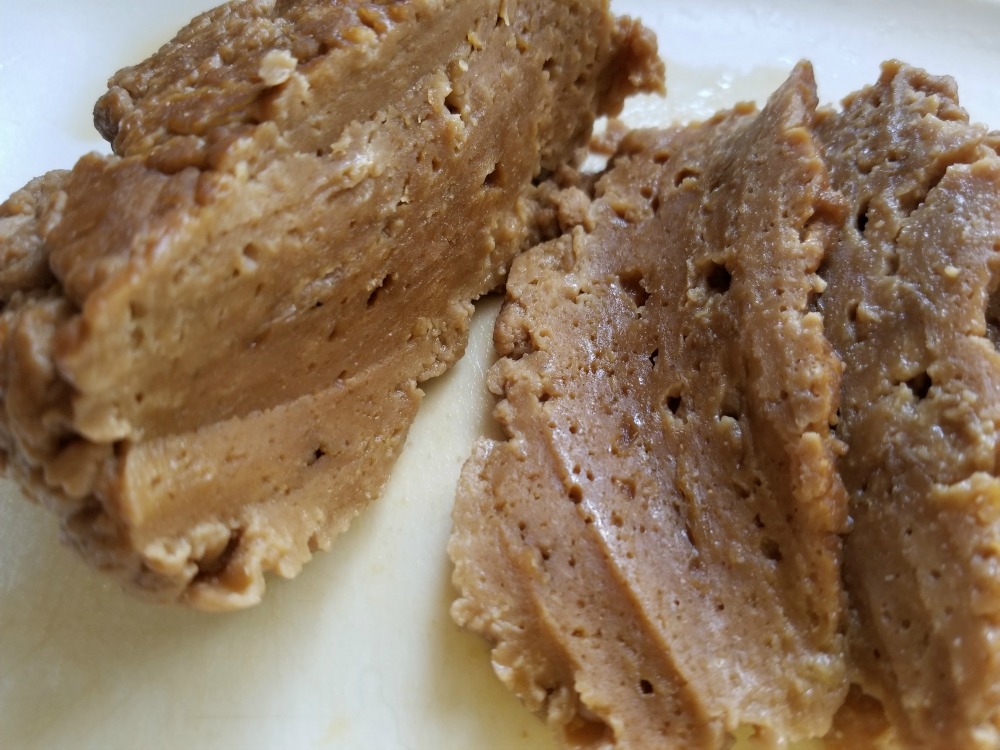 Seitan is made from wheat gluten. It has a very meaty texture and can be seasoned in many different ways, depending on the recipe you want to make. While this is a basic and easy homemade seitan recipe, small changes in the ingredients can make it taste more like chicken, sausage, fish or almost any type of meat you'd like to substitute for.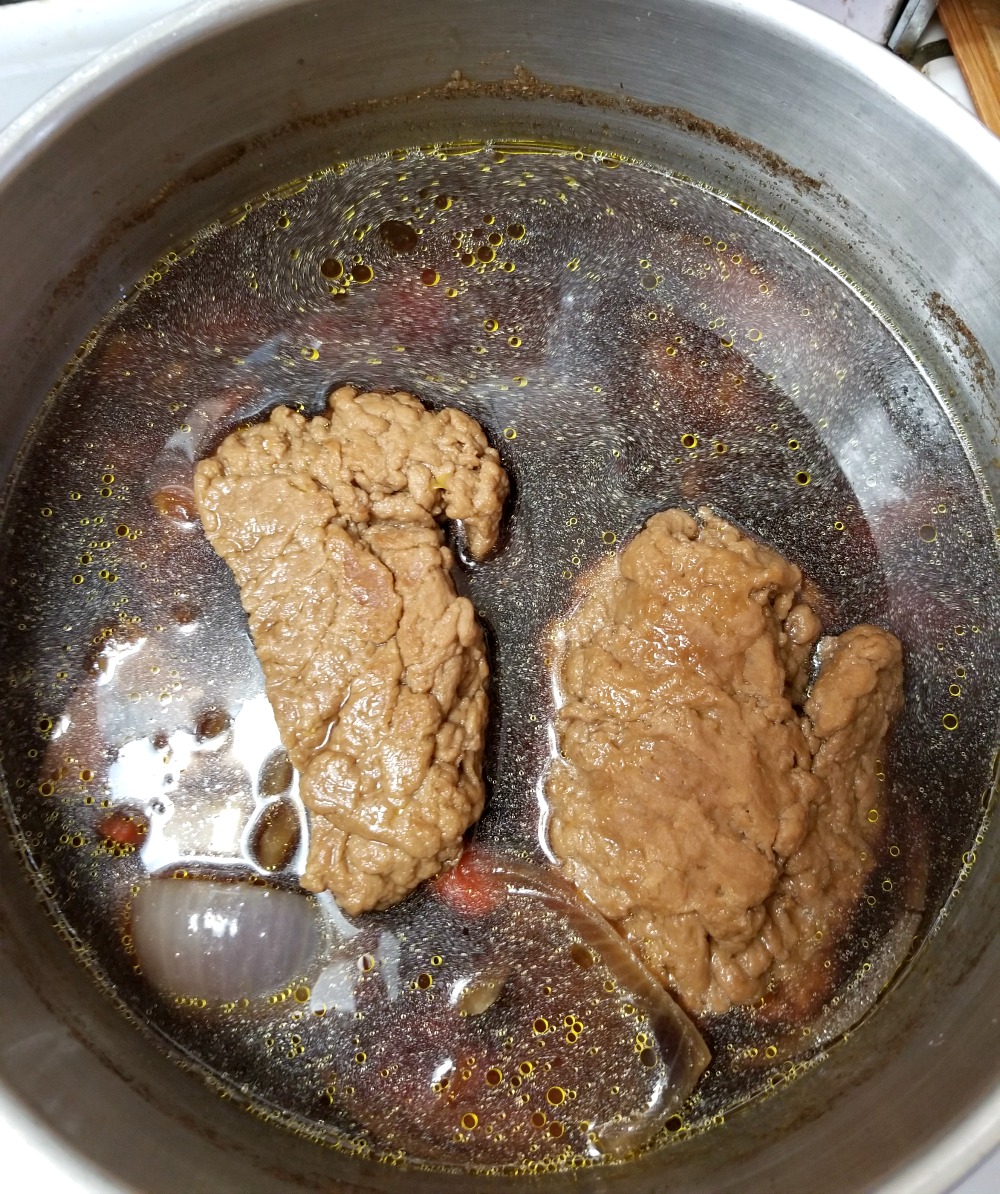 In the "old days" of cooking, preparing seitan involved separating the gluten, which is a wheat protein, from the starch, a long and boring process that involved rinsing, squeezing, and repeating, until just the high protein gluten remained.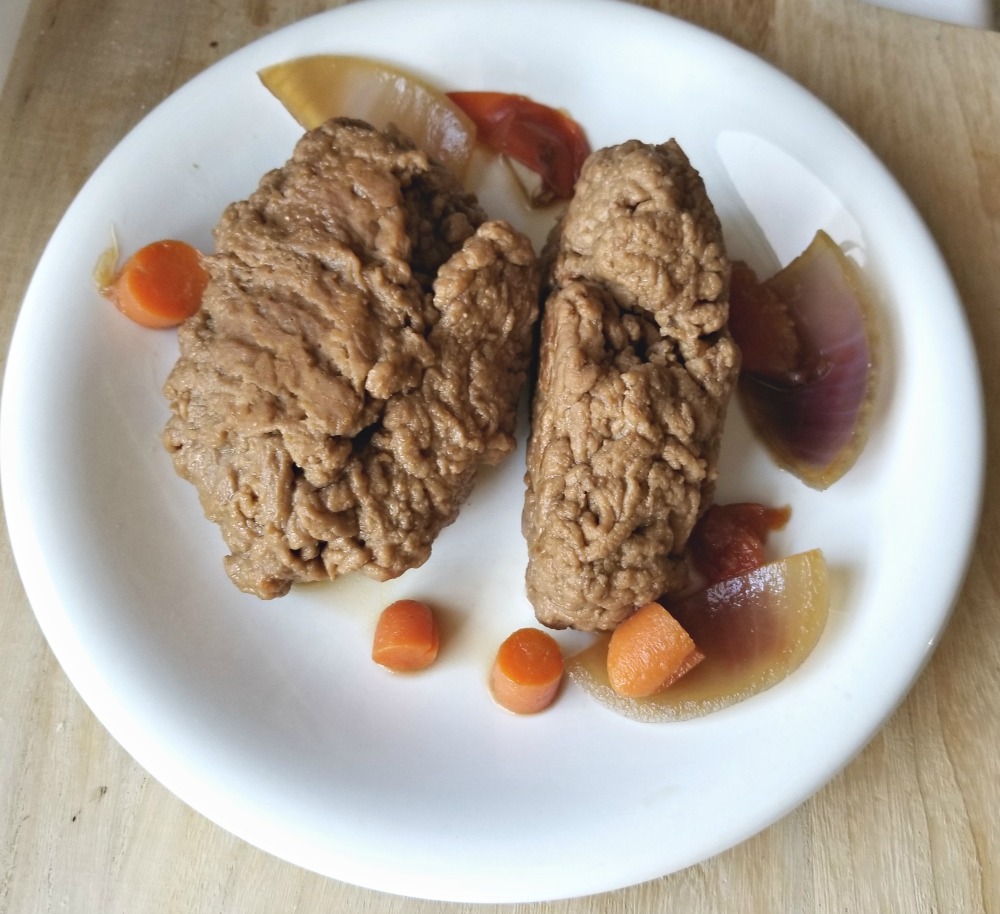 Fortunately, this is no longer necessary because it is possible to buy Vital Wheat Gluten in most supermarkets. I used Bob's Red Mill, which is also available online (<–affiliate link). By simply mixing the gluten with seasonings, nutritional yeast, and vegetable broth you can make seitan in about an hour.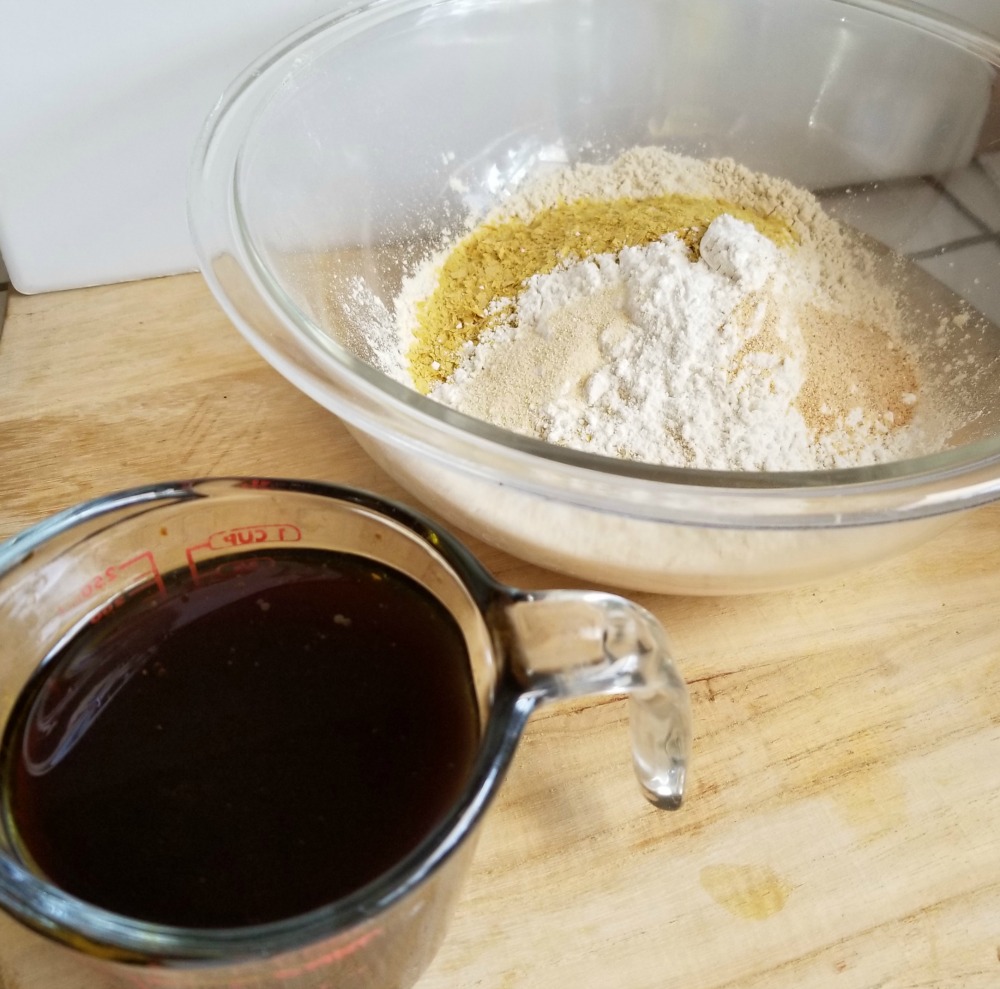 Seitan is very popular with vegetarians and vegans, or those who wish to consume less meat for many reasons. First and foremost, the texture is very meat-like, making it easy to substitute into any recipe. It is high in protein, can be made soy-free by replacing the soy sauce with liquid aminos, and can be seasoned in so many ways. While this is an easy seitan recipe to make at home, it can also be purchased at most health food stores and some supermarkets.
Easy Homemade Seitan Recipe
This is my favorite easy seitan recipe. I do sometimes play with the seasonings, but this version is versatile and can be used in many different recipes. I even used it for my lunch today, just after I finished making it! I browned it a little and made a roll-up!

Quick and Easy Seitan Recipe
Vegan and Vegetarian
Ingredients
1½ cups vital wheat gluten
2 Tablespoons white flour
2 Tablespoons nutritional yeast
1 teaspoon garlic powder
½ teaspoon onion powder
¾ cup vegetable broth
2 Tablespoons Soy or Tamari sauce
2 Tablespoons olive oil

For the cooking broth:
8 cups water
1 onion, quartered
2 carrots, cut into medium pieces
4-5 cloves garlic, crushed
1 tomato, quartered
Instructions
In a large pot, add all the cooking broth ingredients. Bring to a boil as you're preparing the seitan dough.
In a large bowl, combine all the dry ingredients.
In a small bowl or measuring cup, combine the broth, oil, and soy/tamari sauce.
Create a small crater in the dry ingredients, add the liquid ingredients, and whisk together.
Knead the dough for about five minutes, until it is fairly smooth and has a rubbery texture.
Divide in half and form into two loaves.
Add to the boiling cooking broth and reduce the heat to medium-low.
Simmer for 50 minutes, turning once about halfway through.
Allow the seitan to cool in the cooking broth.
Use immediately or transfer to a storage container and cover with the strained cooking broth for up to a week. It can also be frozen (without the broth).
What Can You Make with Seitan?
You can pretty much use seitan as a meat replacement in any recipe. If you'd like a little guidance, here are a few of my favorites (just click on the title or the photo).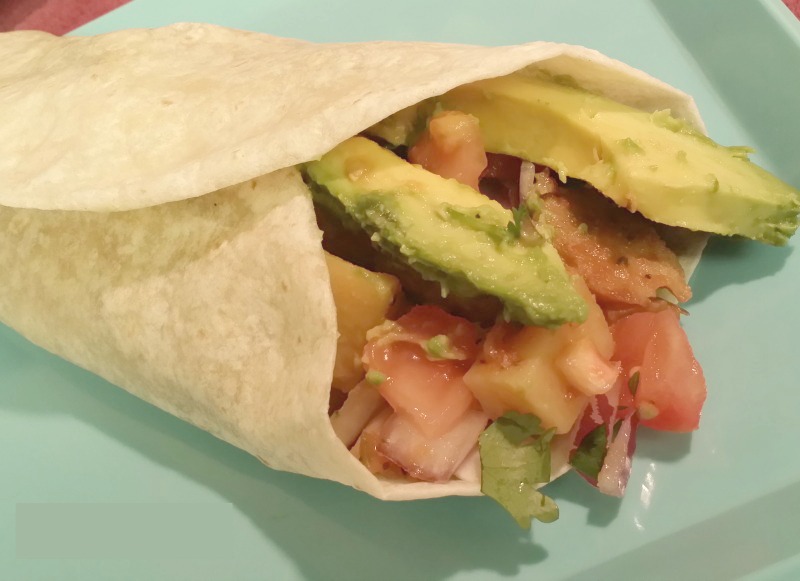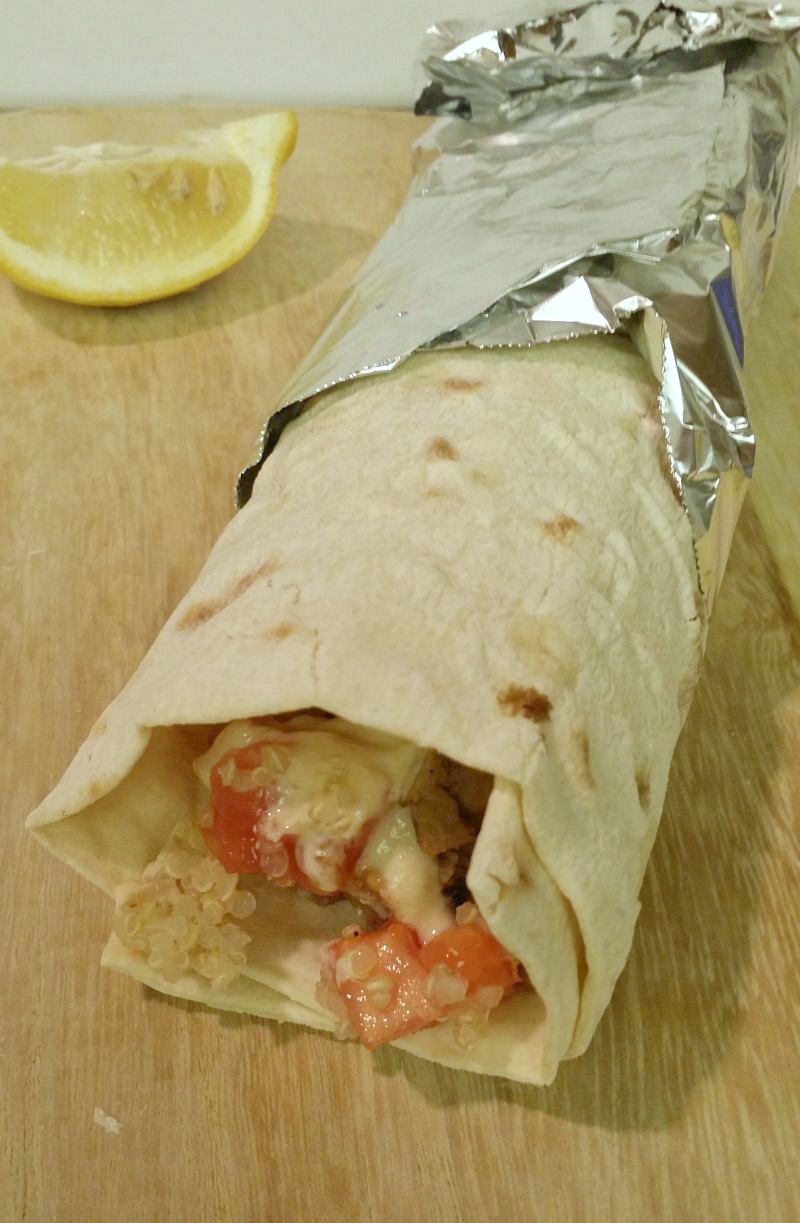 These are just a few of my seitan recipes! If you want more, just search "seitan." And I'll apologize in advance for the quality of some of the photos. I started blogging in 2009 and I haven't always kept up with updating my food photos even on some of my favorite recipes.
Have you tried seitan before? Did you even know what it was before?
---
Weekly Linkups
My weekly linkups! Please stop by and check out all of the great recipes, workouts, and information that all these awesome bloggers share every week!
Meatless Monday with Sarah and Deborah
Meatless Monday with Annmarie  and Dixya
Tuesdays on the Run with Marcia, Erika, and Patty
Inspire Me Monday with Janice
Wild Workout Wednesday with Annmarie, Jen, and Nicole
The Plant-Based Potluck Party with Deborah
The Running Coaches' Corner with Rachel, Suz, Lora Marie, and Me!
Friday 5 2.0 with Rachel and Lacey & Meranda