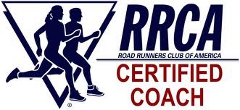 Welcome to Coach Debbie Runs coaching! I am an RRCA certified coach and a Level 1 USA Track & Field certified and registry approved coach with more than 13 years experience in training athletes. I was the cross country coach at a local high school for 13 years. I'm also an AFAA certified personal trainer, and hold certifications through IFPA in Sports Conditioning, Flexibility, Sports Nutrition, and Running.
Personally, I've run 36 marathons, with a personal best time of 3:16:38 (7:30 per mile – St. George Marathon). Not bad considering it took me 4:10 in my first 26.2. I've run dozens of races of shorter distances. My other PRs:
Half Marathon- 1:33:11 (7:06 per mile – Palm Springs Half Marathon)
15k-1:05:54 (7:05 per mile – Coronado Independence Day 15k)
10k- 42:47 (6:54 per mile – La Quinta Gem of the Desert 10k)
5k- 19:52 (6:25 per mile – La Quinta Gem of the Desert 5k)
(An interesting side note. I ran my PR in the 5k and 10k on the same day, when I did both events back to back.)
SERVICES
I mostly do online coaching but if you live locally in the La Quinta area we could work out some one-on-one coaching. Please contact me for more details.
Online coaching can prepare you for you next race. Your training plan will be designed based specifically on your experience, goals and training needs.  This package includes:
an initial consultation where we'll discuss your current fitness level, any injuries, recent training, goals, etc.
a customized training plan for your race
frequent check-ins via email to track your progress and adjust your training plan as necessary
A personal phone call each week to touch base regarding your progress
access to a coach for questions, advice and tips, racing strategies, etc.
race day preparation
hydration and nutrition solutions
If you would like ongoing coaching for a series of goals or races, or if you would simply like a customized training plan, I would be happy to work with you. Email me at the address below for pricing.
CONTACT
Questions? Please feel free to contact me at debbie@coachdebbieruns.com