I told you a few weeks back after our trip to Big Bear that my new cooking goal was to figure out how to prepare the Chana Masala that we enjoyed at the Himalayan Restaurant.
I'm happy to say that after much experimentation, recipe combining, and endless tasting, I've created a dish that just feels right (and tastes delicious). This Chana Masala is not only tasty, it's easy and quick to make. It's already become a keeper in my kitchen.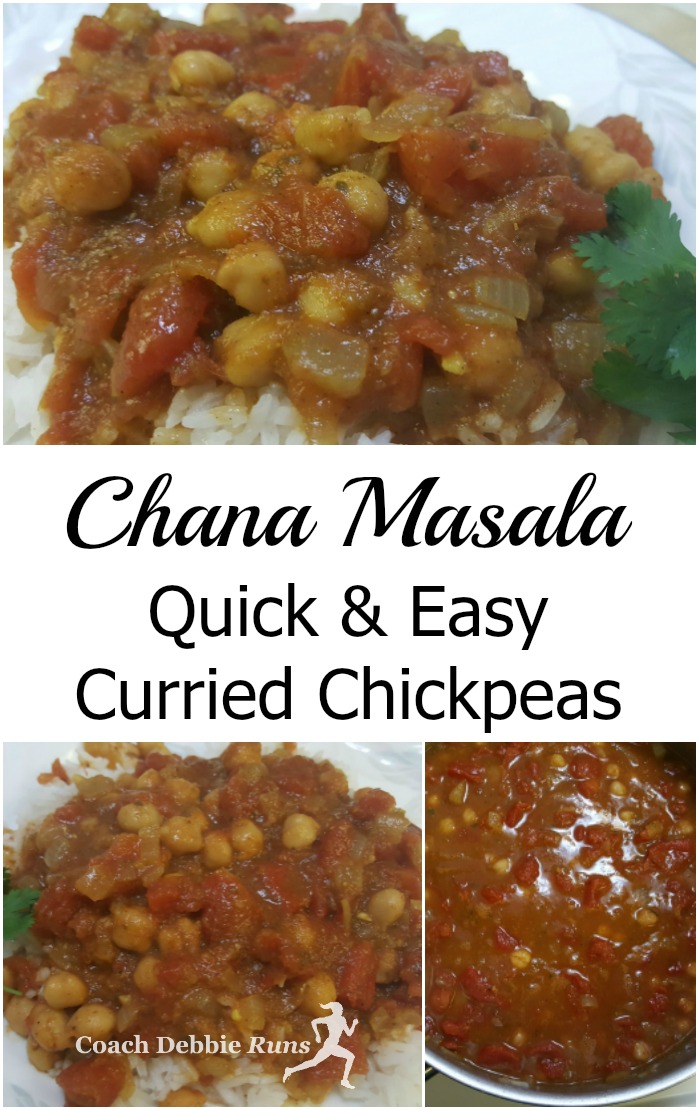 Chana Masala is naturally vegan and potentially gluten-free (just omit the asafetida). It is spicy, delicious, and amazingly easy to make.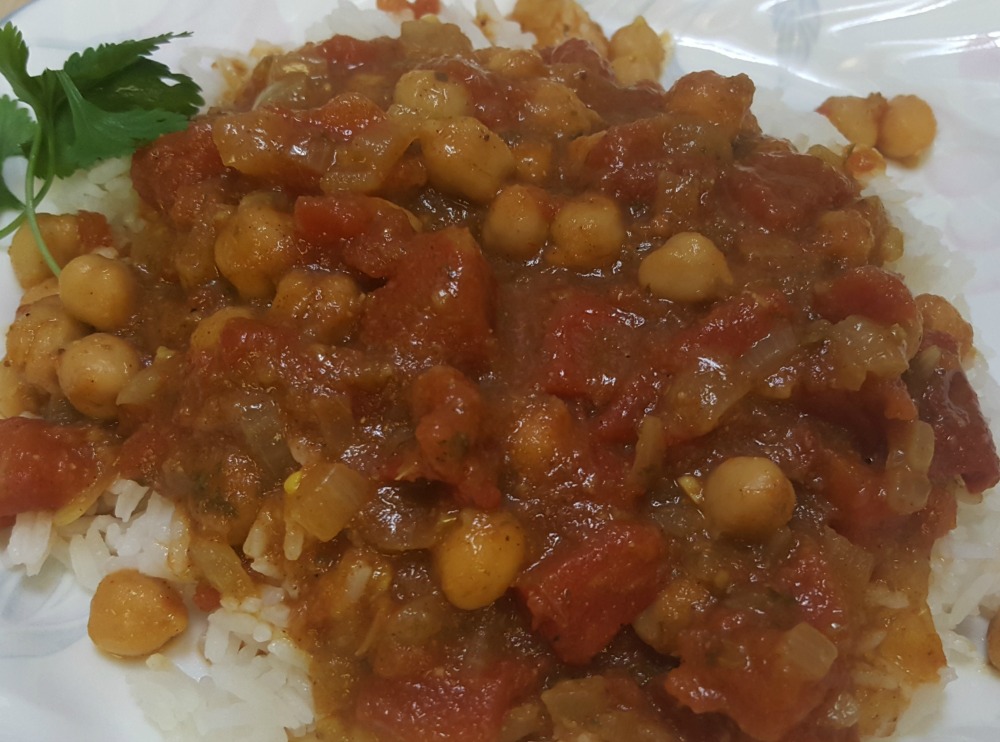 I love it with rice, but if you prefer you can eat it alone, or use quinoa, couscous, or even pasta. Using canned beans and tomatoes reduces the cooking time so that this is a meal that can be prepared in less than an hour, making it perfect for a busy day or after work.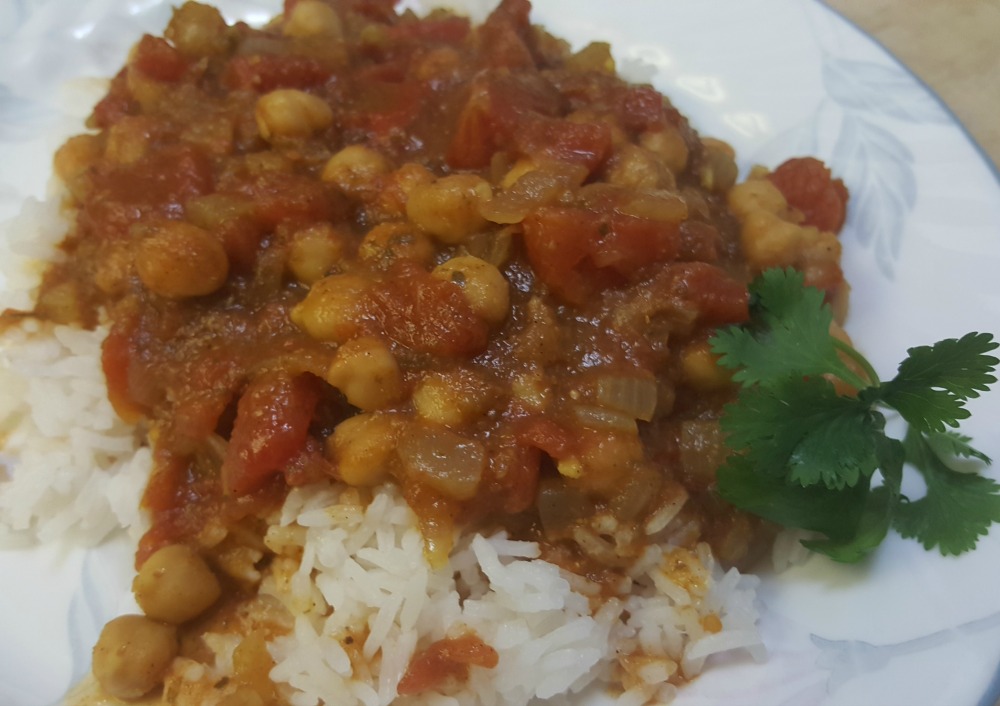 Chana Masala: Quick and Easy Curried Chickpeas
Chana Masala: Quick and Easy Curried Chickpeas Recipe Type : Vegan Cuisine: Indian Author: Debbie Prep time: 15 mins Cook time: 30 mins Total time: 45 mins Serves: 4-6
Recipe type:
Vegan, Vegetarian
Ingredients
2 Tablespoons garlic, minced (about 4-5 cloves)
2 Tablespoons ginger, grated
½ cup cilantro, chopped
2 serrano peppers, chopped (you can seed them if you want a milder sauce)
2 Tablespoons Olive or Coconut Oil
1 white onion, diced
2 teaspoons ground cumin
1 teaspoon salt
2 teaspoons garam masala
1 teaspoon chili powder
1 teaspoon coriander
1 teaspoon turmeric
¼ teaspoon cayenne pepper
¼ teaspoon asafetida (optional, omit to make gluten-free)
2 15 ounce cans diced tomatoes, undrained
2 15 ounce cans garbanzo beans, drained
1 tablespoon lemon juice
½- 1 cup water
Cilantro for garnish
White or Brown rice
Instructions
Prepare the rice according to package directions.
In a blender, combine the garlic, ginger, cilantro and pepper. Blend until you have a paste. Set aside.
Heat the oil over medium heat. Add the onion and cook until soft, about 5 minutes.
Add in the chili paste, cumin, salt, garam masala, coriander, chili powder, turmeric, cayenne, and asafetida. Stir to combine.
Add the tomatoes, chickpeas, lemon juice and ½ cup water. Increase the heat to medium-high and bring to a boil, then reduce to a simmer
Adjust the seasonings to your taste. If the chana masala looks too thick you can add a little water. You want a thick, soupy consistency.
Simmer for about 15 minutes. Serve with rice. Garnish with cilantro.
One of the great things about Indian food is that if you're missing one or even two of the spices, don't worry about it. Just use what you have, adjust the seasonings to your taste, and you will have a hearty and delicious dish.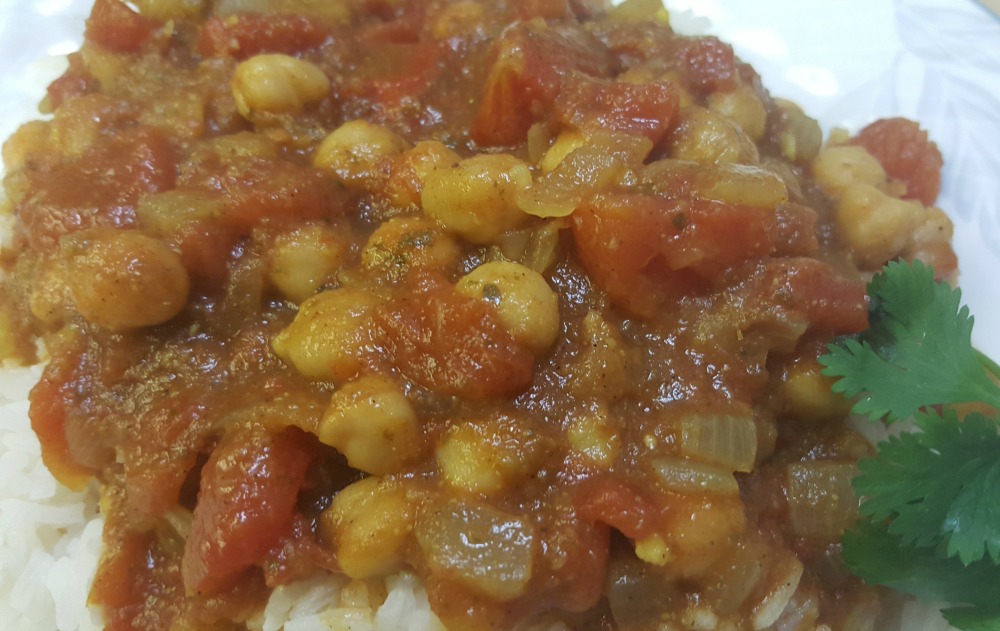 Do you like Indian food? What's your favorite dish? Have you tried Chana Masala?
---
My weekly linkups! Please stop by and check out all of the great recipes, workouts, and information that all these awesome bloggers share every week!
Sunday Blog Hop with Jenn
Meatless Monday with Sarah and Deborah
Meatless Monday with Annmarie 
Inspire Me Monday with Janice
Weekend Snapshots with Erin
Anything Goes with Marilyn
Wild Workout Wednesday with Annmarie, Michelle, Sarah, and Angelena Marie
The Plant Based Potluck Party with Deborah
The Running Coaches' Corner with Rachel, Suz, Lora Marie, and Me!
Giveaway Roundup and Try Out Thursdays with Smitha
The Blogger's Pit Stop with Kathleen
Friday Fitness with Jill