Blogging is very time-consuming, as any blogger will tell you. Way beyond actually writing a post, there is time for any research required, proofreading, editing, and creating graphics and photos. Once published, your post must be publicized, which can take hours of time in sharing to various social media outlets, exchanging shares with other bloggers, and using other methods to publicize your post.
Bloggers are busy people. Between jobs, children, spouses, and, well, having a life beyond the computer, we are all blogging on a time budget and looking for ways to make the most of our precious time.
As a personal trainer (and fascial stretch therapist!) in the California desert near Palm Springs, my job is extremely seasonal, made even more so by the fact that I work at a country club, where most of the residents have the financial means to "get out of Dodge" when the hot weather arrives. Most won't return until November, and I've been laid off since June.
I've been using this time to invest a lot of time in various projects, the principal one being this blog. I have been able to work on not only improving my content but also my social media plan, which has enabled me to double my pageviews over the last five months.
My fear is that once I go back to work in November, I will lose a lot of the gains that I've made. During the summer I found I could spend four or more hours a day on social media and reading and sharing other blogs. I simply will not have the time to do everything. Not and have a life too.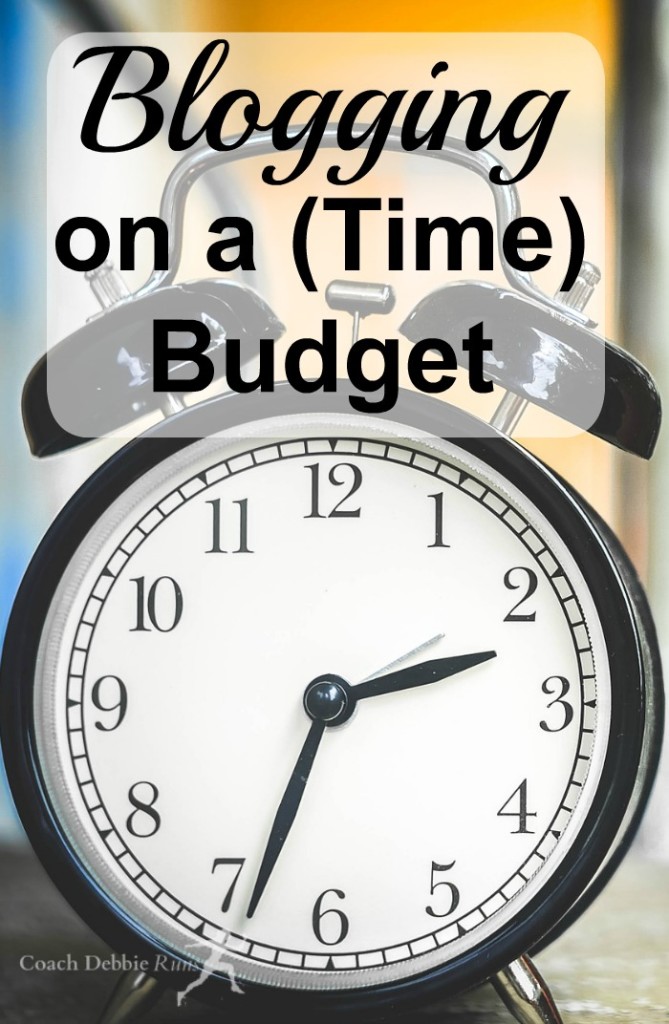 I've compiled this list of time-saving tips for blogging on a time budget that will help me get more done in less time. I think they will help you too.
Blogging on a Time Budget: 5 Tips to Help You Succeed
1. Get Organized
If you don't already do so, now is the time to start using an editorial calendar. It doesn't matter whether it is a paper and ink version, the free WordPress Editorial Calendar, or a full-featured calendar like Co-Schedule. Whatever works for you is best. Fill in your post ideas, your deadlines, notes, and other details. You will be planning in advance what you will be blogging. No questions, worries, or flying by the seat of your pants.
2. Schedule Your Time
If you have ever tried to finish up a blog post while the children are crying, the phone is ringing, and you're trying to prepare dinner, you know that not only does the post frequently sound somewhat disjointed because of the multiple interruptions, it can also take you twice as long to complete because you will continually lose your train of thought.
If you can possibly schedule blocks of time through the week, where you can work without interruptions, you will find that you will actually save yourself time (and a bit of stress, too). Use this time not only to write your posts, but to do the work involved in maintaining your blog: brainstorming ideas, returning emails, blogkeeping tasks, etc.
3. Social Media Strategy
Have you ever been sucked up by social media? You head over to Twitter to post a couple things, then, an hour later you've had some nice conversations, but you've lost an important chunk of your time. Yes, being social is what social media is all about, but when you need to make the most of your time, you must have a social media strategy.
Set aside some time during the week to schedule most of your social media posts. There are many tools out there to help, including Hootsuite and Buffer to schedule tweets or Facebook posts, Tailwind, Boardbooster, and Ahology for scheduling to Pinterest. Most have free or trial versions, so try a few out to see what works for you.
You can't totally ignore social media after that. After all, it's not all about selling your goods. Be sure to check in when you can, spend a few minutes engaging with your followers or share information with them. Just don't let it suck you in.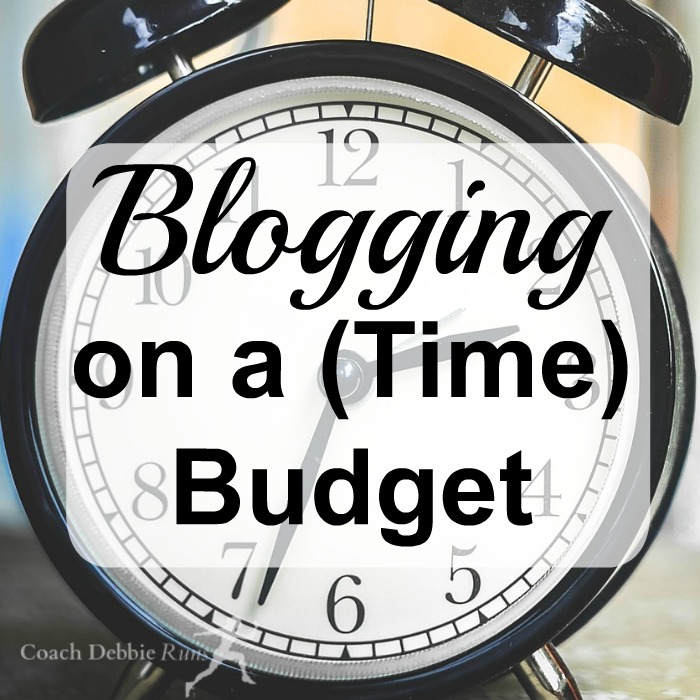 4. Repurpose Content
If you've been blogging for a while, chances are you have some older posts that provide great information that would be worthwhile repurposing. Certain posts provide evergreen information that needs to be shared again. Others can be updated because certain information has changed and your readers should be informed.
There are a lot of ways to repurpose older content.  You can simply refresh and republish, making sure that the information and links are up to date. You can take an old list post and break out the items, crafting a new post around one or two of the items. For example, with this list post, I might later create an entire post about getting organized with editorial calendars (or one about repurposing content).
5. Rethink Your Expectations
Finally, if you've tried some of the above suggestions and still find yourself struggling to keep up and stressed out by the whole thing, it may be time to rethink your expectations. Your readers deserve quality content, and if you can only achieve that once or twice a week, instead of four or five times, that's what you should do.
Take a moment to think about your priorities. Make a list of what is important in your life, your children, job, spouse, friends, blogging, fitness, and other interests, and take a hard look at it.  Yes, you want to make time for all of it, but, can you do that and still excel at everything. And not live in a state of stress 24/7?
Putting some or all of these tips into use can really help you save time, reduce your stress, and get the most out of blogging.
How do you make the most of your blogging time? What tools or strategies help you?
---
My weekly linkups! Please stop by and check out all of the great recipes, workouts, and information that all these awesome bloggers share every week!
Sunday Blog Hop with Jenn
Meatless Monday with Tina and Deborah
Meatless Monday with Annmarie 
Inspire Me Monday with Janice
Anything Goes with Marilyn
Bonnie, the Pin Junkie
Tip Tuesday with Debbie in Shape
Wild Workout Wednesday with Annmarie, Michelle, Sarah, and Angelena Marie
Wednesday Wisdom with Nanna's Wisdom
The Blog Booster Party with Kathleen
Friday Fitness with Jill