I have spent my summer trying to improve my Pinterest game. As a result, I have seen a big increase in my referral traffic to my blog. Yay! In addition to joining quite a few collaborative boards, I also started using both Board Booster and Ahalogy to schedule pins. I also participate in several Facebook groups that share each others' content.
That means I'm pinning and re-pinning a lot of content, some of it great, some good, some not so much. I see a lot of Pinterest mistakes that, if corrected, could help other bloggers increase their following, their repins, and their referral traffic. Are you making these Pinterest mistakes?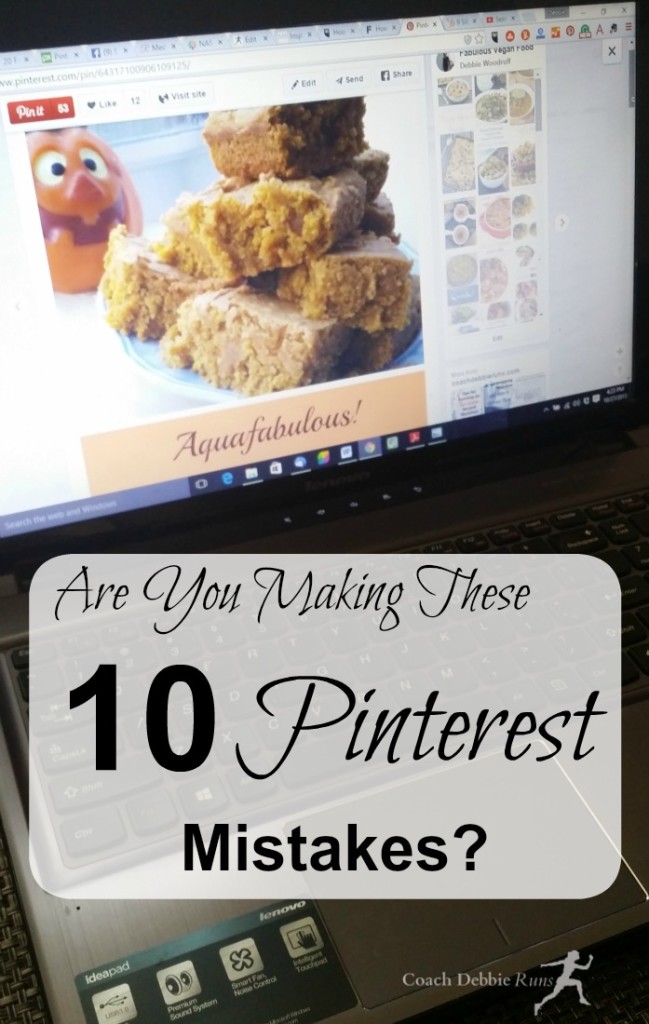 Are You Making these Pinterest Mistakes?
Horrible Pictures
I thought everyone knew this by now. The better the picture, the more likely that it will be repinned and that people will follow the link to your blog. I understand that we are not all Ansel Adams. I most certainly struggle with my photography skills. Still, you must take the time to take the best picture, with the best lighting and angles, that you can.
And please make it relevant to the topic! The main "pinnable image" in a post about traveling to Paris should not be a selfie of the author (unless she is standing in front of the Eiffel Tower, then maybe).
Yes, there are certain suggestions about the size and shape that your picture should be, basically long and narrow, so that it takes up more Pinterest "real estate." That's fine, but that's not what I'm talking about. I just want a pretty picture.
Not Everything is "Pin-Worthy"
Now, why did that make me think of Seinfeld? Never mind. You may disagree with me, but I believe that not everything is "pin-worthy." Your recipes, workouts, fashion tips, DIY projects, race recaps, and book reviews, yes. Your weekly training recap, trip to grandma's, or trip to the dentist, is not (unless something unusual happened, then maybe).
Using Poor Captions
Have you ever pinned someone's photo and noticed that the caption was something like "Paris2"? Meaning that they didn't change the name they gave it before they pinned it. Always make sure that you update the caption on any photo that you are pinning from your blog. It should be relatively short, descriptive, and contain just a couple keywords. Don't go crazy with hashtags, they're not really relevant to Pinterest. And be prepared for people who pin directly from your blog by making sure to change the "alt text" on your photo to that descriptive phrase (instead of the name of your photo).
Not Using Descriptive Text
Here I am talking about descriptive text on your photo. You know so people can tell at a glance what it is about? Take the time, when you are editing your photos, to make at least one that has attractive and descriptive text on the photo. Be consistent with your design, and don't get too wild with fonts. PicMonkey and Canva are both great tools for this. While you're at it, take the time to watermark your photo to help protect your rights.
Not Having a Business Account
Having a business account on Pinterest gives you access to analytics, which will help you refine your goals and guide your use, and to Promoted Pins, which can help you expand your reach. Make sure to verify your website while you're at it, which will add your logo under all of your pins (even on other people's boards).
Not Using Rich Pins
The main reason I love it when people use Rich Pins is that I can see the ingredients in their recipes at a glance.  They also add a "Make It" button on mobile, which will encourage people to click through to your site.
Not Being Social
As with all social media, actually being social is key. That means going beyond sharing just your own content. Interact with people who pin your content. Like and make comments on other people's pins, and respond to comments on your own.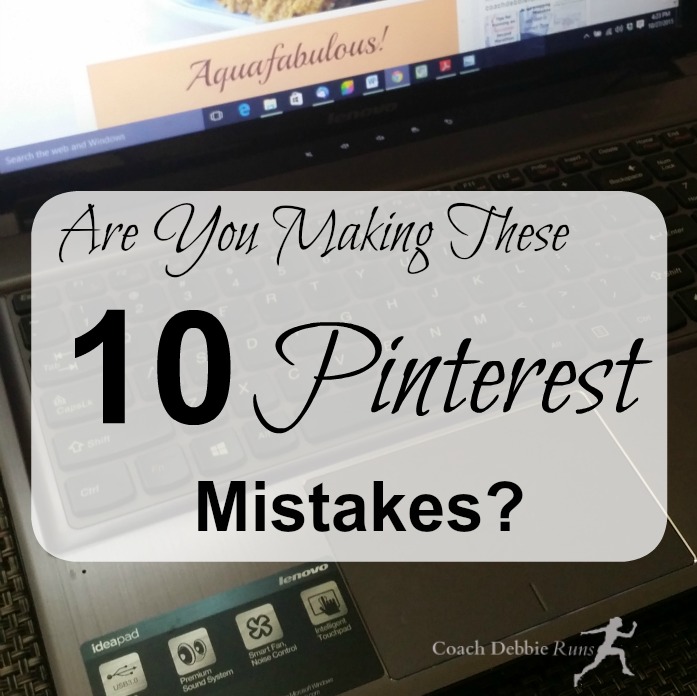 Mass Pinning
Pinning many photos at one time can clog up your followers' feed. Imagine that you are pinning one of your own posts to several boards. Your followers only see three or four of the same pin showing up in their feed. Instead, pin a few at a time at various times of the day. Or use a Pinterest scheduling tool like Board Booster or Tailwind, which will pin for you at optimal times.
Not Making Your Photos Easy to Pin
At the minimum, you should have a Pin button for each post. Better yet, have a Pin button on every image that you would like to have shared. My current favorite is the Sumo sharing button, which also allows for photo sharing to Facebook, Twitter, and Yummly.
Not Joining Group Boards
Joining and pinning to a group board can give you access to thousands of people, even if you only have 100 followers. Try using PinGroupie to find how to join group boards in your niche. Check the stats for the boards you want to join to make sure that the members are engaged.
By correcting some of these Pinterest mistakes, you will find that you will have more engagement, referral traffic, and overall success.
I know that some of my followers really are wizards at Pinterest. What suggestions do you have to help us improve our Pinterest success?
Disclaimer: I am not a Pinterest whiz. I do have good common sense, though. That is another way of saying that I don't know anything about art, but I know what I like. So you're welcome to take these tips with as large a grain of salt as you like. Oh, and this post contains a few affiliate links.
---
My weekly linkups! Please stop by and check out all of the great recipes, workouts, and information that all these awesome bloggers share every week!
Sunday Blog Hop with Jenn
Meatless Monday with Tina and Deborah
Meatless Monday with Annmarie 
Inspire Me Monday with Janice
Anything Goes with Marilyn
Link it to Me with Chantal
Bonnie, the Pin Junkie
Tip Tuesday with Debbie in Shape
Wild Workout Wednesday with Annmarie, Michelle, Sarah, and Angelena Marie
Wednesday Wisdom with Nanna's Wisdom
The Blog Booster Party with Kathleen
Friday Fitness with Jill