I'm not always a grumpy blogger. That being said, last week's post, 5 Reasons I Will Stop Reading Your Blog, struck a chord with readers. Interestingly, most readers agreed about the what they don't want to see on their favorite blogs. Taking a look at their comments, as well as approaching your own blog from a reader's perspective is a great way to improve your writing and your following.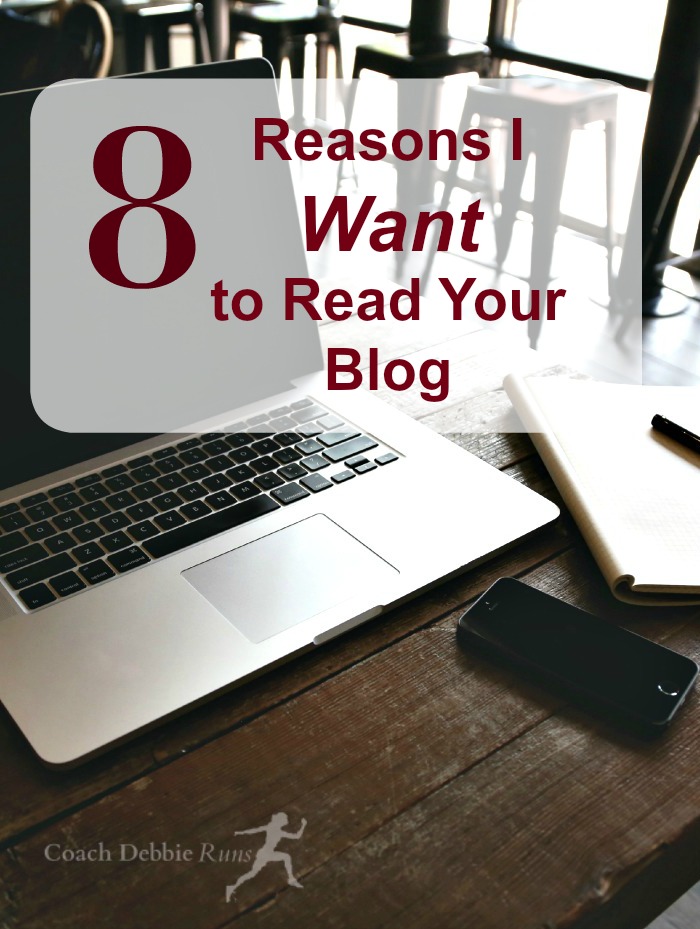 Today, I want to do a 180 and talk about the reasons I want to read your blog. People choose to read blogs for a variety of reasons. First and foremost, the topics that you write about. Nothing against you or your blog, but I'm just not interested in reading fashion blogs (I long ago gave up trying to be fashionable). My kiddos are long grown up, so parenting blogs are out (though a grandparenting blog…). My interests lie within health and fitness, running, food (vegan specifically), and blogs about blogging.
So, taking topic out of the conversation, here are the reasons that I want to read your blog.
Authenticity
You hear the word 'authentic' thrown around a lot when people are talking about what is important to project to readers, but it isn't frequently defined. To me, authenticity means staying true to yourself. Don't try to mimic another blog or writer, don't pretend to be an expert if you don't have the knowledge, and write about what you know. It means telling the truth to your readers, but it doesn't mean that you have to tell them everything about your life. Just being honest with what you do reveal.
Authenticity also means looking after your readers' best interests. If you're going to review products, you must be honest. It is not authentic to write about how you love a certain product so, so much, then two weeks later you're giving a similar review to a competitor.
Other things that come to mind about when I think about authenticity: Accountability, responsibility, charity, consistency, and maintaining core values.
Make it Easy on Me
I love to read blogs that are clean and crisp, with a large enough font that I don't have to make adjustments. Black text on a clean white background is my favorite. Bright colors make my eyes hurt.
Teach Me
Blogs that teach me something will keep me coming back. I love to read about great workouts, delicious recipes, blogging and social media tips. Other people will come for fashion tips, potty training advice, and so on. If you are an expert, or have experience in a variety of specialties, people (and I) will read.
Awww! Pretty Pictures
I love pretty pictures, don't you? Large, clear, well lit pictures of interesting subjects make me happy. Take the time to learn a little about your camera, or at least practice taking good pictures with your phone. Edit your photos if necessary to fix flaws, change the size, or brighten them.
It Looks Great on My iPad
I do a lot of blog reading on my iPad, and I frequently even use my phone, and do many other blog readers. Even though Google started punishing blogs that don't have a good mobile page, I find many blogs still have printing that is too small, overlapping ads, and those stupid sidebars that block the print on the left side of the page. So, take a look at your blog on a tablet and a phone. If it doesn't look good, and you want me to read your blog, fix it.
Keep it Interesting
Just because you write about my favorite topics doesn't make it an automatic follow. There are a lot of bloggers out there, so you must give me something interesting to read. Obviously different readers have different interests, so think about what your readers want. And give it to them.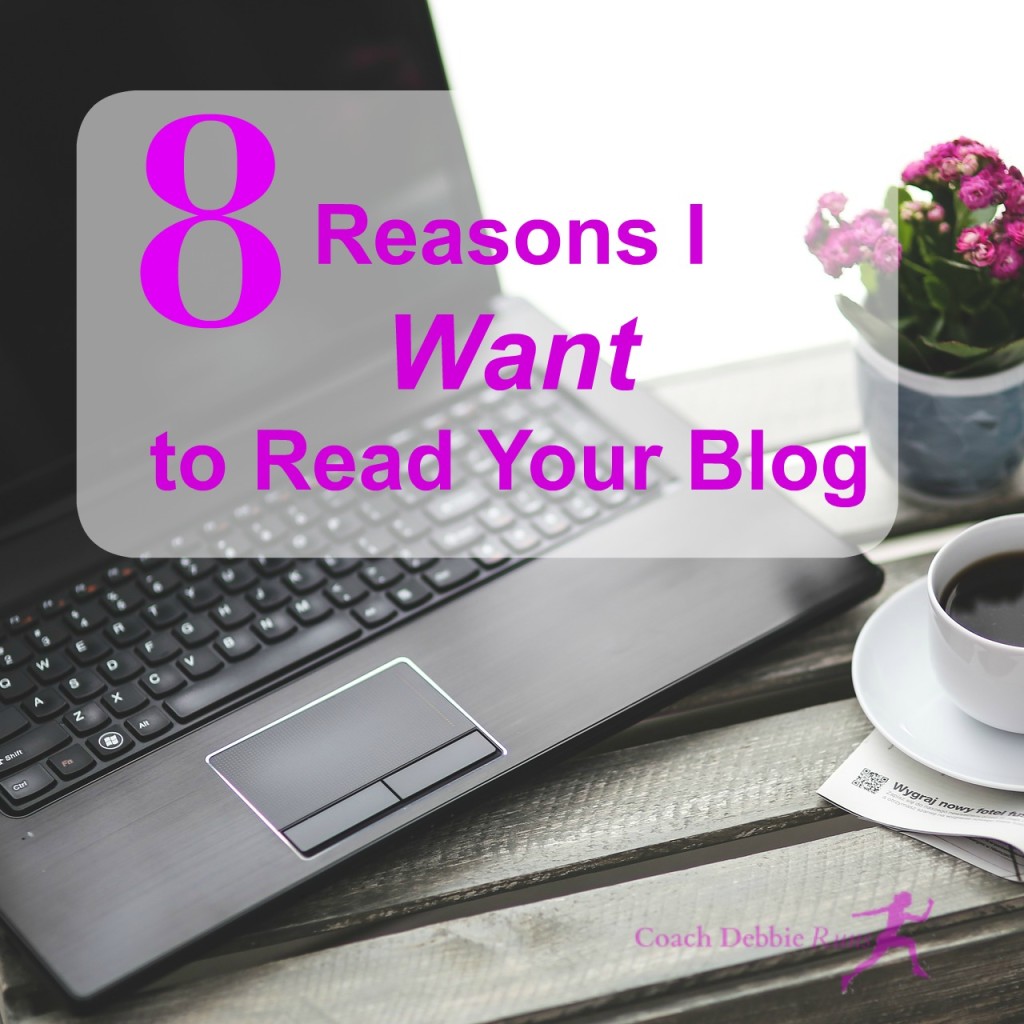 And Keep it Short(ish)
This may be a case of do as I say, not as I do, but still, super long posts are hard to read, even if they're interesting. Like a good movie that just goes on too long, I get bored. Keep it short and sweet, edit out the rambles, and I will be there to read your every word.
Make it Obvious You Care
There are many ways to let readers know that you care. Responding to comments is a big one. I understand that it can be hard to keep up (and I'm certainly not perfect about it), but carrying on a conversation with me lets me know that you care about my opinion and my feelings.  Other ways to show you care is by keeping the ad clutter to a minimum, do your best with your spelling and grammar, and generally remember that things that bother you on other blogs will bother your readers too.
What makes you want to read a blog? Why do you read mine (brave question there!)? How do you define 'authentic?'
---
My weekly linkups! Please stop by and check out all of the great recipes, workouts, and information that all these awesome bloggers share every week!
Meatless Monday with Tina and Deborah
Meatless Monday with Annmarie 
Inspire Me Monday with Janice
Anything Goes with Marilyn
Bonnie, the Pin Junkie
Tip Tuesday with Debbie in Shape
Wild Workout Wednesday with Annmarie, Michelle, Sarah, and Angelena Marie
Wednesday Wisdom with Nanna's Wisdom
The Blog Booster Party with Kathleen
Friday Fitness with Jill