On Sunday I ran the local YBeFit Palm Desert Challenge 5k! It was a last minute decision, made actually after Alan decided to run the Mini Reverse Triathlon. I thought it was pretty cool that they had a separate 5k so even though I hadn't exactly trained for it, I signed up last Friday.
Doing a last minute 5k got me to thinking. Even though I hadn't done much training, were there any race day strategies I could use that would help me perform better? I managed to think of a few and I'm sharing them with you here!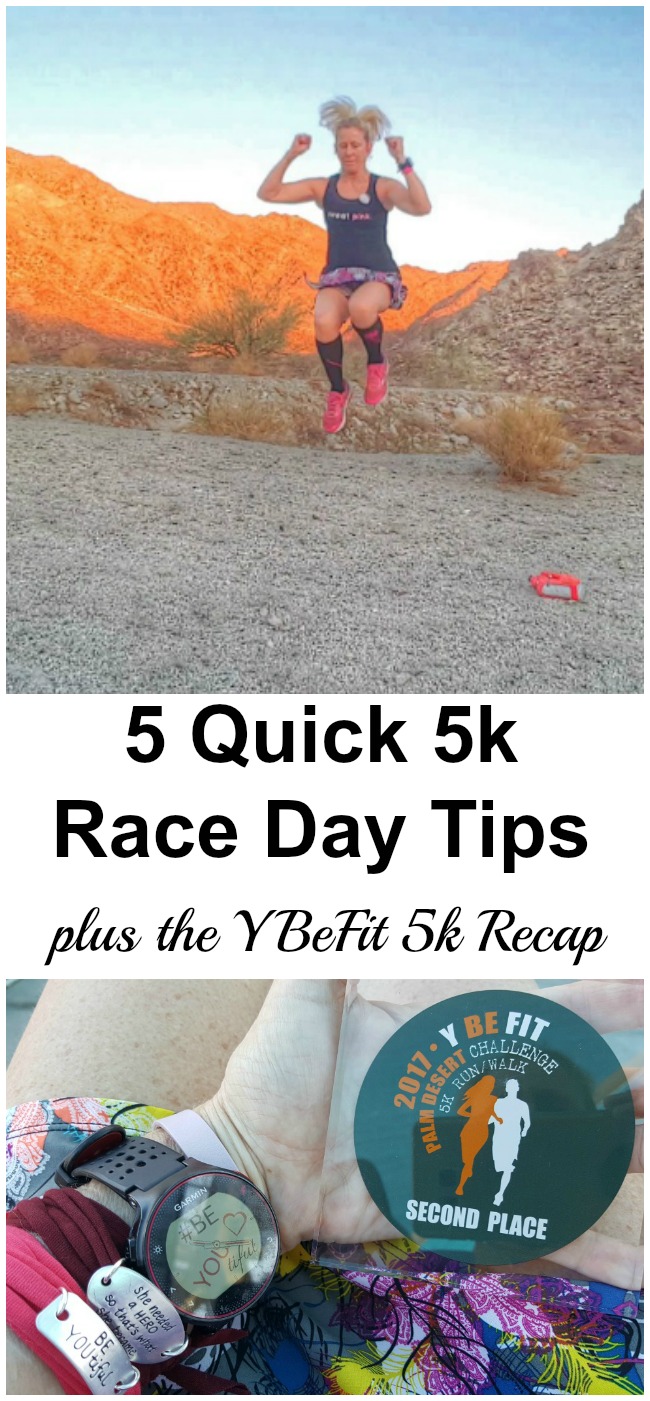 5 Quick 5k Race Day Tips
These tips are for runners who have had some racing experience, have been running, though maybe not specifically training, and have completed the 5k distance. If you are currently planning to run your first 5k check out my 12 Week 5k Training Program.
1. Eat Lightly
This applies to both the night before and the morning of the race. There is no need to load up on carbs or calories the night before a 5k race. A normal dinner, maybe even a little lighter than usual, will leave you feeling good in the morning. Depending on the time of the race, breakfast can be anything from a banana to a bowl of oatmeal to toast. Something that you're used to and know won't upset your stomach.
2. Drink Lightly
While staying hydrated is always a good idea, you don't have to overdo it when you're running a 5k. Of course, weather conditions may play a part, but generally speaking, sipping on about 12 ounces of water through the morning will leave you ready to run.
3. Drink at Water Stations. Or Not.
Again, this can vary with the weather, but if you don't feel like drinking at a water station, feel free to skip it. This is a three-mile race, and most runners can complete that distance without extra water.
4. Don't Start Too Fast
Of course, I am going to mention this most common race mistake! Whether or not you've been training, you have an idea of your potential pace, so if you shoot out of the gate a minute or so faster per mile you're going to regret it.
5. Pace Yourself
Ideally, after that slow-ish start, each mile will be a little faster than the last. That should leave you feeling strong for the last half mile of the race, so even though your training may have been sub-par, you can finish strong.
I hope you can use some of these Quick 5k Race tips to help you have a better 5k!
Want to run your best 5k? Here are 10 tips that can help!
YBeFit Palm Desert Challenge 5k Recap
As I mentioned above, I did not plan or train for this race. It's true that I've done some tempo runs, and a little bit of hill training, so I'm not completely out of shape, but because of that I felt very relaxed coming into this race. I really had no expectations, so everything was headed towards a good outcome!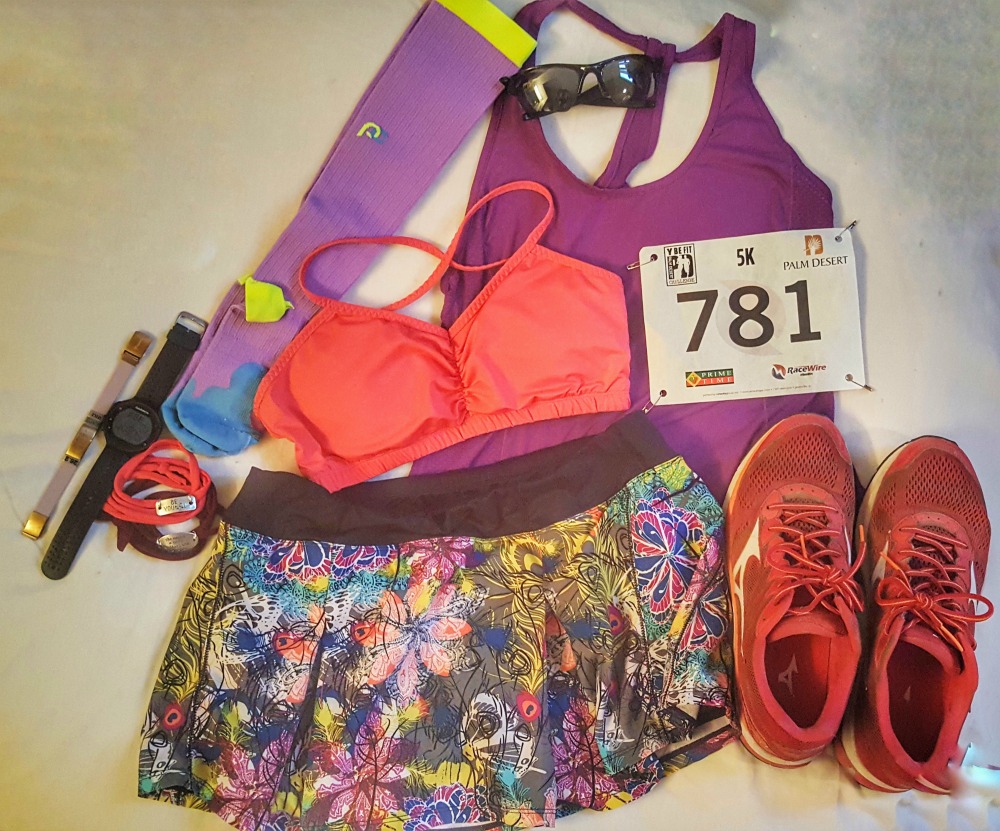 Alan and I signed up the Friday before the race (mostly to save the $15 increase in the race day price of the triathlon). The mini triathlon was also in reverse, so Alan's race started with a 5k run, followed by a 10-mile bike ride and finishing with a 300-meter swim in the pool at the Palm Desert Aquatic Center.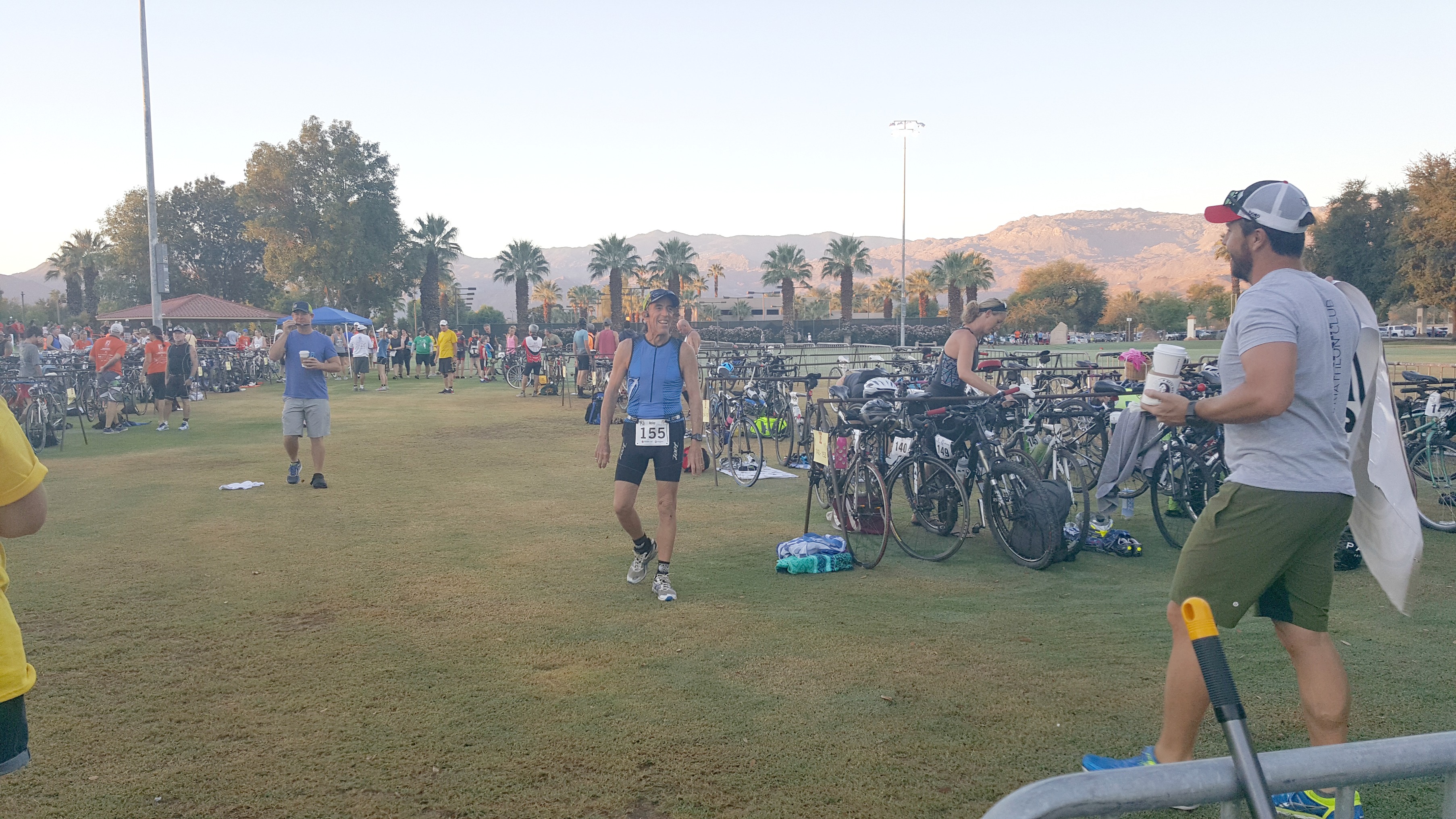 Alan's race started at 7:00, while mine started 15 minutes later. We did warm up together. After he started I ran a little bit more, hit the bathroom (hurray for real bathrooms!), and made it to the start line about 7:10.
Even more fun than the race is seeing all the running friends that you haven't seen for a while!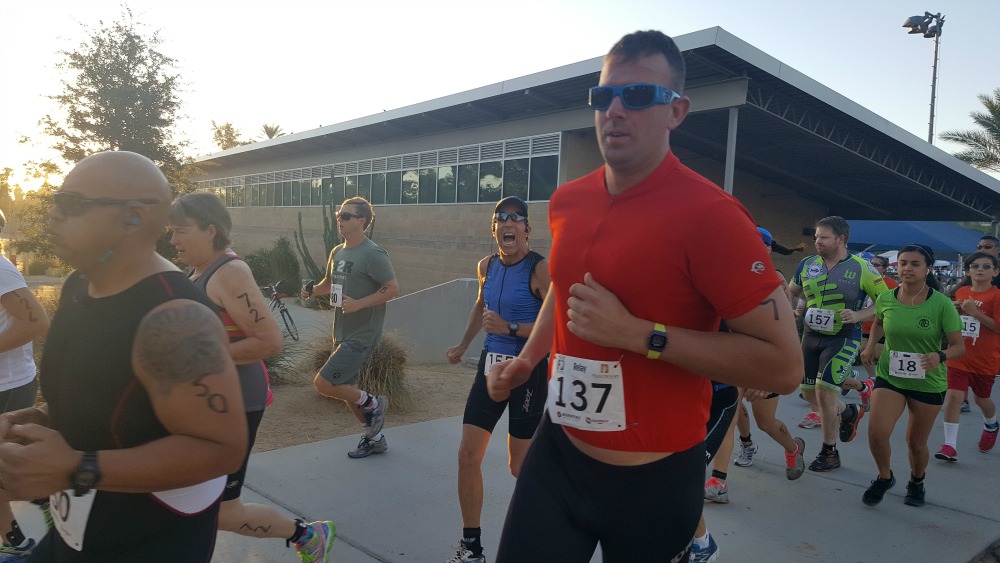 When the gun went off (or rather when the announcer said Ready, Set, Go!), I took off with the crowd. I try to remind myself that my goal is to come in under 30 minutes, so when I checked my watch and saw 8:30 pace, I knew I'd better slow down or I'd be in trouble.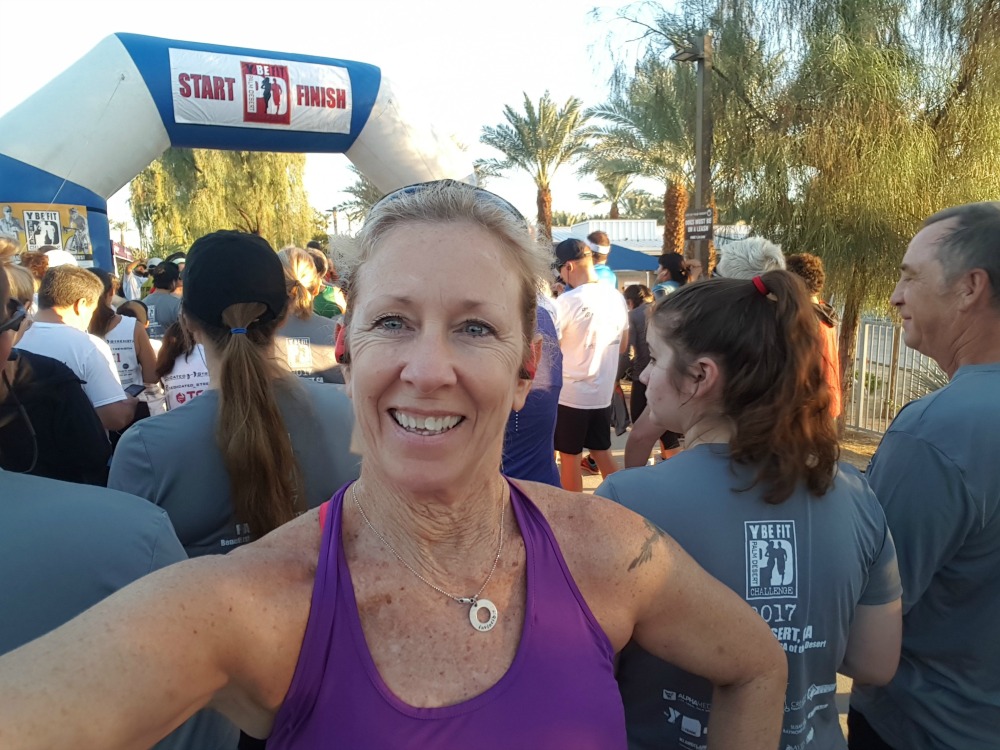 I fell into a pace that felt just a little uncomfortable. That turned out to be around 9:30 per mile, which worried me a little because I've been running so slow through the summer, but it felt okay, so I stuck with it.
To call this course flat would be an understatement, but I felt like I knew it well after years of coaching cross country and using different parts of the park and roads surrounding it for our training and racing routes. The first mile went by quickly, at about a 9:40 pace.
The first water station was at about 1.5 miles. I did take a little water, but the weather was cool so I didn't mind that this was really the only water station. I don't count it twice because it was only about a quarter mile later when we passed it again.
We headed into the park for the last mile or so, again running where I'd led many high school runners over the years. After getting off the road, the race was mostly on wide sidewalks, circling the park and the lake within. Perfect for a small, hometown race. Mile two was 9:19, so a negative split so far. Perfect.
The final mile continued through the park and ended up back at the Aquatic Center where it started. I managed about a one-second improvement on that last mile, a 9:18. And that was the finish line! My Garmin showed the race at exactly three miles. I was a little disappointed, but then remembered all the times that Garmin shows that you actually ran an extra tenth of a mile or more, so I was good.
My time was 28:01, well under my 30-minute goal (and still would have been even if the race had been a complete 3.1 miles). I was pleased, especially considering that I hadn't really trained. Most especially, I was happy because I didn't have any problems with my exercise-induced asthma. That is a big deal.
By that time, Alan was out on the bike, so I wandered around the expo, got a chair massage (score!), then headed back to the transition area just in time to see him finish his ride. He quickly parked his bike, pulled off his bike gear and ran to the pool for his final segment.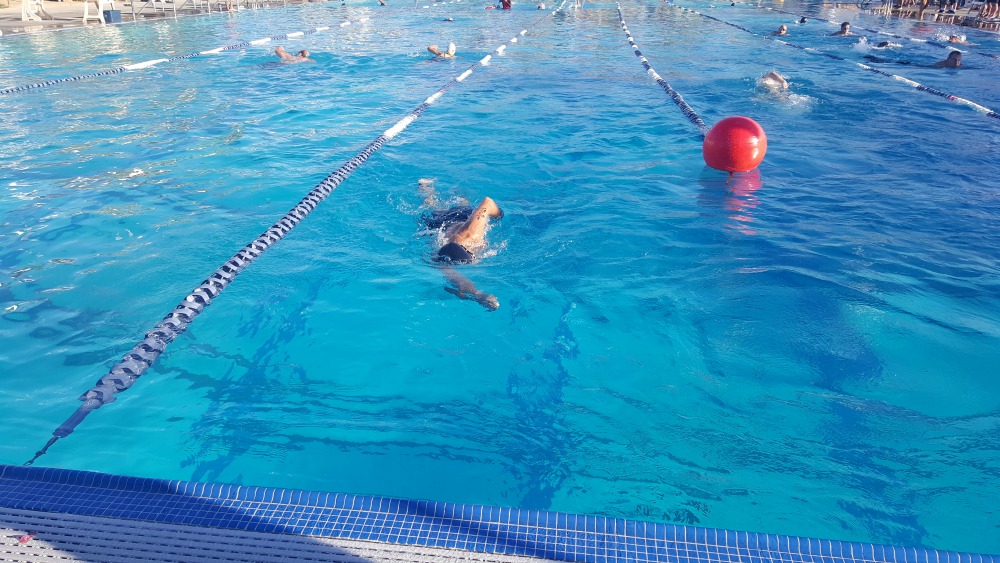 It's different seeing a triathlon swim in a pool. They basically swim a Z pattern, up and back, 50 meters each lap, for a total of 300 meters. Alan had a good swim, though he said he felt surprisingly tired. It really is hard to swim at the end of a run and bike!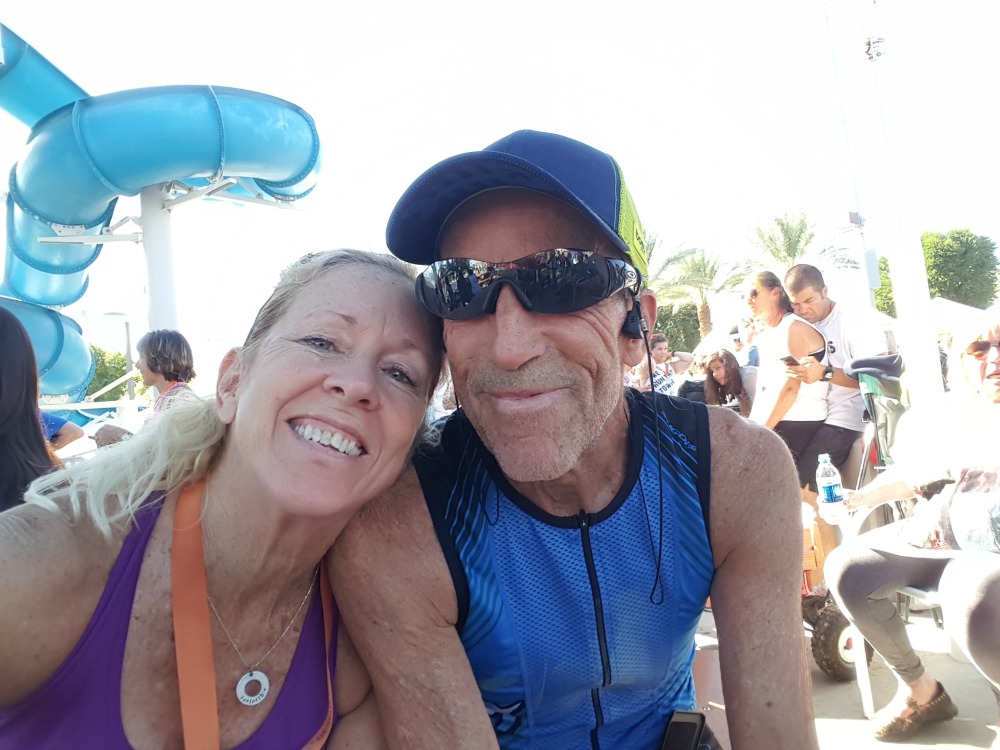 After Alan finished, we waited a while for the results then discovered that we had both placed in our age groups. Actually, we both were second in our divisions!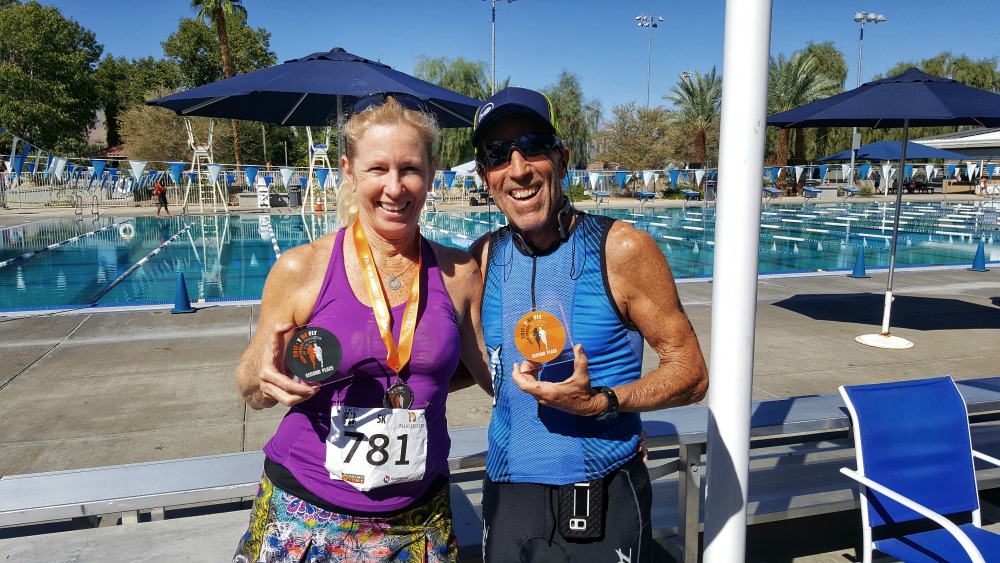 And I can't forget the armadillo.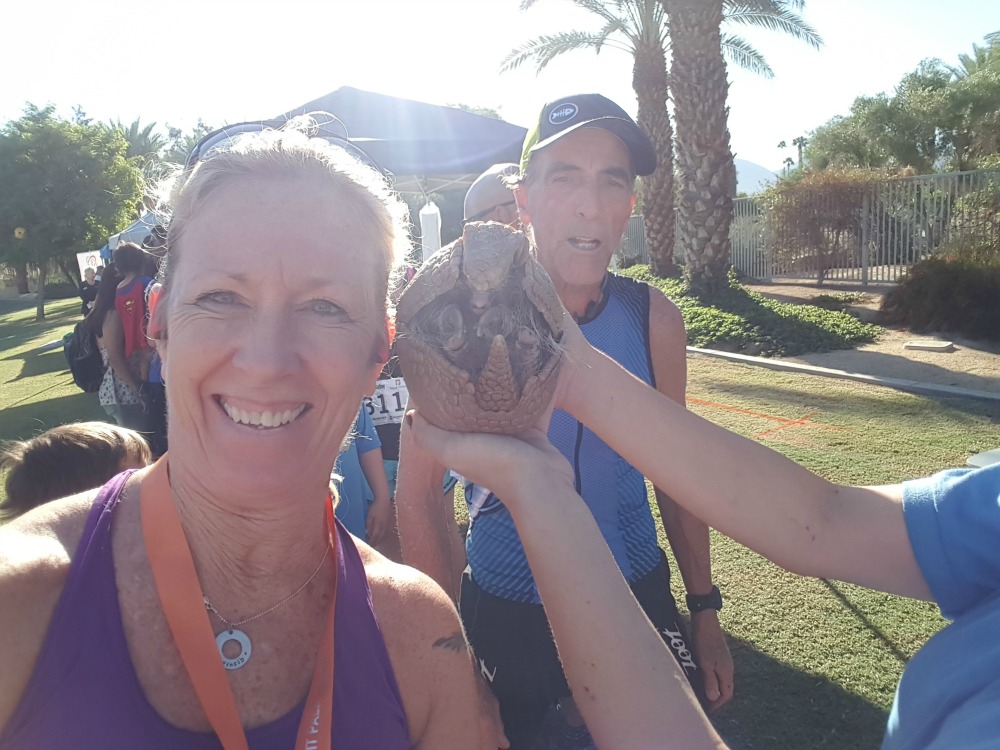 Or my Medal Monday photo (including some extra bling from my Rock & Roll Marathon Virtual Run!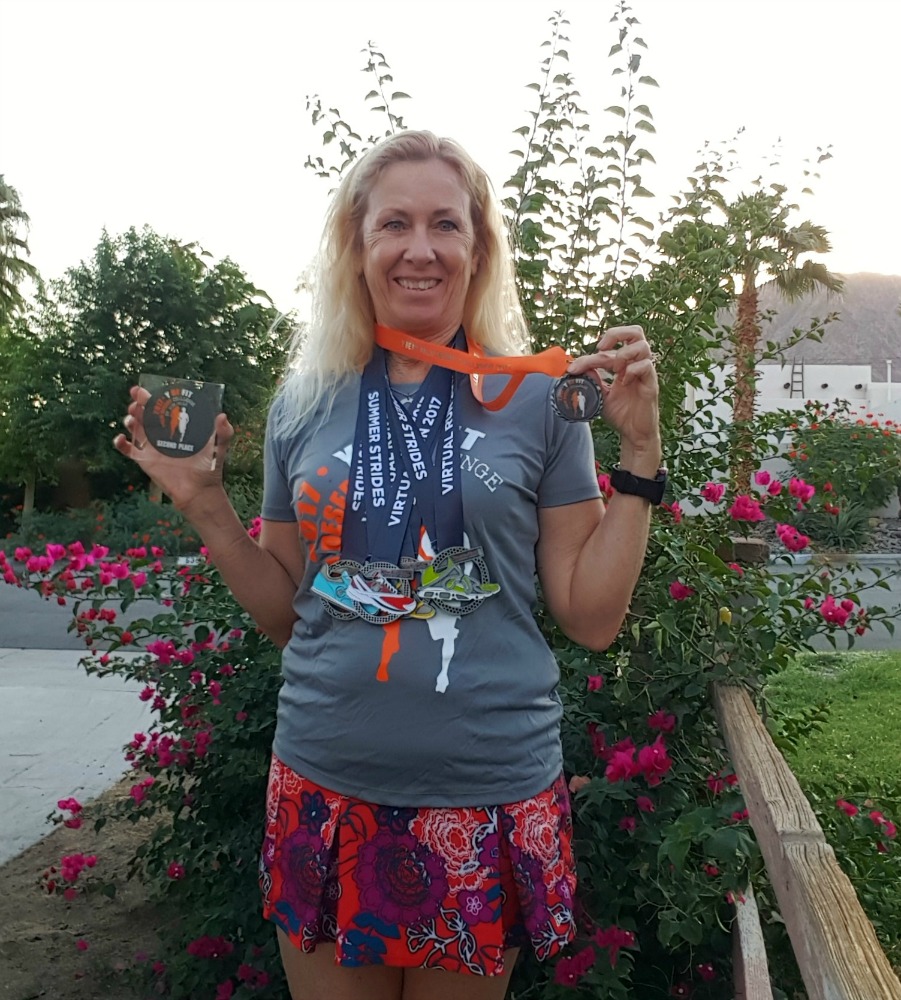 I really enjoyed this race, especially because it was a chance for Alan and me to compete together. I hope we can find more events that give both runners and triathletes a chance to compete. It was so much fun and even more so because we both got to bring home the gold (or actually, the acrylic, but you know what I mean)!
Did you race this weekend?
And Now It's Time for the Running Coaches' Corner!
Loading InLinkz ...
---
Weekly Linkups
My weekly linkups! Please stop by and check out all of the great recipes, workouts, and information that all these awesome bloggers share every week!
Meatless Monday with Sarah and Deborah
Meatless Monday with Annmarie  and Dixya
Tuesdays on the Run with Marcia, Erika, and Patty
Inspire Me Monday with Janice
Wild Workout Wednesday with Annmarie, Jen, and Nicole
The Plant-Based Potluck Party with Deborah
The Running Coaches' Corner with Rachel, Suz, Lora Marie, and Me!
Friday 5 2.0 with Rachel and Lacey and Meranda