Every year, about this time, a lot of people decide they hate running. For many of them, that is because about two weeks ago they decided to start running, took off out their door, ran three or four miles, which felt like it almost killed them, then their feet (or knees, or hips) started to hurt, but they kept going anyway, because, by golly, they had that new year's goal to start running and a little pain wasn't going to stop them!
Sound familiar? Perhaps a friend, spouse, or possibly yourself, started off 2016 with a goal to start running. Now, two or three weeks later, they/you, hate it.
Well, I'm here to tell you that is probably because you're doing it wrong. While I understand that not everyone is going to love to run, I do know that when someone tells me that they hate running, there's a good chance that it's because they started out as I mentioned above, gung-ho to start their running program without any plan or thought of how to do it.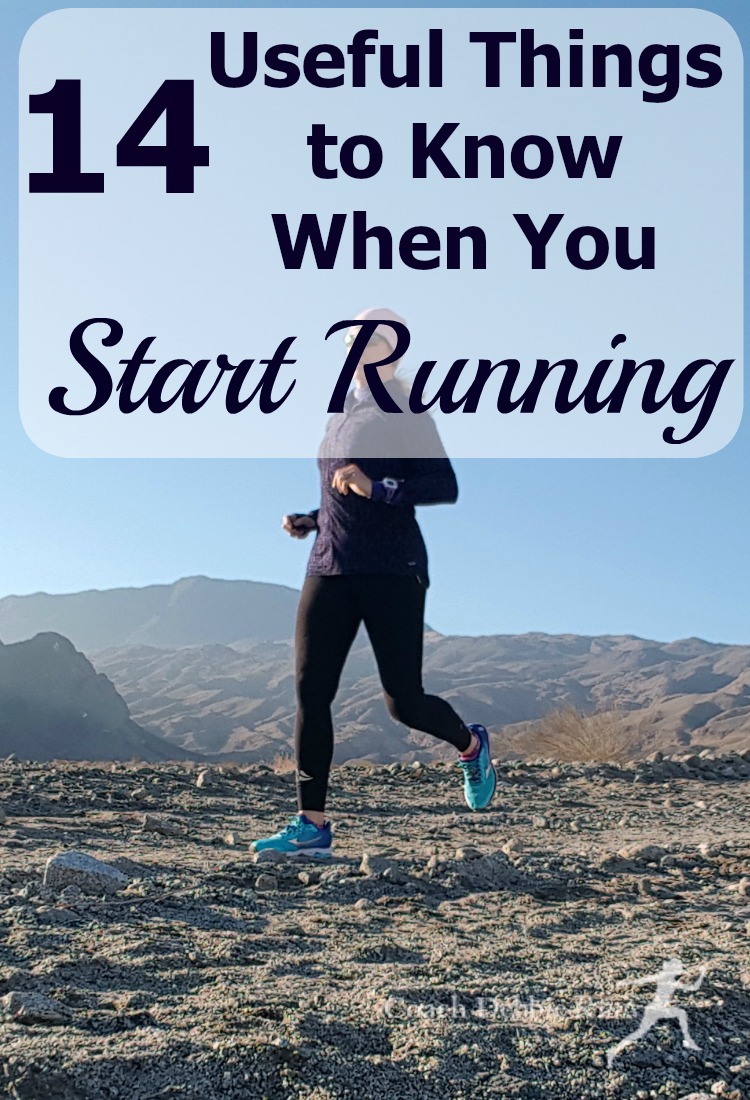 I'm asking you to give running another chance. Knowing certain things when you start running will help you ease into it, stay uninjured, get faster, and maybe even enjoy it.
14 Useful Things to Know When You Start Running
Don't start out running
What? Aren't we talking about starting to run? Well, I'm here to tell you that a new runner should not try to run three, five, or even one mile at a time when they first start.
Instead, start a run/walk program with short intervals of running interspersed with walking. For a little guidance, check my 12 Week 5k Training Program (or other couch to 5k program), which takes you from the very beginning to being able to run a 5k (3.1 miles) in 12 weeks.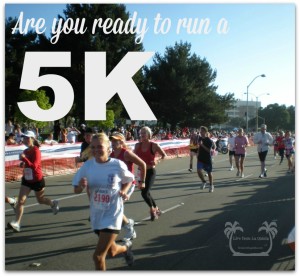 Have patience
In addition to the time it takes to ease into running, you should know that it can take even more time to reach your peak performance. A combination of adaptation, training, technique, experience, and practice will eventually combine to help you run your best, but that can take months or even years.  Don't despair, during that time you can certainly run well and enjoy the experience, knowing that it is all leading up to reaching your potential.
Rest and recovery are some of the most important parts of running
Running, like any high-intensity workout, needs to be combined with periods of recovery to ensure the greatest gains. Your body actually gets stronger during these times of rest and without them your muscle can break down and you open the door to injury. Plan a day or two off each week (more at the beginning), get plenty of sleep, and, if you're feeling extra tired or just burnt out, take an extra day to give your body time to recover.
Don't run hard all the time
Many new runners think that they have to run their hardest and farthest all the time. Not true. In fact, your running will improve the most if you run hard just once or twice a week, especially when you're just starting out. Plan for one hard and fast day, one long and slower day, and a couple moderate effort and distance runs per week.
Don't "run through it"
If you start out slowly, have patience, and take the time to recover, you have a pretty good chance of avoiding injury, but still, you may have a pain or two as you go along. I will tell you right now that most serious running injuries are caused because a runner ignored those twinges, instead choosing to "run through it." If something hurts, take an extra day or two off.
Invest in good shoes
There are many theories about what kind of shoe to wear, so I'm not going to add mine here. Instead, I recommend that you go to a running-specific shoe store, talk to their shoe guy (or gal), and get solid advice on what type of shoe you need. A good running store will allow you to run a little in the shoe (not just walk on a carpet), and a great running store will accept your return if you find that the shoe just didn't work out for you.
Strength training will make you a better runner (and prevent injury)
Running is a great sport, and will get you very fit, but it can also create imbalances in your strength and flexibility that can lead to injuries if they're not corrected.  That risk can be reduced by incorporating a strength training program. Also, a strong core is essential for good running form and injury prevention. Here is a workout for runners that will increase your strength, improve your posture, and help prevent injury.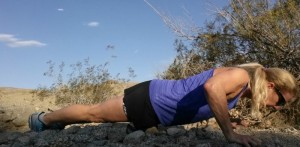 Don't skip the small stuff
Running is a great sport because it needs very little equipment, you can do it almost anywhere, and really, almost anyone can do it. Still, there are some things you should do to keep your body at its best. Ice can be a runner's best friend. Use if after a tough workout, on any muscle or joint that feels a little sore. Foam rolling is a great way to work out sore muscles, and massage or fascial stretch therapy can be useful body care tools to keep your body strong, supple, and injury free.
Running is not an excuse to eat all the doughnuts
Yes, running burns a lot of calories, but don't use that as an excuse to load up on french fries and doughnuts. Fuel your body like an athlete and it will respond with better performance. Eat a nutritious diet with plenty of lean protein, healthy fats, fruits, veggies, and whole grain carbs. And a (very) occasional doughnut.
You don't have to run far
It may seem at times that all the runners you know are training for a marathon or an ultra (anything above 26.2 miles long), and talking about their 20 milers. Believe me, you don't have to run far to be a runner! Your perfect distance may be three miles, and that is just fine.
You don't have to race
Racing can be fun whether or not you're competitive, but it certainly isn't required. You can run for your entire life without ever running a 5k!
Find running friends
Joining a running club, or finding other friends who run can help supply motivation, inspiration, and even competition. A "date" with a running friend can help you get out the door when it's cold or if you're tired. Other runners understand when you talk about a tight hamstring, lack of portapotties, or other running-related issues. And there is safety in numbers, so if you're an early morning or late night runner it can be a good idea to have a running companion.
Run alone sometimes
As much fun as running with friends is, running alone will help you get in touch with your inner spirit. There are many problems that have been worked out on solo runs. There is something precious about listening to the sounds of your footfalls and your breathing, enjoying the space and the time, allowing your mind to wander, that just can't be appreciated when you're running with someone else.
If you run, you are a runner
It doesn't matter if you're fast or slow, whether you race, whether you run three miles or 30. If you run, you are a runner. John Bingham, the Penguin, said it best:

What advice would you give to someone who wants to start running?
---
My weekly linkups! Please stop by and check out all of the great recipes, workouts, and information that all these awesome bloggers share every week!
Sunday Blog Hop with Jenn
Meatless Monday with Sarah and Deborah
Meatless Monday with Annmarie 
Inspire Me Monday with Janice
Anything Goes with Marilyn
Bonnie, the Pin Junkie
Tip Tuesday with Debbie in Shape
Wild Workout Wednesday with Annmarie, Michelle, Sarah, and Angelena Marie
Wednesday Wisdom with Nanna's Wisdom
The Blogger's Pit Stop with Kathleen
Let's Get Real with Karen.
Friday Fitness with Jill
Fitness Friday with Miranda