So you've researched, outlined, and written your blog post. Your deadline is approaching, and all you want to do is hit Publish, then go to bed.
Stop!
As enticing as bed sounds, as much as you want to get that post out there, it really will benefit you if you take a few more minutes and make sure you know the 10 important things bloggers must do before you hit publish.
10 Important Things Bloggers Must Do Before They Hit Publish
Read it.
For your first read-through, look for the general flow of the words, obvious mistakes, and the overall feel of your writing. Are your ideas in context? Does it feel choppy? Are the paragraphs too long? Are you getting your point across? Fix what doesn't feel right.
Read it again.
Now go back and really proofread. Read carefully. Remember that when you read your own writing you sometimes see what you think you wrote. Look for spelling and grammar errors, awkward sentence structure, and other mistakes.
Make sure your post is shareable.
Make sure that your post is easy for your readers to share. Check what will show when someone clicks your social media buttons. Just your title? Make sure that what pops up for tweets is not too long, or readers just may not bother taking the time to edit them down to 140 characters. Make sure that the tweets will include your username and any hashtags you want to use. Click to Tweet is a great tool that gives you control over that is shared. If you want readers to share to Pinterest, make sure to have a good image that includes descriptive text. Check the Alt tags and descriptions on your photos, since that is frequently what will show up when the photos are shared.
Set the featured image.
The featured image is what usually shows up on social shares (though Facebook sometimes has a mind of its own). Square (ish) pictures work the best, the long ones suitable for Pinterest will end up being cut off.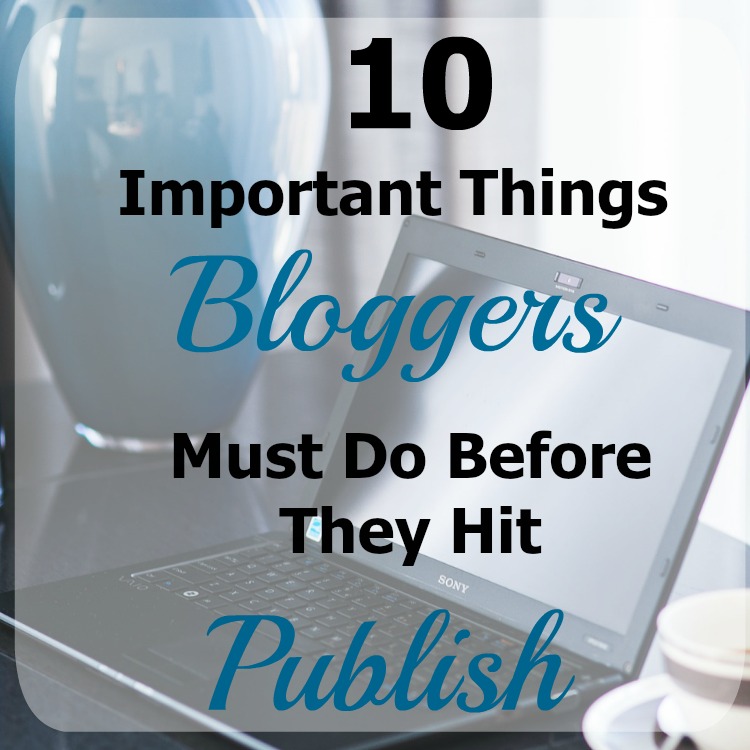 Write a meta description
The meta description is the wording that will show up in a search result. It should be enticing and contain your keywords. If you don't set it the first sentence of your post will show up. If you use Yoast SEO it will allow you to set your own meta description (and remind you if you don't). Read more about the meta description here.
If you just said, "What Key Words?" go back and make sure they're there.
Keywords are the words that searchers will use to find your blog post. Read more about keywords and how to find the best ones in this post.
Select a category and a few tags
Using one or two categories and a few tags will improve SEO, and will help readers search for their interests within your site. Here is a useful post about how to use categories and tags.
Check your headline
When writing a headline, you want something that sounds interesting, is the right length, uses words that will help with SEO, and contains your keywords. Use the CoSchedule Headline Analyzer to help you write a title that will attract attention.
Double Check Your Links
There are few things as frustrating for readers than clicking on a link that they are interested in then finding that it goes nowhere. Take the time before you publish to make sure your links work. While you're at it, make sure that they open in another tab, especially outgoing links. You don't want to send your readers off to another site and make it hard to get back.
Read it one more time.
Finally, take the time to read your post one more time. Read for content as well as any spelling or grammar mistakes that you may have missed (there is almost always at least one). Make your final corrections.
Then, and only then, you are ready to hit Publish.
Do you have anything to add? Many of these tips were drawn from my own experience of having to go back and correct my mistakes. What is the thing you most frequently forget to do before you publish?
---
My weekly linkups! Please stop by and check out all of the great recipes, workouts, and information that all these awesome bloggers share every week!
Sunday Blog Hop with Jenn
Meatless Monday with Sarah and Deborah
Meatless Monday with Annmarie 
Inspire Me Monday with Janice
Anything Goes with Marilyn
Bonnie, the Pin Junkie
Tip Tuesday with Debbie in Shape
Wild Workout Wednesday with Annmarie, Michelle, Sarah, and Angelena Marie
Wednesday Wisdom with Nanna's Wisdom
The Running Coaches' Corner with Rachel, Suz, Lora Marie, and Me!
The Blogger's Pit Stop with Kathleen
Let's Get Real with Karen.
Friday Fitness with Jill
Fitness Friday with Miranda