Thanks to Fit Approach and Bob's Red Mill for sponsoring this post. All opinions (and the recipe!) are my own.
I am so excited to share this Zu-chini Alfredo recipe with you! I've been playing with the recipe for a few weeks, using cashews and Bob's Red Mill Protein and Fiber as the base, and I finally hit the nail on the head.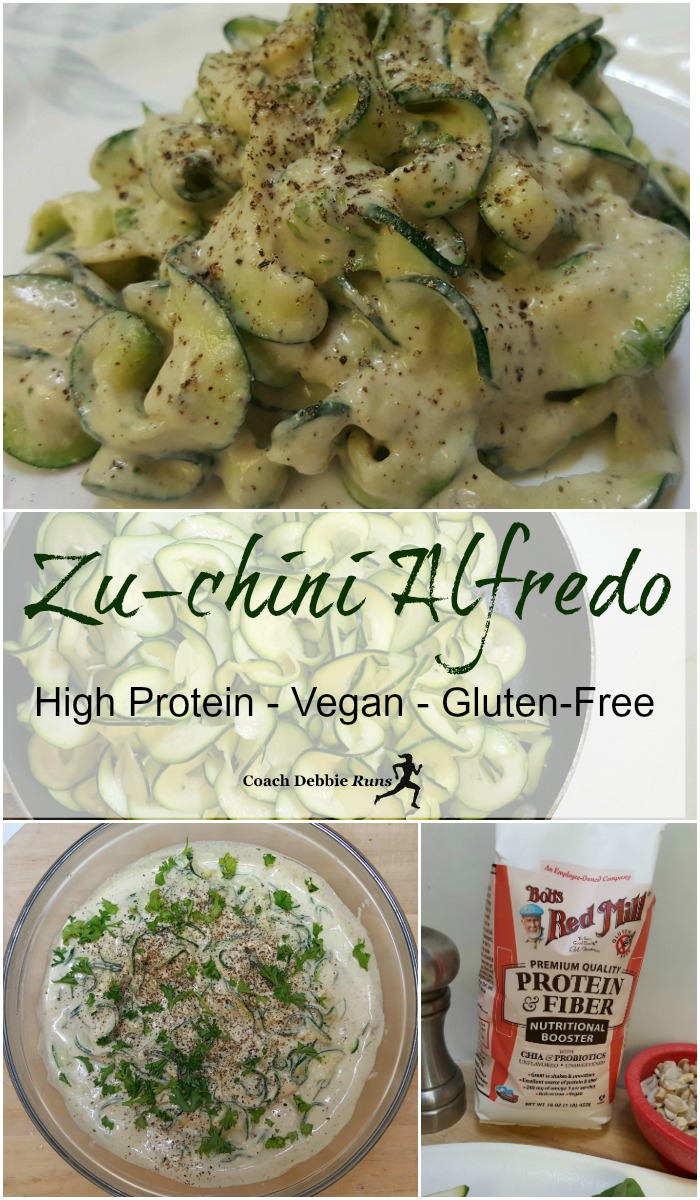 My first recipes were good too, don't get me wrong. I've made a variety of pasta dishes in the last weeks (which makes my husband very happy). We've had lasagna, spaghetti squash, and mac 'n' cheese, all using variations of this high protein sauce.
But with this Zu-chini Alfredo (pronounced like fettuccine) I know I've created the creamiest, richest, and tastiest sauce yet. And it's still vegan and gluten-free! Plus, the Bob's Red Mill Protein and Fiber adds 20 grams of plant-based protein and 12 grams of fiber (for the recipe)! Not to mention those probiotics.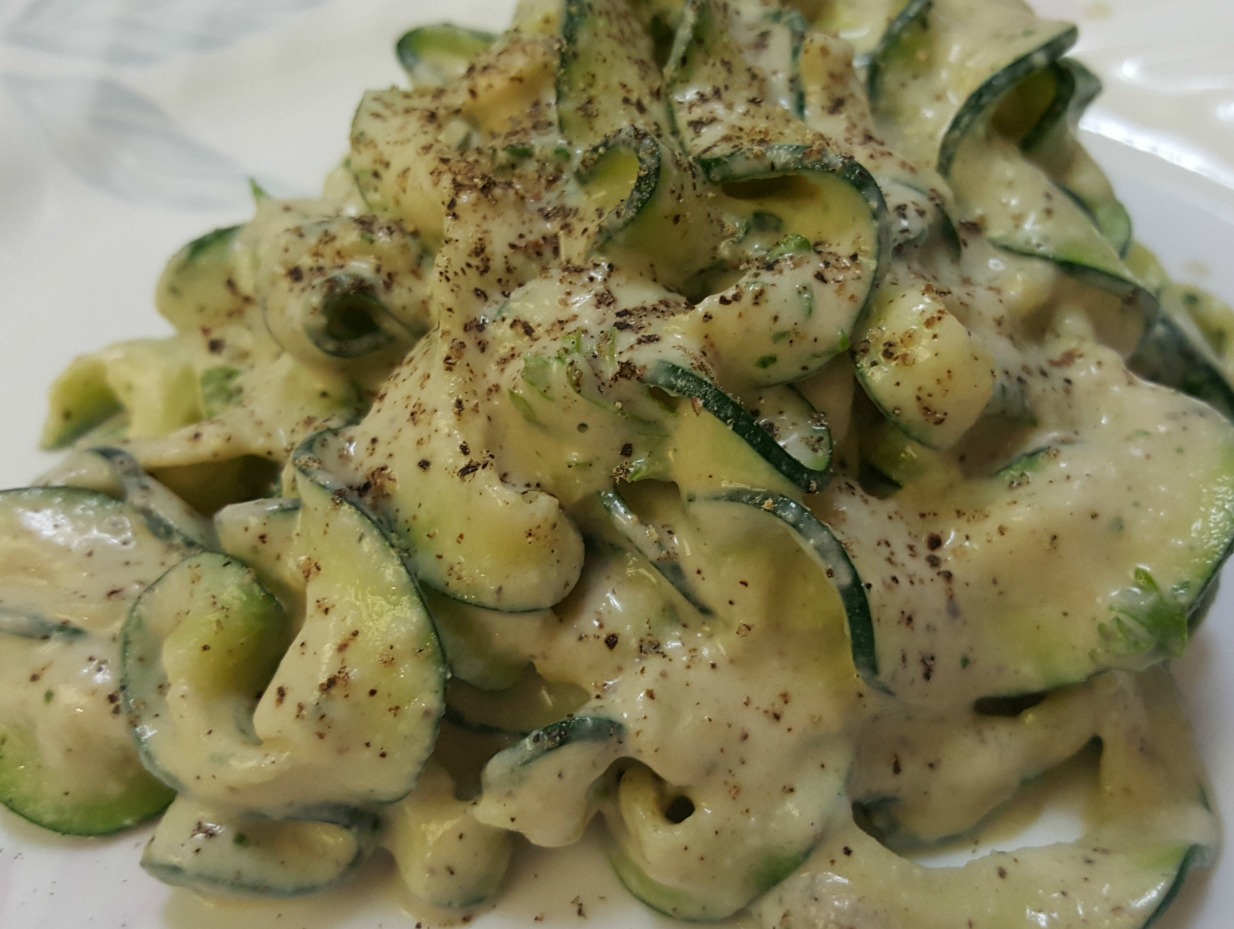 Smoothie-a-Day with Bob's Red Mill
Back at the beginning of the month (you couldn't forget those amazing vegan and gluten-free protein pancakes, right?), I told you I was running my own smoothie-a-day challenge with Bob's Red Mill Nutritional Booster protein powders.
The main reason was because they contain the probiotics that I feel that I'm lacking in my vegan diet. Not because it's vegan, by the way, but because I simply don't care for many of the foods that contain healthy probiotics.
I'm happy to say that I am on day 27 of my challenge and going strong! During that time I've made a lot of delicious smoothies, experimented a lot, and have tried all the flavors of the Bob's Red Mill protein powder with probiotics. I've shared a few on Instagram (<– are you following me?).
This morning after we finished our very hot run, we refreshed with a Tropical Treat (serves two): 2 bananas, about a half cup fresh mango, 1/2 cup frozen pineapple, 16 ounces almond milk, and a heaping scoop of Bob's Red Mill Vanilla. So good! (The photo is with the Chai Protein because I finished up the Vanilla with this smoothie.)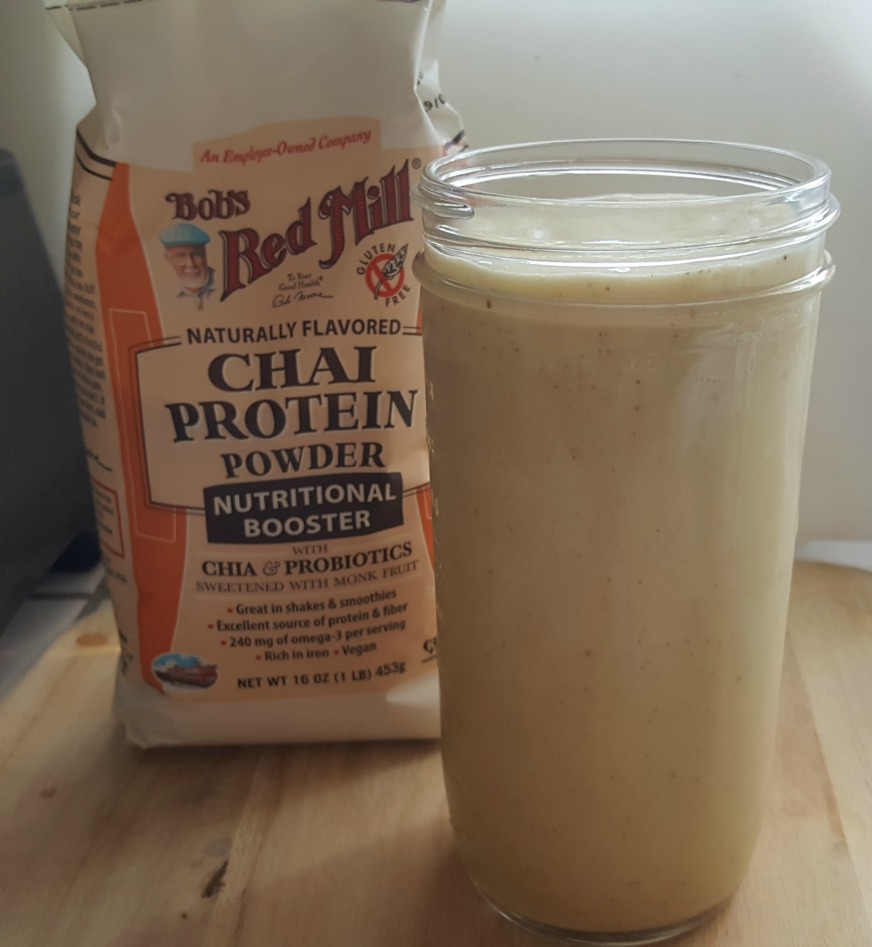 The results? Well, I really feel like I can tell a difference. Of course, many of the benefits of probiotics, like an immune system boost, preventing UT infections, and fighting food-borne illness, can't be seen in a month. But, some of the issues I have with my digestion have definitely improved. So I plan to keep it up. Bob's Red Mill with probiotics has definitely become a part of my nutrition plan.
Zu-chini Alfredo
When I decided I wanted to use zucchini noodles for this dish, I had planned to make regular old zoodles. However, I hadn't used my spiralizer for a few years while, and apparently I'd forgotten how to use it correctly. I ended up putting on the wrong attachment, but when I saw how the noodles looked I decided that they were perfect for this recipe. Even Alan said that they looked more like fettuccine.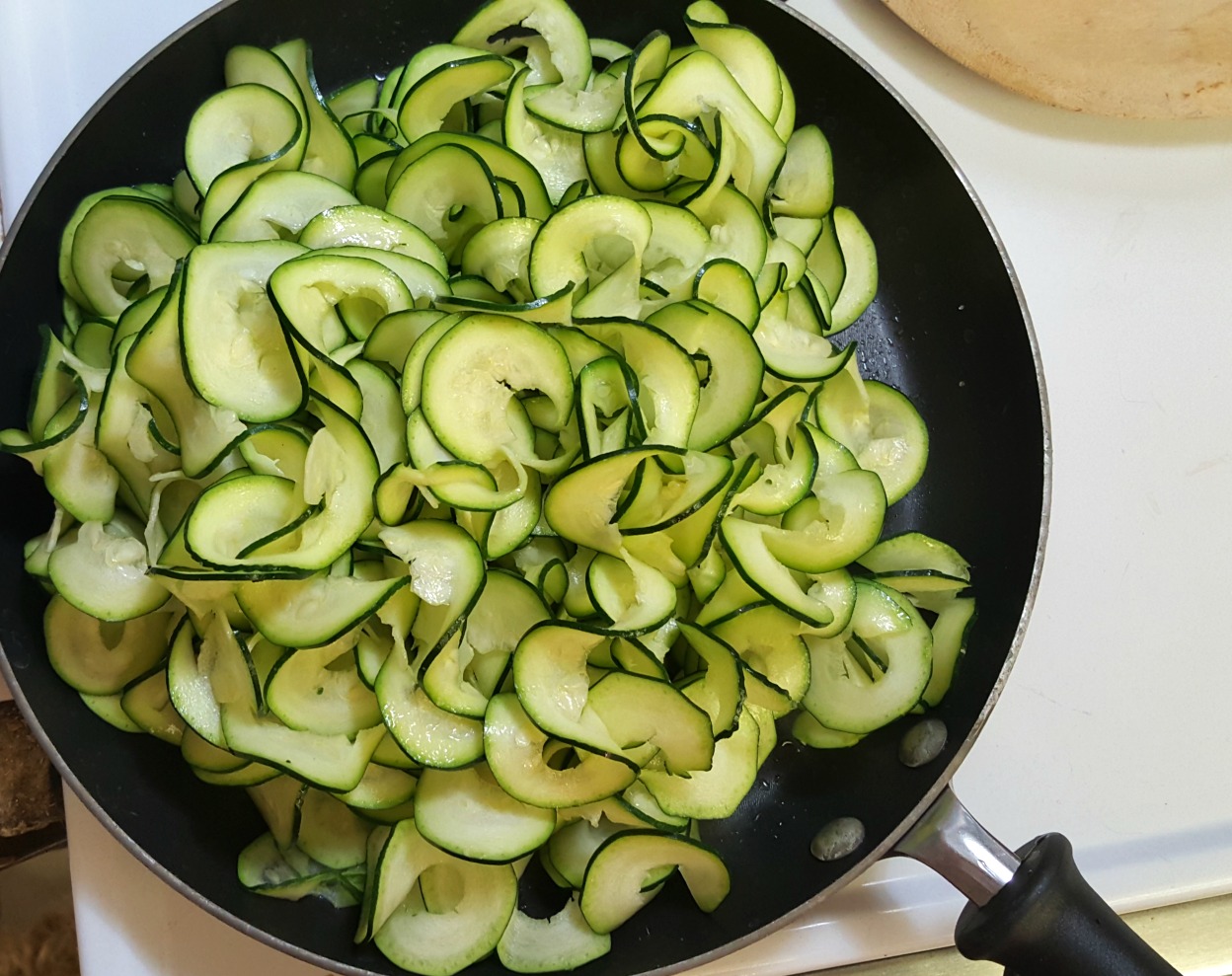 Of course, as I said above, this sauce is delicious on any kind of pasta, so use zoodles, macaroni, spaghetti, whatever. It's going to work out just fine.

Zu-chini Alfredo Recipe: Vegan, Gluten-Free, High Protein
Enjoy the rich flavor of Alfredo sauce without the unhealthy fats. This version is vegan, gluten-free, and has extra protein from Bob's Red Mill Protein and Fiber. We used zucchini fettuccine, but this delicious sauce would pair well with any type of pasta.
Ingredients
¼ cup onion
2-3 cloves garlic
Olive oil for cooking
1.5 cups cashews, soaked for an hour, then drained
2 tablespoons lemon juice
1.5 cups almond milk
⅓ cup Bob's Red Mill Protein and Fiber
¼ cup nutritional yeast
1 tablespoon basil
1 teaspoon salt
½ teaspoon pepper
4-5 Medium Zucchini
Parsley for garnish
Instructions
Heat 1 tablespoon olive oil in a frying pan over medium heat.
Cook the garlic and onion until soft, about 3 minutes.
Put the drained cashews, lemon juice, almond milk, protein powder, nutritional yeast, basil, salt and pepper into a blender.
Add the onions and garlic and blend until smooth.
Use a spiralizer to make your zu-chini (zucchini noodles).
Heat 1 tablespoon oil over medium heat.
Add the zu-chini and cook until hot, about 2-3 minutes. Don't overcook.
Place the zu-chini in a large bowl and slowly stir in the Alfredo Sauce.
Toss gently. Garnish with parsley and more pepper if desired.
Notes
Vegan, Vegetarian, Gluten-free, High-protein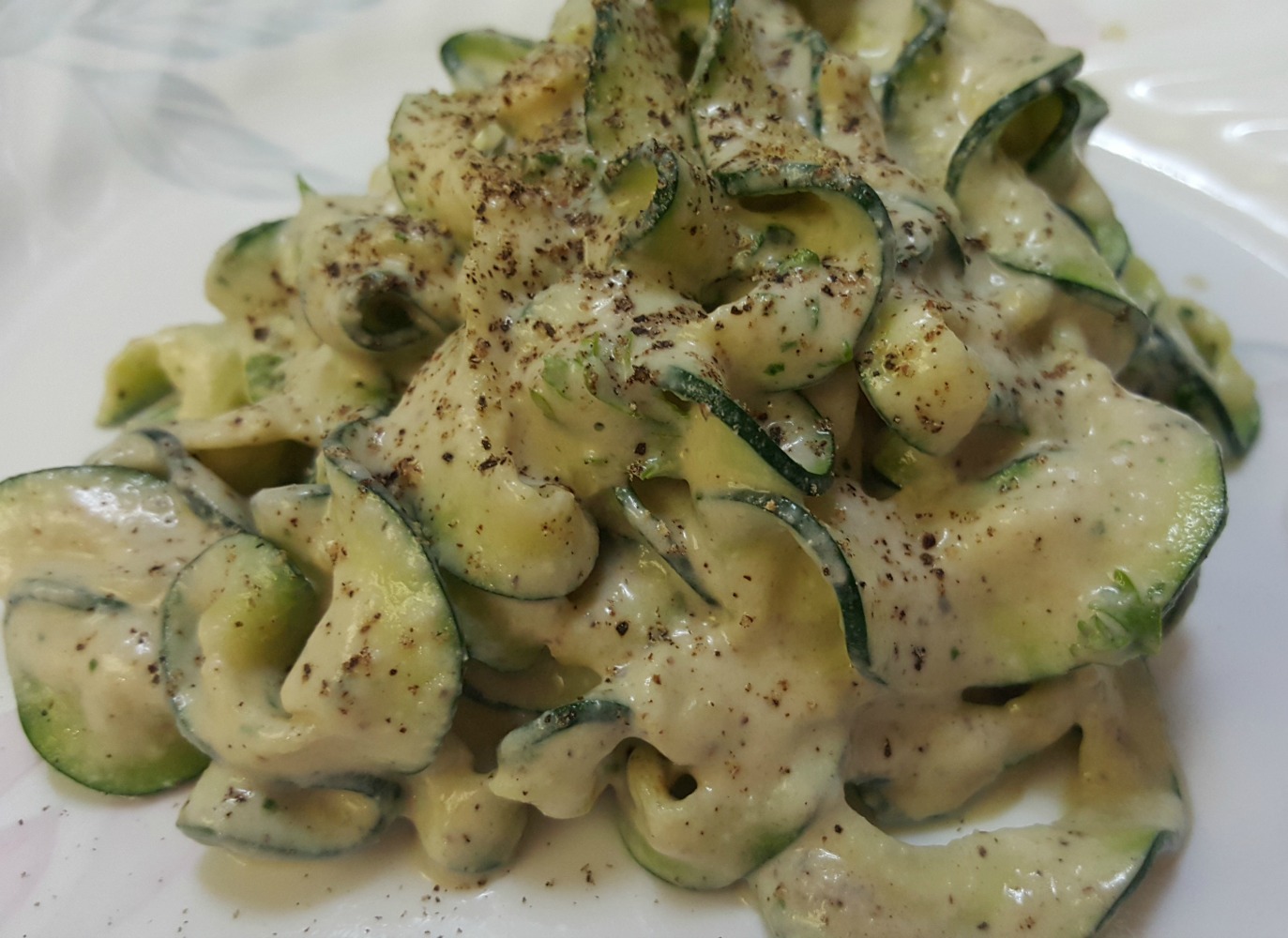 Variations
As I mentioned, I played around a bit with this sauce. Here are some other delicious creations you can make.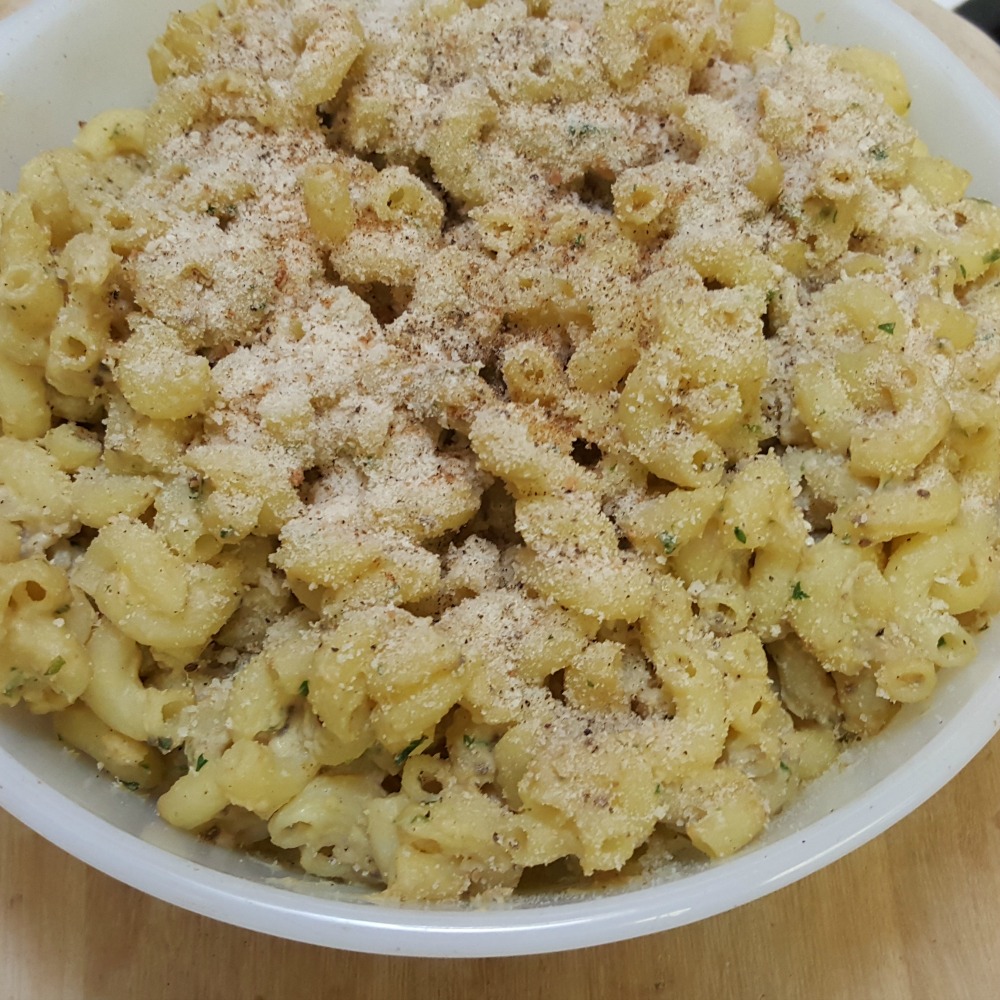 Mac 'n' Cheese Variation: Add one large cooked carrot (steamed or boiled) before blending the sauce. Cook the macaroni according to package directions. Drain and pour into a baking dish. Stir in the sauce. Sprinkle with vegan bread crumbs and bake in a 400 degree oven for about 10 minutes.
Spaghetti Squash Variation: Omit the nutritional yeast. Slice the spaghetti squash in half and roast at 350 until tender, about 45 minutes (when you scrape it with a fork it shreds). Add a large spoonful of the sauce on each half and toss carefully. To be honest, mine is slightly overcooked in the picture above, so be careful you don't do the same.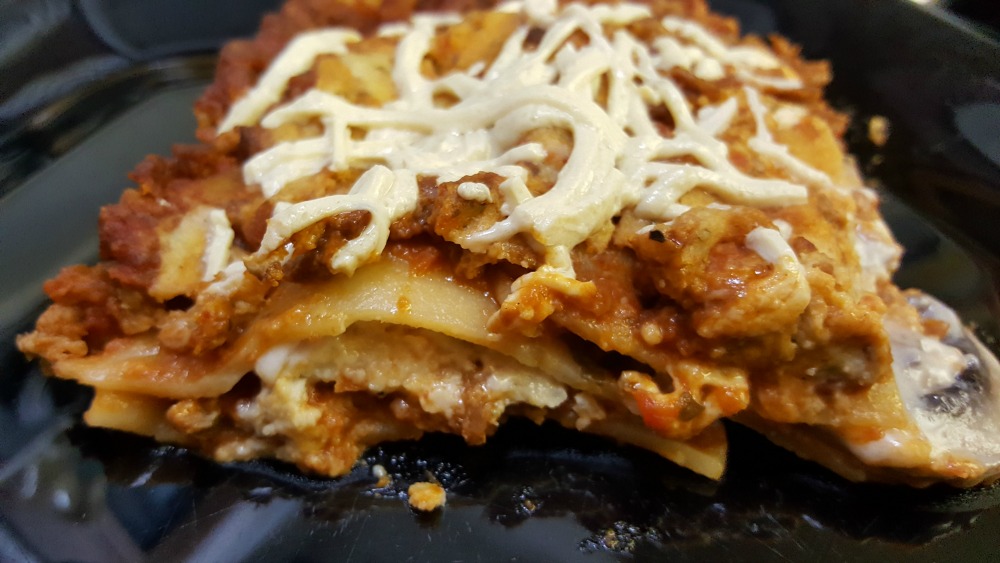 Lasagna Variation: Sorry, you're going to have to wait for this one. It's just too good, and more complicated. It deserves its own post.
Would you like to try Bob's Red Mill Nutritional Booster?  Here's a coupon so you can save on your purchase! Do you use probiotics? Have you tried them in a smoothie? When was the last time you had Alfredo sauce?
---
My weekly linkups! Please stop by and check out all of the great recipes, workouts, and information that all these awesome bloggers share every week!
Sunday Blog Hop with Jenn
Meatless Monday with Sarah and Deborah
Meatless Monday with Annmarie 
Inspire Me Monday with Janice
Weekend Snapshots with Erin
Anything Goes with Marilyn
Wild Workout Wednesday with Annmarie, Michelle, Sarah, and Angelena Marie
The Plant Based Potluck Party with Deborah
The Running Coaches' Corner with Rachel, Suz, Lora Marie, and Me!
Giveaway Roundup and Try Out Thursdays with Smitha
The Blogger's Pit Stop with Kathleen
Friday Fitness with Jill