As I mentioned last week, I am participating in the Under Armour What's Beautiful campaign, which is sponsored through my relationship with Fitfluential. The What's Beautiful project is a competition with the goal of redefining the female athlete. Women are invited to set goals for themselves and then go out and achieve them.
My goal is to run a half marathon in under two hours for the first time since I turned 50. The last time I ran under two hours was in 2007 and I was 49 (less than a month before my 50th birthday). I ran the Long Beach Half Marathon in 1:59:04. Now I want to do it again, six years later, at the Costume Party Run on July 7.
I know what I have to do (I wrote about it in that previous post), and this is week one of my new and improved half marathon training program. Here is my recap of my first week.
Strength Training
For the last few months, all of my strength training has been completed during the classes that I teach. I am fortunate that I can get a decent workout in while I'm teaching, but it still isn't the same as getting it done in the gym. Now that my work will be slowing down and I'll be teaching fewer classes, I will need to get back in the gym, and Alan and I plan to get there next week. In the meantime, I taught two Superball classes this week. The first one was a little different. I made a list of exercises and arranged them by muscle groups. I hung the list on the mirror. Each student got to pick an exercise as we went around the room, doing the class circuit style. It was a lot of fun and I loved that each and every one of them picked challenging exercises! No wimps in my class (and remember, they are all in the 50-70 year old range!).
I also taught two Fast and Furious Classes. Friday's class was a challenging Tabata workout, which almost left me lying on the floor when we were done. Good stuff!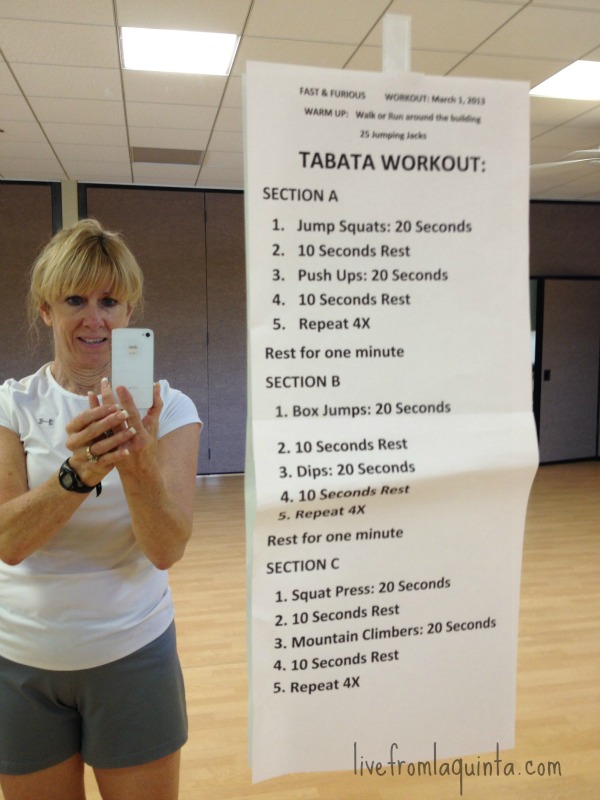 Running
This training cycle I plan to change things up a bit and increase the intensity of some of my workouts. I'm going to add in one 14 mile run (13 was my longest last time around), alternate longer tempo runs with my interval workouts, and spice things up a bit with some negative split long runs. Since this is week one, my tempo workout was to run two miles straight at my lactate threshold pace, which was right at 8:42. I took Penny out first (because I truly can't get out the door without taking her for some part of the run, no matter what my goals are). We ran three miles together, pretty slow, especially the second half. She is 12 now, and I can really tell now that she's getting older. It breaks my heart a little, but she is still so happy on the run.
After the three miles, I dropped her at home, then did the same route on my own. After a half mile, I picked it up to my tempo pace and sustained it for two miles, then slowed down a bit to cool down.
 Saturday is scheduled for my long run, but I got up late, and we are finally at that point in the desert that we can't do that anymore. We left the house about 7:10 and it was already getting hot. I decided that since I had a lot of things to do around the house anyway, I'd cut the run short, get my errands done, and get up early on Sunday for my long run.
Which I did, but somehow I still didn't get out the door until 6:20 or so. It was already in the 70s, and warming up fast. I did the first three miles with Penny, dropped her off and headed back out for the next six. It would have been so easy to cut it short. It was getting really warm, my legs were tired, my back was a little sore from some of the housecleaning I'd done on Saturday. Add to that the route I took passed several "cut off" points, that I could have used to shorten my run, and I was really challenged to stick with it.
I'm happy (and a little proud) to report that I did stick with it, even though it probably looked like a death march for the last five miles mile.  I had refilled my electrolyte drink when I dropped Penny off, but I ran out of fluids about a half mile from home. I did stay hydrated, though, as evidenced by the sodden mess of sweat I was when I finally finished. I actually made myself another cold bottle of my electrolyte drink as I sat and cooled down.
Now, while it was pretty warm (79 degrees when I finished, plus I was in the sun), it is nothing compared to what it will be in a few weeks. Soon, 79 will be chilly! So I'd better get used to it. Last summer, we had many humid 90 degree mornings even when we started running at 5:30 am.
I found that the run pretty much pooped me out. I made a smoothie for Alan and myself (he got back from his 25 mile bike ride minutes after I finished my run), and that helped me refuel and rehydrate, but my legs were sore and tired. I spent the rest of the morning taking it easy. It was Mother's Day after all, so this mother took a little nap.
I did talk to both of my sons, of course. Nathan and Sarah are celebrating her first Mother's Day at home, but we did a little Facetime (I love Facetime so much!), so I got to make kissy faces at my grandson. My younger son David and I are going out to lunch tomorrow. And I spent some time thinking about my mom, who was an amazing woman and mother. (Love you Mom!)
I also spent some time with my younger "children." In addition to my run with Penny, I spent some quality cuddling time with Lily, Buddy (in the picture below), Olivia, Goldie, and Sydney.
Have you joined the What's Beautiful challenge yet? It is easy to do, just click here, sign up and get ready to challenge yourself. You can also follow me as I train and take on extra challenges. Come on! What are you waiting for?
I hope that you mothers enjoyed your day (there is no way to say that so it doesn't sound funny). How was your training week? Any events, races, or other competitions?