Two weeks ago, as I was randomly looking at my blog stats in the early afternoon, I was surprised to see that my pageviews for the day were more than triple the norm. I immediately checked to see where all that traffic was coming from and found that it was mostly from a single post on StumbleUpon. By the end of the day, my total pageviews were about seven times normal. I had gone viral on StumbleUpon!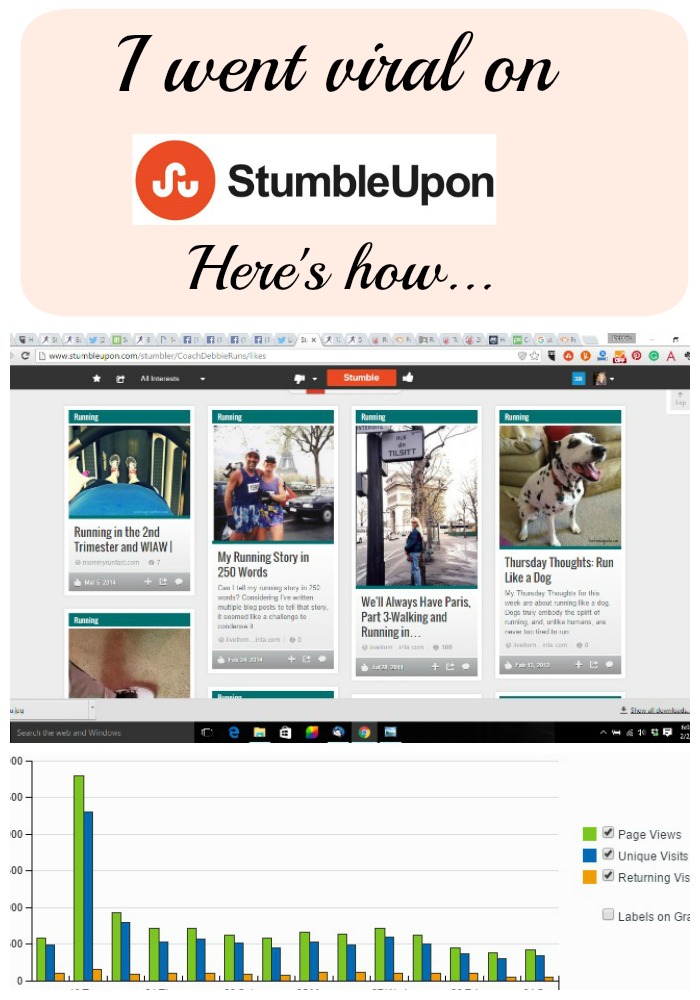 Over the next few days the numbers settled down, but they still remained much higher than normal. Now, two weeks later, they are still double what I usually expect. And much of that traffic is still coming from StumbleUpon.
How I Went Viral on StumbleUpon
I will tell you up front that I am not a StumbleUpon expert. While I've been using it for years, until a few weeks ago, that meant that I'd add a post now and then, rarely stumble other posts, and, if I was lucky, see about 10-15 hits a day. So what did I do differently?
Well, I've since read a little more about using StumbleUpon, and apparently I stumbled onto a few things that are recommended by the pros. Here's what I did.
I joined a StumbleUpon tribe
Or a couple actually. A tribe that would share my posts, like them, and I would do the same in kind. The important part of this to remember is that your tribe should enjoy similar interests. Apparently StumbleUpon does not appreciate it when you like everything that is thrown your way, so sticking to your niche, as well as topics that you really enjoy, is important. My tribes are on Facebook, by the way, but I'm sure there are other ways to find other Stumblers that you can work with.
I followed the Stumblers that I really enjoy
StumbleUpon only allows you to follow 500 people, so I just follow those people with similar interests. Honestly, I'm not quite sure what following someone means (if you know, tell me in the comments), but it does make it easy to check the posts that they have liked.
I (mostly) stopped adding my own posts
I admit it. In the past, I frequently added my own posts to StumbleUpon. Apparently, though, that is frowned upon by the powers that be at SU, so I mostly stopped, instead asking my tribe to do it for me.
I use the Chrome StumbleUpon extension
This makes it so easy to share posts that you love as well as stumble others when you have time.
I Stumble
Until recently, I rarely actually hit that Stumble button. Over the last few weeks, though, I've taken the time to use it several times a day. Some of the stuff that I stumble upon is so great! I use the thumbs up button when I really like what I'm reading, occasionally use the thumbs down when it's something I don't like (or grosses me out, which happens). I also use the app on my iPad and phone. It's great when you have time to kill (which admittedly doesn't happen often).
I made it easy for others to Stumble my posts
Even if you don't have the extension, it's pretty easy to share my posts. I have StumbleUpon buttons both at the beginning and the end of my posts.
So, those are the changes I made that helped my post go viral on StumbleUpon. And while the massive numbers have diminished, the increase in overall pageviews is worth the little extra time it takes.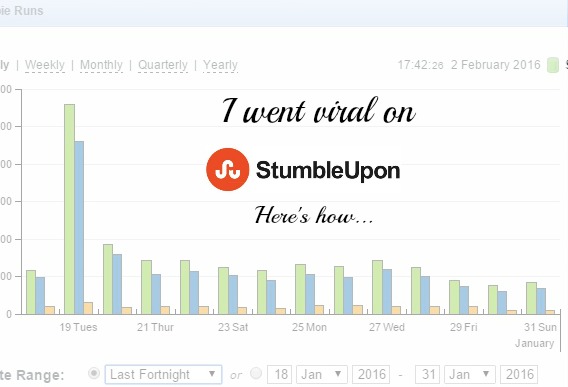 Do you have any StumbleUpon tips?
Oh, and if you like this post, won't you please Stumble it?
---
My weekly linkups! Please stop by and check out all of the great recipes, workouts, and information that all these awesome bloggers share every week!
Sunday Blog Hop with Jenn
Meatless Monday with Sarah and Deborah
Meatless Monday with Annmarie 
Inspire Me Monday with Janice
Anything Goes with Marilyn
Bonnie, the Pin Junkie
Tip Tuesday with Debbie in Shape
Wild Workout Wednesday with Annmarie, Michelle, Sarah, and Angelena Marie
Wednesday Wisdom with Nanna's Wisdom
The Blogger's Pit Stop with Kathleen
Let's Get Real with Karen.
Friday Fitness with Jill
Fitness Friday with Miranda