Since I discovered aquafaba I've been a baking fiend.
(Forget what aquafaba is? It's basically bean juice. What you usually drain out of the can when you open a can of beans. Come to find out it makes an amazing replacement for eggs in baked goods and can even be whipped up into meringues!)
Well, fiend may be a bit of an exaggeration, but I have been making chocolate chip cookies and banana walnut bread with wild abandon occasionally. So when Sunwarrior challenged me to create a recipe that was not a smoothie (which I guess is the usual go-to for protein powder recipes (not that there's anything wrong with that)), I knew that I wanted to use the Sunwarrior Classic Plus Organic protein powder to make a plant based treat. Vegan Zucchini Apple Bread came immediately to mind.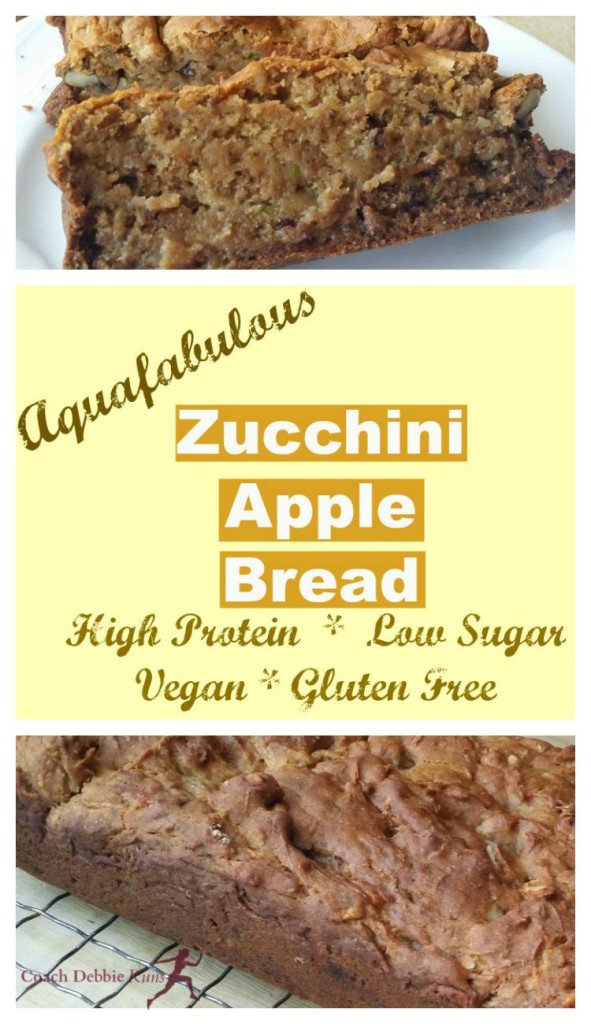 Classic Plus Organic builds on Sunwarrior's original rice protein by adding in the amino acid balancing effects of peas, chia seeds, quinoa, and amaranth. This superfood combination still relies heavily on the gentle nature of whole-grain brown rice, but with a hefty dose of the strength that has made Warrior Blend so popular. I'm a longtime fan of Warrior Blend, so I'm excited about Classic Plus, with its complete amino acid profile, extra boost of raw, plant-based protein and great taste.
Now, I'm not really sure why vegan zucchini apple bread came immediately to mind. I've never made it before, vegan or not vegan, protein boost or not. It just…sounded good. I did have a few goals with this recipe though. Of course, I planned to boost the protein with the Classic Plus. I also wanted to make it gluten free (as were both the cookies and banana bread). My other objective was to reduce the sugar as much as I could without losing the flavor or using fake sweeteners.
Vegan Zucchini Apple Bread
Vegan Zucchini Apple Bread
Ingredients
1.5 cups gluten free flour
1 tsp baking soda
½ tsp baking powder
1 teaspoon cinnamon
½ cup walnuts (optional)
6 tablespoons aquafaba (the drained liquid from chickpeas)
½ cup sunflower oil
½ cup almond milk or other non-dairy milk
¼ cup sugar
¼ cup brown sugar
¾ cup zucchini (about one medium), grated
¾ cup Apple, peeled, cored, shredded
1 banana, mashed
Instructions
Preheat oven to 375
Combine flour, baking soda, baking powder, Sunwarrior Classic Plus, cinnamon, and walnuts in a bowl. Stir gently until well blended
In another bowl, combine aquafaba, oil, almond milk, sugar, and brown sugar. Mix until blended.
Gently stir in the zucchini, then the apple
Add the mashed bananas and blend.
Slowly mix in the flour mixture.
Pour mixture into a greased loaf pan.
Bake until golden brown and check that a toothpick inserted into the center comes out clean (about 55 minutes).
Allow to sit in the pan for about 10 minutes, then turn out onto a rack to cool.
Nutrition Information
Serving size:
1 slice
Calories:
212
Fat:
9
Saturated fat:
1
Unsaturated fat:
8
Trans fat:
0
Carbohydrates:
29
Sugar:
12
Sodium:
192
Fiber:
3
Protein:
6
Cholesterol:
0
How I Did It
I cut the sugar by about 3/4. To avoid losing too much sweetness, I added a banana. The protein powder also added a touch of sweetness (with no sugar). The result was a moist, just sweet enough, vegan zucchini apple bread, that Alan and I have really enjoyed. It has only 12 grams of sugar per slice (compared to up to 25 for regular zucchini bread), and about triple the protein. And while neither of us follow a gluten free diet, I was happy to make it that way for the enjoyment of my friends who do.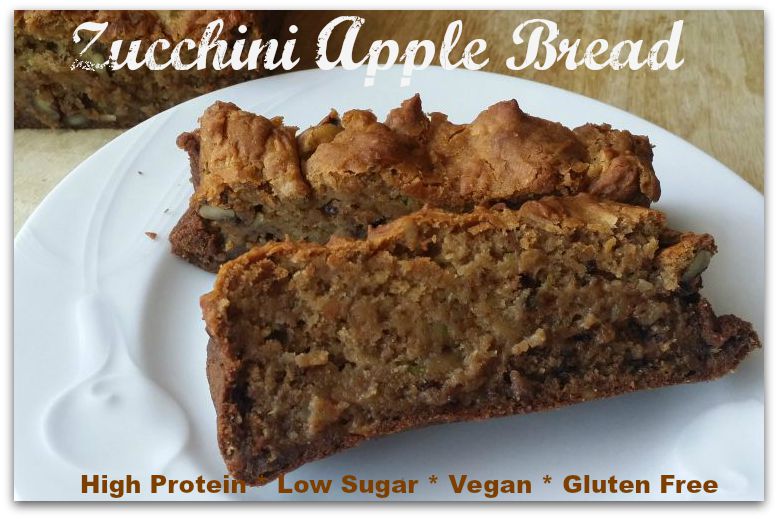 Sunwarrior sent me their new Classic Plus Organic in exchange for this recipe. I'm also an affiliate (though my only affiliate link is in my sidebar).
---
My weekly linkups! Please stop by and check out all of the great recipes, workouts, and information that all these awesome bloggers share every week!
Meatless Monday with Tina and Deborah
Meatless Monday with Annmarie 
Bonnie, the Pin Junkie
Tip Tuesday with Debbie in Shape
Wild Workout Wednesday with Annmarie, Michelle, Sarah, and Angelena Marie
Wednesday Wisdom with Nanna's Wisdom
The Blog Booster Party with Kathleen
Friday Fitness with Jill