Remember when I first wrote about aquafaba? Since then I've been a baking fiend. I especially loved using it in this Zucchini Apple Bread!
Well, fiend may be a bit of an exaggeration, but I have been making chocolate chip cookies and banana walnut bread with wild abandon occasionally. Along with the occasional Banana Blueberry Almond Pancakes. And a Double Chocolate Brownie or two. If there are brownies there must be Blondies too, right?
Forget what aquafaba is? It's basically bean juice. What you usually drain out of the can when you open a can of beans. Come to find out it makes an amazing replacement for eggs in baked goods and can even be whipped up into meringues!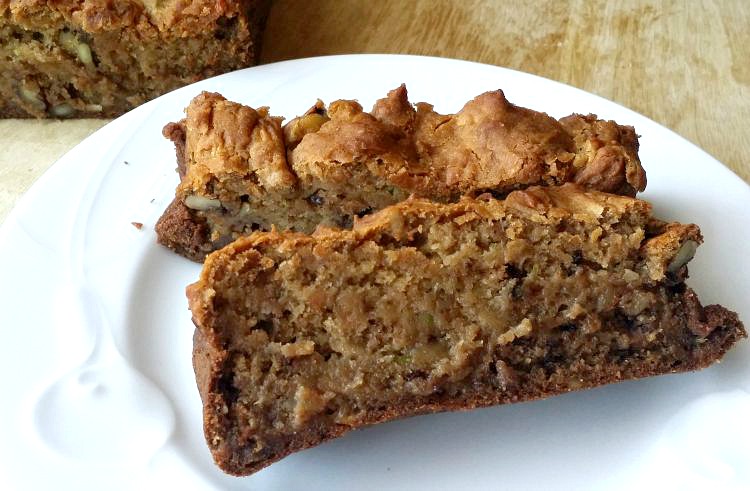 I am a Nuzest ambassador and affiliate and I will earn a few dollars if you order using my link.
So when I wanted to create a recipe with protein powder that was not a smoothie (which I guess is the usual go-to for protein powder recipes (not that there's anything wrong with that)), I knew that I wanted to use the Nuzest Clean Lean Protein powder to make a plant-based treat. Vegan Zucchini Apple Bread came immediately to mind.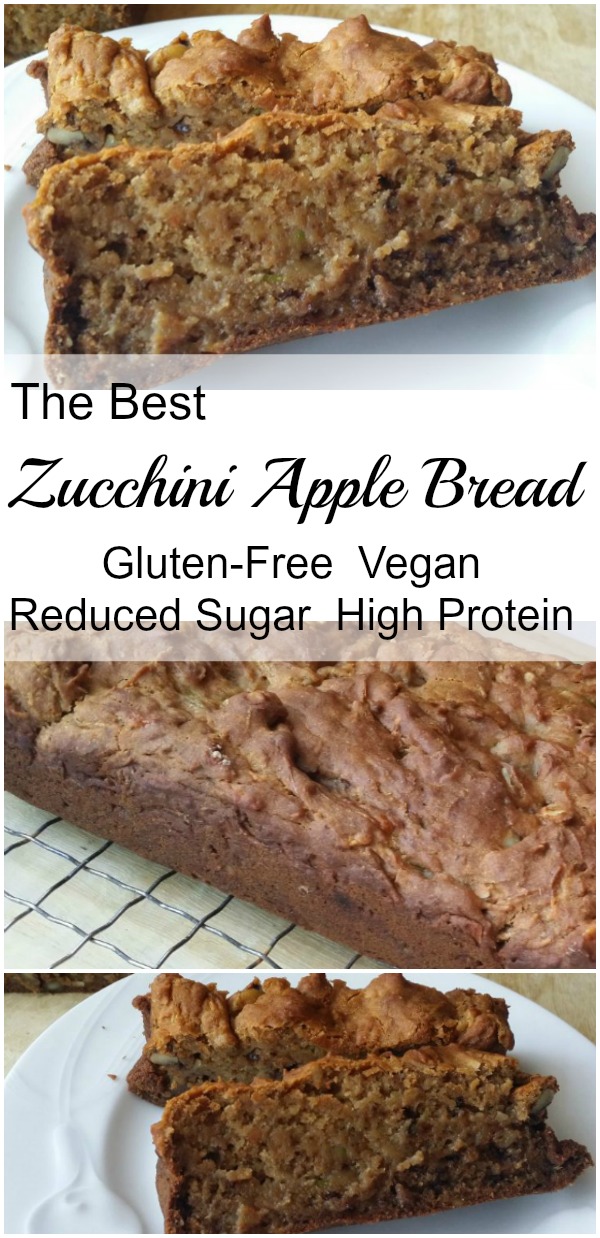 Now, I'm not really sure why vegan zucchini apple bread came immediately to mind. I've never made it before, vegan or not vegan, protein boost or not. It just…sounded good. I did have a few goals with this recipe though.
Of course, I planned to boost the protein with the Nuzest. I also wanted to make it gluten-free (and vegan, of course). My other objective was to reduce the sugar as much as I could without losing the flavor or using fake sweeteners.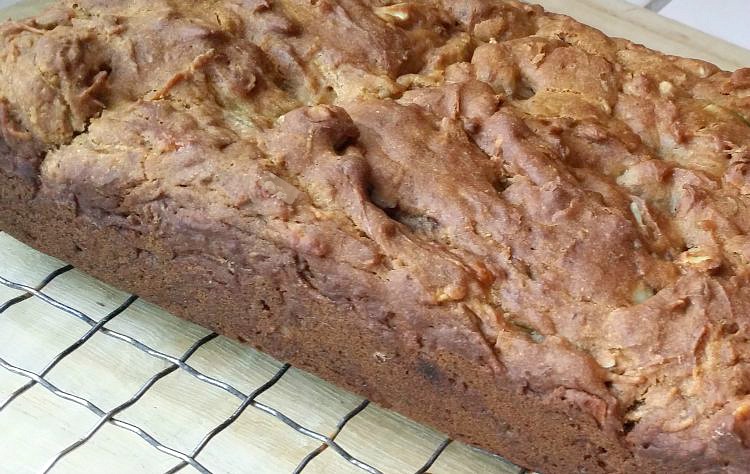 Nuzest is a plant-based, gluten-free, and soy-free product made from only top quality, responsibly sourced ingredients. Clean Lean Protein uses premium European golden pea protein, which is allergen-free and low in carbs. And, yes, it's delicious, both simply mixed with water or non-dairy milk, or in smoothies, baked goods, or other recipes.
Save 15% on your Nuzest purchase with the code COACHDEBBIERUNS
Vegan Zucchini Apple Bread
Vegan Zucchini Apple Bread
Ingredients
1.5 cups gluten free flour
1 tsp baking soda
½ tsp baking powder
1 teaspoon cinnamon
½ cup walnuts (optional)
6 tablespoons aquafaba (the drained liquid from chickpeas)
½ cup sunflower oil
½ cup almond milk or other non-dairy milk
¼ cup sugar
¼ cup brown sugar
¾ cup zucchini (about one medium), grated
¾ cup Apple, peeled, cored, shredded
1 banana, mashed
Instructions
Preheat oven to 375
Combine flour, baking soda, baking powder, Nuzest Clean Lean Protein, cinnamon, and walnuts in a bowl. Stir gently until well blended
In another bowl, combine aquafaba, oil, almond milk, sugar, and brown sugar. Mix until blended.
Gently stir in the zucchini, then the apple
Add the mashed bananas and blend.
Slowly mix in the flour mixture.
Pour mixture into a greased loaf pan.
Bake until golden brown and check that a toothpick inserted into the center comes out clean (about 55 minutes).
Allow to sit in the pan for about 10 minutes, then turn out onto a rack to cool.
Nutrition Information
Serving size:
1 slice
Calories:
212
Fat:
9
Saturated fat:
1
Unsaturated fat:
8
Trans fat:
0
Carbohydrates:
29
Sugar:
12
Sodium:
192
Fiber:
3
Protein:
6
Cholesterol:
0
How I Did It
I cut the sugar by about 3/4. To avoid losing too much sweetness, I added a banana. The Nuzest protein powder also added a touch of sweetness (with no sugar or fake sweeteners). The result was a moist, just sweet enough, vegan zucchini apple bread, that Alan and I have really enjoyed.
It has only 12 grams of sugar per slice (compared to up to 25 for regular zucchini bread), and about triple the protein. And while neither of us follows a gluten-free diet, I was happy to make it that way for the enjoyment of my friends who do.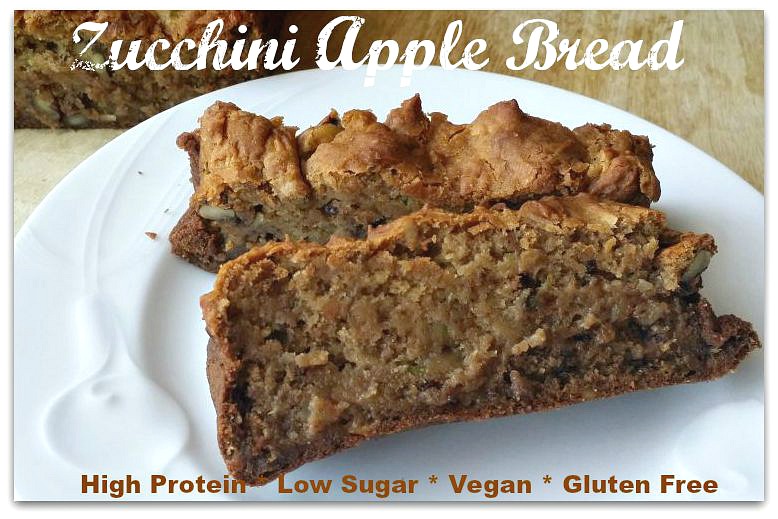 Do you like to bake with protein powder? What is your favorite protein powder flavor? Have you tried aquafaba yet?
Updated from a post originally published in August 2015.
---
Weekly Linkups
My weekly linkups! Please stop by and check out all of the great recipes, workouts, and information that all these awesome bloggers share every week!
Meatless Monday with Sarah and Deborah
Meatless Monday with Annmarie  and Dixya
Tuesdays on the Run with Marcia, Erika, and Patty
Inspire Me Monday with Janice
Wild Workout Wednesday with Annmarie, Jen, and Nicole
The Plant-Based Potluck Party with Deborah
The Running Coaches' Corner with Rachel, Suz, Lora Marie, and Me!
The Blogger's Pit Stop with Kathleen, Janice, Julie, and Menaka
Friday 5 2.0 with Rachel and Lacey and Meranda