How could I not start this post with this picture? From my run on Sunday, this is Lily, on point.
In addition to running with my dogs and the cross country team (pictures of both below), I also spent lots of time watching sports. October is a sport lover's dream month. Football and hockey season  are in full swing, baseball is in playoffs, even basketball is getting ready to get started at the end of the month. Not to mention my favorite vegan (while he's training) boxer, Timothy Bradley, won his battle with Juan Manuel Marquez on Saturday. And don't get me started on Nascar and golf (really, don't get me started).
Unfortunately, I am not a huge sports fan (though Alan is), but I will watch for a while and even enjoy it (until I reach my overload at the third football game in a row).
When I think of a weekend of sports, I think of a weekend of sports food. And because I follow a plant based diet, I think of a weekend of vegan sports food.
This past weekend, while enjoying the baseball playoffs, both college and NFL football, a lot of ESPN, sometimes all of it at the same time via picture in picture and the internet, I would sometimes retreat to the kitchen (and my little 22 inch screen where I can quietly watch NCIS or Modern Family), and prepare some good, old fashioned, vegan sports food.
This weekend I chose my version of a Philly Cheesesteak, using seitan and a cheese sauce made from Daiya vegan cheddar shreds. And, of course, I made my favorite, vegan garlic pizza, with carmelized onions, tomatoes, mushrooms, and artichoke hearts.
I'll bet you want to see pictures, right?
Vegan Cheesesteak Sandwich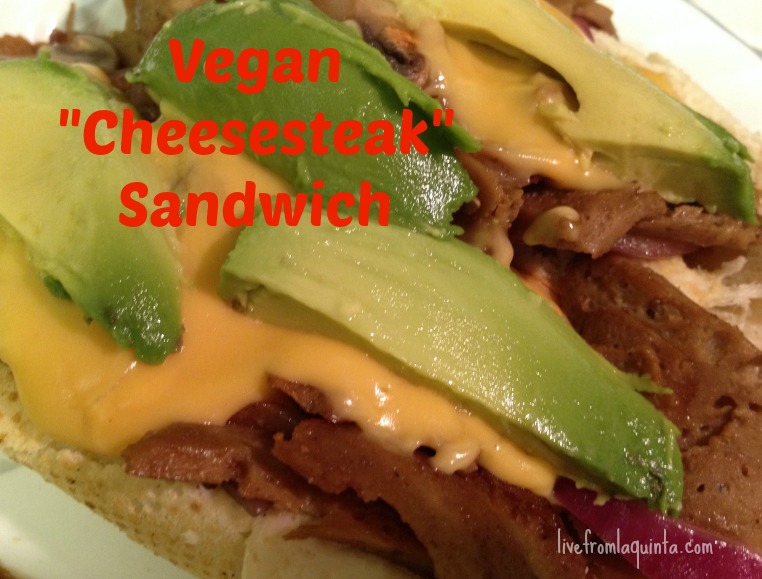 Ingredients
1- 8 ounce package seitan (or 1 cup if you make your own), cut into strips
1/2 teaspoon salt
1/2 teaspoon pepper
1/2 teaspoon onion powder
1/4 cup vegetable broth
1 tablespoon olive oil
1 tablespoon vegan butter (I used Earth Balance)
1 tablespoon flour
1/2 cup vegan milk (I used almond milk)
1/2 cup vegan cheese (I used Daiya Pepper Jack)
1 tablespoon olive oil
1 small onion, thinly sliced
2 sandwich rolls
Avocado
Mustard
Directions
Combine the seitan, salt, pepper, onion powder, and vegetable broth. Preheat the oil over medium heat, add the seitan mixture and cook until brown and the broth is evaporated.
In a separate small pan, preheat 1 tablespoon oil over medium heat, add the onions and cook slowly until soft.
Toast the sandwich rolls.
Spoon half the seitan on each roll. Add the cheese sauce (see below) and onion. Serve with avocado and mustard.
Cheese Sauce
In a small saucepan, melt the vegan butter. Stir in the flour. Add the almond milk slowly, stirring constantly, until thickened. Add the cheese and continue to stir until the cheese melts.
Vegan Garlic Pizza
Here's the recipe (I added artichoke hearts to this version).
Are you hungry yet?
Scenes from the Weekend
When I wasn't watching sports on television, I managed to get out and do some running! On Saturday, we didn't have a meet (our only free Saturday between September and October!), so we went out to Lake Cahuilla, where we will be running our league meet next Wednesday. We ran the course (after 11 years of coaching it was the first time I ran the whole course), discussed some strategy, and enjoyed what was a beautiful morning at the lake.
On Sunday, while Alan rode his bike, I did the "doggy run." This consists of two miles with Penny, my Dalmatian, who at 12 is slowing down quite a bit, followed by three miles with Buddy, who could probably go four or five in spite of his short legs. Then I took the three little girls out, Coco, Lily, and Olivia and we ran two miles (which was a distance record for Coco!). Of course I couldn't forget my challenged kids, Sydney and Goldie. We went for a short walk around the block. Beautiful day with lots of stops for photo ops.
Do you have a favorite "sports food?" How did you spend your weekend?