Vegan Shawarma Gyro Recipe
If you follow me on Instagram, you may have seen the parade of delicious vegan food I ate while I was in Tempe, Arizona for my recent Fascial Stretch Therapy certification course. I truly felt like I was eating my way through the vegan restaurants of Tempe. The last night I was there though, I went with my cousins Sonja and Ariana (who is vegan herself), to introduce them to my favorite, Green New American Vegetarian.
As we were standing in line scanning the menu before we ordered, Sonja mentioned that there was a special on the board. When I looked and saw it, I believe I actually started drooling right there.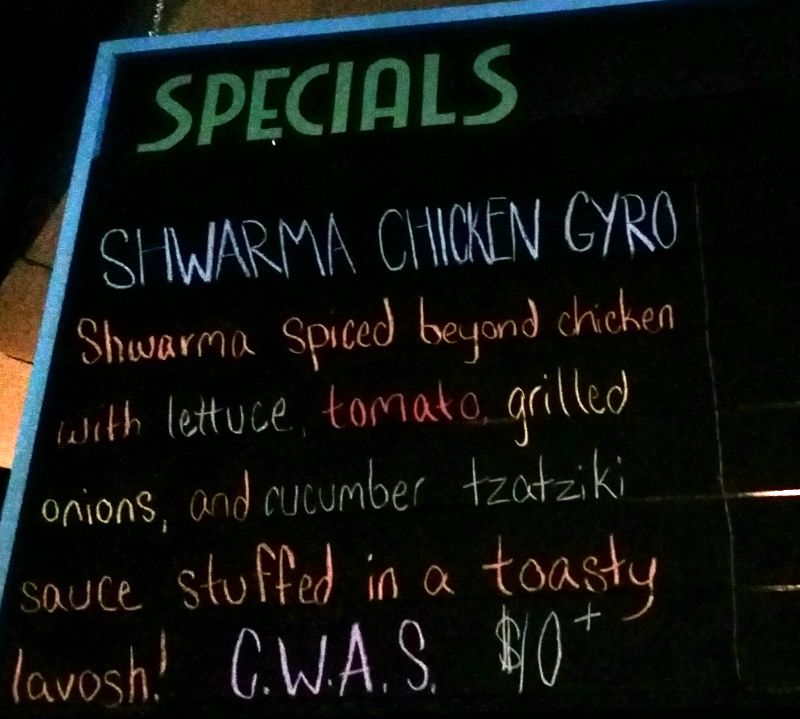 Yes, they had a vegan shawarma gyro! I love shawarma so much that I thought that I'd died and gone to heaven! I've told this story before, but before I was vegetarian, Alan and I used to go to a tiny hole-in-the-wall restaurant called the Pita House once a week. We'd always order the Chicken Shawarma. I've made various copies over my vegan years, but this time I was inspired to create a shawarma gyro. Instead of vegan chicken though, I decided to use seitan. Feel free to use either, because they are both delicious with this dish.
Ingredients
1/2 teaspoon Garam Masala (usually used in Indian food, it is a blend of cardamom, cinnamon, cumin, cloves, coriander & black pepper)
1/4 teaspoon cumin
1/4 teaspoon garlic powder
1/4 teaspoon cayenne pepper
1/4 cup tahini sauce
1/4 cup hummus
1 lemon
8 ounces seitan, cut into thin slices
1 cup quinoa (rice or freekeh will also work), cooked
1 tablespoon olive oil
1/2 cup onion, chopped and divided
1 medium tomato, chopped
1/2 cup cucumber, chopped
½ cup tahini sauce
½ cup hummus
lavash or tortilla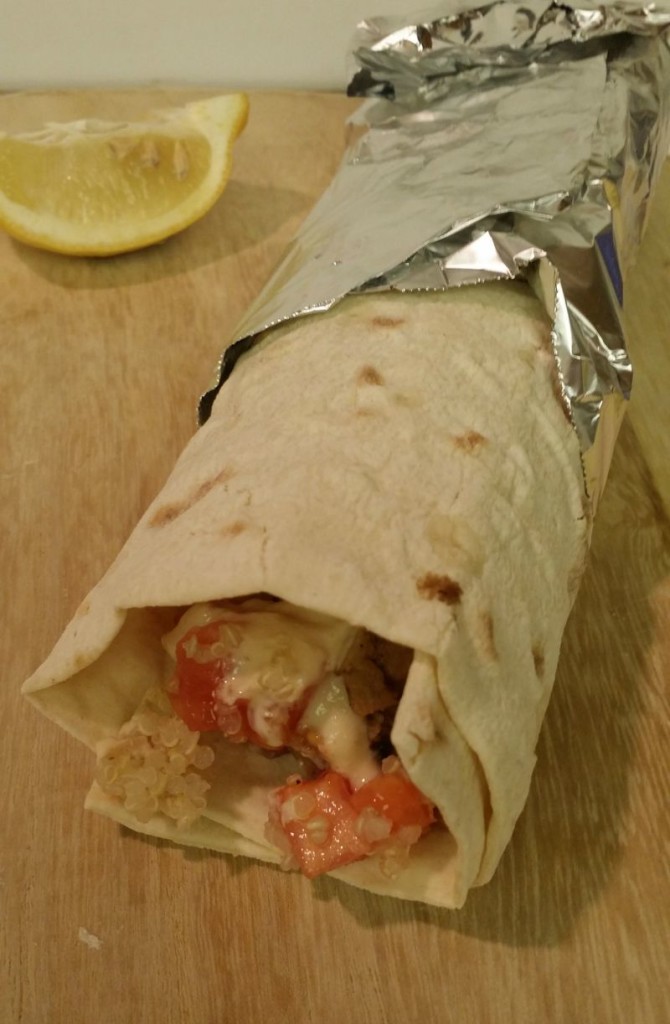 Instructions
Blend the spices together. If you're missing one, or if you don't have the Garam Masala, use as many as you have.
Combine the tahini, hummus, and the juice of ½ of the lemon. Stir in the spice mixture.
In a small bowl, combine the tahini blend with the seitan. Set aside.
Combine the cucumber, tomato, and half of the onions in a small bowl and set aside.
Make the quinoa according to package directions.
Preheat the olive oil in a skillet over medium heat. Add the other half of the onions and cook, stirring frequently for about 2 minutes, or until the onion is starting to get soft.
Add the seitan, allowing the marinade to drip off each piece before you add it to the pan. Brown on both sides. Reduce the heat and add the rest of the marinade. Allow to heat through.
Tahini/hummus sauce: Combine the tahini, hummus and the juice of ½ lemon.
Heat each lavash, either on a grill or microwave.
Assemble the wrap: Place some quinoa, veggies, seitan, plus the tahini/hummus mixture on each lavash. Wrap up (you can hold it in place with foil).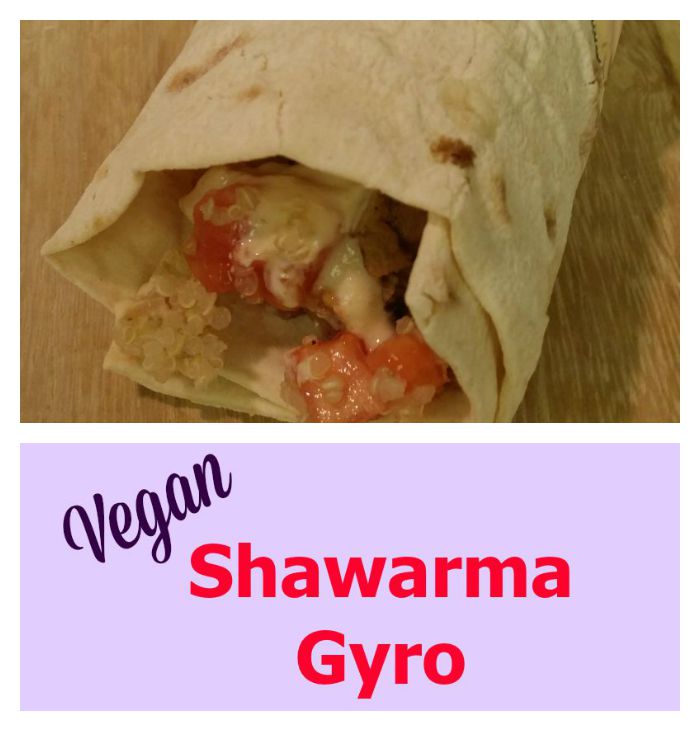 Did you do anything special for the long weekend? Have you tried shawarma (or shwarma) before?
---
My weekly linkups! Please stop by and check out all of the great recipes, workouts, and information that all these awesome bloggers share every week!
Sunday Blog Hop with Jenn
Meatless Monday with Tina and Deborah
Meatless Monday with Annmarie 
Inspire Me Monday with Janice
Anything Goes with Marilyn
Bonnie, the Pin Junkie
Tip Tuesday with Debbie in Shape
Wild Workout Wednesday with Annmarie, Michelle, Sarah, and Angelena Marie
Wednesday Wisdom with Nanna's Wisdom
The Blog Booster Party with Kathleen
Friday Fitness with Jill