Sometimes a delicious meal just comes together perfectly. Without planning, with simply the ingredients that are in the cupboard (or fridge). Such was the case with this Seitan Curry. Alan and I were discussing dinner the other night and he requested curry. After taking a quick tally of what I had on hand, here are the potential ingredients:
Seitan (1 package) You can also use tofu or vegan "chicken"
Potato (1 cubed)
Carrots (1 cubed)
Onion (1/4 cup)
Garlic (1 clove, minced)
Curry Powder (1 tablespoon)
Coconut Oil (2 tablespoons)
Vegetable Broth (1 cup)
Almond Milk (Unsweetened, 1/2 cup)
Flour (1/4 cup)
Salt & Pepper (to taste)
Avocado (optional, but it tastes great with a spicy curry)
Rice
Other curry condiments (raisins, chutney)
Okay, those will work. Let's put it all together.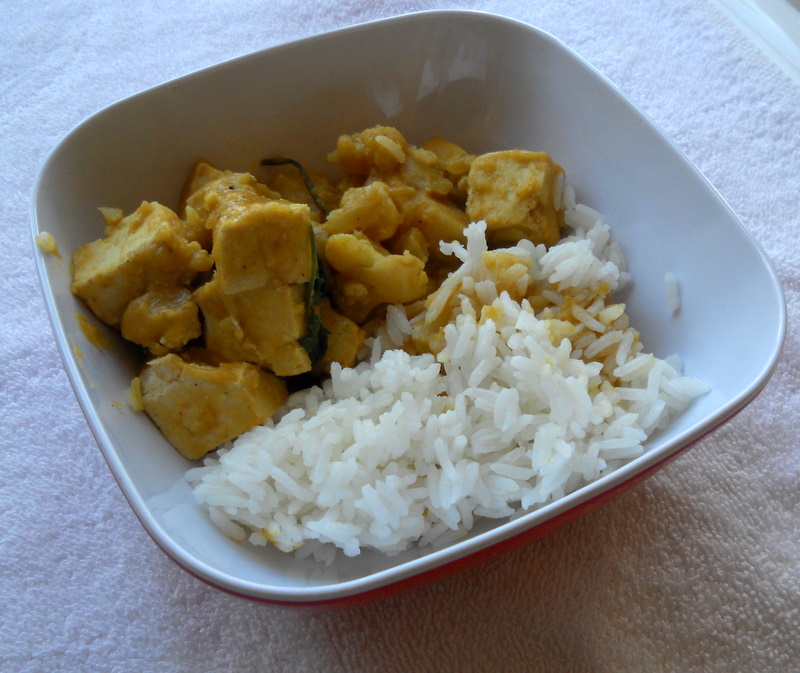 Heat the coconut oil over medium heat.  Add the onion and garlic and cook until soft. Add the seitan and potatoes and cook until slightly browned. Add the curry powder, stir, then add the flour. Add the vegetable broth and almond milk. Increase the heat to medium high and bring to a low boil, stirring constantly. Add the carrots, bring back to a boil, then reduce heat to low. Simmer until sauce is thick and carrots and potatoes are tender (about 10 minutes.
Serve over rice, with avocado and other condiments. Enjoy.